August 20, 2016
"Then they cry unto the Lord in their trouble, and he saveth them out of their distresses. He sent his word, and healed them, and delivered them from their destructions."
— Psalm 107:19-20
Two Love A Child children are in the States receiving specialized medical care.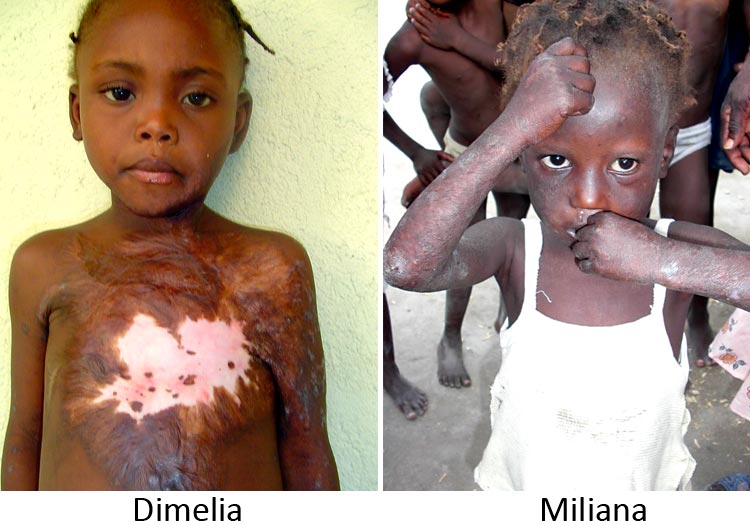 Getting any of our children who need specialized medical care to the States is always a challenge. We have been so blessed to find the right hospitals, doctors, and sponsors that are able to offer each of these children a chance at a better life and to improve their physical comfort. When each child originally came to our Love A Child Orphanage, they had suffered not only physical pain but also emotional trauma because of their condition.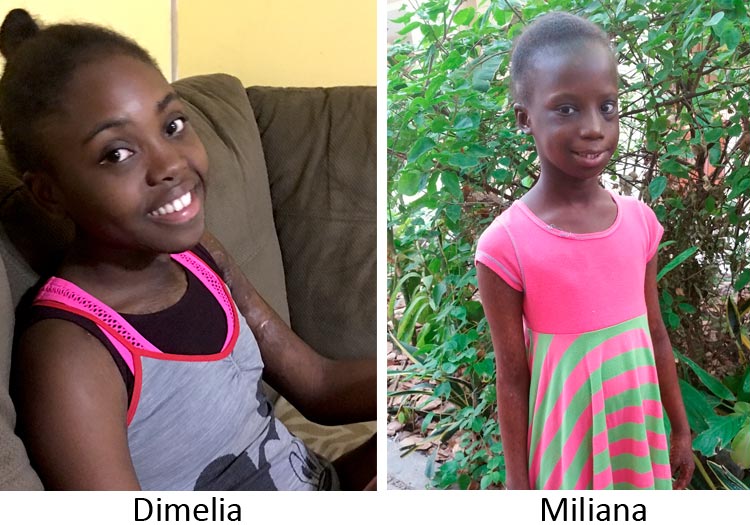 We have been so blessed in our search for medical treatment for both these precious girls. Not only do we have wonderful sponsors and partners who wanted to help these girls get the best treatment, but we also have found caring doctors and hospitals that can help these young girls improve their physical comfort.
Dimelia
Our sweet Dimelia was badly burned around the age of four. She fell into a charcoal fire and was burned by the coals and boiling cornmeal. She has had several surgeries over the years, and now she is recovering from a recent surgery done at Shriners Hospitals for Children — Boston.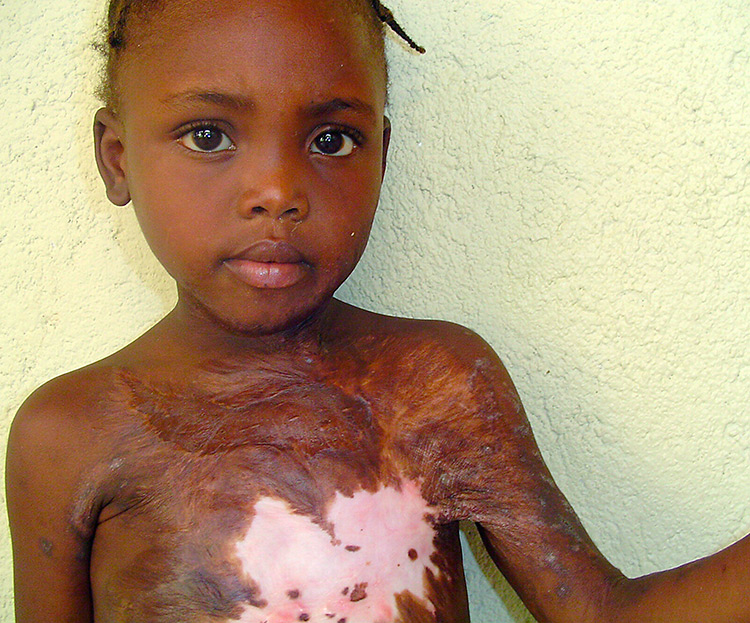 When she first arrived at the orphanage, she did not smile and she could not lift her arms above her head. After lots of love, healthy nutrition, and several skin graft surgeries, Dimelia is happy and smiling all the time. Dimelia left for the States in June, and could possibly remain there until the end of the year. The doctors hope to do several different procedures, so she will need recovery time between each surgery. Her previous surgeries have been life changing.
She is a very brave young girl, who has grown-up with the love at the Love A Child Orphanage, the love of Christ, and the support of so many of our partners. She is such a delight with her smiling face everywhere she goes. She is a wonderful young girl, loves the Lord, works hard in church, and is an A PLUS student.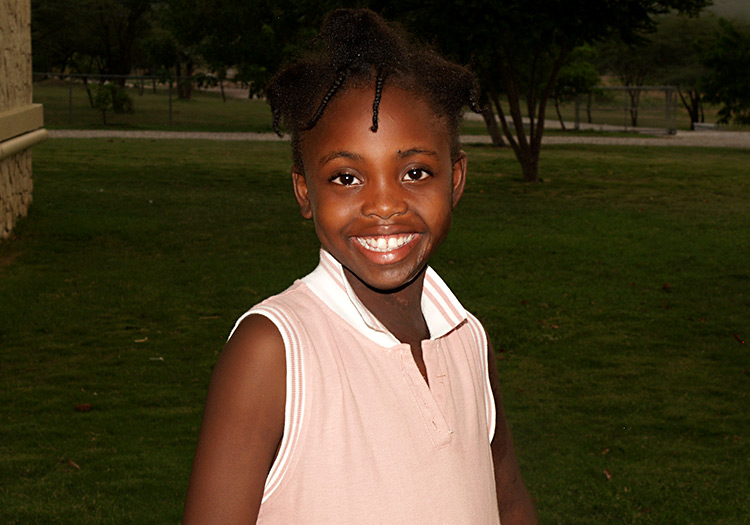 We thank Derek Carr and his wife Heather for sponsoring Dimelia's trip to the States for medical care. Derek is the NFL Quarterback for the Oakland Raiders. He has been to Haiti and met Dimelia. Her sweet spirit and God's anointing on her life really touched his heart. When he heard about her surgery, he and his wife wanted to help. This is such a blessing.
Dimelia stays with a host family during her skin graft surgery at Shriners Hospital — Boston and her recovery time. Lori Hodel and her family, who have hosted her in the past for previous surgeries, are taking great care of her again. This photo was taken a couple of summers ago when Dimelia was in the States for an earlier surgery.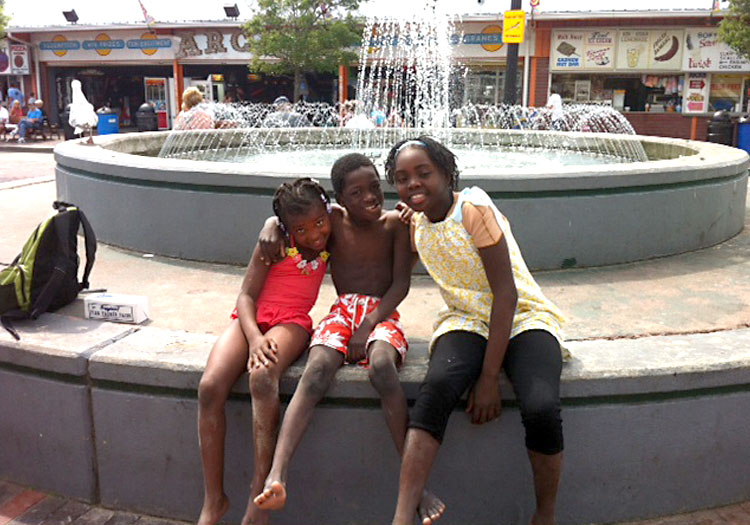 Dimelia's host mom, Lori Hodel, keeps us updated on her progress. Dimelia went through surgery at the Shriners Hospitals for Children — Boston for scarring from severe burns she suffered as a child. The doctors had to use her leg as a donor site for a graft. They focused on her right chest area with her recent surgery. They will use lasers on her skin to make it look and feel smooth. Dimelia may need additional surgery later this year.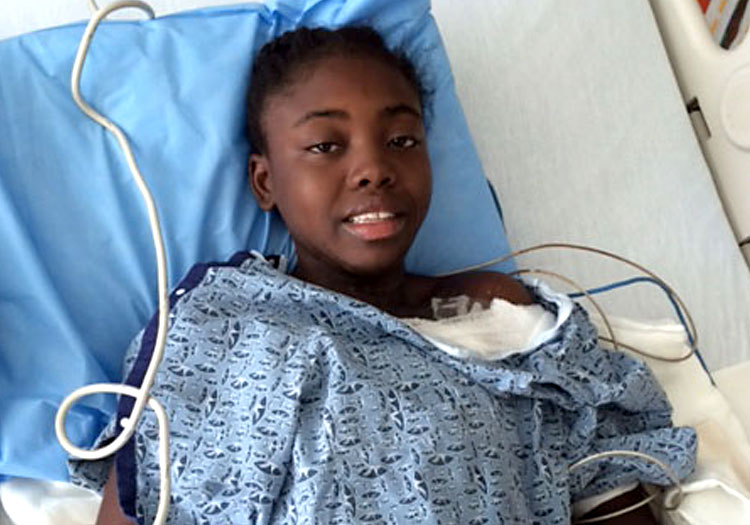 This is a recent update from Lori: "Dimelia had an appointment at Shriners Hospital recently to have her stents taken down. She did great even though it was somewhat painful. The doctor was so pleased with how well the graft took. He said it couldn't look better. Her Care Coordinator was at the appointment too, and they discussed what they would do next. The surgeon wants to do some work on the left breast area and a tight band in the middle of her neck. We also noticed that when she lies flat, there is a band on both sides from her sternum to her shoulder. Additionally, they want to do a lot of laser work. Taya, her Care Coordinator, will meet with their scheduler next week to provide us with a timeline for these procedures." This is the most recent photo of Dimelia and a friend during her recovery.
We want to thank Derek and Heather Carr for sponsoring her trip to the States. We want to thank Lori Hodel and her family for their kind and compassionate care of our sweet Dimelia during her surgical procedures at Shriners Hospitals for Children — Boston. Lori said she will probably be scheduled for another surgery soon, possibly next month and then she will need to have several months of recovery. We all miss her so much and the whole Love A Child family can't wait for her return to Haiti, as she always comes back with such joy in her heart.
Miliana
This is Miliana. When we first saw her many years ago, she had horrible skin sores, was malnourished and had been badly abused. Miliana has struggled her whole life with this skin disease, though we were never able to find out exactly what her condition was here in Haiti.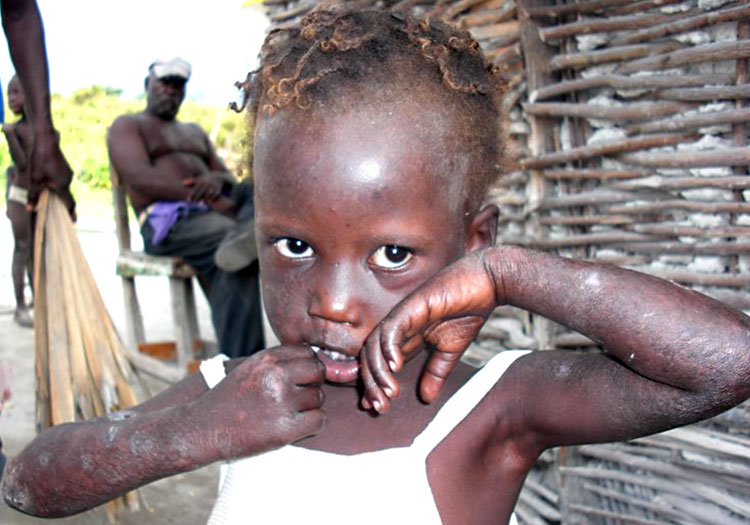 She has traveled to the States in the past to see a special dermatologist, who was treating her skin condition.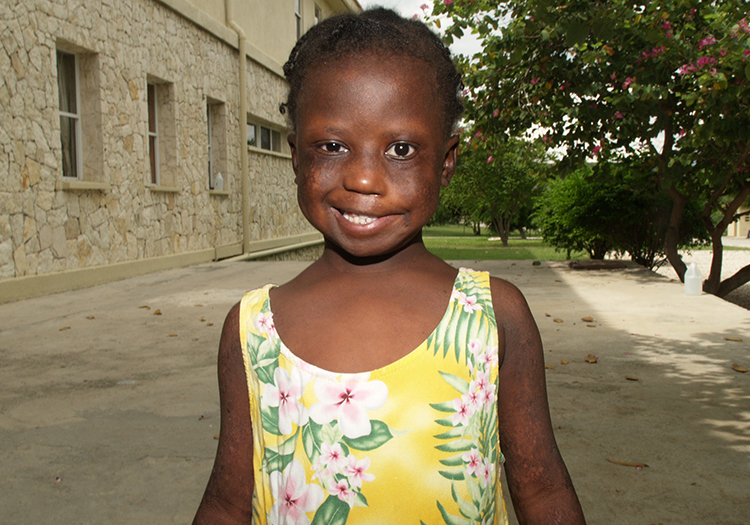 Miliana first went to the States in 2013 to have a dermatologist look at her condition. Back in 2013, the doctor had given us a diagnosis of her skin condition. She had Rothmund-Thomson Syndrome, which is pigmented skin with sores on her hands, feet, elbows and no eyebrows. Her future could possibly lead to bone cancer or leukemia. We will believe in God! She has been using sunscreen and wart remover for the sores. She cannot be in the sun too often. Miliana stayed with a wonderful host, Beth Nolan and her family, in 2013.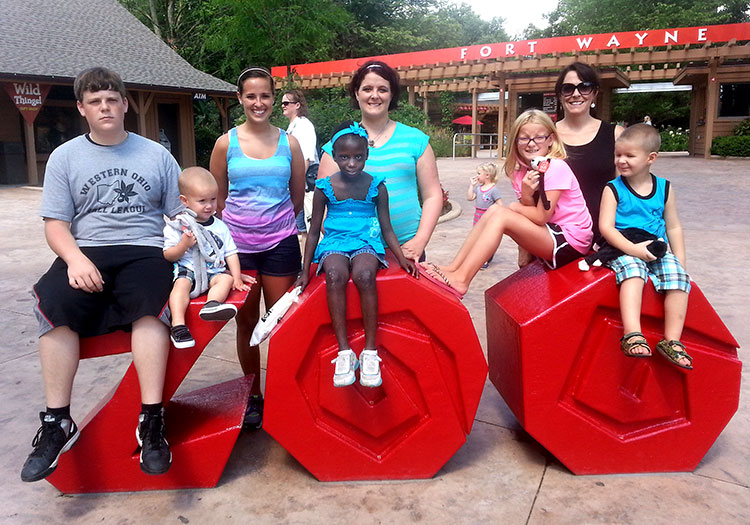 I think her host mom was "spoiling" this little girl! Look at Miliana! What a change in this little girl's life!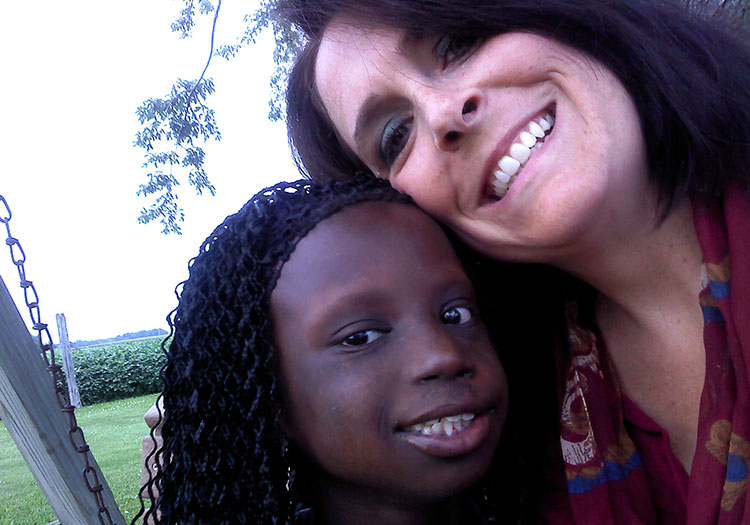 After her return to Haiti, we followed the doctor's instructions, and she seemed to be improving, though we knew the long-term diagnosis was not great.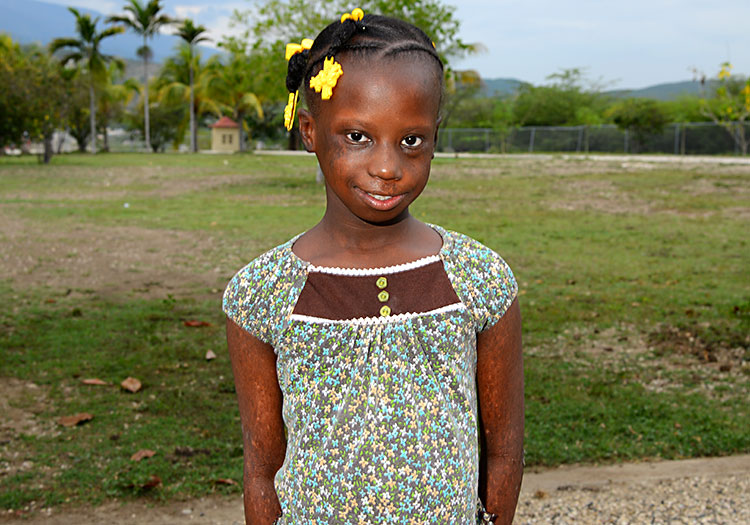 Miliana's skin condition has worsened in the last year and we knew it could not be treated here in Haiti. We sent Miliana, along with our young missionary Kaeli, to the embassy here in Port-au-Prince to see if we could get her a medical visa. Fortunately, we were able to get her a visa for her medical treatment outside of Haiti. She left about a month ago with Kaeli, our young missionary, who delivered her to her wonderful host, Beth Nolan and her family. This family welcomed Miliana into their home once again. God is good!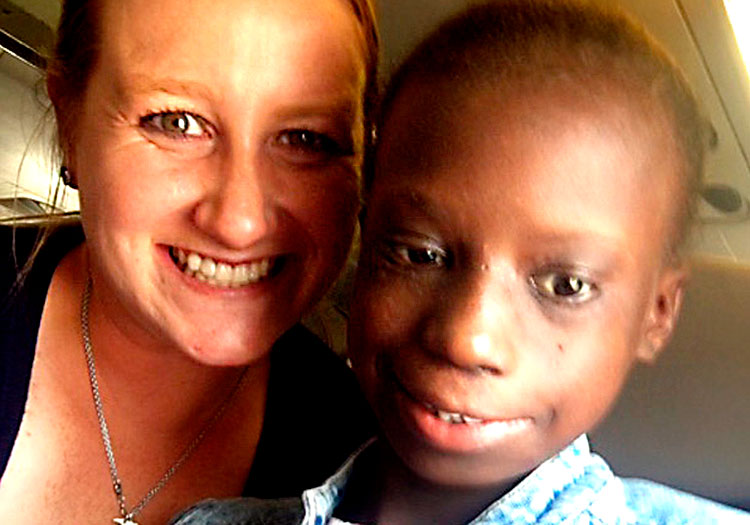 Our friend Beth Nolan found a dermatologist who could treat this skin disease. This is Miliana's second trip to the States… Her skin condition has deteriorated so badly, and she is "growing growths" from her body that look like small tree limbs! We are so thankful to the First Baptist Church in Spencerville, OH who helped sponsor Miliana's trip to the States to see a doctor for this condition. What a great gift this is! Thank you Spencerville First Baptist Church! She is a precious little girl, as you all may know. We pray that she gets all the help she needs. Special thanks to Dr. Cairns for his wonderful care of Miliana!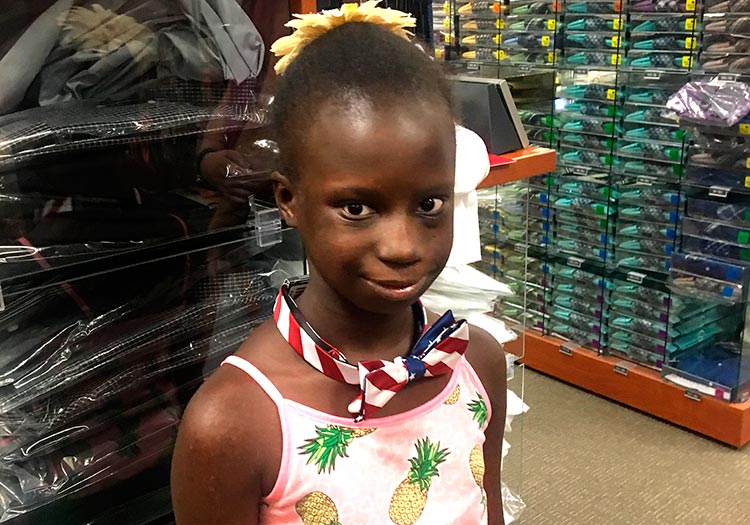 Update August 14:  Dr. Cairns has confirmed her second diagnosis of Rothmund-Thomson syndrome. She has oozing sores and some growths coming out that look like small "tree trunks," similar to Treeman's Disease. Miliana's face is doing well, but the rest of her body; especially her arms and legs are covered with sores. We have kept her covered from the sun. She has a wonderful dermatologist who has made some recommendations for her treatment. Her host family is providing wonderful care for Miliana, as well as taking her to and from the dermatologist. Thank you, Beth Nolan, for giving Miliana a home away from home. It looks like she is having a wonderful time in the States, and from the recent photos, her skin looks so much better!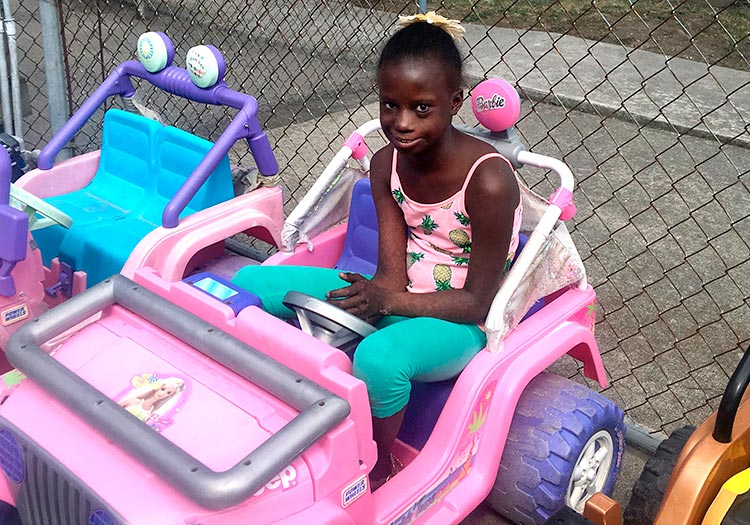 We can't wait for these two cuties to come back home. We want to thank all the host families who do a wonderful job taking such compassionate care of our children when they are away from home. We miss them all dearly, and look forward to hearing about their stories during their time in the States.
We have other poor children who also need medical treatment in the States. If it is in your heart to sponsor a child's visit for medical care outside of Haiti, we are most grateful. Caring for sick children and those in need of surgeries is very expensive, if you would like to help sponsor one of these children, please call our office at (239) 210-6107 and ask to speak with Shar.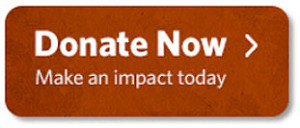 These children are studying very hard while they are in the States as they will miss the opening of school here in Haiti, and Dimelia is perfecting her English. They both hope to go on to college. If you are interested in giving towards our "College Fund" for the children, please call 239-210-6107 and let a staff member know that you would like to help with the college fund for the children.
God bless you and thank you so much for your compassion, on behalf of the poor children in Haiti.
Sherry