November 02, 2016
Here is a special report about the Jesus Healing Center from our Medical Administrator Barbara MacMannis.
We wish to thank Joyce Meyer Ministries—Hand of Hope for sponsoring the operating cost of our Jesus Healing Center each month. Without this help, it would not be possible to provide the excellent care, medicine, lab work, transportation to hospitals for additional care and many other outreaches. Thank you Joyce Meyer Ministries—Hand of Hope from the bottom of our hearts!
Bobby and Sherry Burnette
Please read this wonderful report from Barbara MacMannis.
Spreading Compassion and Understanding
"Now faith is the substance of things hoped for, the evidence of things not seen."  — Hebrews 11:1
Morning Devotional
There are so many people each morning sitting inside and outside the patio waiting area.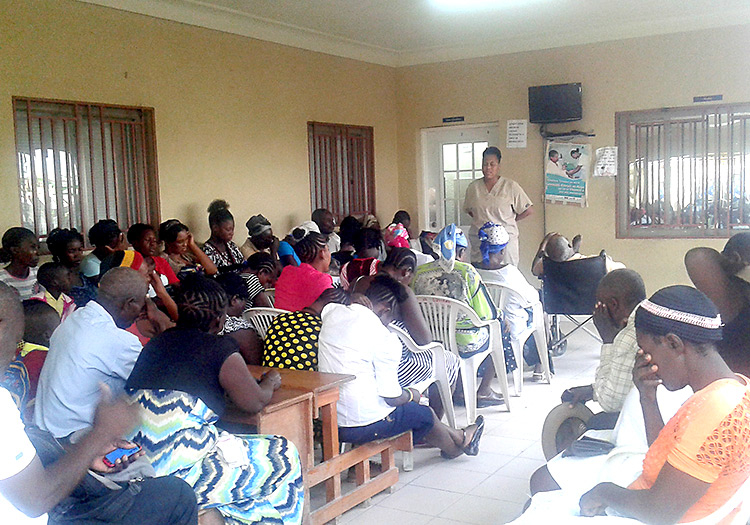 One of the first steps in becoming a mature Christian is recognizing when you accept Christ Jesus it does not come with a guarantee you will never have to go through trials and tribulations. It is also a very fragile time in the life of a new Christian who may be going through a trial.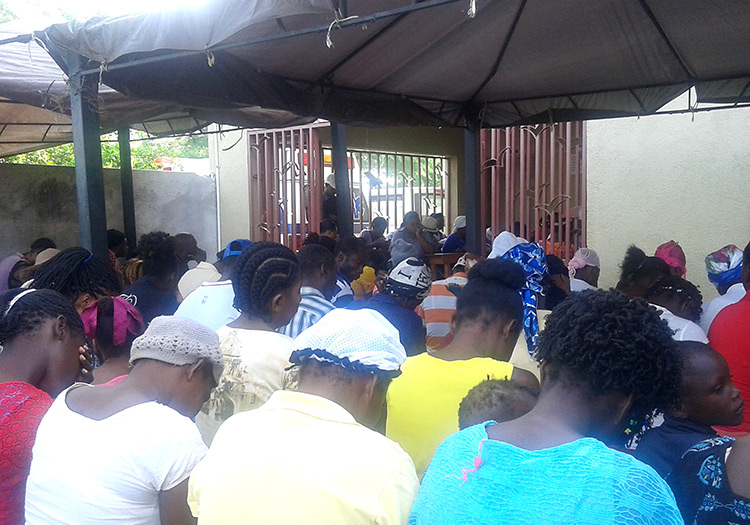 As a youth pastor, it was one of my greatest fears that the youth under my spiritual care would have a setback, or a time of trial in their lives and look at it as if God did not care.
It is how I perceive the Haitian people who are living in this culture, which is steeped in Voodoo. We try to bring the Gospel of Jesus Christ to them during their hour of suffering. We tell them how much Jesus loves them, but while they are sick and hungry, how do we bring them to a mature faith? We don't want them to just trust in faith but have a full relationship in Christ Jesus. This is the saving faith.
The Jesus Healing Center with the support of Joyce Meyer Ministries—Hand of Hope, must take a holistic approach to the care we give at the clinic. Not only providing care but also infusing everything we do with a touch of loving compassion. The type of compassion and understanding Jesus shows to the sick and poor. Not just focused on their illnesses but having a true concern for their whole being—physical, emotional and spiritual.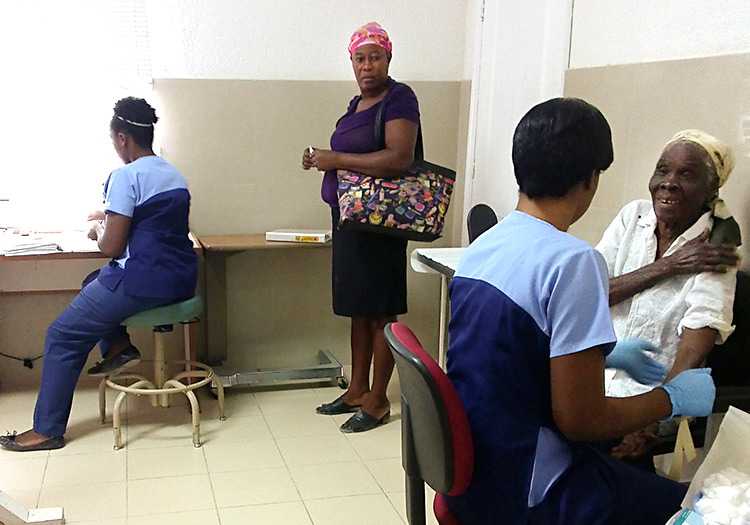 "Now there are diversities of gifts, but the same Spirit. And there are differences of administrations, but the same Lord."  — 1 Corinthians 12:4-5
It is truly a wonderful thing to see our staff coming from different Christian Churches with the same mind in Christ, to love, care for, and comfort those in need.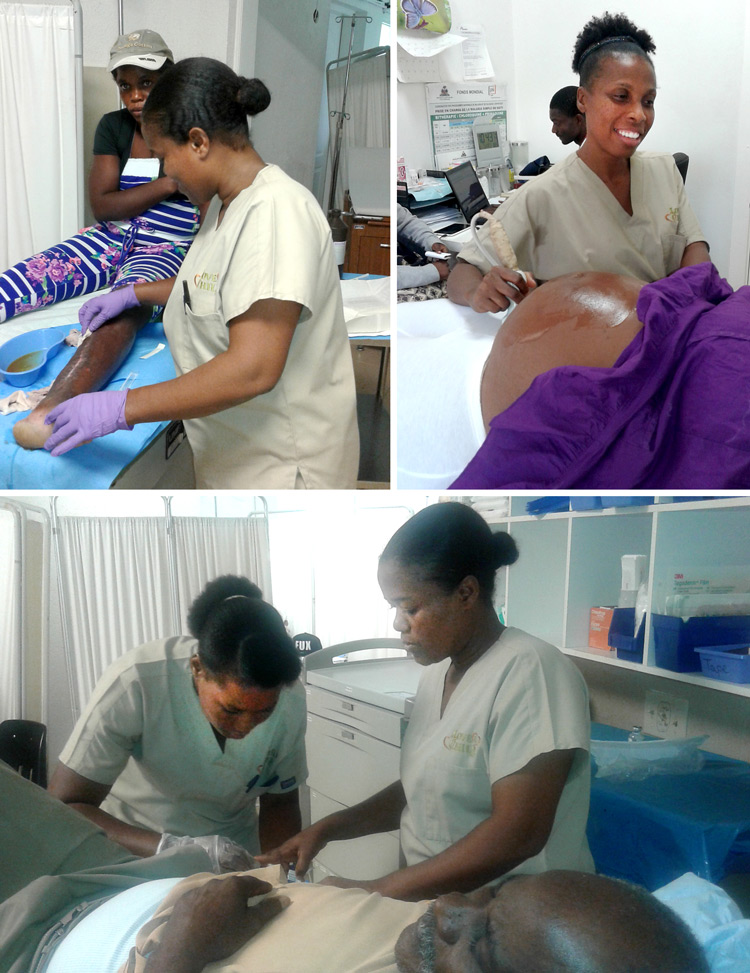 Hurricane Matthew
Our third quarter report ended with a huge whirl of wind—Hurricane Matthew came blowing into Haiti as a Category 4 hurricane, and we experienced high winds and torrential rains. The people who were most affected were the poor from the mountains and those who live near the water. The Jesus Healing Center was closed the weekend it struck, but when we re-opened we were met at the gate with many people eager to receive care for wounds, infections, and fevers from overexposure to the elements. We treated many children for skin infections due to contact with contaminated or standing water, and injuries due to unstable structures.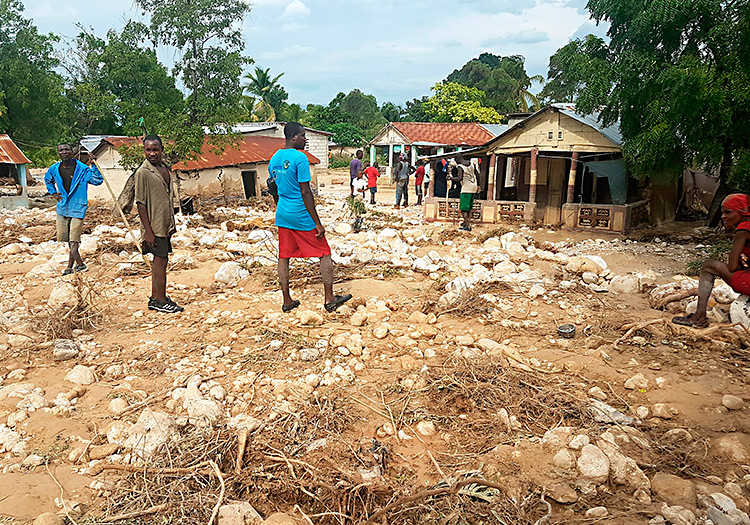 Villages were totally devastated.
Patient Numbers Remain High
As the strike on the government hospitals ended we did not experience the decrease in patients we expected. The word was out, the Jesus Healing Center was a caring clinic where patients were treated with dignity, and included not only an exam, but also labs and medications. We had reached our maximum level of patients to doctor ratio; nonetheless, the devastating conditions of the eastern portion of Haiti caused an influx of people seeking care for their relatives in the affected areas. Other zones saw an influx of people from other regions of Haiti affected by the storm; Fond Parisien was one of them.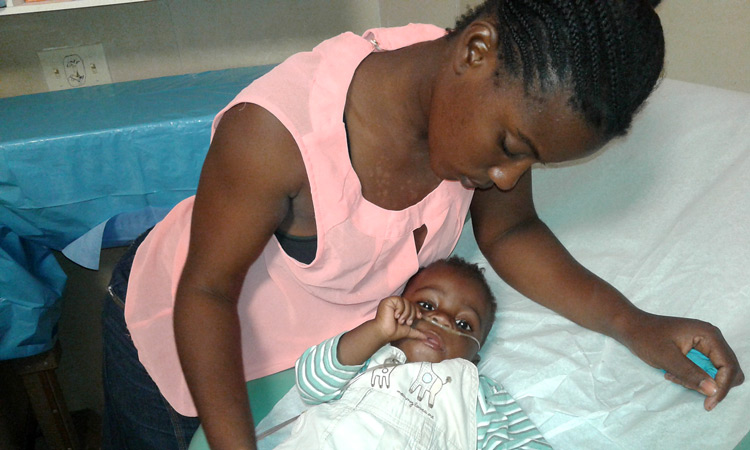 A mother awaits results of a breathing treatment.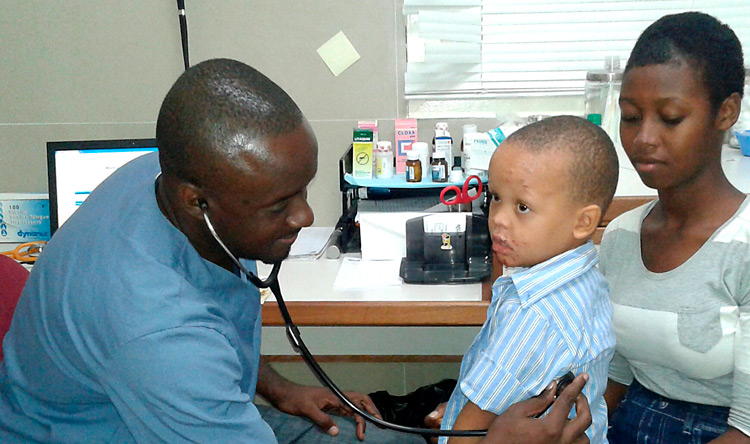 Doctor Edmond saw many bacterial skin infections from contaminated water.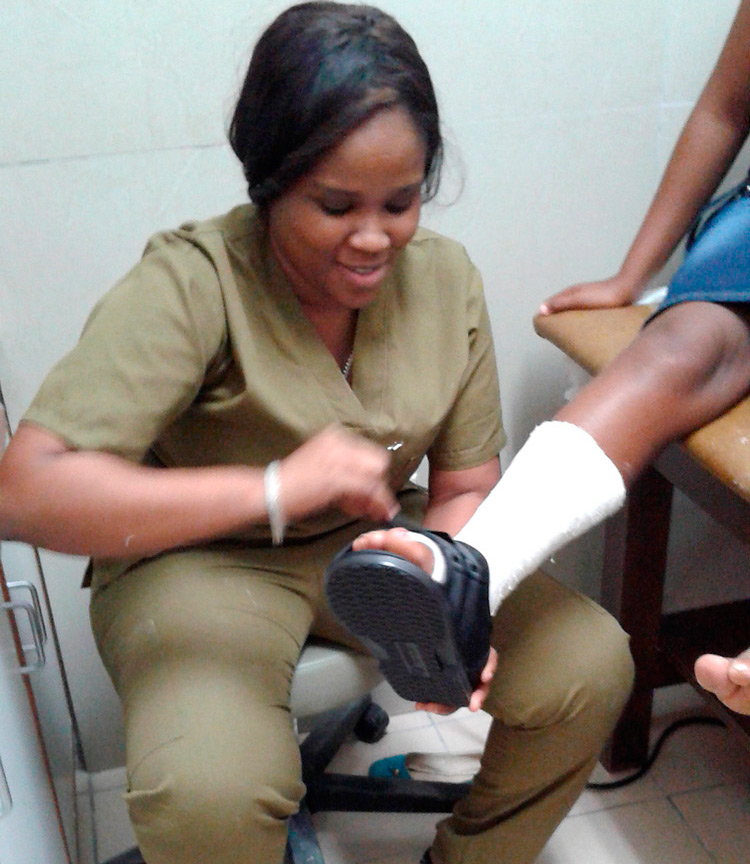 Dr. Isador applies a cast to a youngster's broken ankle.
 Hope
Hope is defined in my Bible as; "To desire something with confident expectation of its fulfillment," and coupling the definition with a scripture from Proverbs, "Commit thy works unto the Lord, and thy thoughts shall be established." — Proverbs 16:3. I pray with hope that the day will come when we don't have to close the gate on the many people who need help.
After sending out our triage nurse looking for acutely ill patients who may not have made it to the front of the line, and we had accepted 50 patients for each doctor, the gate had to be closed on the remaining people waiting.
I hope for a day when the Haitian communities are educated on health and nutritional matters. I hope for a time when their economy can sustain itself, and therefore bring a more stable lifestyle to the people, but until then with the help of Joyce Meyer Ministries—Hand of Hope, the Jesus Healing Center will continue to be the light and salt for all who come through our doors.
Barbara MacMannis
Medical Administrator
Jesus Healing Center & Malnutrition Clinic
Third Quarter Numbers at the Jesus Healing Center
Population seen in the clinic………………..……  8,989
Those receiving consultation in July ………… 2,957
Those receiving consultation in August ….….. 3,035
Those receiving consultation in September….. 2,997
Other services provided by the clinic-school, vaccination, malnutrition, family planning…. 3,015
Diagnosis
Anemia…………………………………………………..94
Asthma…………………………………………………….9
Conjunctivitis………………………………………….62
Diabetes………………………………………………….141
Diarrhea………………………………………………….37
Hypertension………………………………………….617
Upper Respiratory Infection…………………….395
Kwashiorkor/Marasmus……………………………16
Malaria………………………………………………….0
Parasites………………………………………………78
Vaginitis………………………………………………104
Pneumonia………………………………………….41
HIV…………………..(Tested Positive)……….12
Syphilis……………..(Tested Positive)……….70
TB……………………..(Tested Positive)……….6
Typhoid……………..(Tested Positive)………92
Joyce Meyer Ministries—Hand of Hope partnering with
Love A Child and providing medical care for the poor in Haiti.