December 22, 2016
"At the same time came the disciples unto Jesus, saying, Who is the greatest in the kingdom of heaven? And Jesus called a little child unto him, and set him in the midst of them, And said, Verily I say unto you, Except ye be converted, and become as little children, ye shall not enter into the kingdom of heaven. Whosoever therefore shall humble himself as this little child, the same is greatest in the kingdom of heaven. And whoso shall receive one such little child in my name receiveth me."
— Matthew 18:1-5
The children of Haiti need your help. In the rural areas of Haiti, or as we like to call the "Regions Beyond," live the forgotten children. They are malnourished and work very hard in the mountains to help their families survive day-to-day, but they have no chance to go to school.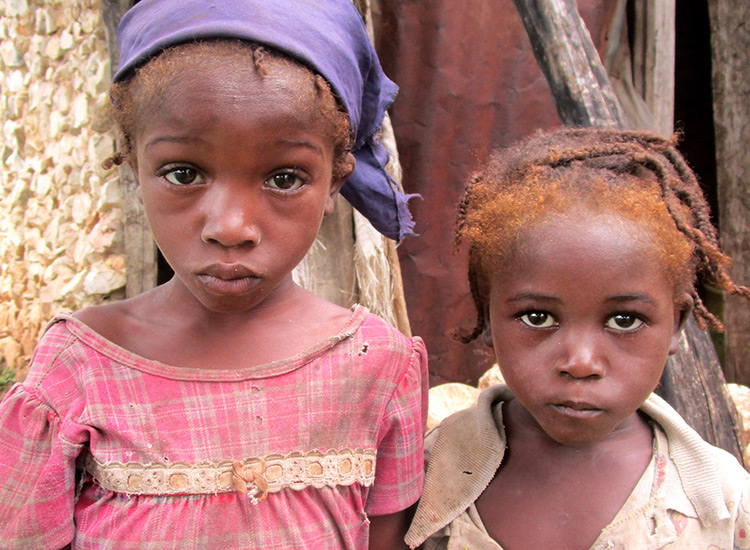 These children have a spirit for survival, and a hunger for education but the cost of an education in Haiti is beyond their family's means. Their families want to send their children to school, but they don't have the money and they need their children to work to help take care of the family, starting at a very young age.
The children spend so much of their time doing chores that they have little time to go to school. But that is what they all dream about—Going to school!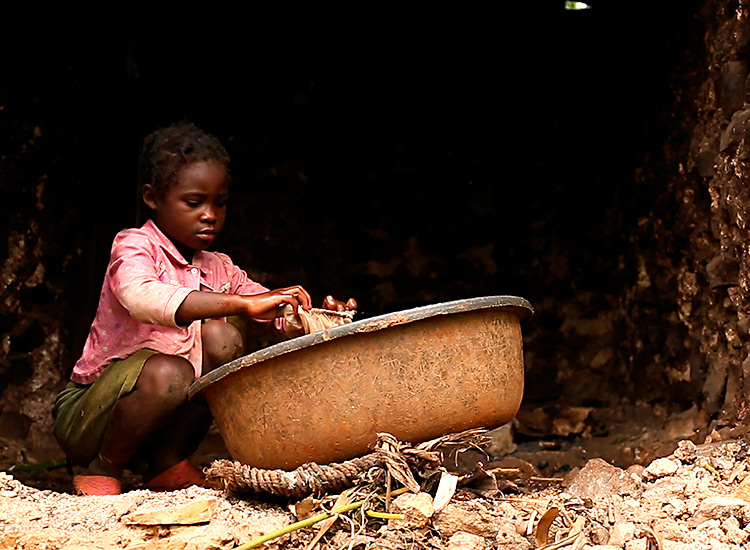 Haiti's Education System And Child Labor
Haiti is such a poor country, the poorest in the western hemisphere; the schools are not free as they are in the States. More than 200,000 Haitian children do not go to school. Most of these children have to work, like these three children that make mud cookies and have no school to go to in Sapaterre.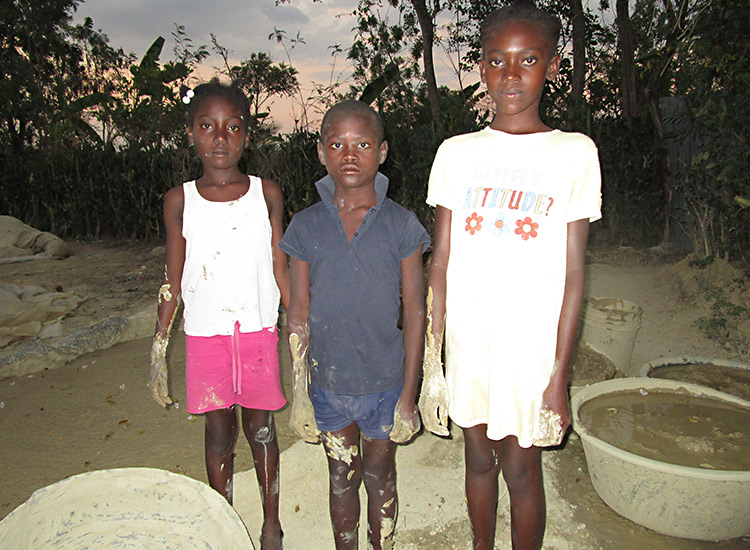 The education system in Haiti is a mess after the 2010 earthquake damaged or destroyed the majority of schools. Literacy rates hover around 55 percent and most of the 15,200 primary schools are community run or funded by religious organizations such as Love A Child, and educate 90 percent of the students that attend school today. To send their children to school, there is a cost for uniforms, shoes, books, school supplies, and the teachers need to be paid too. Haiti has one of the lowest enrollment rates in the world because the cost is too big a burden for most families living in the "Regions Beyond."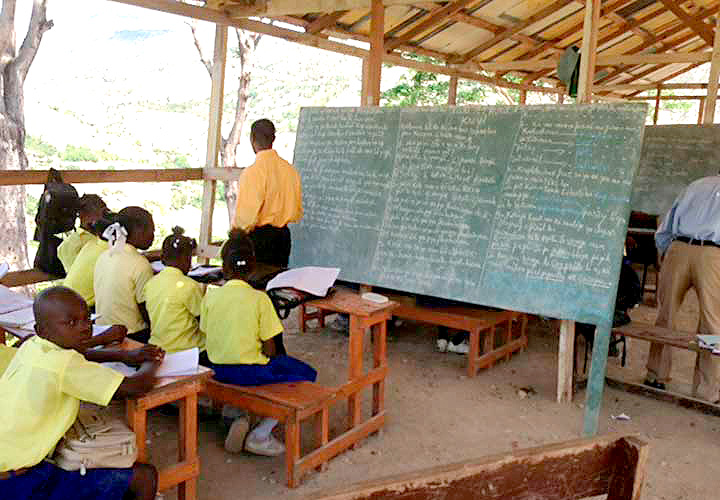 The newest version of Haiti's Constitution says that education is a human right and that public education should be offered free to all people, but the Haitian government has not been able to fulfill that obligation to its children.
The Language Barrier
The breakdown between the wealthy and the poor of Haiti starts in their schools. The two official languages of Haiti are Creole and French. Usually, the language of instruction in primary schools is in Creole. It is unclear at what grade level instruction shifts to French, and it will vary from one school to another. But their first National 'certificate' examination at the end of the Fifth Grade is given in French.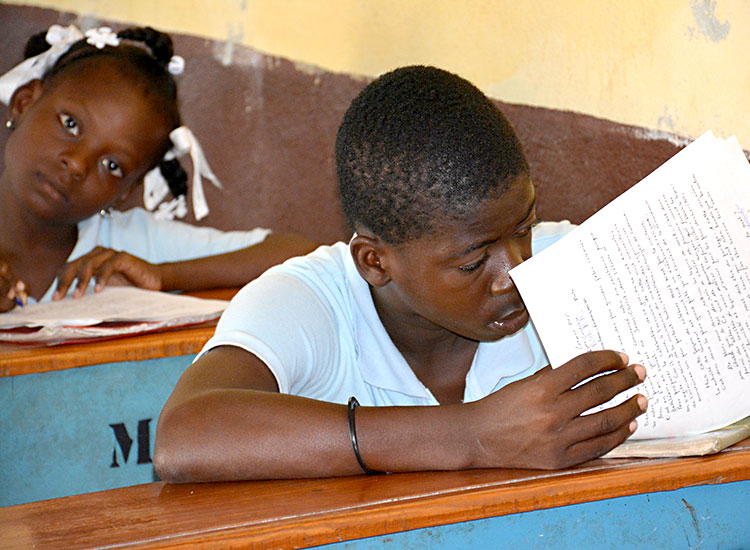 Haiti's School System
To start into the school system of Haiti, there is a preschool (Kindergarten) option but only about 22 percent of eligible children attend. These are some of the lucky young preschool students who received a Love A Child Sponsorship to attend school in Fond Parisien.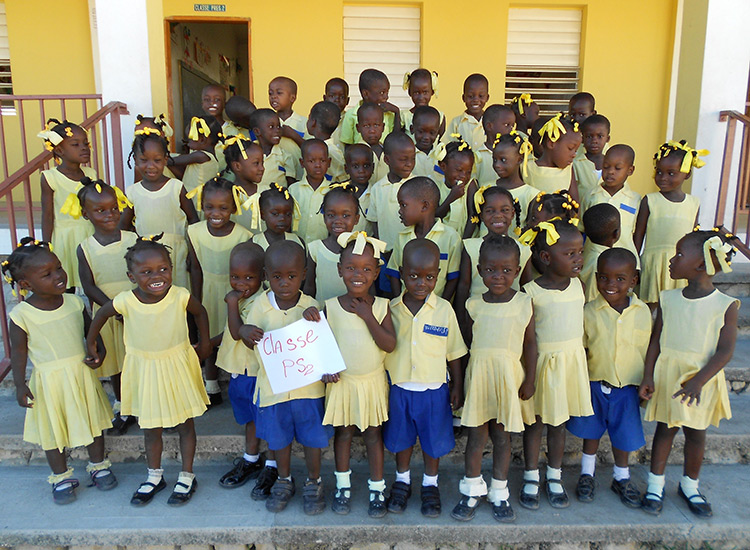 A Primary Education (École Premiere) in Haiti includes Grades 1-5 (Ages 6-12), with a required National test in the Fifth Grade to advance to the next level. It is mandatory that every child from ages 6 to 11 goes to school, though the enrollment rate for primary school is about 88 percent, it is much less in the "Regions Beyond."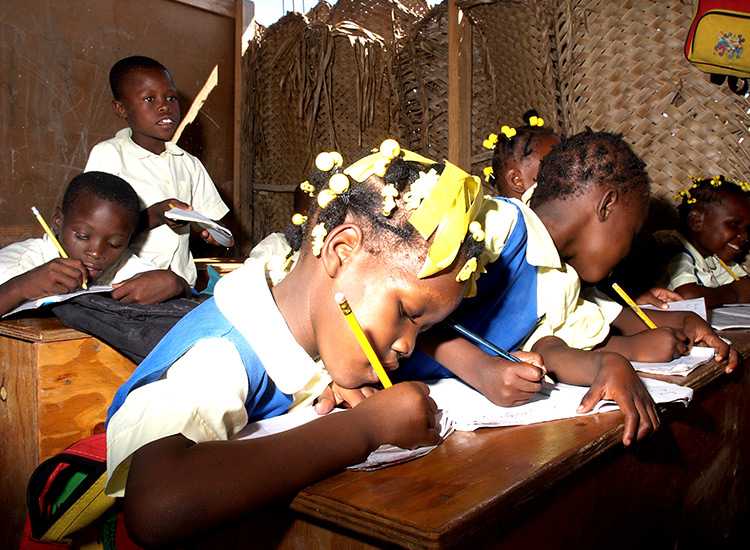 The reality is only about 50 percent go as far as the Sixth Grade. Less than two percent of Haitian schoolchildren will graduate into the Secondary (Middle School) Education level. The age group is generally 12-15 years old, yet less than a quarter of the children will go on to receive a Secondary education.
Secondary (High School) Education level students range in age from 15 to 19. All our Love A Child students who have received Child Sponsorship are able to go on to the next level. To go on to the next level, there are more national exams which students must pass and they then go to Twaziem, Seconde, then Retro, when they must pass another national exam and then the final year is called Filo, when they also take a national test to graduate, which is always in French.
If they are really lucky, or from a wealthy family, they can go on to a vocational school or university. Through our "Dream a Dream College Fund" we are able to give some of our orphans, like Jovanie and Julanne the opportunity to study at the university level.
Jovanie is one of our Love A Child Orphanage children. When she was first brought to us at the age of five, she had been living with a poor family. Her mother had abandoned her because she could not feed her. Today, she is in her fourth year of nursing school at Faculté des Sciences Infirmières de l'Université Episcopale d'Haïti (Faculty of Nursing Science of the Episcopal University of Haiti) in Léogâne, Haiti and is getting ready to graduate in about six months. When she is home from the university, she helps out in our Mobile Medical Clinics. You, our partners, have made it possible for this young woman to succeed in school, and she will be a great asset to any medical practice or medical facility. She has a very bright future and now has the opportunity to help the people of her country.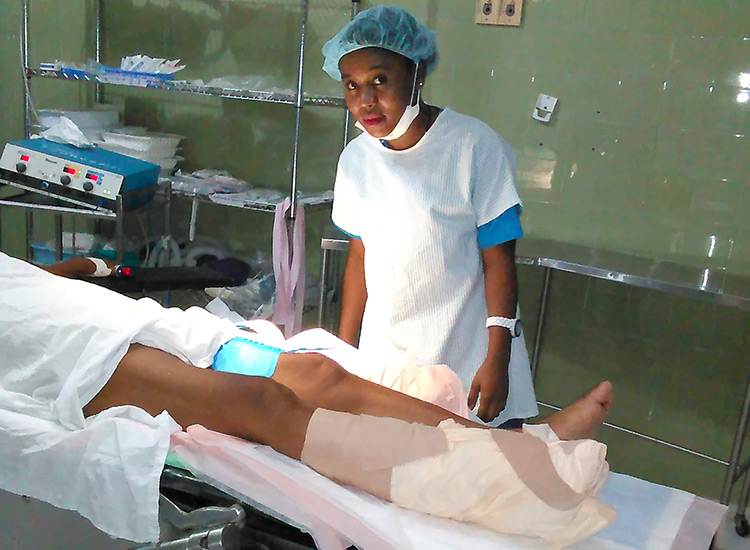 This is Julanne. She was one of our first orphans. Her father had died, and her mother was very sick and lying on a woven mat on a dirt floor in a mud hut. She took my hand and said, "Madamn Sherry, I am going to die, promise me that you will take care of my four children." This turned out to be the beginning of our Love A Child Orphanage. Julanne was severely malnourished when she first came to live with us. We gave her food, love and a place to call home. Julanne has just completed her second year at Notre Dame University in Haiti to become a pediatrician. She has always wanted to study medicine, even before going off to the university, and now when she is home on break she helps us in our Mobile Medical Clinics. She loves healing other Haitians and giving back to her country.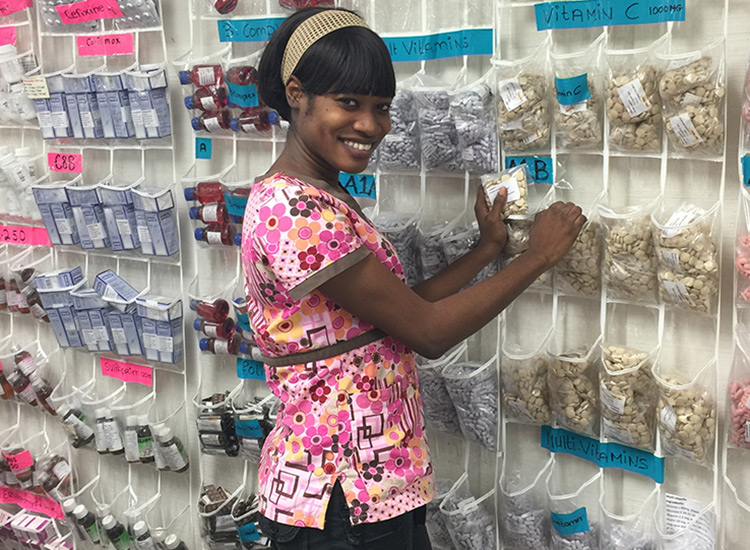 Child Sponsorship is the Love A Child Way to an Education

Love A Child presently has 18 schools, with over 8,000 children attending grades Kindergarten through Secondary education. This is only made possible because of all our sponsors and partners that donate to make education possible for so many Haitian children through our Child Sponsorship Program.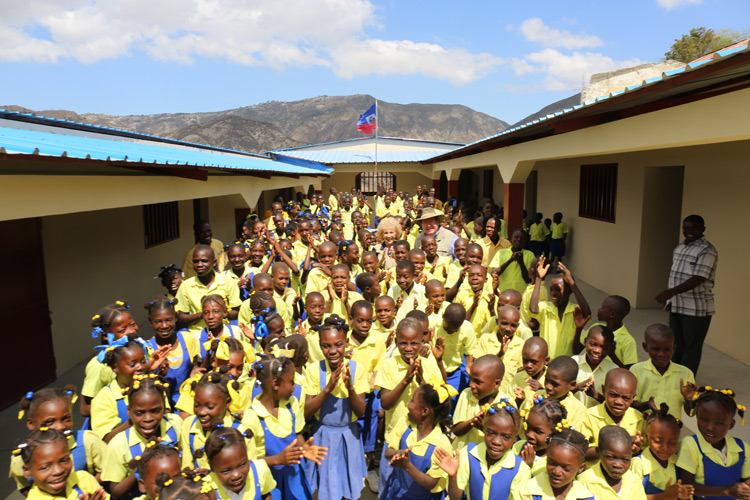 Each day these children are provided a Christian education in a caring, loving environment, and fed a hot, nutritious meal. Most of these children would not have an opportunity to go to school if we did not have our many sponsors and partners to support them.
By providing a healthy nutritious meal five days a week (around 1, 500,000 lunches in the school year), we are helping to give these children a better quality of life. For most of these children, this one plate is the only food they will eat all day. Child Sponsorship also ensures that each child gets medical care as well.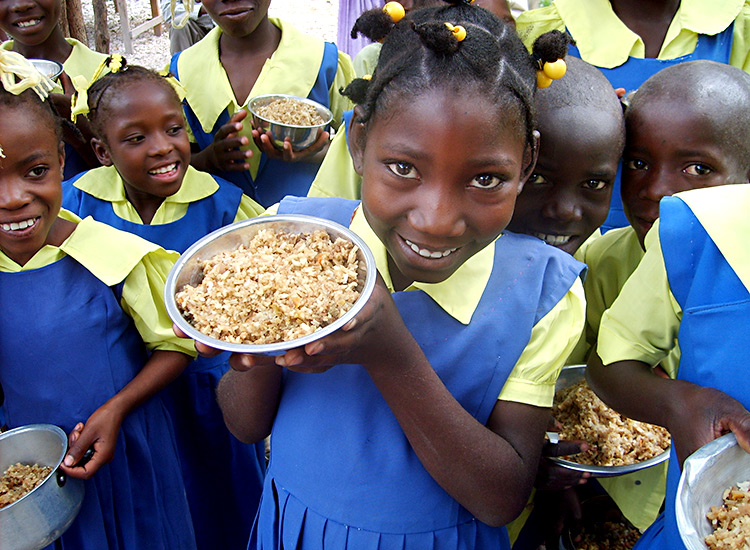 Many, many children are waiting for sponsors, and they cannot go to school without your help! More importantly, sponsorship shows these children that someone loves them and cares about their future. Child Sponsorship is one of the greatest blessings in the world and education in Haiti is truly valued. Literacy is a mark of prestige and students wear their school uniforms with pride.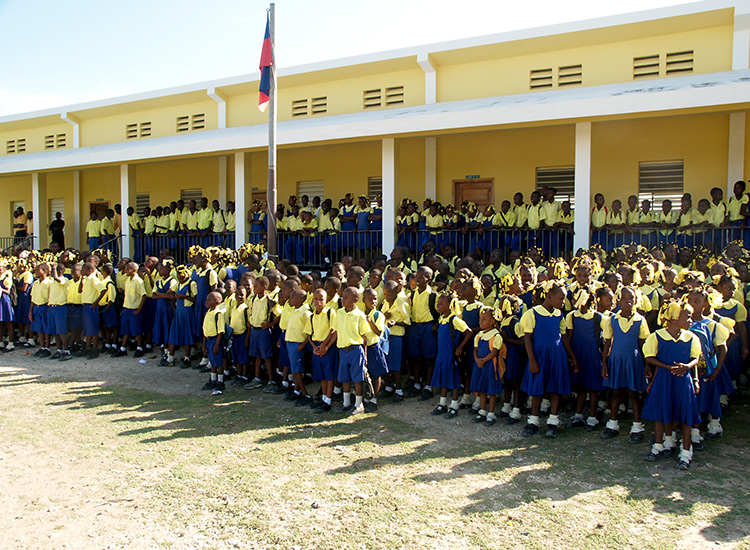 Each day, hundreds of poor Haitian children leave their mud huts, and their "empty bowls" to walk across the mountains to a beautiful Christian school! These children will someday change lives, and maybe even the world. Pray about SPONSORING A CHILD today. We need a miracle for all these children to fulfill their dreams, as Julanne, Jovanie and others have done. We have more Haitian children who will soon be ready to go to college. Please consider contributing toward our "Dream a Dream" College Fund by calling the Love A Child office at 239-210-6107. Thank you and God bless you!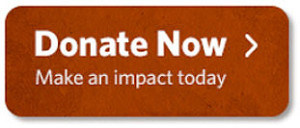 God bless you all for caring so much about the children here in Haiti.
Sherry