April 28, 2017
"Fear thou not; for I am with thee: be not dismayed; for I am thy God: I will strengthen thee; yea, I will help thee; yea, I will uphold thee with the right hand of my righteousness."
— Isaiah 41:10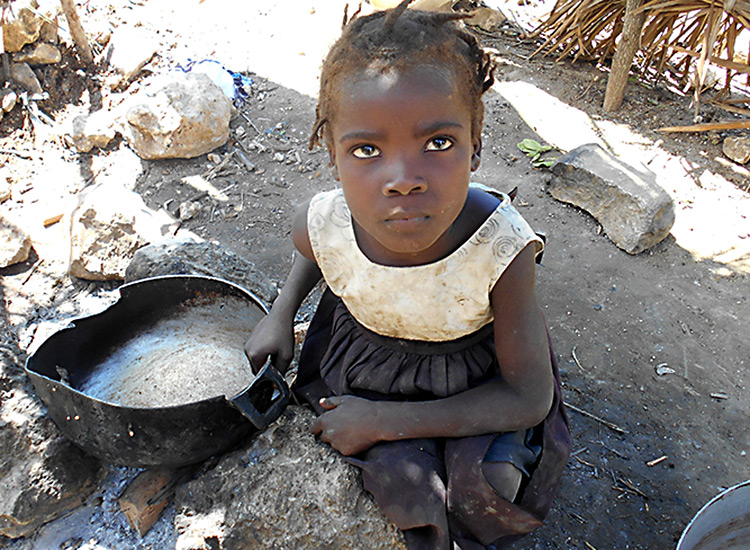 It is always the children who suffer the most. As we travel throughout Haiti, we often see children who suffer from severe malnutrition, skin infections (impetigo), open wounds that have become infected, and so many other conditions.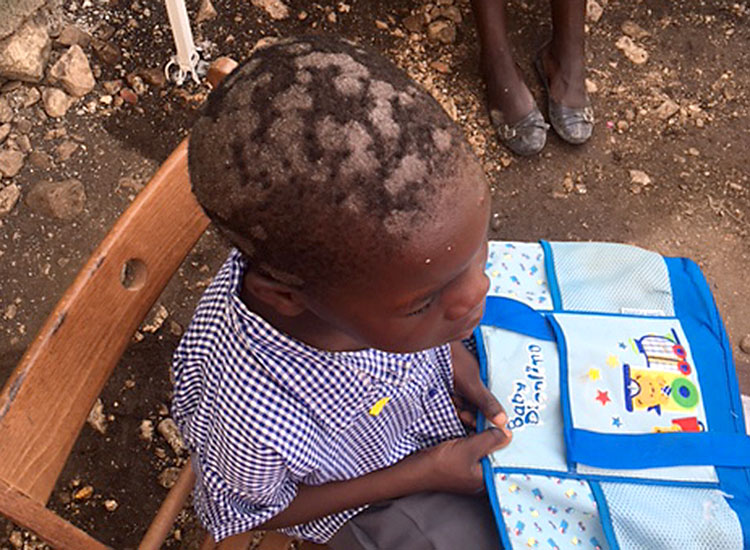 Medical care is so important in Haiti, but few people can afford it. Haiti is also unable to teach and train enough doctors, nurses and other medical professionals to staff their hospitals, so the people desperately need medical help. It is through our Medical Outreach Programs that we can help the poorest of the poor and bring God's healing powers to the people who live in Haiti. At one of our Mobile Medical Clinics in the "regions beyond," this young man had impetigo on his lower legs and feet and had been suffering from it for six years. We were able to treat this condition in just a few days with something as simple as an iodine bath, scrubbing the infected area and applying a homemade salve. Could you imagine having this condition for six years, and not knowing how to treat it?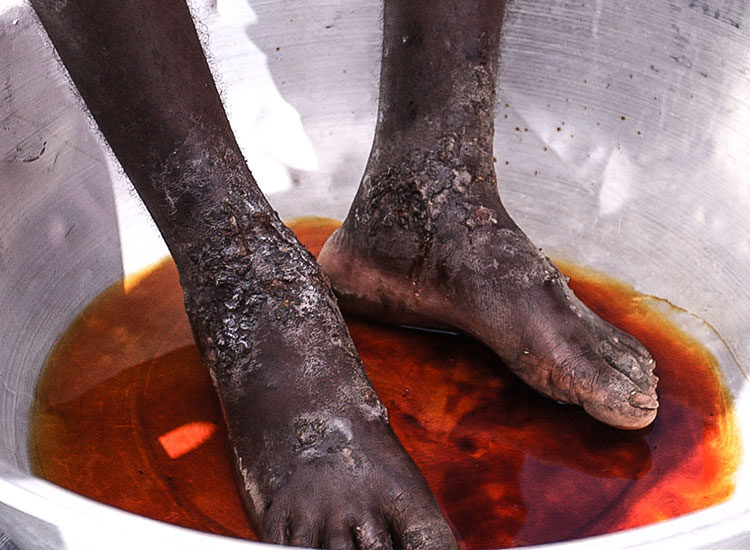 When we travel with our Mobile Medical Clinic, we come across conditions that are unimaginable in the States, but because these people have little, if any, access to medical professionals, some people often die from an infection that started out as "nothing." This young boy is Roberto, who was playing with his friends with stalks of sugarcane and got a sliver of it in his eye. When we found him at a Mobile Medical Clinic in Sapaterre, he was in so much pain, and his eye had become badly infected. We sent him to a hospital where the doctors removed his eye to prevent the infection from spreading to his brain and causing him to die.
Love A Child brings the healing power of God to those in need. Whether we go to the "regions beyond" with Mobile Medical Clinics, or at home at the Jesus Healing Center, and the Malnutrition Center, the lines to see a doctor each day are endless.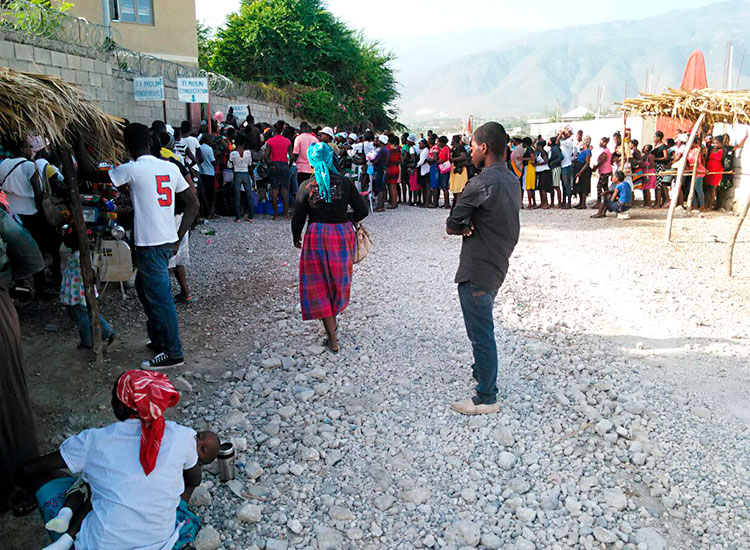 This little girl is from the village of Dennigon. She is tortured with malnutrition, has dry skin, a bloated belly, and dry, straw-like red hair. For Haiti's poor children, hunger is their worst enemy.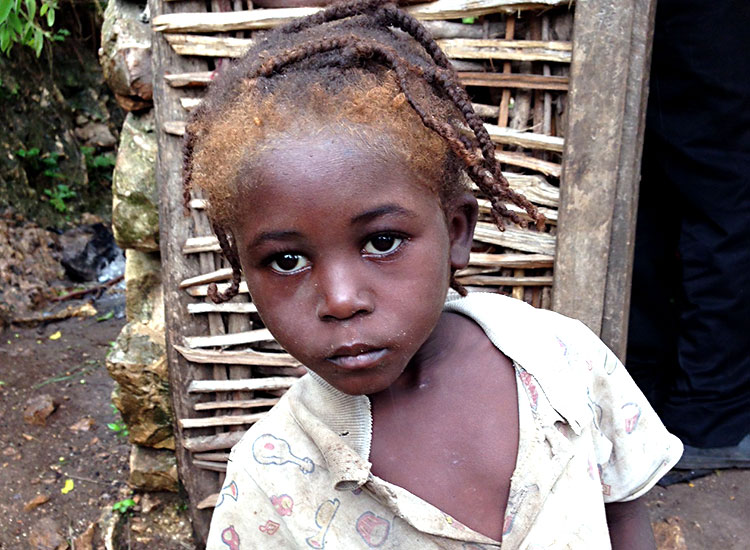 One in ten Haitian children never lives to see his or her fifth birthday. For the poor, finding food is the top priority. Many children and most adults do not have a full meal every day.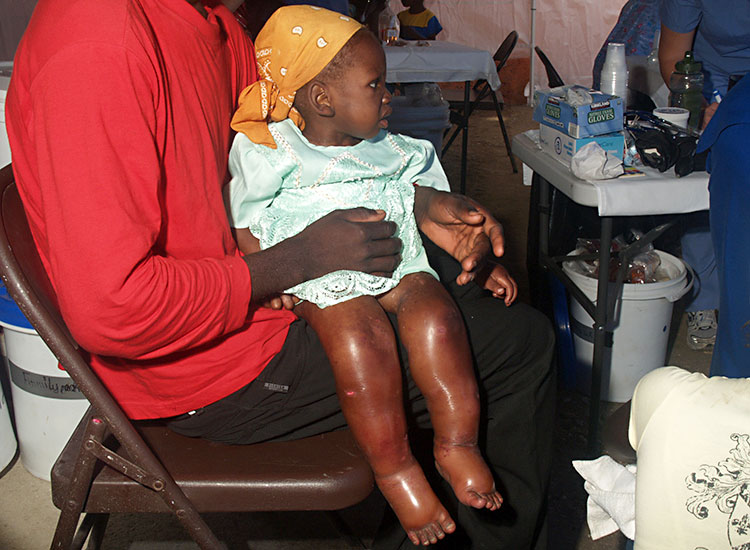 Try going one day without any food at all, and you will feel "just some of what these children feel every single day of their lives." Someone once said, "Let our hearts be broken by the things that break the heart of God…"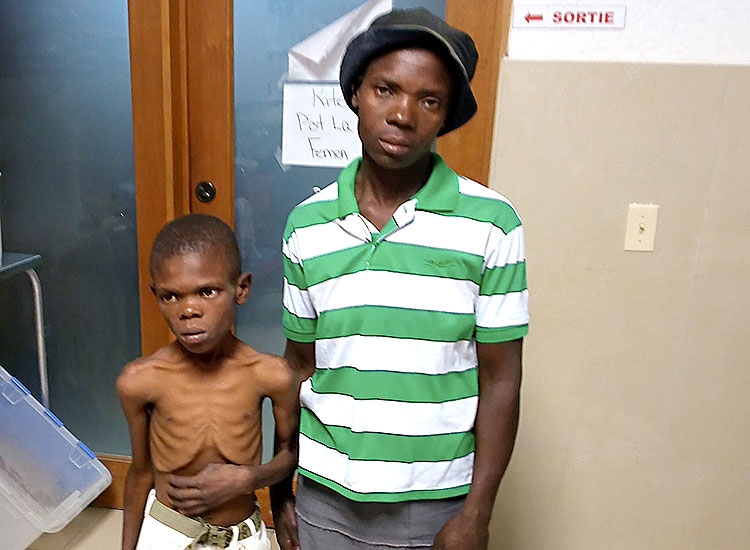 The Malnutrition Center was created to manage the horrible symptoms of malnutrition and to monitor the health of babies and toddlers. The center offers healthy food to struggling new mothers, but the staff also educates Haitian women on the best way to care for their newborn infants. We have saved so many precious lives because of this center.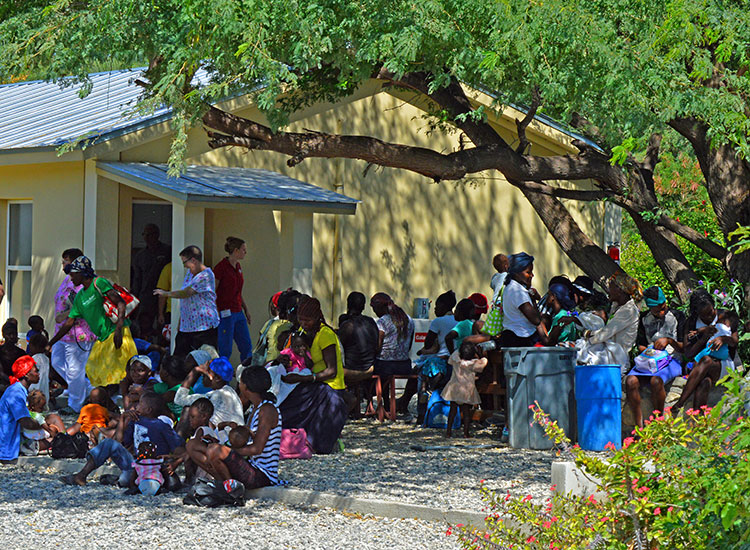 The Malnutrition Center brings hope to many mothers as their pregnancies are monitored, and we offer food support for those mother and their children. We work to prevent babies from dying of severe malnutrition. Mothers bring their babies, who are referred to our Malnutrition Center, and they receive check-ups and instruction on what foods they can give for little money. Babies are weighed each week and measured for growth. Some need to come for more than a year. Mothers leave with bags of food on their heads for their babies.
Our daughter Julie was at our Malnutrition Center when she saw two little boys sitting on the ground on a piece of board with no parents present. They had head fungus and were very malnourished. Julie asked them where their mother was and they said, "She couldn't come because she had to work." They had traveled HOURS on a tap-tap all by themselves. Julie said she talked to them and with tears in her eyes, she gave them a hug and gave them money to get back home. They also received food from our Malnutrition Center to take home. Our hearts are constantly broken with the "cry of the poor."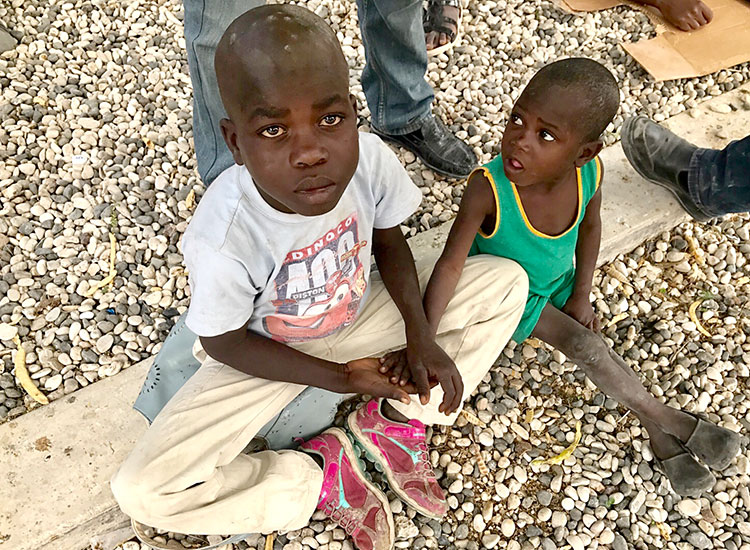 Several weeks later, Kaeli and our daughter Julie went up into the mountains to check on these children who had traveled by themselves each week to come to the Malnutrition Center for their follow-ups. Fritznel, age nine, brings his little brother Kisnel, age five, to the Malnutrition Center. Their mother struggles every day to care for her seven children, and feeds them when she can. Julie's heart broke the first time she met them, and this day was no different. Tears swelled in her eyes as they prayed with them, God put them in our lives for a reason.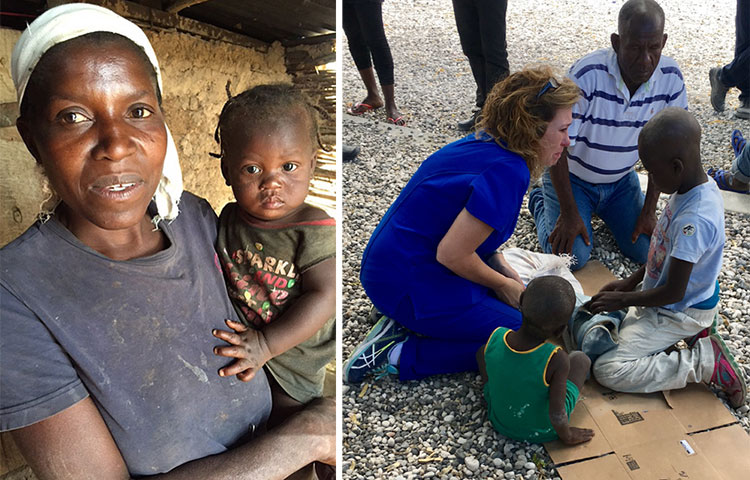 Our Jesus Healing Center continues to grow and meet the demands of so many of the poor coming from Fond Parisien, and even as far away as Port-au-Prince, and the mountains of Peyi Pouri. We were able to increase our patient load to over 1,000 patients each month.
The people in this region know that we have the best of care and their lab work and medications are also included. If they need further assistance, we have a Benevolence Fund to help with their other medical needs. The Jesus Healing Center recently received a 15-passenger van from Joyce Meyer Ministries—Hand of Hope. This van is invaluable and provides transportation for patients, their families, and children from the orphanage to receive medical care from specialty doctors or other clinics. This van frees up our ambulance for emergency trips only.  More Haitians can now go to off-site physicians' appointments, which are improving the quality of their lives. Thank you, Joyce Meyer Ministries—Hand of Hope, for this wonderful van and for supporting the day-to-day operational costs of the Jesus Healing Center.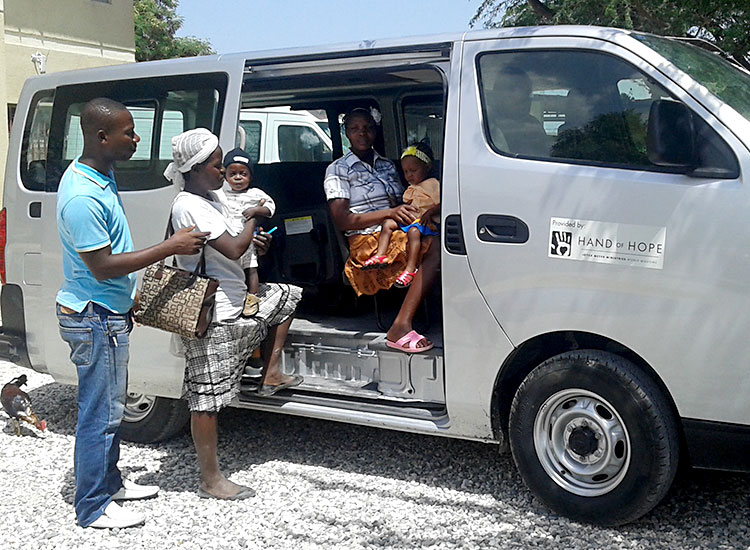 God bless all our wonderful partners, who have sacrificed again and again to bring health care to the poorest of the poor here in Haiti. We want to thank the Lord, the team members, and thank you to our partners who sponsor Mobile Medical Clinics and to those who gave large and small gifts to make this possible! Please consider helping us to continue to provide these precious Haitian people the quality of medical care they deserve. A gift of any amount will help us provide emergency care, like sending someone to the hospital. Please consider how you can improve the life of someone in Haiti. You can sponsor a "Family Pack" for a gift of only $20. This is a pharmacy in a bag and helps Haitians relieve common ailments such as cuts, colds or a headache. Your gift of $1,000 will sponsor a remote Mobile Medical Clinic for an entire village. This includes medicine, vitamins, and other supplies.
Please consider becoming a team member on a Mobile Medical Clinic trip to Haiti. We need doctors, nurses, and dentists, but we need "hands-on workers" too. Please contact Shar at (239) 210-6107, if you are in good health and interested in a life-changing trip. Thank you.
You may give securely online or if you would like to speak directly to one of our staff members, please call
(239) 210-6107 or email us at [email protected]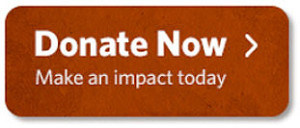 God bless you and thank you so much for your compassion, on behalf of the poor in Haiti.
Sherry