June 16, 2017
"He raiseth up the poor out of the dust, and lifteth up the beggar from the dunghill, to set them among princes, and to make them inherit the throne of glory: for the pillars of the earth are the Lord's and he hath set the world upon them."
— 1 Samuel 2:8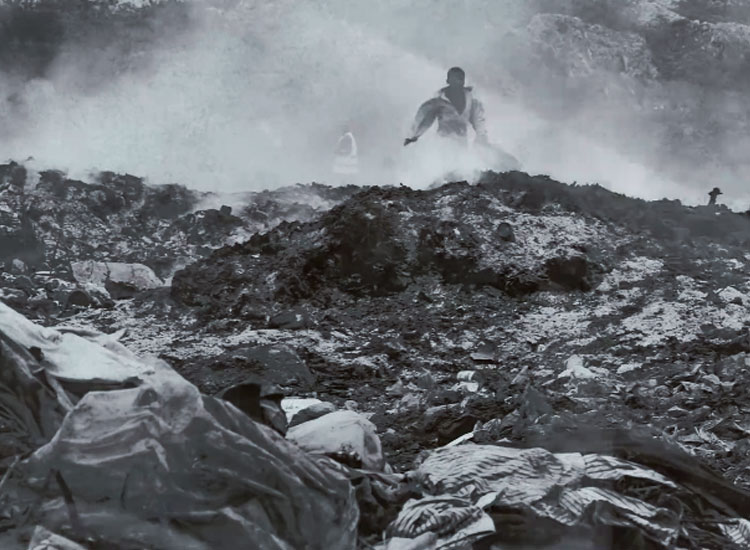 In Cité Soleil, life is very dangerous. The whole area is considered one of the worst slums in the Western Hemisphere. The living conditions in these slums are a human tragedy. It was built on a former garbage dump that is overcrowded, with many Haitians living in shacks made from corrugated steel, empty shipping containers, and make-shift tents. The area sits on a watery ground that is 12-14 feet deep with garbage and human waste. It was the only water-drinking source for this extremely poor and rough community of Cité Soleil. The people have no access to safe drinking water, toilets, or electricity.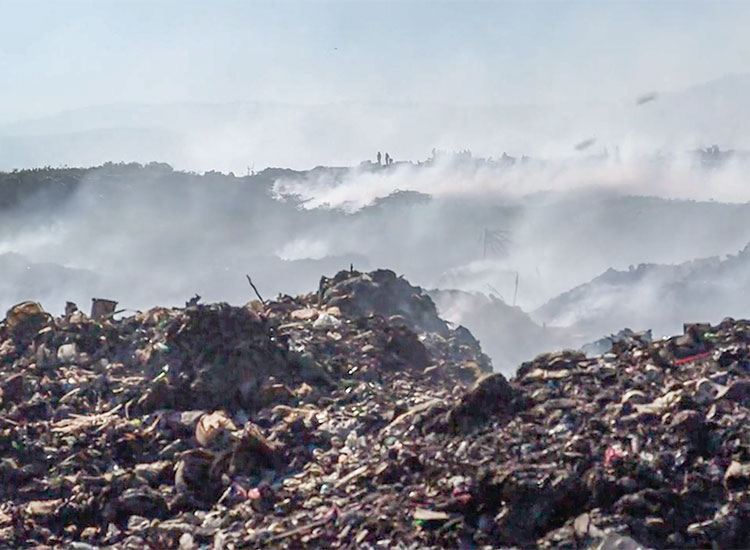 Perhaps if you have seen one of our television programs or read one of my journals, then you have heard about the Truttier Waste Disposal Dump. We try to visit the area each month to take badly needed food to the poor who moved into this area after the 2010 earthquake. It is a dangerous area, and there are 200 acres of smoking debris. As the garbage trucks roll into the dump site, Haitian children are not far behind searching for food or something they can sell.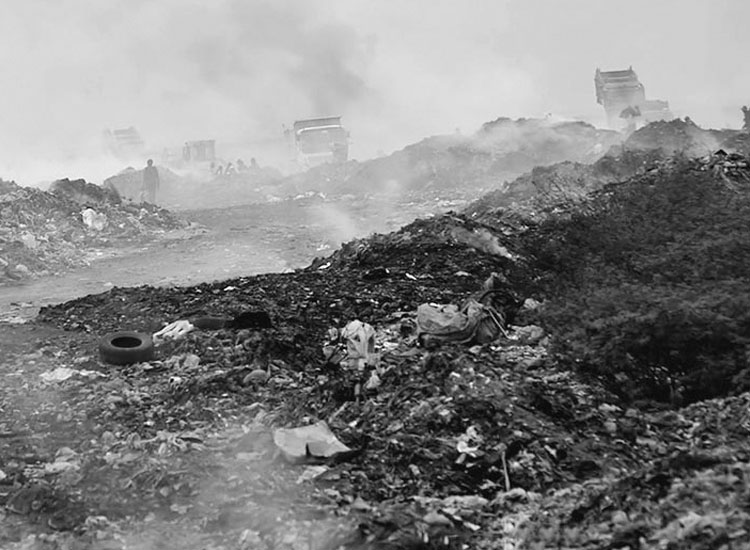 There are several "territories" within the Cité Soleil dump site that are ruled by dangerous gangs, and we have to be very careful when we come each month to do food distributions. There is always an undercurrent of gang violence. It is considered by many to be "Hell on Earth," but it's also a source of income and a home to well over 1,500 people. Residents scavenge for recyclable materials they can sell. We had to call on five local Haitian Policemen, in addition to two private and a local security company to take food to these people.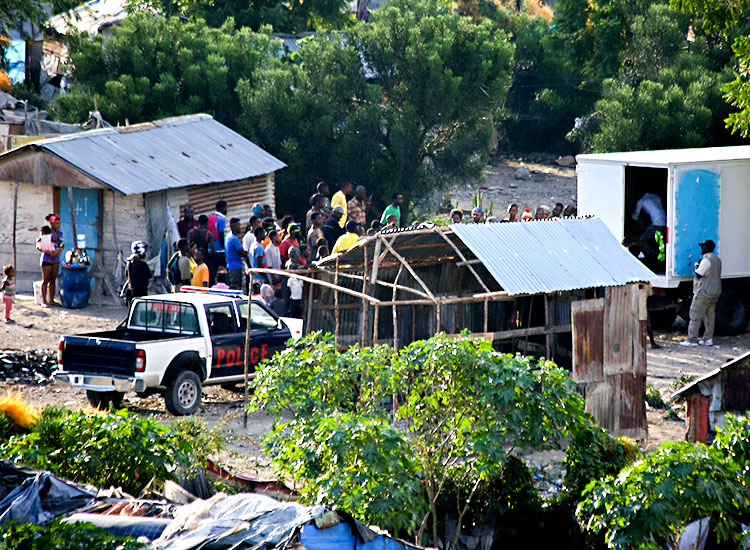 We have been reaching out to the poor people who live in the Truttier section of the dump, but we recently started visiting another area of the dump called Rapatrier. And there are so many children!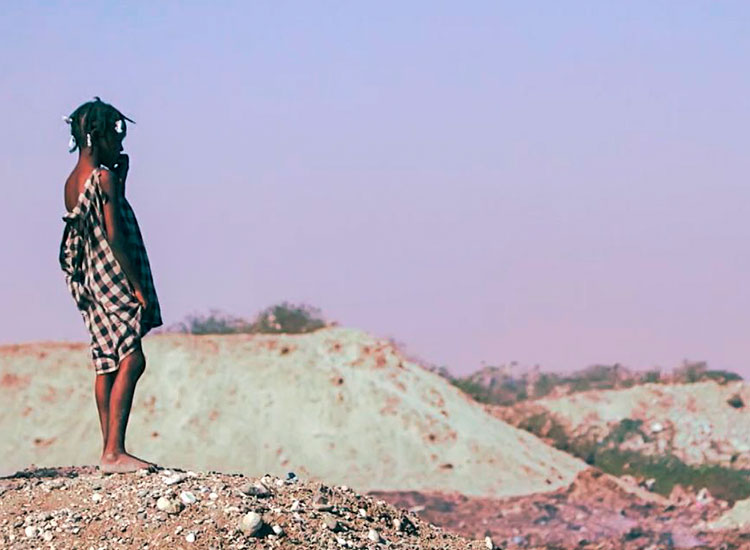 Most of the families live in sheds and tarps with dirty water flooding in from the ocean wharf. We held a feeding program at this small, tin shed school. Thank you, partners!
I actually cried when I saw the little children, who were so quiet, so precious, so sweet and were waiting patiently.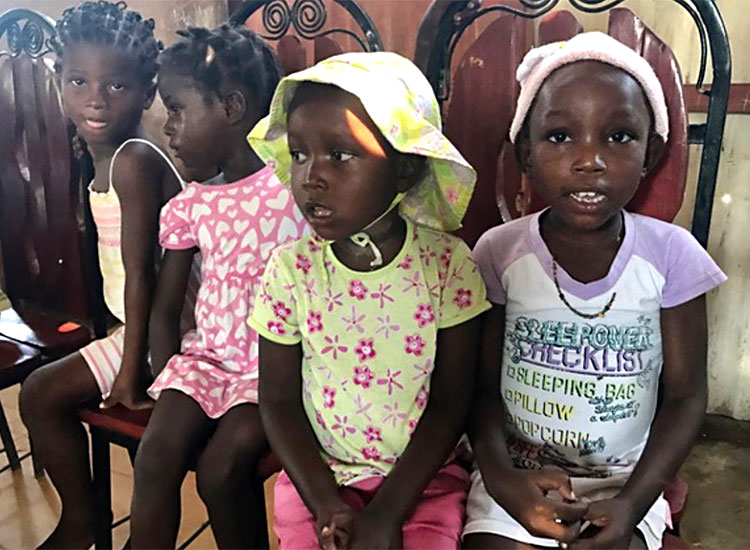 They were sitting on the ground and in broken chairs, waiting for a hot, nourishing bowl of beans, rice, fish, and sauce!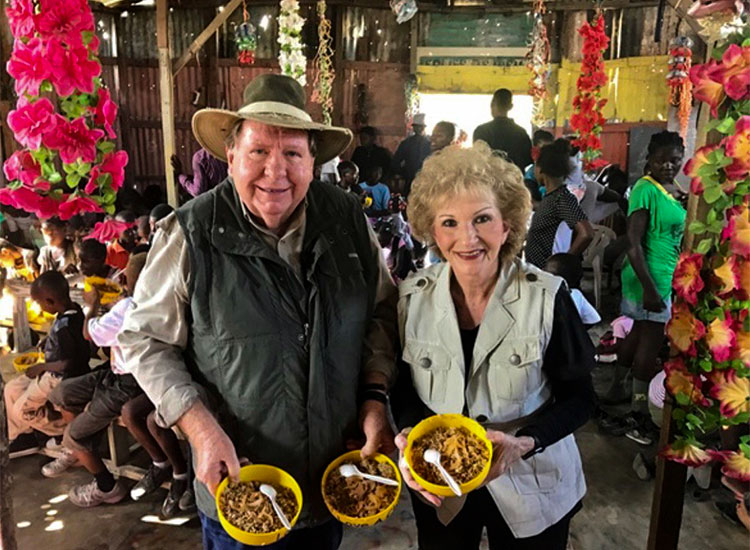 We later went to another area of the dump and distributed large sacks of food to more than 180 mothers. A total of 41,150 meals were given to hungry children that day! Thank you, partners, we could not do this without your support.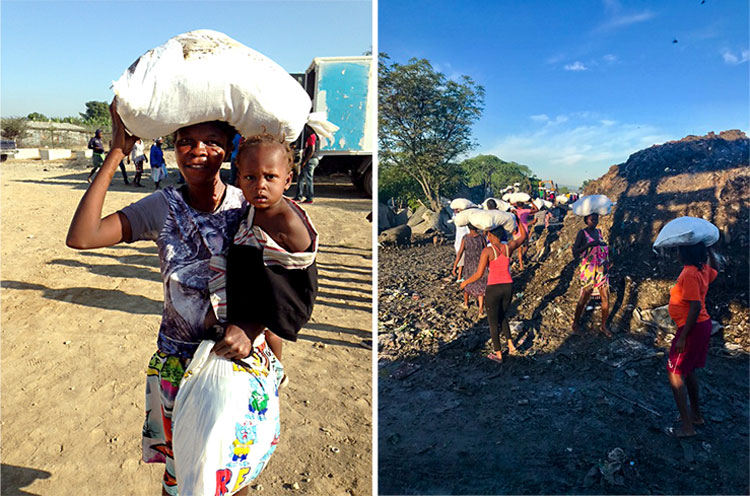 I walked into the small shanty filled with quiet, hungry children who had big staring eyes. I could feel the presence of Jesus and began to cry. I couldn't help it.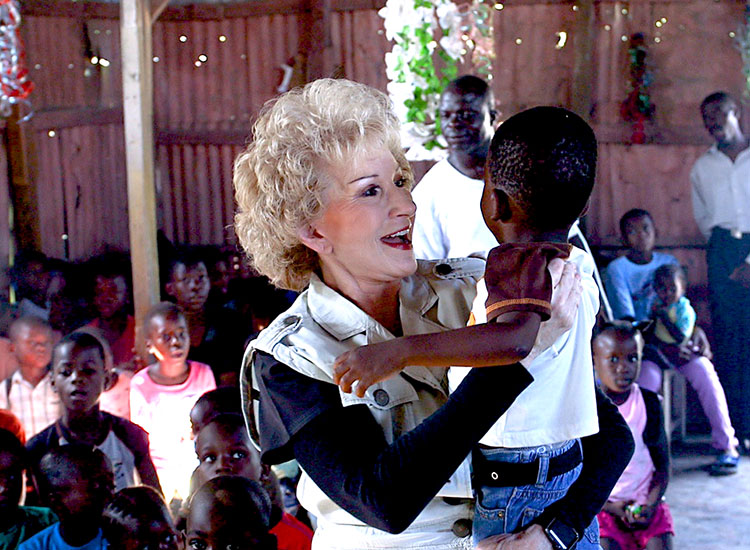 As I held a child in my arms, I heard this over and over again. "Inasmuch as ye have done it unto one of the least of these my brethren, ye have done it unto me." Matthew 25:40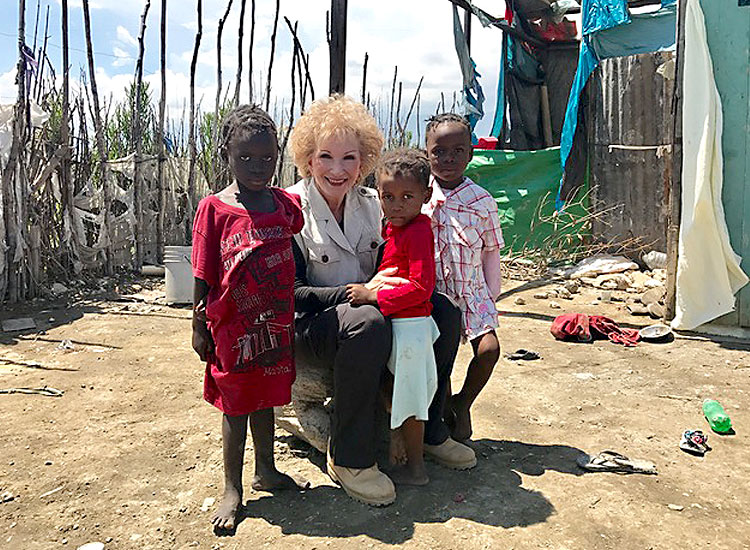 This family is one of the many living in the garbage dumps of Cité Soleil. The father searches through the dump to find anything he can to sell for food. He found a couple of "used" lithium batteries in the depths of the garbage, and he was so happy. Now, he can sell some for food and have one left over to make light in their "tent-and-stick" house at night.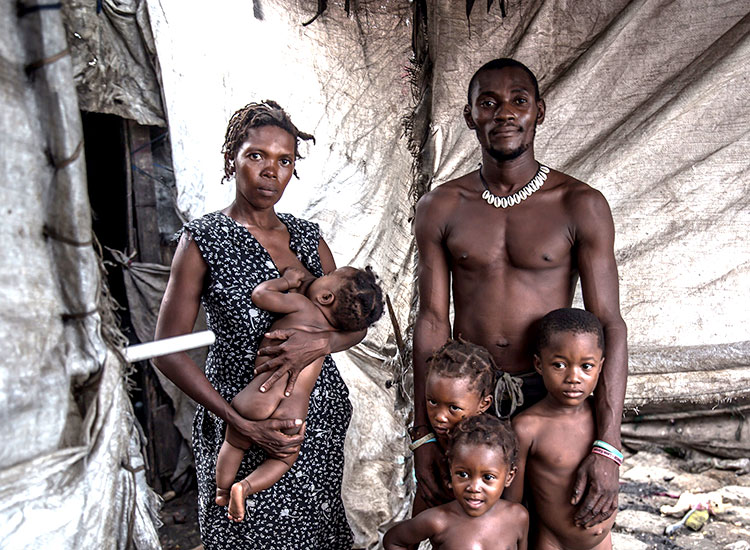 We do not know the "cry of the poor," and we will never know unless we "walk in their shoes." God help us never to neglect a real need.
As I watch these Haitian people struggle for their survival, I often wonder, "How can we help these poor people escape this terrible area?"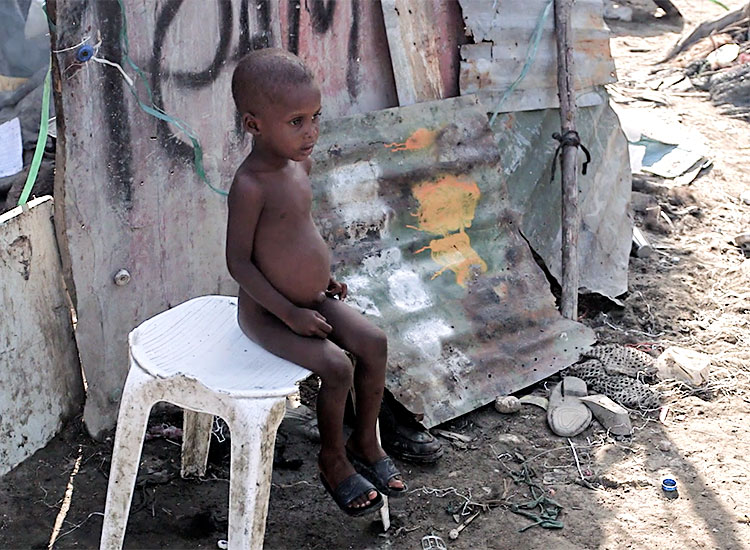 Life in the dump for those poor Haitians, who have no place else to go, is unhealthy and unsafe. They erect makeshift homes and raise families among the mountains of garbage where they scavenge for food along with the pigs, cows, and goats that roam freely.
Every day they search for scrap metal, plastic, and other recyclable items so they can survive. There are no jobs, health care or structured education. This is their only choice right now. Love A Child wants to reach out to this area by including them in our Feeding Program, by giving them badly needed clothing, and by praying for them. We want to bring hope to these people living in the dangerous slums of the Truttier Waste Disposal Dump. But we need your help!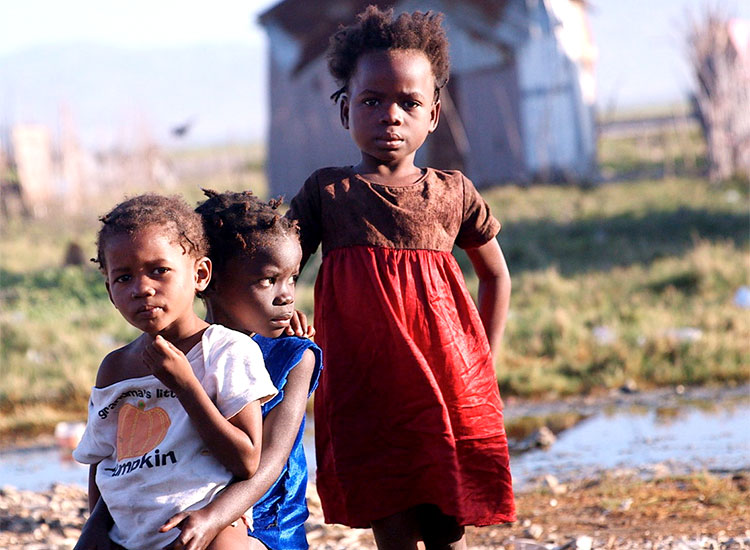 We are so grateful that so many of you have the love and compassion to help us bring not only food and clothing to the poorest of the poor but also some hope and dignity to these precious people of Haiti.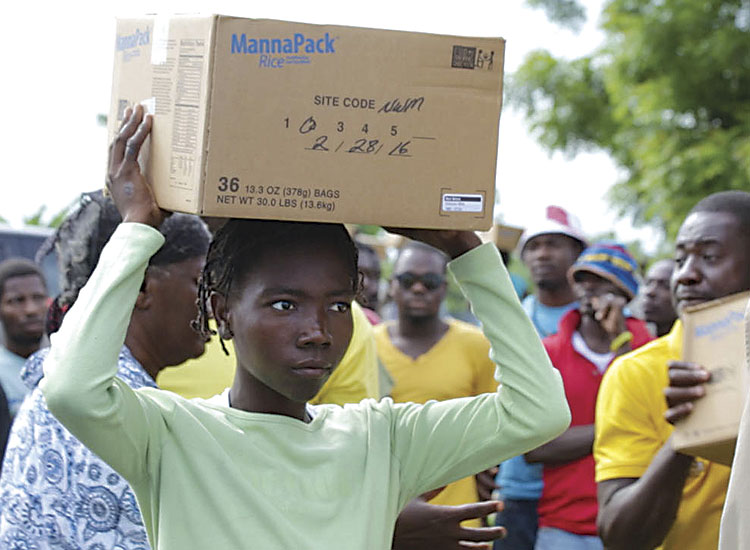 If you would like to make a contribution and make a difference in the lives of poor Haitians, who suffer in the mountains of garbage in the dumping grounds of Cité Soleil, please email us at [email protected]. You may also give securely online, or call our office at 239-210-6107 and let a staff member know that you want to help. Whatever small thing you do unto the poor today, you do it unto Jesus!
God bless you!
Sherry