"I have shewed you all things, how that so laboring ye ought to support the weak, and to remember the words of the Lord Jesus, how he said, It is more blessed to give than to receive. "
— Acts 20:35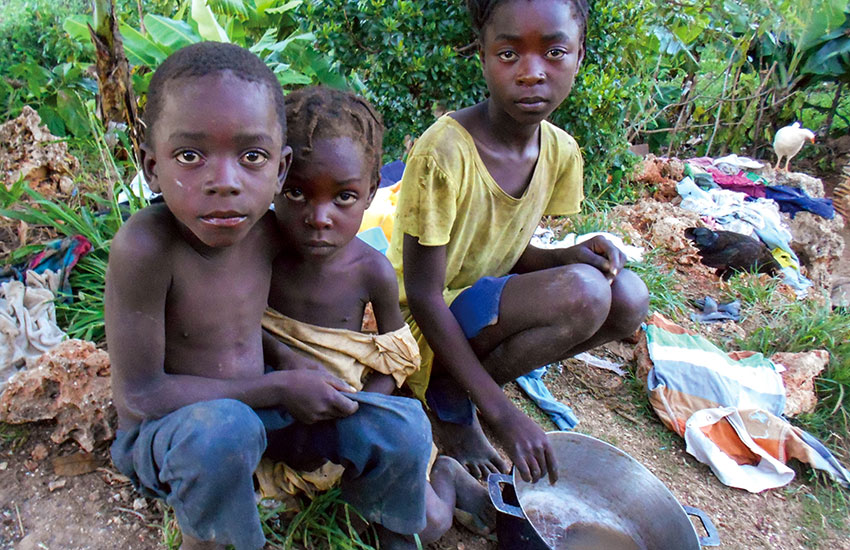 As we do God's work here in Haiti, we are no longer surprised when we visit poor villages to find the young children have little or no clothing. For most families, buying clothes for their children is not a priority, food is. Throughout the years, so many of our sponsors, partners and friends have opened their hearts with their generous giving by sending us beautiful handmade clothing to distribute to the poor families. Donations are vital to our missionary work with the people of Haiti.
From Rags to Riches… That's how these little girls feel when they put on a new dress! I have seen children in Haiti make dresses out of burlap sacks and sew shoes together with inner tire tubes. You will never know how much these children appreciate things like dresses, sandals, and more. These dresses came from Mark and Sharron Pettway! We are so thankful, and the little children say "Mèsi Anpil!"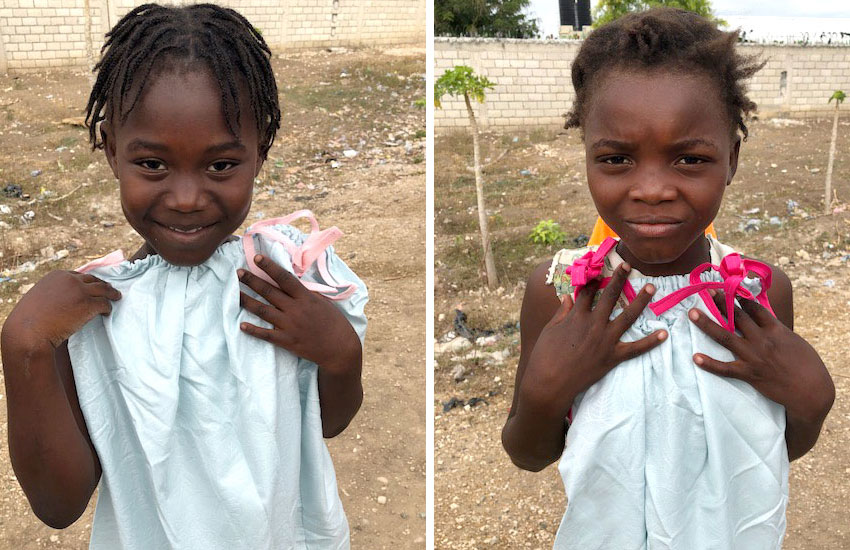 Mark and Sharron Pettway also sent these cute hats. It can get very cold in the mountains, especially at night. So for these cuties, these hand-knit hats will help them stay warm.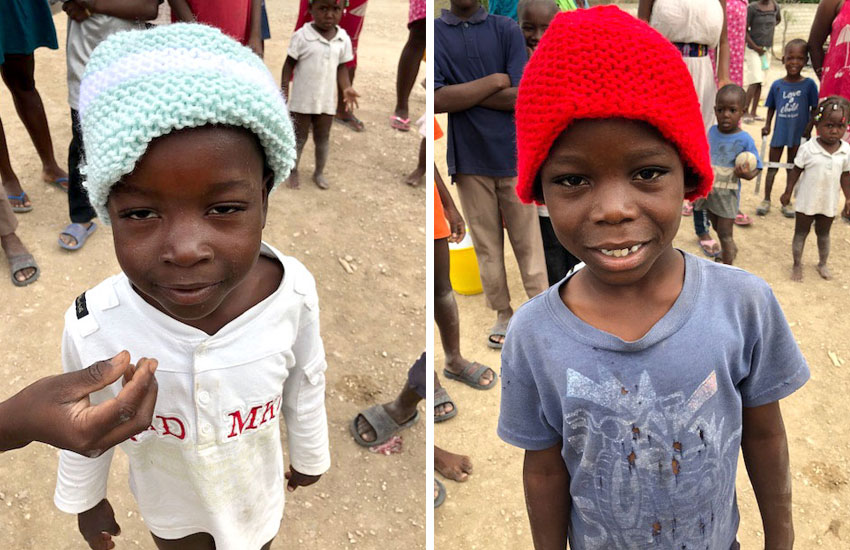 We are so thrilled with the wonderful clothing that our partner Sharon Oehlman sent us. We shared these cute dresses with some very happy little girls. Thank you, the little girls loved them!!!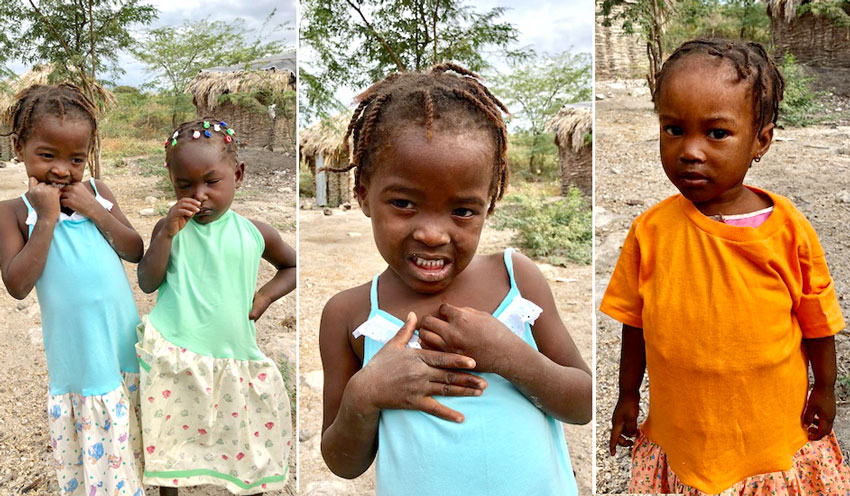 We also want to thank Lutheran Missions Attic Workshop for the handmade quilts! These precious families would never, EVER be able to have a beautiful, warm quilt like these. All their money is saved for food. They can NEVER buy clothing or blankets! Thank you, all! God has blessed your hands and hearts!
Lutheran Missions Attic Workshop also sent these colorful pillowcase dresses. These young girls will wear them at church and special occasions.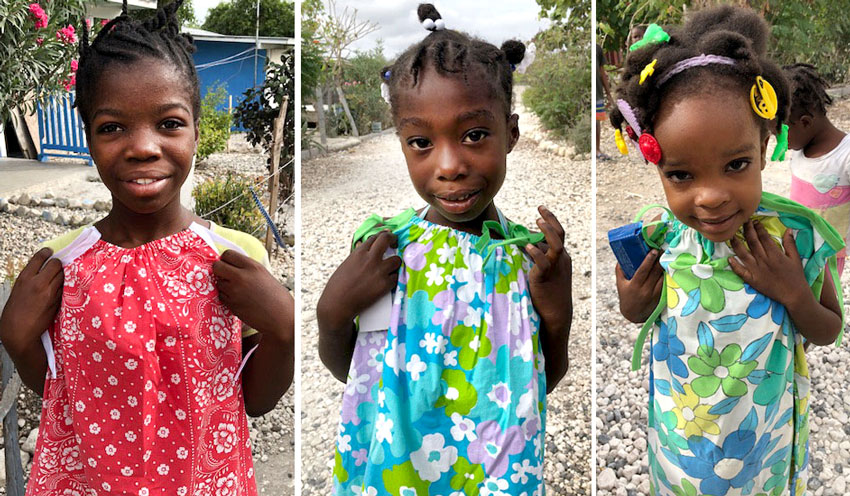 We don't realize it, but when we feed the hungry, or visit those in prison, or clothe the naked, we are really doing this unto Jesus himself! Jesus said that when we do this unto the least of these little ones, we are doing this unto Him! We want to say; "thank you" to our friend Billie McCauley for these adorable dresses for these little Haitian girls!! Now, they will have something to wear to church! Thank you and may God richly bless you.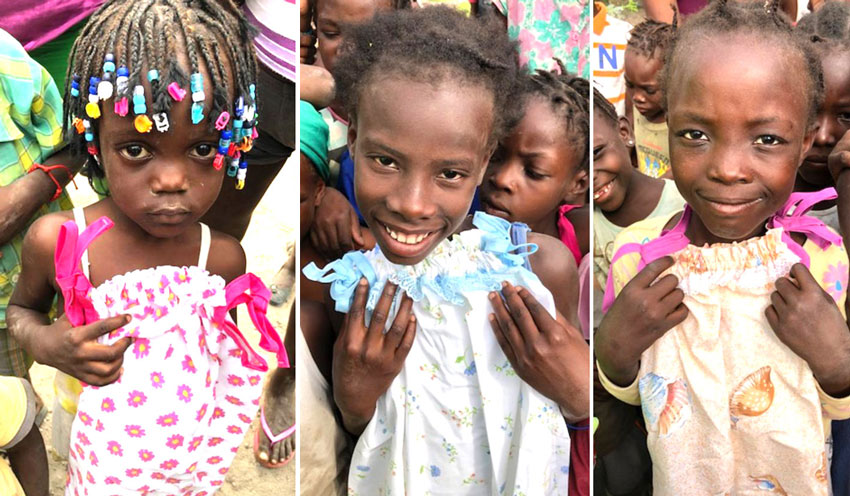 Just look at these adorable, sweet Haitian children with shoes and sandals! Our missionary, Kaeli, has been giving clothing, blankets, and sandals to the children! We are so thankful to Free Chapel and Cindy Tyas, for these gifts of sandals and shoes for the children of Haiti! We love you all.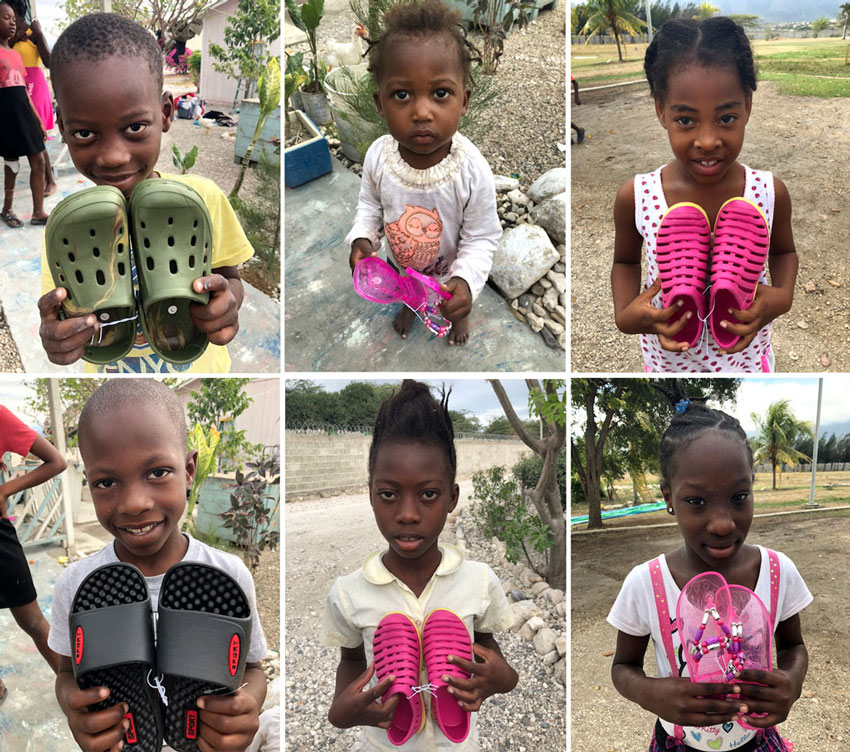 Just look at these cuties with handmade dresses! We always like to share these photos because our friends and partners are doing what Jesus said, "Clothing the naked… and caring for the poor." Some of these dresses came from Eileen Bainter, and others came from Bishop Gary Hall Sr. and his friends. Each dress was made with love! Most of the children you see here live in "mud-and-stick" huts with dirt floors. Anything new is out of the question. They barely have money for food, let alone, clothes! Thank you, Eileen, and thank you, Bishop Gary Hall Sr. for caring for the poor!!! May God richly bless you!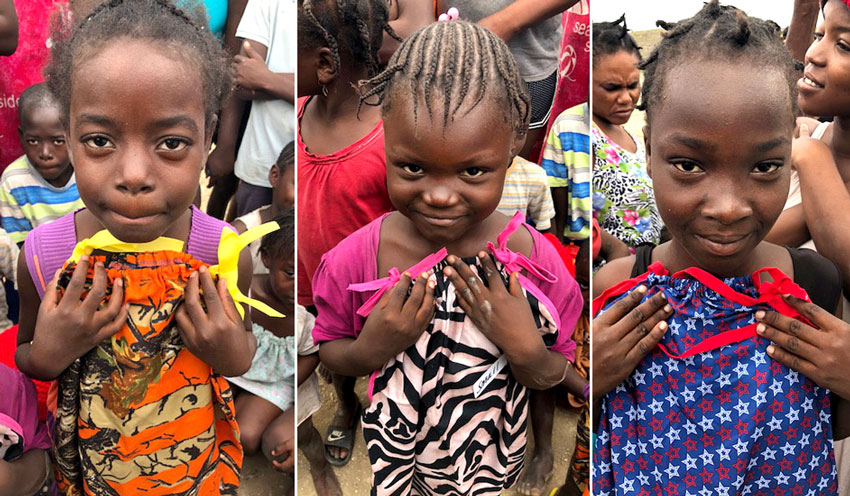 We received these great hygiene kits from Jill Yancy. In addition to items like toothpaste, toothbrushes, and soap, they each have a little toy! What a wonderful idea!! And, those hygiene items are things that their families cannot afford. Thank you, Jill and God bless your thoughtful heart!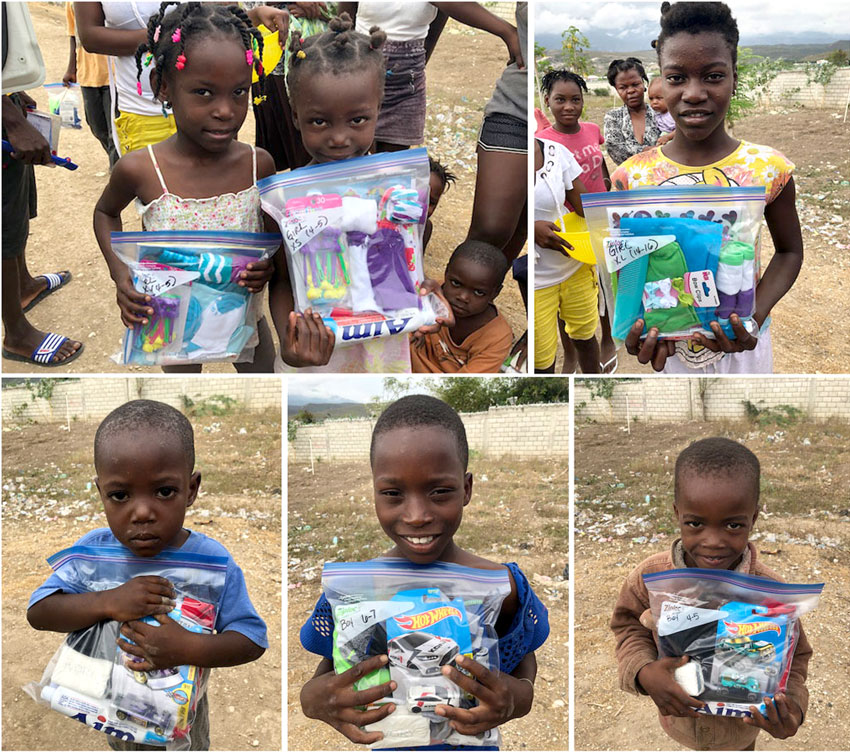 All of the children are so happy; it's just that some children are afraid of the camera and afraid of white people! And, they generally do not smile for pictures, even in weddings. They are taught that a picture is a "serious thing." But, most of the kids in these villages are so happy that they just keep smiling!
We want to say thank you to Karan Johnson for the beautiful blankets she sent! These are such a blessing! We always take the clothes, blankets, candles, and more to the poorest people, and then, with any items we have left, we pack them in the "food bags" for delivery! They always know that a "surprise" will be coming in their food sacks!
Thank you to our friends and partners for their great job caring for the poor. We have hand-knitted baby items from Vee Fusco and also from Jen Ritter. Darling! You would not believe how the moms swarm around us when we open your boxes.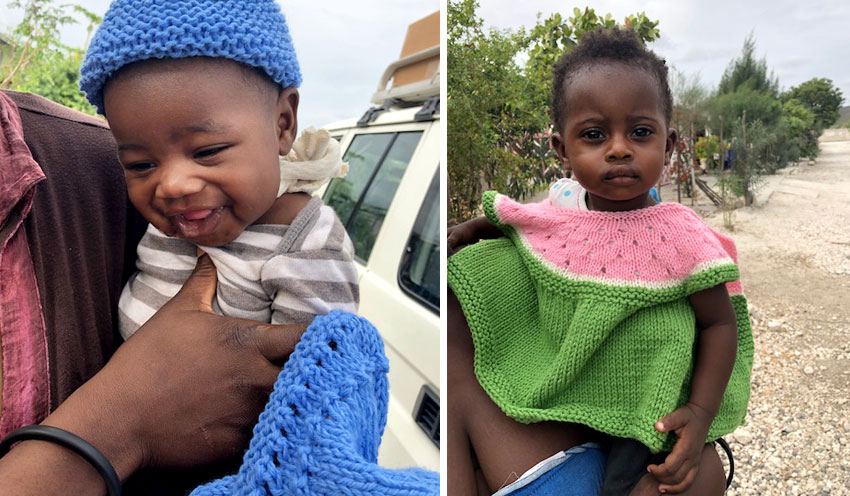 We also received the adorable pillowcase dresses from the Puritan St. Church of Christ! Thank you so, so much!! Everything is a blessing!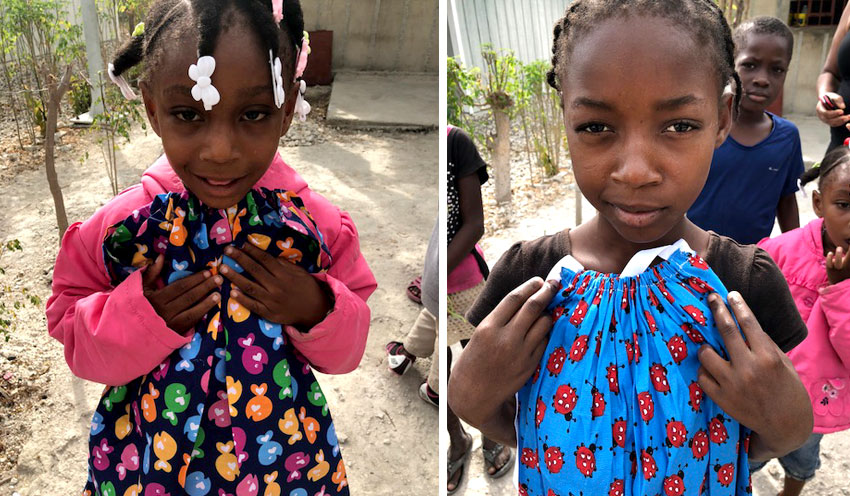 We love to show the darlings clothes that our friends and partners make because we, as an organization, are very thankful for everything! These dresses and blankets were handmade by Virginia Thomsen! God bless you, and thank you!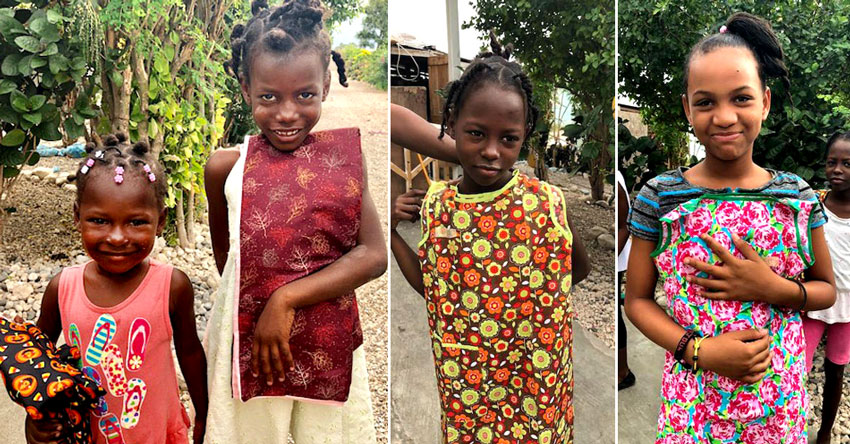 Just look at these little "rascals!" They received Hula Hoops from our friends, Harry and Caren Watmuff! I haven't seen Hula Hoops since I was a kid, but I had one that I loved. I was really good at it, but if I had to do this now, I'd probably have to have a "hip replacement!" Ha! Our Haitian kids are so artistic and are good at singing, dancing, drawing, and yes, "Hula-Hooping!" We also thank Harry and Caren for the bicycles, wagons, and many other wonderful gifts that we have shared with other orphanages! God bless you, partners, who smile on the faces of these children!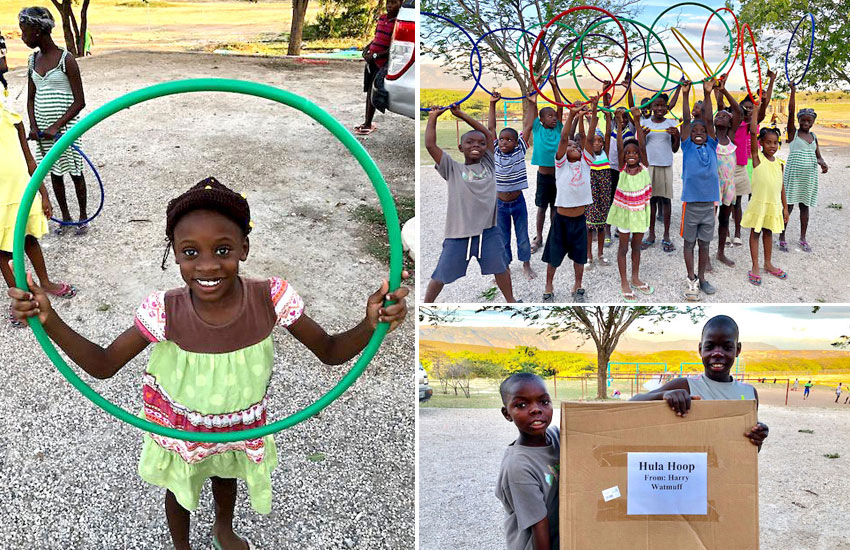 God bless our partners who send many gifts to the children of Haiti! Our boys loved the baseball helmets and gear donated by Juan Lionel Garciga.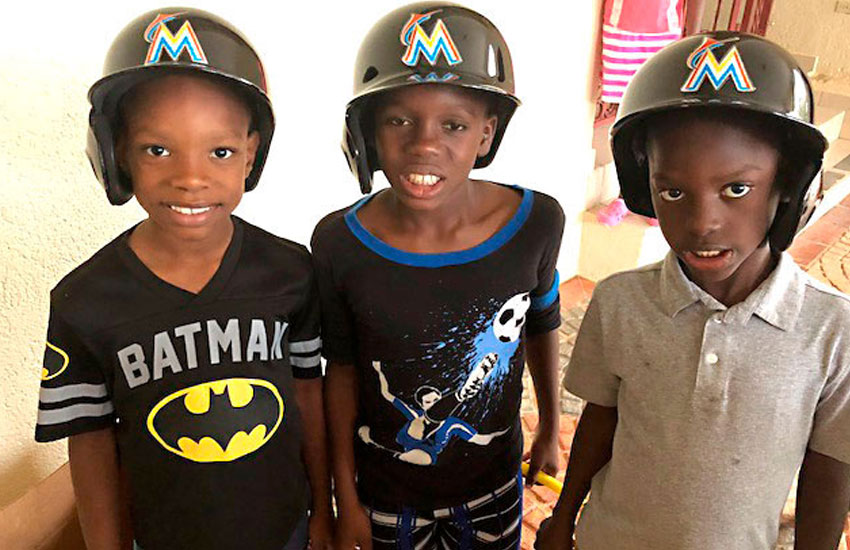 We are so, so blessed to receive pallets of glasses and medical supplies from World Vision and Re-Vita liquid vitamins! These items help us so much in our Jesus Healing Center and Mobile Medical Clinics. But yesterday, we gave a large donation to Pastor Claude Mondesir, who took these to Hôpital Eben-Ezer, not far from us. Hôpital Eben-Ezer has helped us so many times when we have brought very sick people and children to them, so we were thrilled to "give back." Thank you, World Vision and we are so thrilled for the Re-Vita Vitamins!! Thank you for letting us share these! We were able to share some of these pallets of new eyeglasses with other missionaries!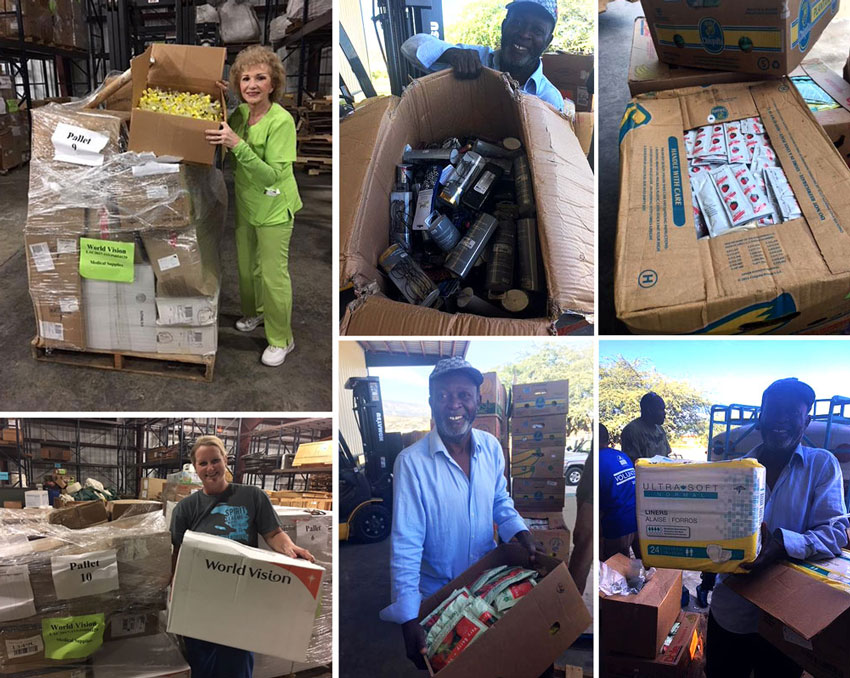 God bless our wonderful partner Judith Cole and her friends for these adorable dresses and shorts for the boys! The little children all wanted a "new dress or pair of shorts!" Mountain children are so precious. Jesus said, "I was naked and ye clothed me." Matthew 25 – If you want to be blessed, do something to help the poor!! Thank you again, Judith!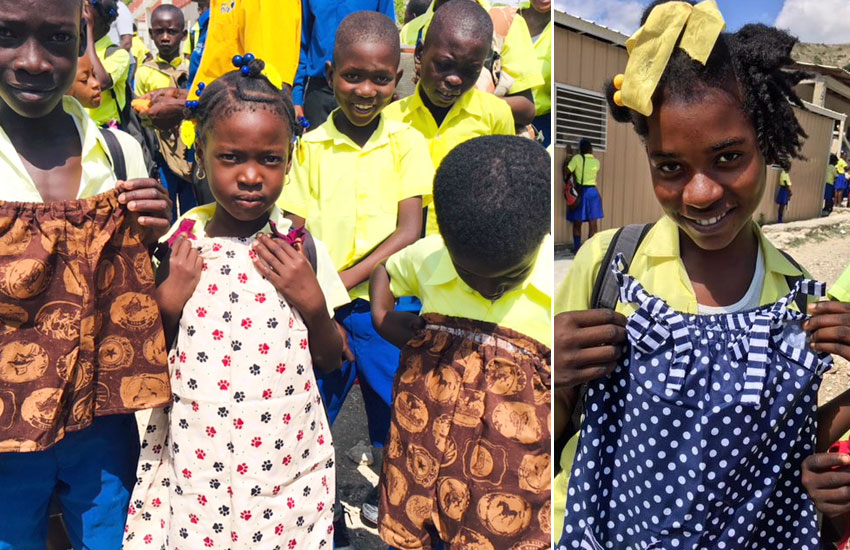 We want to thank all our friends who have been sending in wedding gowns and men's suits!! Recently, our friend Pastor Claude asked us for wedding gowns and men's suits because he was "going to marry a lot of couples at the same time" and they had no money for wedding gowns or suits!!! So, to those of you who have been sending in wedding gowns and men's suits, all these wonderful Haitian couples say "thank you, thank you, thank you!" God bless you!
We are so thankful to World Vision for their recent donation of new hats, jackets, and shirts! Of course, we will be going to villages and schools to distribute much of this precious cargo, but another thing we do is that we pack "one gift item" in the food sacks of all the poor. Each month, we take food to many poor villages. This is the first way we begin to win the lost souls for Jesus. This new clothing helps us share God's love with the poor. Thank you so much, World Vision!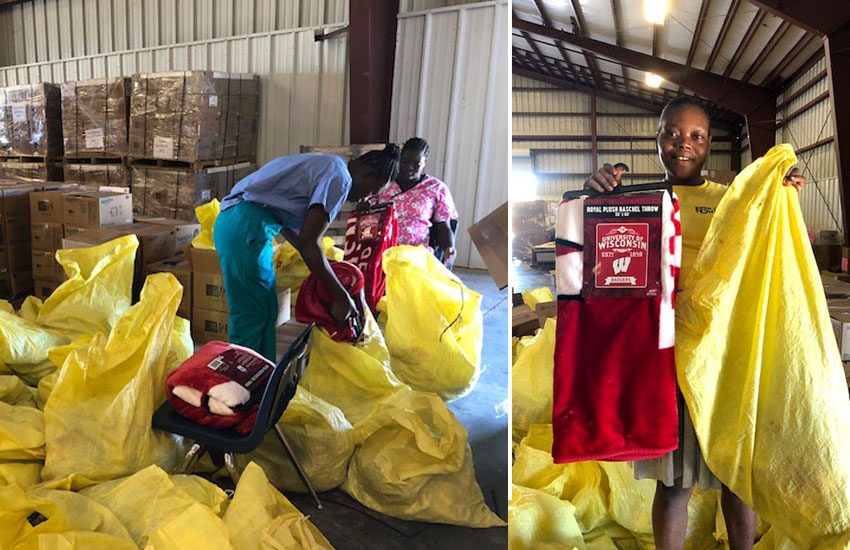 We recently visited Madamn Adeline's orphanage. We built this orphanage in Fond Michelle through the donations of some of our closest friends. There are 35 children in Madamn Adeline's orphanage, and they can always use new, clean clothing! All these items were handmade with love. Thank you, Jacelyn Dominique, for the adorable dresses! Eunice Hannah, we know it took you a long time to make these dresses! Just look at the faces of these cuties! They shared some dresses with other poor children. They will probably save these dresses for church! God bless you too, Von Gibson, for these darling dresses for the children! The clothes all fit the children, and everyone was so happy! Thank you, for every "stitch" you made for the poor! Great is your reward in Heaven!
Thank you Bobbi Lewis for these adorable dresses! We visited a poor, poor village where most of the children are naked, or, have hardly any clothes to wear. Thank you so much for taking the time to make these dresses and providing such great joy for these children!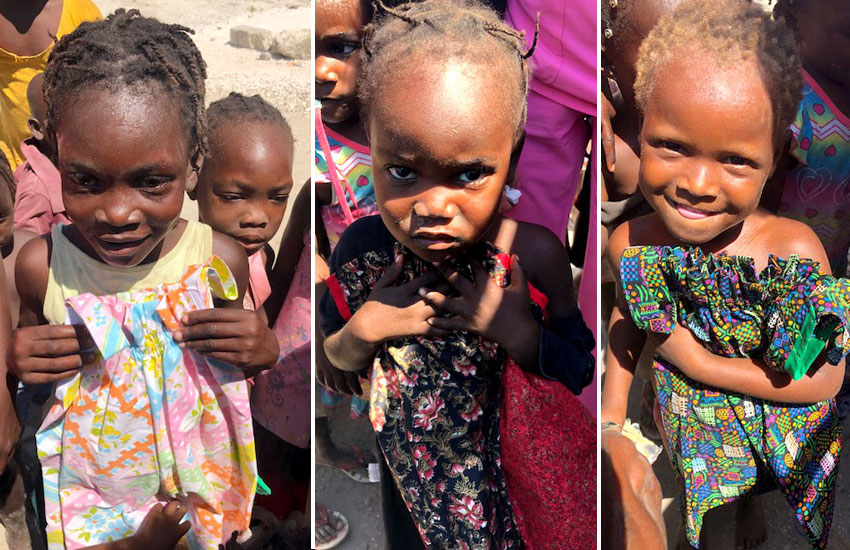 Pastor David George made a trip up to Madamn Adeline's Orphanage, where he and his partners are building a church for her and the community! While David was passing out candy and having fun with the kids, Dieuferly, one of our Love A Child kids, got this photo of Madamn Adeline and her children, with boxes of goodies from our friends. I am not sure who sent the pillows, but the kids will go "nuts" to have their first "EVER" pillow. So, whomever sent these gifts, thank you so very much! God bless everyone who blesses the poor!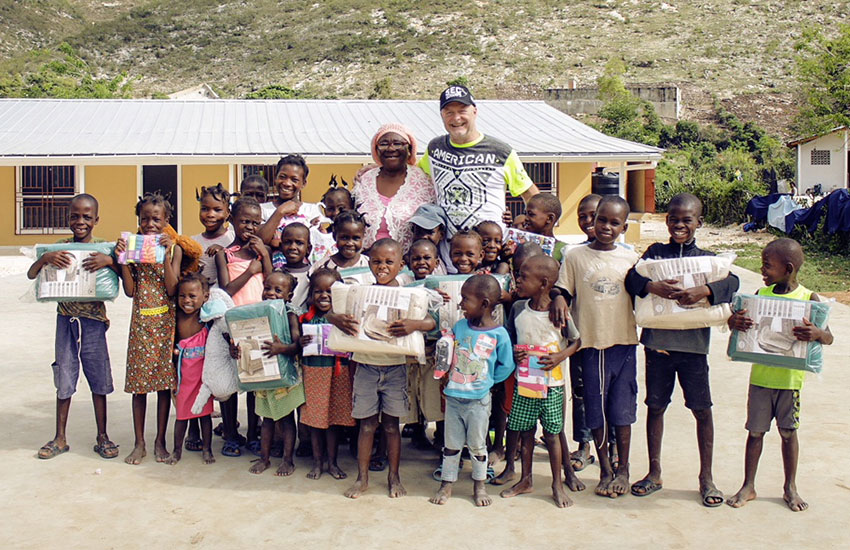 We still have a great need for clothing, quilts, and blankets for the Haitians. If you would like to make a contribution to the poorest of the poor in Haiti, please consider a donation of clothing and shoes, it makes such a difference in the lives of the Haitians. Perhaps you could start a clothing drive in your church or community. If you would like to speak directly to one of our staff members, please call 239-210-6107 or email us at info@lachaiti.org.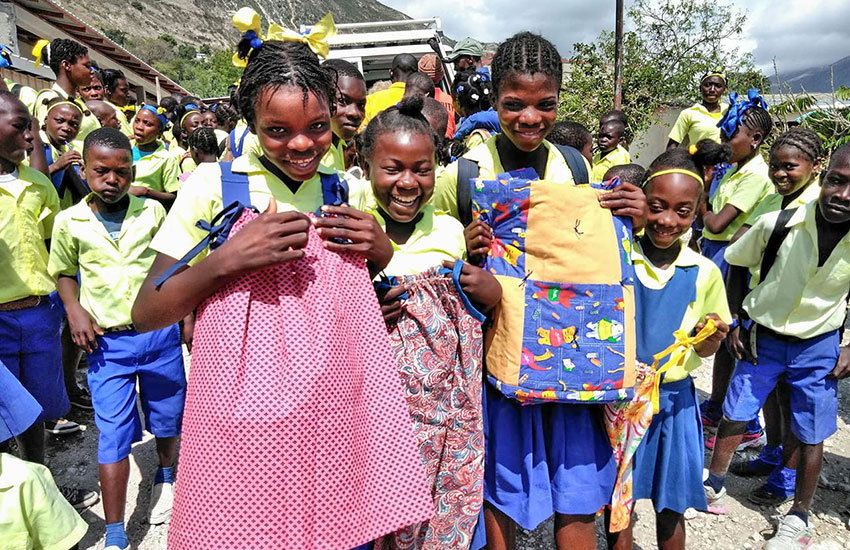 Thank you all so much, and may God richly bless you from the children and people of Haiti!
Sherry