"A woman when she is in travail hath sorrow, because her hour is come: but as soon as she is delivered of the child, she remembereth no more the anguish, for joy that a man is born into the world."
— John 16:21
The sweet, poor people of Haiti that Love A Child serves are steeped in the culture of their ancestors. They continue to have families with lots of children and continue to struggle to care for them. For many poor Haitian women, giving birth is often very dangerous. They suffer from the highest maternal mortality ratio in the Western Hemisphere.
Poor mothers in Haiti suffer tremendously during their childbearing years. From unsanitary conditions to the lack of medical care, many mothers die during or shortly after the birth. Most mothers have so many children that they are just "plain worn-out," and they struggle to feed their newborn children, as well as their other children. In many cases, the fathers are not present, causing more hardship.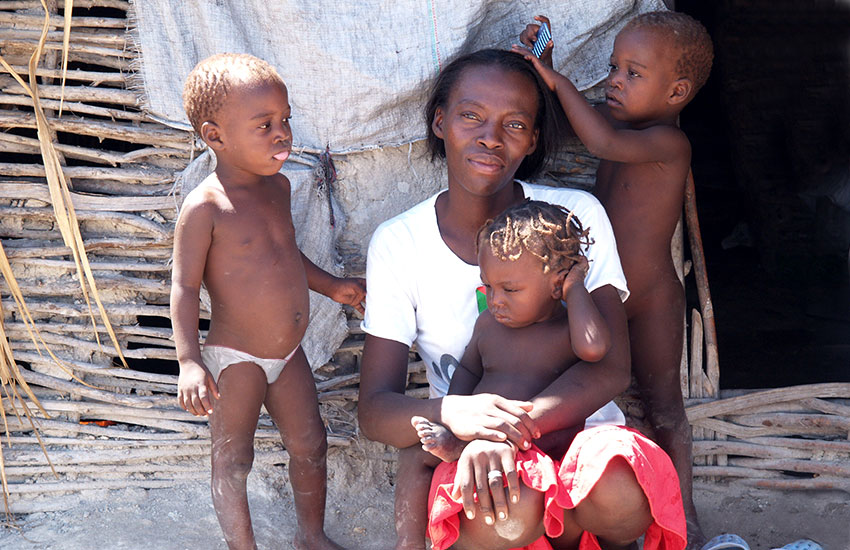 For poor Haitian women, giving birth to their children on the dirt floor in a mud hut is normal. In the last six months, we have had a half dozen women giving birth at our Jesus Healing Center. Though it is probably the cleanest location, we aren't set up to handle childbirth in the numbers we have seen lately.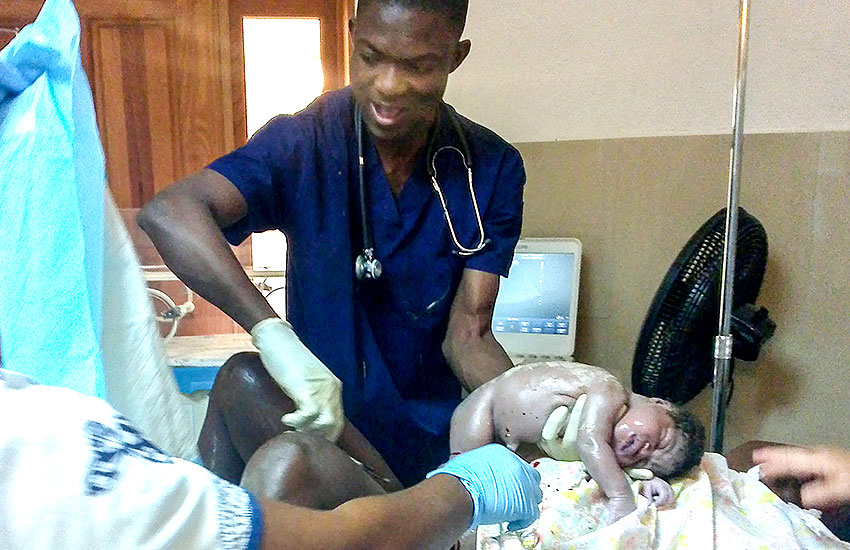 For a long time, as you know, it has been in our hearts to build a Birthing Center, here in Fond Parisien, next to the Jesus Healing Center and our Malnutrition Center. Many mothers die during childbirth, or right after, because of "childbirth fever." This condition is due to unsanitary environments like when someone cuts the umbilical cord with a rusty knife or tin can, or anything filthy dirty. Nearly half of our orphans have come to us due to the death of their mothers from childbirth.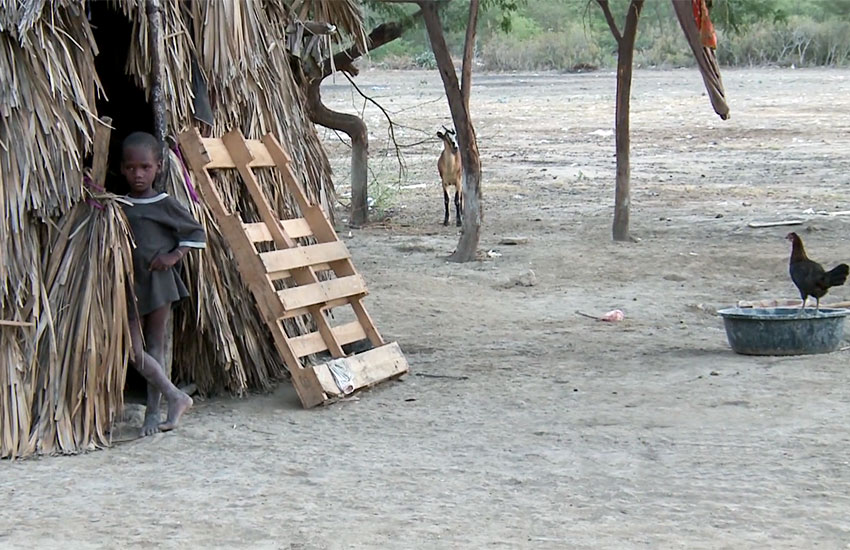 Now, we are seeing that some expectant mothers are having their babies "outside our gate," as they wait to see our doctors. We are not a "Birthing Center" yet. We are a clinic and are not set up to deliver babies, but sometimes they come "too soon," and we have to help.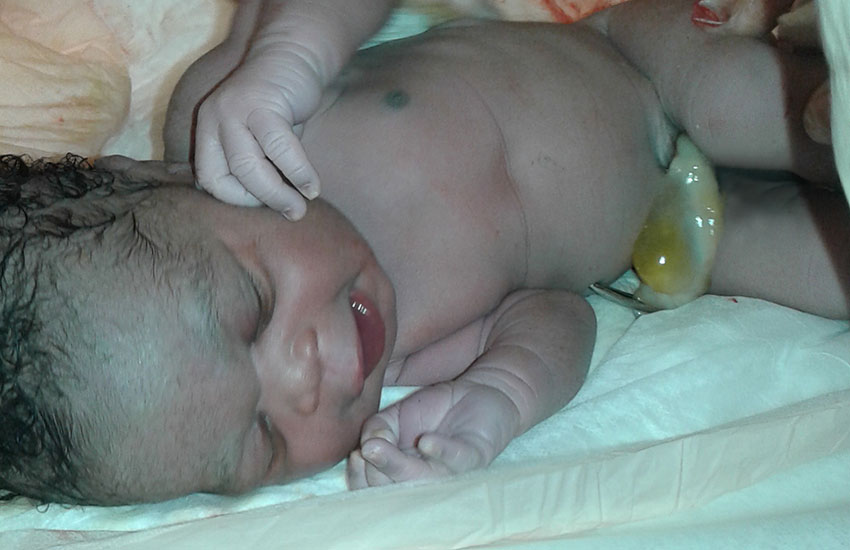 Birthing Kits
So many of our sponsors, partners and people like you have been making Birthing Kits for expectant mothers. These birthing kits and the maternity training that they receive in our maternity clinic will save the lives of the babies and the mothers that come to our clinic. Most of the mothers we see will give birth in their hut, on a dirt floor. The Birthing Kits are saving lives every day.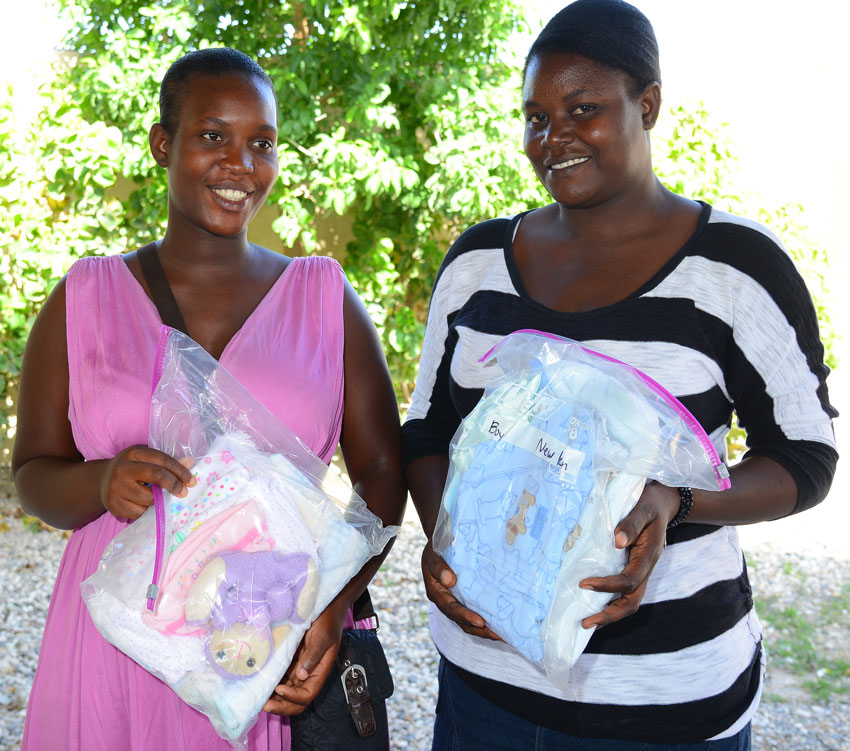 Kaeli, our Love A Child missionary, hands out birthing kits to the Haitian women at our clinic. We have a great need for birthing kits. We hand-out almost 200 birthing kits a month. These kits are an excellent project for your women's group or a wonderful project for Girl Scout troops in your area. We would be so grateful if you would talk to your church groups as well.
Birthing Kits:
(Please send items inside a pillowcase.)
   One newborn outfit (a "onesie" and stocking hat)
   Feminine pads and two receiving blankets
   Small plastic basin and a bar of soap
   Single-edged razor blade
   Two 10" long pieces 1/16" cotton cord
   Disposable newborn diapers and one cloth diaper
   Absorbent underpads
Be sure to include the cord and sanitary napkin. We need about 200 or more each month. Send boxes to:
Love A Child
12411 Commerce Lakes Dr.
Fort Myers, FL 33913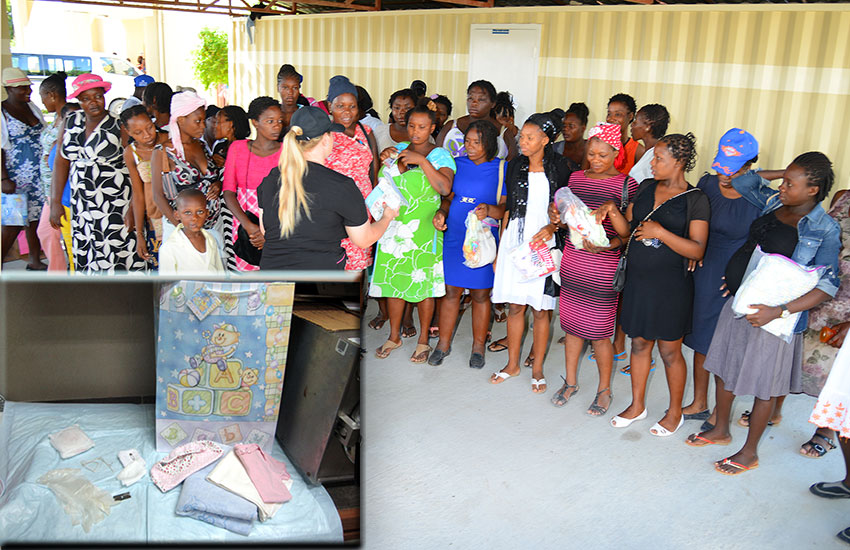 Keeping expectant mothers healthy during their pregnancy is so important as it will give the unborn child a better chance of surviving. Our Maternity Clinic and Malnutrition Center work together to help keep a mother and child healthy, through the whole process. This way we can care for the mother before and after the birth of a child. Soon we will be opening our Love A Child Birthing and Learning Center to help poor Haitian women during the birth of a child, one of the most critical times throughout their pregnancy. This happy mother was at the Jesus Healing Center for her doctor's appointment when her three babies decided to come early. The other lady in the picture is "Grandma." With triplets, Grandma will be very busy!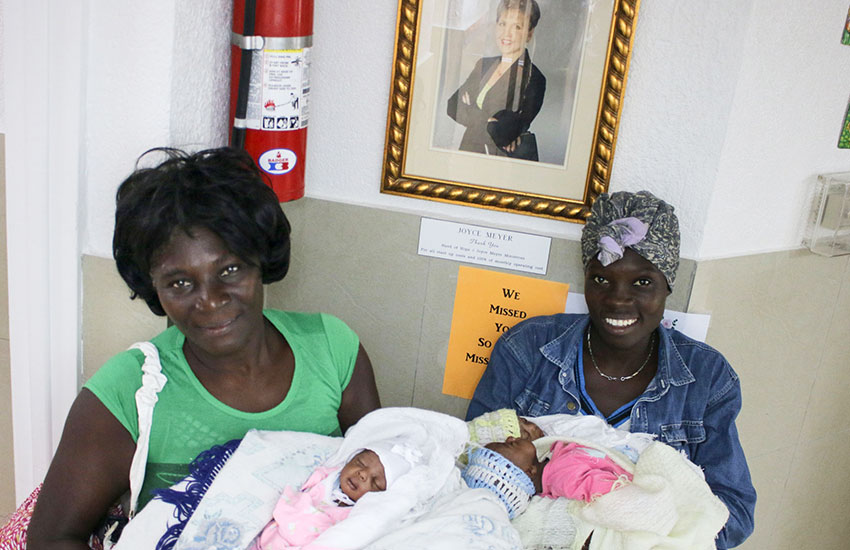 We Are Building A Birthing Center
We have been looking at the many ways we can help save lives in Haiti, especially the young lives of newborns, and their mothers. We want to develop a program to help Haitian women through the process of childbearing, where we can offer medical care before, during and after their pregnancy. It's so important to keep the mothers healthy so that they give birth to healthy babies. We can keep an eye on the newborns from birth until around two-years-old through our Malnutrition Center.
We recently held a Women's Birthing Seminar hosted by Jeanie Haas and her family and friends!! We only had room for 80 women, but many others were standing or sitting in other rooms! The team explained how important it is for the mother to be healthy, and many other things about pregnancy. Soon-to-be mothers have lots of questions!
The new program will offer "Birthing Seminars" for mothers, so they know how to take care of their babies, "before and after" delivery. This project is one of the most exciting projects we have ever done… and one that is desperately needed. There is not a birthing center anywhere near this area.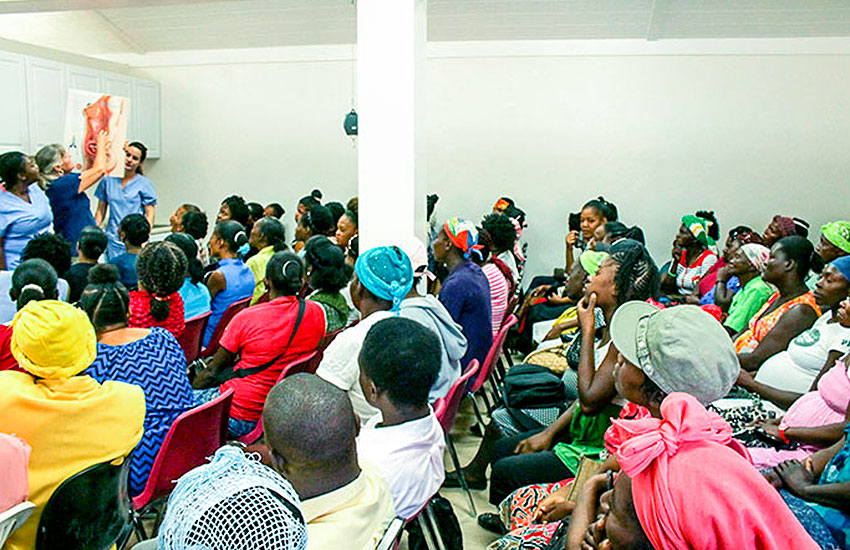 When we heard the news that we received a "matching grant gift" of half the amount of what we expect the cost to build a Birthing Center, we were so excited!!! The Matching Grant will be $250,000, so we need to raise the remaining $250,000. If you are interested in giving, please call our Love A Child Office at 239-210-6107. We believe God for the impossible, to have the birthing center finished, and the dedication in December of 2018.
The other good news is that we also have a commitment of $5,000 a month, towards the monthly cost of operating the Birthing Center. This is all such wonderful news! Bobby and I haven't slept since we heard all this good news! Bobby and I would like you to thank the Lord and praise Him today, with us, for these miracles! We stand in "awe" at His goodness!!! Now we will be able to help so many babies, especially the ones that may have a difficult birth, or are premature, as this tiny preemie.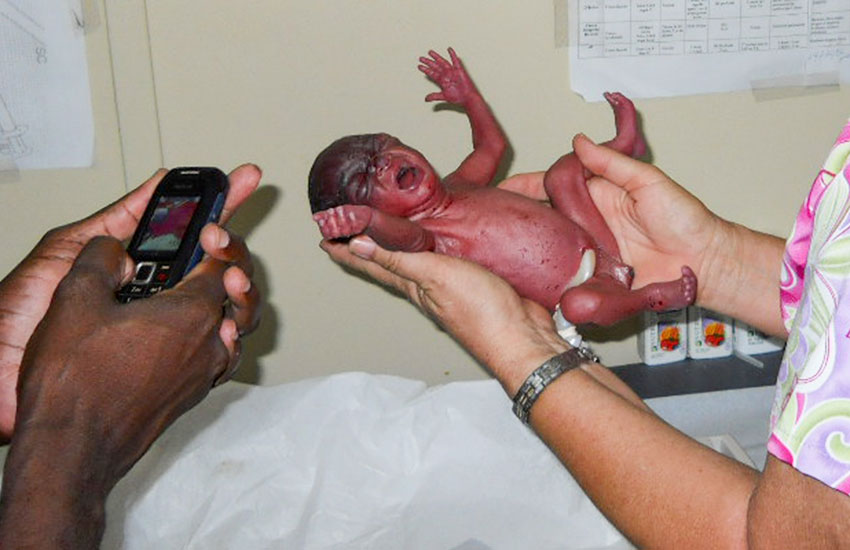 We have started clearing and preparing the land for our new Birthing Center! Mark Ostrander and our Haitian construction guys are working hard! Thank you, Joker, our Dominican friend, and worker, for a great job on the front-end loader.
This huge Birthing Center will also provide Pre-Natal and Post-Natal Care as well as a Teaching Center for Mothers' Health. It will provide clean beds, a clean environment and the best of care for the poorest of the poor. This Birthing Center will cost $500,000, but the Lord has already moved on the heart of one of our partners to give a Matching Grant of $250,000! That means that "every dollar you give will be matched," up to $250,000! Your gift to this Birthing Center will double! This Project is desperately needed to save the lives of poor Haitian mothers and their babies. If you would like to have a part in saving lives through this Love A Child Birthing and Learning Center, please call 239-210-6107 now and give or give online. May God richly bless you for "blessing the poor," according to Psalm 41:1-3!
When we create a Birthing and Learning Center – we are showing the love of God for Haiti and its children. The children are the future of Haiti!
"It is when we improve our heritage to transmit it to our children, in good conditions that we can say that the country is truly independent…"
— Excerpt from a speech by President Jovenel Moïse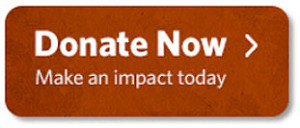 You may give securely online, or if you would like to speak directly to one of our staff members, please call our Love A Child Office at 239-210-6107. You can also email us at info@lachaiti.org. Bring hope for a future to a Haitian child.
Sherry