"As every man hath received the gift, even so minister the same one to another, as good stewards of the manifold grace of God. If any man speak, let him speak as the oracles of God; if any man minister, let him do it as of the ability which God giveth: that God in all things may be glorified through Jesus Christ, to whom be praise and dominion for ever and ever. Amen."
— 1 Peter 4:10-11
"I am only one, but I am one.  I cannot do everything, but I can do something. 
And I will not let what I cannot do interfere with what I can do." – Edward Everett Hale
Love A Child is so blessed with volunteers who come from around the world. They bring so much compassion, and the love of Christ to the people of Haiti. We could not do many of our Love A Child Outreach Programs without volunteers. We thank you all for everything you do, as you are the hands and feet of Jesus.
Mobile Medical Clinic Teams
We welcomed a Mobile Medical Clinic team of volunteers, who came to the mountain village of Peyi Pouri. The love of Christ was shared, and some of the patients accepted Jesus. The volunteer team and the Haitians worshipped, praised and sang together. This clinic has been life changing for the Haitians as well as this volunteer team.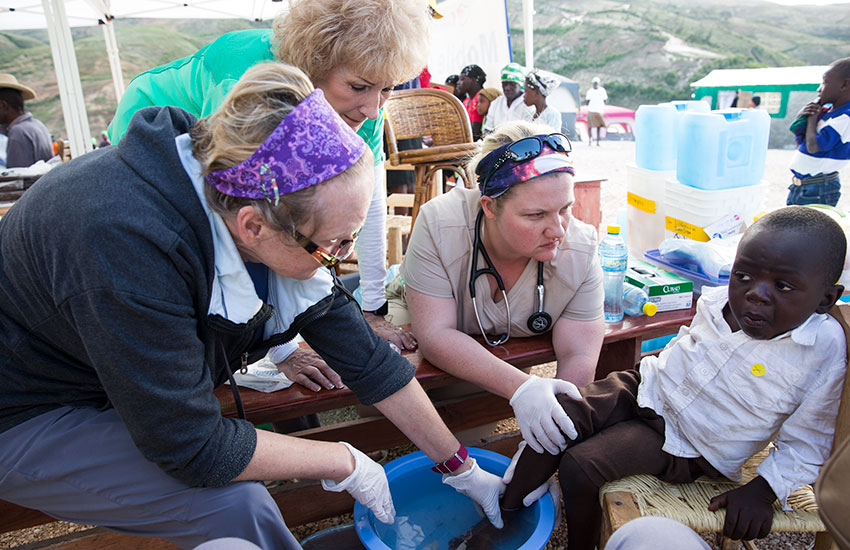 They provided the only medical care that many of these people will ever receive. The medical team treated many types of ailments. The volunteers were the hands and feet of Jesus caring for the poorest of the poor.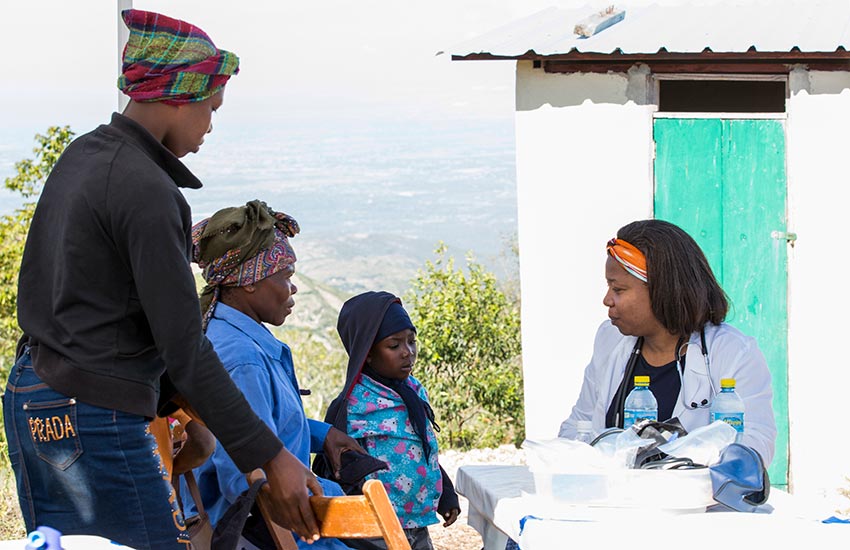 The team included three Haitian doctors and our volunteer medical team from the states. With us were Medical volunteers: Dr. Pat Webster, MD; Angelina Covington, ICU Nurse; Dawn Watson, NP; Rebecca Kalb, NP; and Renelle Cancilla-Martin, Medical Nursing Assistant. Our non-clinical volunteers included Brandon Hoyme, Jessica Mowery, Shawnacy McGuire and Travis Groves. Even with the high winds and frigid cold, the team did an incredible job.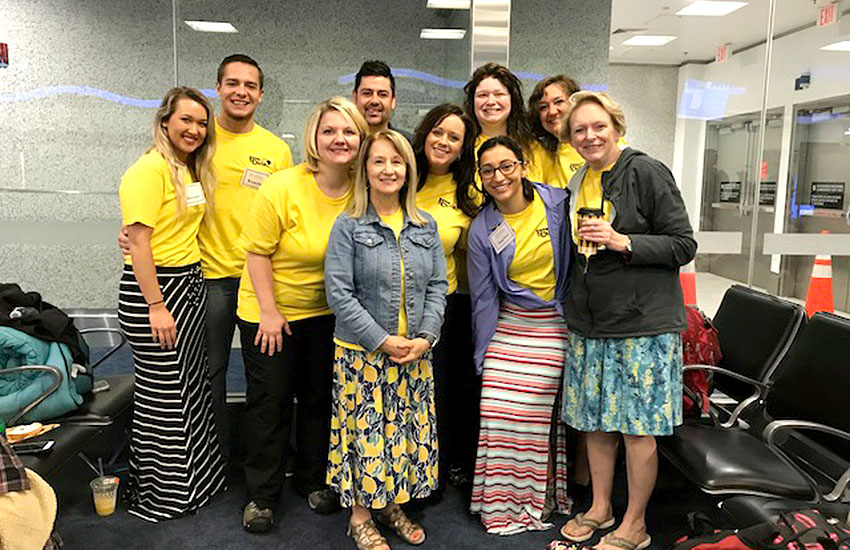 The Joyce Meyer Ministries – Hand of Hope team blessed the people and children of Haiti in a Mobile Medical Clinic held in Lastik. They treated almost 3,000 people.
While they were here, they also held a church service with our Love A Child children. Thank you, Joyce Meyer Ministries – Hand of Hope for these wonderful team members including Wade Hosseini, Coordinator; Dolly Lannettoni, NP; Peter Wiebe, Volunteer; Jacqueline Wiebe, Volunteer; Marianne Crosby, RN; Barbara Fouts, RN; Dr. Sheryl Conn, MD; Rosa Guerra, RN; Frederick Ashbrook, RN; Sharon French, RN; Rita (Pixie) Ledbetter, Midwife; Dr. Sally Sidman, MD; Shane Fabian, Pharmacist; Dr. Marilyn Maxwell, MD; Patricia McCollumn, RN; Judith Johnson, Volunteer; Sandra St Jean, RN; Ashley Peterson, Medical Assistant; Janice Roosa, RN; Bridget Allen, Volunteer; Hanbit Lee, RN; Clare LeFevre, Volunteer; Shirley Hoeppner, RN; Indira Arvizu, RN; Dr. Carla Errickson, MD; Susan Miget, NP; Linda Anders, RN; Daniella Ellis, NP; Dr. Raj Patel, DDS; Leslie Basham, Dental Assistant and Patricia Baldwin, RN.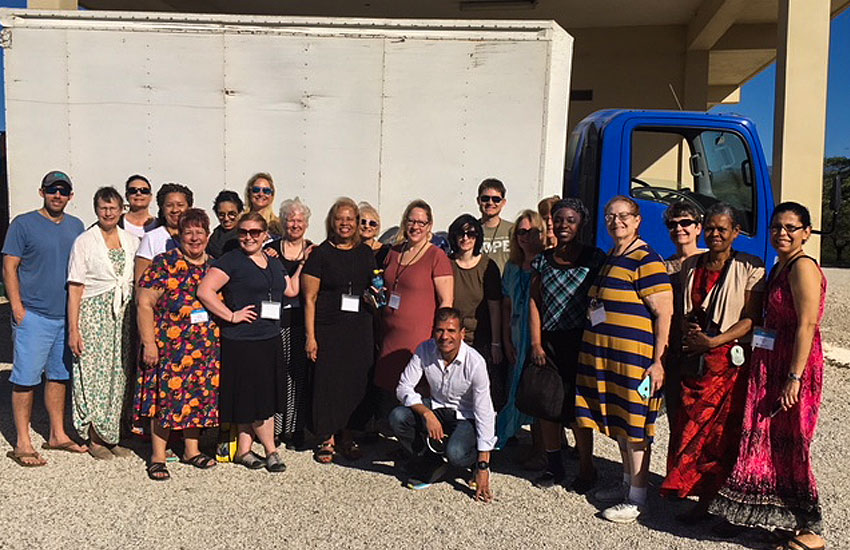 Many of our volunteers come to Love A Child to help with our Mobile Medical Clinics that we hold throughout the year. This spring, we welcomed a group of doctors, dentists and other medical professionals who joined our Mobile Medical Clinic team to visit the Voodoo village in Chambrun. They first spent time packing medicines and then getting trained for the Mobile Medical Clinic. They were just such a sweet team, and most have a Nigerian background. When they were working, eating, praying, or whatever, they were always singing!!!
We took these wonderful doctors and dentists to the heart of Haiti's Voodoo country. As you may know, we have been working hard in this village to gain the love and confidence of the people. We began by distributing food there each month. We had a "short Mobile Medical Clinic" there and then did a Bible Distribution! We had a team of Nigerians, who were filled with the Spirit! We had dentists, doctors, pharmacists, and more. The light of Jesus shined brightly!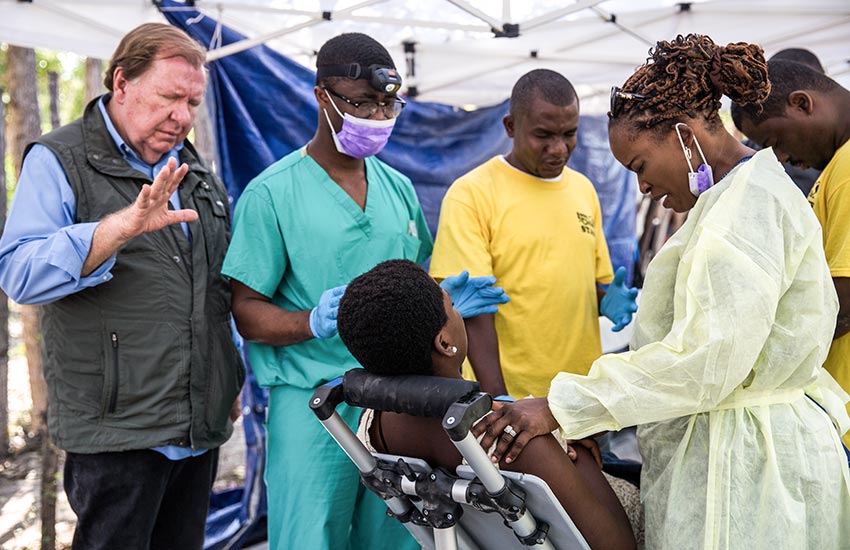 Our medical team was saving lives and winning people to the Lord! We treated over 1,000 people, passed out over 5,000 prescriptions, and had many decisions for Christ! This is one of the largest Voodoo villages in Haiti, and we are winning! This team has been the best thing to ever hit this Voodoo village! Dr. Uvoh Onoriobe, DMD, saw over 100 people a day, doing extractions, and also ministering to them at the same time! They brought the power-packed presence of the Lord into this village!!! "The goodness of God leads men to repentance!" God bless you!
We also took this team to the garbage dump area of Truttier. They worked hard distributing food to over 300 families who live in the garbage dumps. The Haitian people were so excited to receive this food! Dr. Uvoh Onoriobe preached the Gospel to them first, and the group sang and the people were so blessed! We really love this team! One member came directly from Nigeria all the way to Haiti!!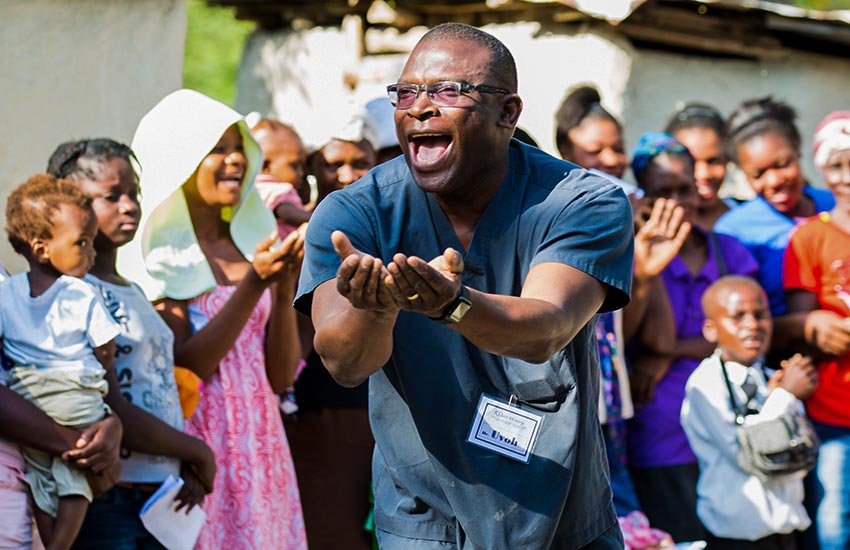 We can't say enough about this team of volunteers, who not only saved lives here in Haiti but also brought so much energy and love to the people here. Special thanks to Dr. Uvoh Onoriobe, DMD and Davis Appiah, his Dental Assistant; Chukwuemeka Obidi, and Andrew Folorunso, both MDs; Stephen Ikele, GP; and Sheryl Garcia and Pam Yates, both RNs. We also thank Debbie Click, and those who worked so hard in the pharmacy; Belief Emadamerho, Pharmacist; Chimenim Onoriobe, Data Analyst and Ifeyinwa Boyo, Medical Lab Scientist; Evie Ostrander in the eyeglasses tent, our missionary Kaeli in Wound Care; Pastor Joel Bokanv, Pharmacist/Pastor and Omoaluse Amoni, Pharmacist. We also thank all the others who made this a great success! We had some wonderful people from the Click Family Foundation who also helped during our Mobile Medical Clinic in Chambrun. Thank you all for your wonderful spirit of volunteering, and the love for the Haitian people we serve.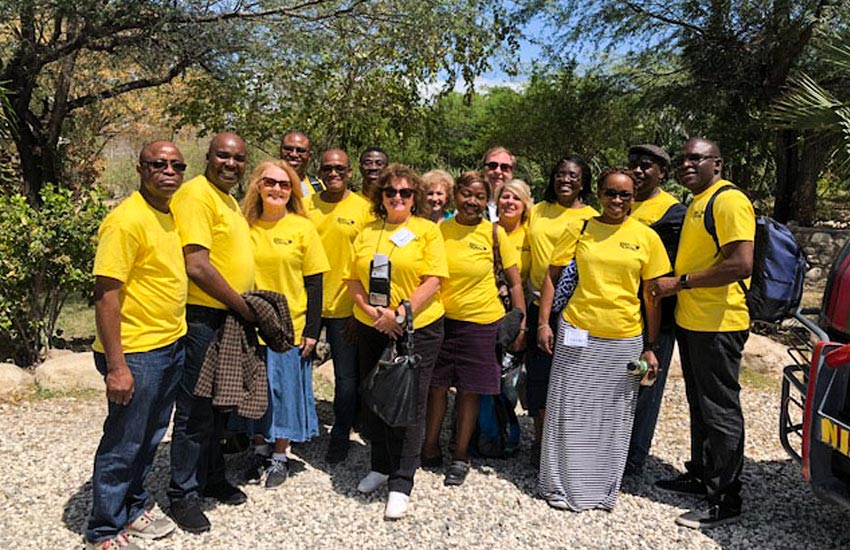 When God uses your hands, your feet, and your heart… He works through you. By participating in a mission trip and working with your hands, whether it is construction, a mobile medical clinic or feeding a hungry child, you are letting the light of the Gospel shine through! There is something for everyone to do! You will come to help others, but in the process, your life will be forever changed. To join a mission team, please contact Shar in our Florida office at – sharleen@lachaiti.org.
If you would like to speak directly to one of our staff members, please call (239) 210-6107 or email us at info@lachaiti.org.
God bless you all,
Sherry
Read Part 2 of my journal on Volunteers for Love A Child.