"Ye are the light of the world. A city that is set on a hill cannot be hid… Let your light so shine before men, that they may see your good works, and glorify your Father which is in heaven."
— Matthew 5:14 & 16
Join us on a journey to the "regions beyond." Along the way, you will meet the children and people of Haiti who are the "poorest of the poor." Learn about the many ways in which Love A Child helps poor Haitians. You will see how your gifts help us be your "hands and feet" on the mission field. Our Outreach Programs that you support include food distributions, mobile medical clinics, churches, schools, and sustainability projects. These programs are all making a difference and saving so many lives, especially the children. Come along with us to the village of Peyi Pouri…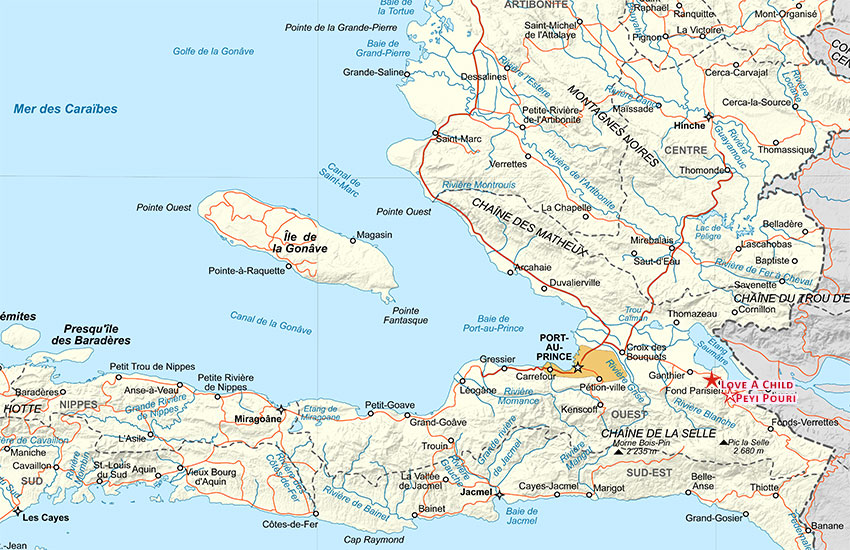 The Story of Peyi Pouri
Peyi Pouri lies on top of a remote mountain in Haiti, in what we call the "regions beyond." Hundreds of people live in this poor village, and the surrounding area, and they have suffered for many years. The road up this mountain is steep and dangerous and difficult to travel.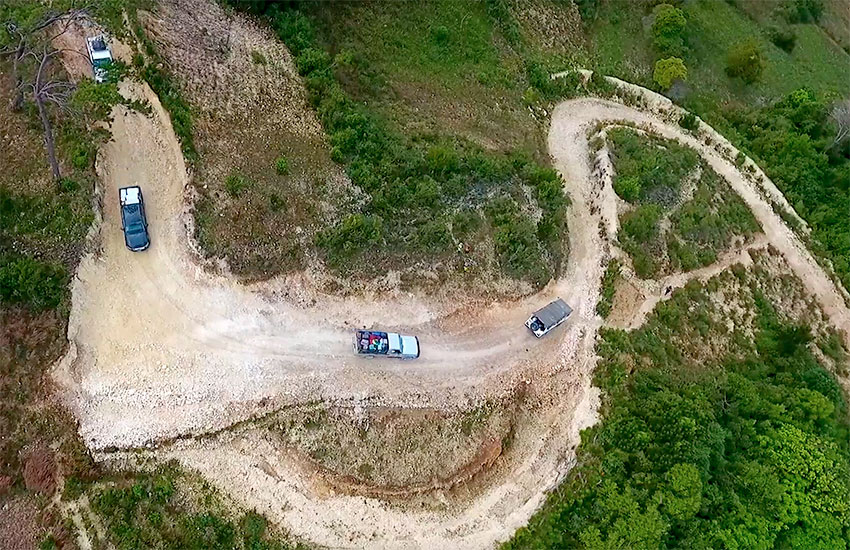 The poor Haitians in this village had little food, no medical care, no school and only the tattered remains of a stick church with a ripped tarp as the roof to hear the Word of God.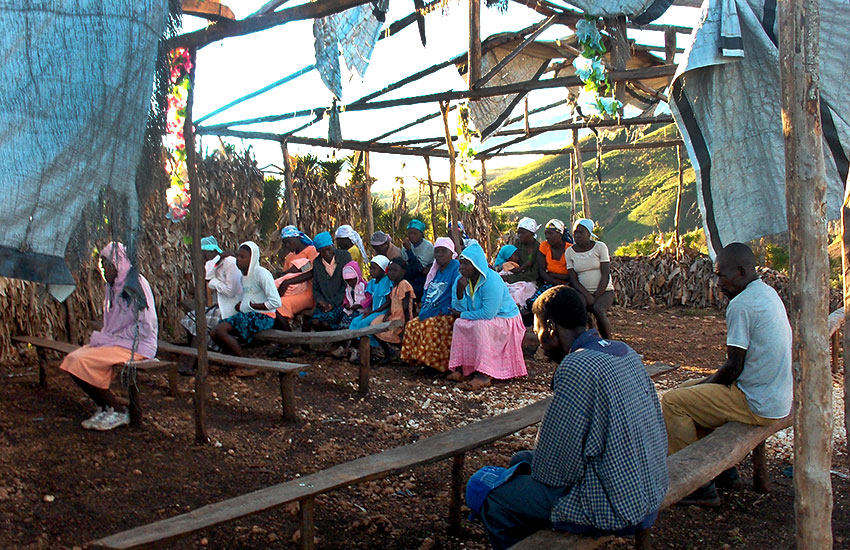 When we first visited Peyi Pouri we thought, "How do these people survive way up here on the mountain that we can see from our Love A Child Children's Home?" We started to bring food to the people here about four years ago. The road was impassable, so we drove our truck as close as we could, and then the people had to carry the food the rest of the way up the mountain by donkeys, mules or on their heads.
Making the trip to Peyi Pouri is a long journey, but a fruitful and blessed one. We always leave early in the morning to travel the dangerous mountain road. The poor gathered in the stick church as Bobby ministered the Word of God and we served about 500 hot meals to all the families, and then they walked home with boxes of food and lots of hope!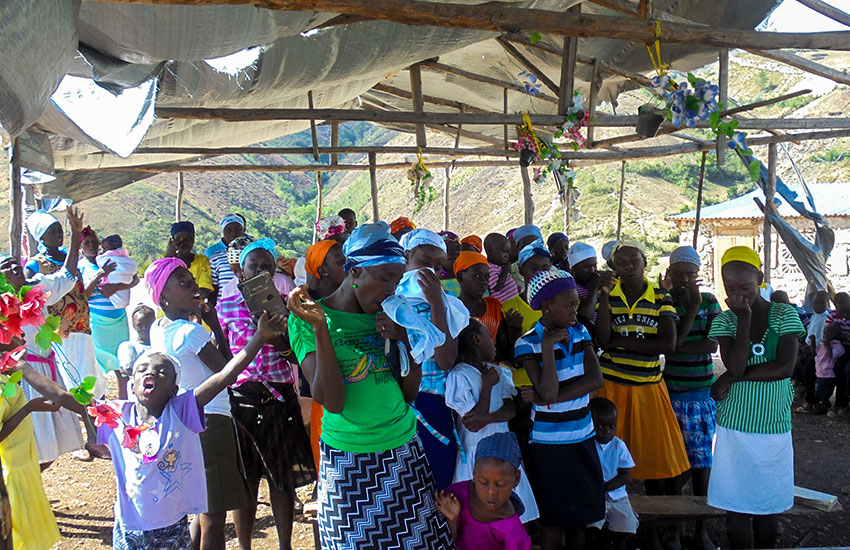 Once we had established a relationship by bringing food to these wonderful people, we decided we needed to bring our Mobile Medical Clinic up to the mountaintop. We knew from our first visit that many of the children were malnourished, and some were very sick with common ailments like impetigo, ear infections, and lots of infected open wounds. We saw more than 1,200 people and prayed with them during the three-day clinic. Many of them with sick children had walked through the mountain pass for hours to receive medical care, and for some, this was the first medical care they had ever received. We had many people give their lives to the Lord that day.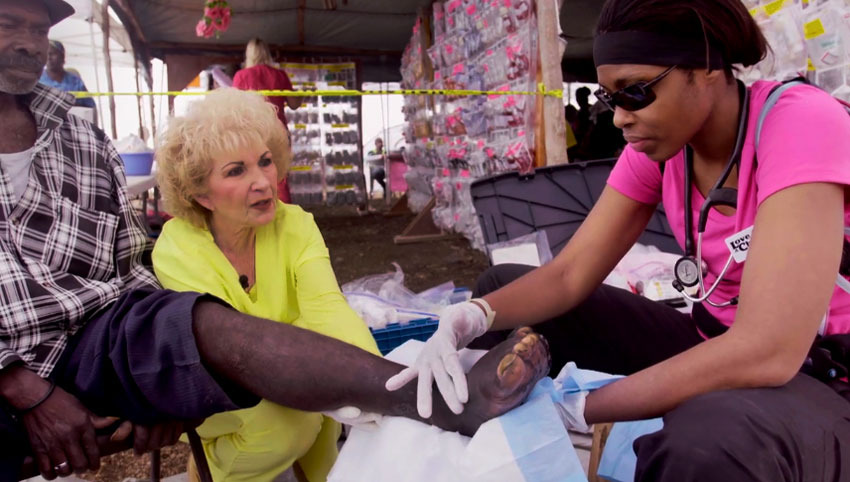 Not long after that first Mobile Medical Clinic, we had some great news for the people. Bobby and I, along with David George and his friend Jay, Dr. Lena, and several others went back up to Peyi Pouri to give the people the great news. The Lord provided a new church for them! Everyone was so excited! We serve a "can do" God!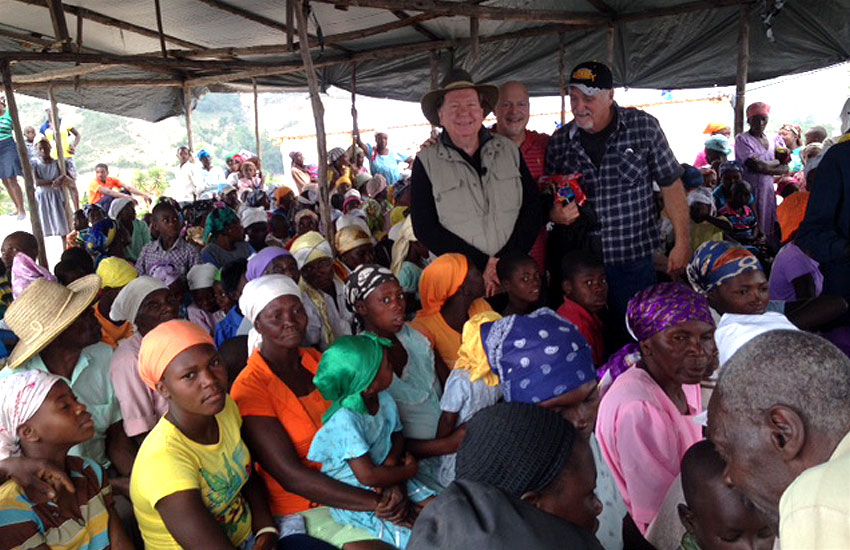 We were building a church in the "regions beyond…anything." Over 200 poor Haitians came down from the mountain to carry all the building materials back up the mountain. Most trucks cannot make the trip up to Peyi Pouri because of the narrow "s-curve" roads. The crowd lined up to carry the items that included: heavy pieces of tin, metal studs for the roof, rebar, and sacks of cement. They climbed many hours "straight up" to reach the site of our new church.
"Ye are the light of the world. A city that is set on a hill cannot be hid." Matthew 5:14 — We wish to thank David George and his partners, along with Pastor Dale of Liberty Church for sponsoring this new church on top of this mountain in Haiti. Peyi Pouri means "Rotten Country," but now the people call it Peyi Beni, which means "the Blessed Country!"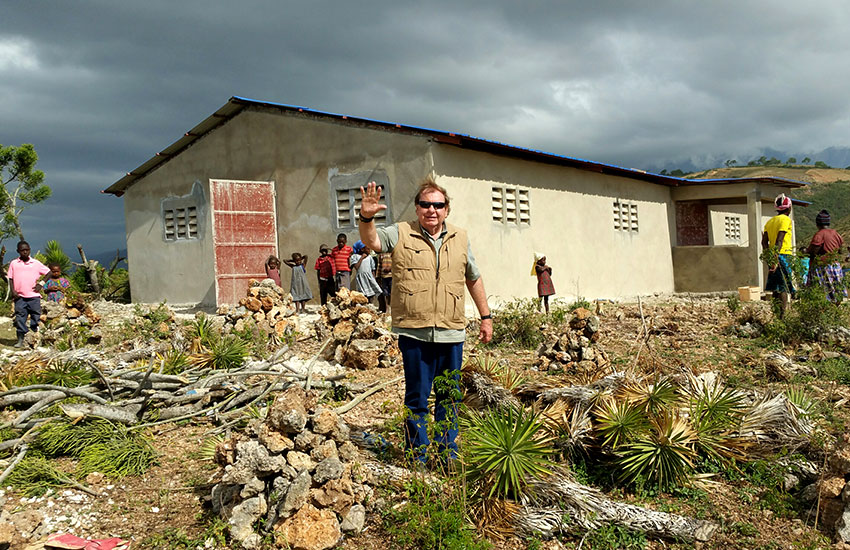 It was with such joy that we dedicated this new church and school to the Lord. Not long after the dedication, we had some volunteer carpenters from Fort Myers, Florida build enough desks for over 1,000 children – and 30 pews for this new church!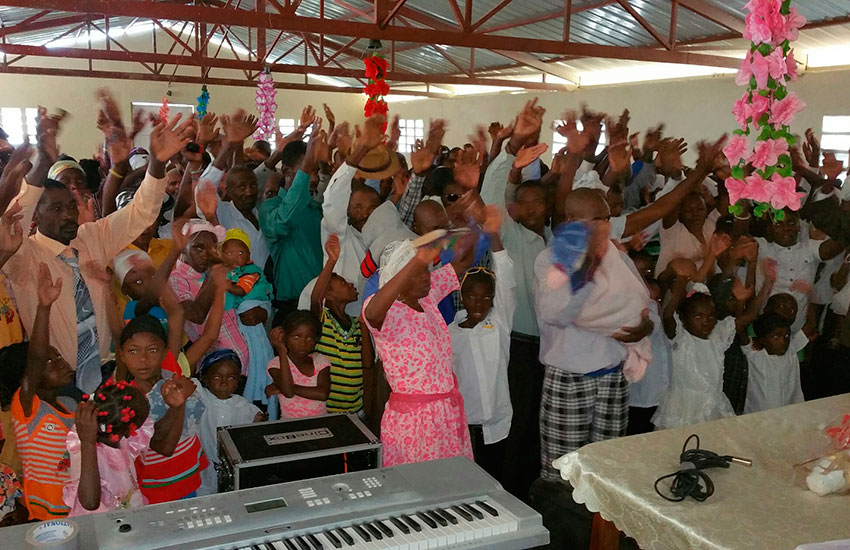 Two months later, a lighted cross went up in Peyi Pouri. Bobby, David George, and some of our Love A Child workers went to the top of the mountain. The workers were trying to erect a 40-foot high cross for the new Peyi Pouri Church. It was lit up with solar lights, and it would be the "City Set on the Hill, which cannot be hid!" The high iron and cement cross was so heavy that it took many men to erect it, and it had fallen on the first attempt. Once it was up, it was a testimony to the poorest of the poor. Now, everyone knew the cross was there and that they serve a "God who cares!"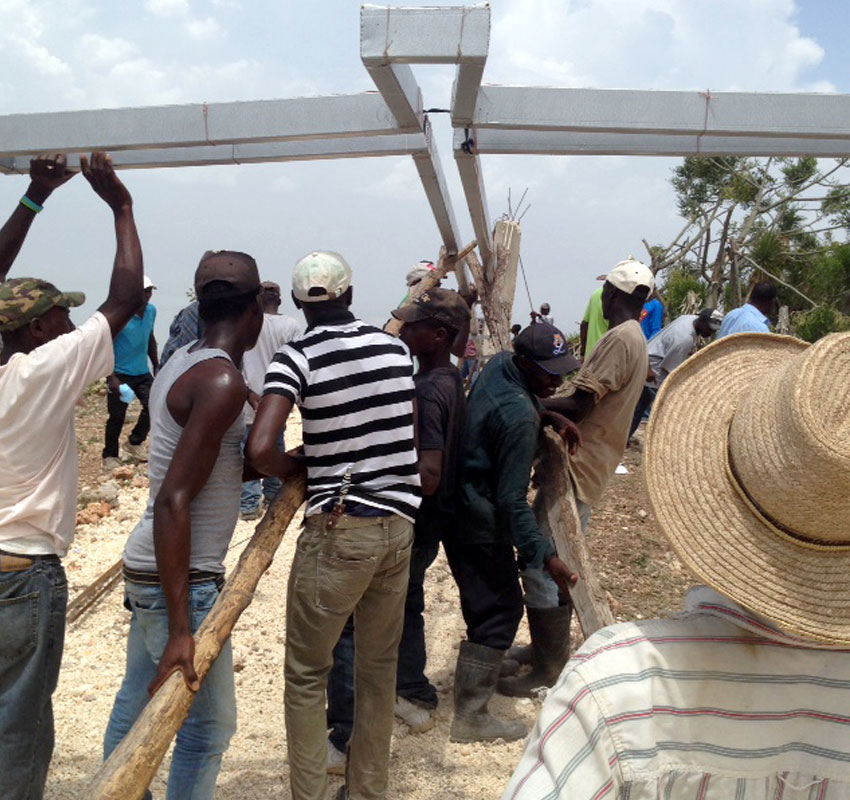 The Miracle in Peyi Pouri! All the Haitians were talking about the white glow behind the cross in the sky. People could see it from many miles away! Praise the Lord! GPL Solar did a great job choosing the right solar lighting. All the Haitians are talking about the cross in the middle of a Voodoo area! What a witness for Christ! David George, who sponsored the cross, was on cloud nine!
Whenever we drive to Peyi Pouri to feed the little children and their families from this village, we feel so blessed to be able to help the poor! We thank our partners each day for helping us fulfill the Word of God. In Peyi Pouri, where we now have a school and church, we give a lot of food each month to the people in this area, but "getting the food up there" is always a challenge. Hunger is unmerciful here in Haiti and many other third world countries. We can't do everything, but we can all do "something."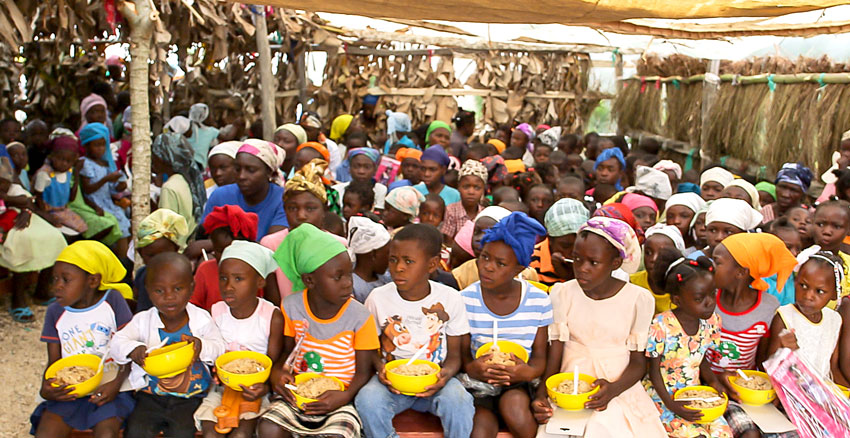 In October 2016, Hurricane Matthew pounded the island. It affected so many of the communities we serve. Our whole Love A Child team jumped into Disaster Relief mode, as so many people lost everything. We helped send relief supplies including food, clothing, Disaster Relief Buckets, tin, nails, lumber, cement, and much more to repair houses. This effort included the community of Peyi Pouri. Our friend and partner David George helped provide repairs to homes destroyed during the hurricane.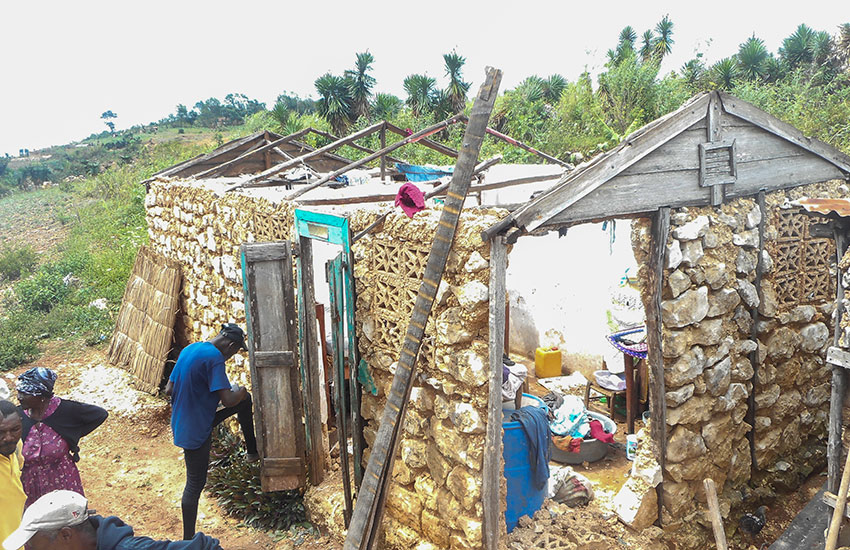 We distribute food to many places in Haiti, but one of the toughest places is Peyi Pouri. It sits on the "tip-top" of a high mountain with bad winding roads and no guardrails. There are always thieves on these roads that wait to steal food from the poor and sell it. Some pastors, like Pastor Souffrance, hide their food at night and then move it to another location early in the wee hours of the morning. Some people walk down the mountain, and those that have them bring donkeys and mules to carry the load all the way back up the mountain. They do this just for food. Thank you, partners, for making this possible!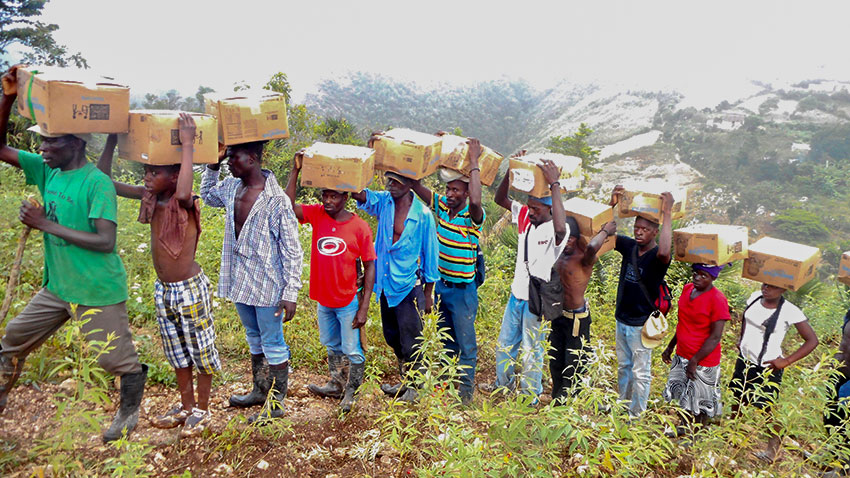 Please pray about becoming a sponsor of one of our Outreach Programs including our Feeding Program and our Mobile Medical Clinics. These programs give Haitians hope and in the second part of this journal you will learn more about our sustainability outreaches. Our highest goal is to help the Haitian people become working, viable members of society, and create sustainable improvements in their living conditions. Love A Child is also bringing jobs to the community, which helps the Haitians to help themselves, and it gives the people hope and a brighter future. This is the kind of tremendous impact your gifts of support can have for the people of Peyi Pouri and all of Haiti. Thank you for caring and sharing to help improve so many lives.
You may give securely online, or
if you would like to speak directly to one of our staff members,
you may contact our Love A Child Office at 239-210-6107,
or you can also email us at info@lachaiti.org and change a life, forever!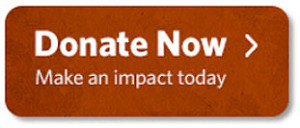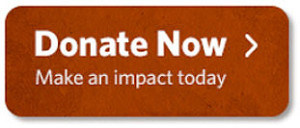 God bless you all for caring so much about the people of Haiti.
Sherry
You can now read Community Profile – The Village of Peyi Pouri –  Part Two