"Before I formed thee in the belly I knew thee; and before thou camest forth out of the womb I sanctified thee, and I ordained thee a prophet unto the nations." — Jeremiah 1:5 KJV
For a long time, as you know, it has been in our hearts to build a Love A Child Birthing Center for poor mothers right here in Fond Parisien, Haiti, next to our Jesus Healing Center and Malnutrition Center. This is one of the most exciting projects we have ever done… and one that has been so desperately needed.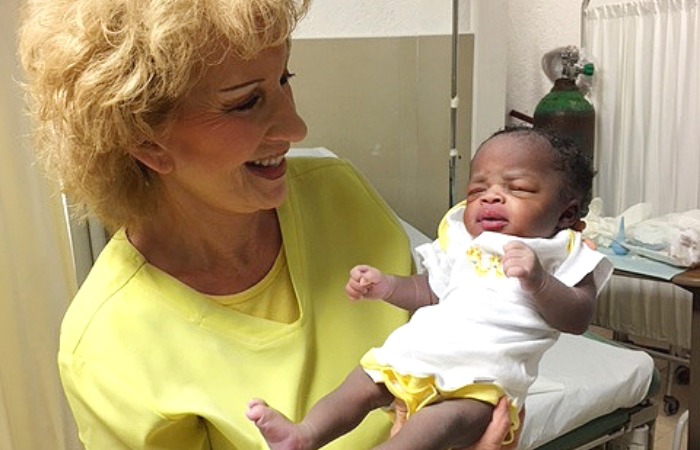 Giving Haiti's Newborns and Moms the Best Start
Imagine a poor mother giving birth to a baby on a mud floor. Even worse, imagine the midwife using a rusty knife or dirty tin can lid to cut the umbilical cord (yes, I have seen this!); infection begins to set in quickly for mother and baby. This is one of the reasons 20% of babies born here do not live, and why our new Birthing Center will save many precious lives.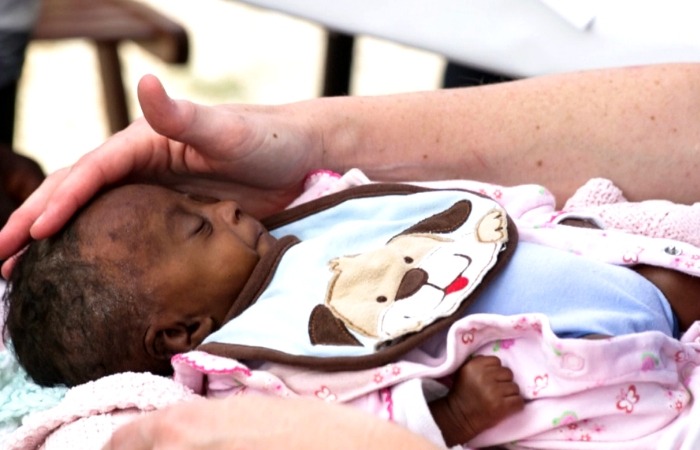 Over the years, poor mothers have had their babies "outside our gate," as they waited to see our doctors at Jesus Healing Center. One day we thought, "We really need to believe in God for a Birthing Center!" so poor mothers can have their babies delivered by a doctor, in a safe and clean environment. Then, we reached out to our partners and began building by faith.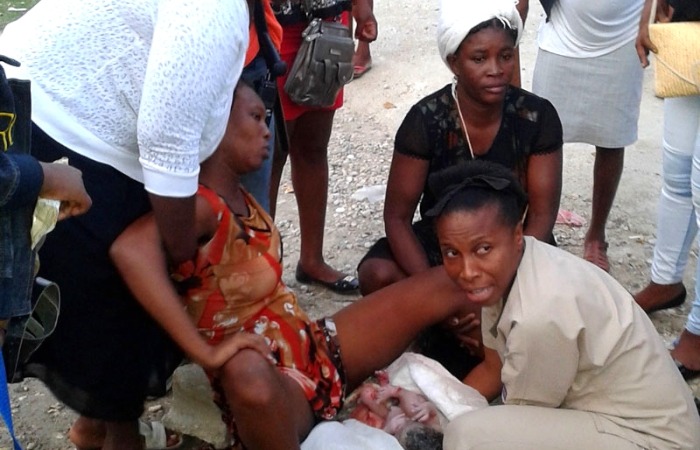 Babies Can't Wait!
These are just a handful of the stories of "why" we felt led to build the Birthing Center and make it the best we can to serve the poor with free care.
One morning, Madamn Vernise Larose, age 23, made her way to our Jesus Healing Center Clinic where we see around 200 pregnant women each week. Before she could leave the clinic, she had a 6 lbs. 8 oz. baby girl! Neither mother nor baby had clothes. The mother only had "the dress she came in with." We outfitted them with clothes, and mother and baby were great!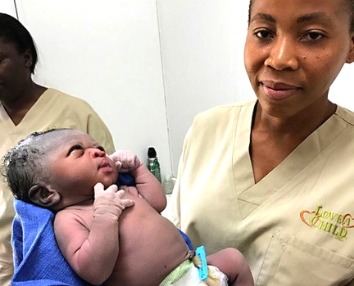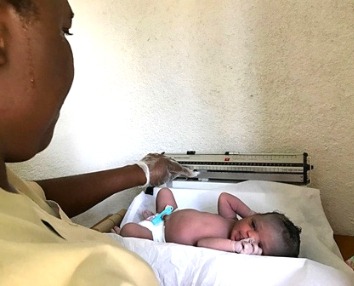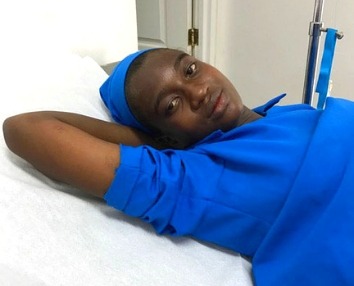 Madamn Vilmene Civil, who was 9-months pregnant, traveled from the poor village of Bwa Blan to our Jesus Healing Center. When we opened the gate to allow patients to come in, the babies (twins) started coming!  She had twin boys!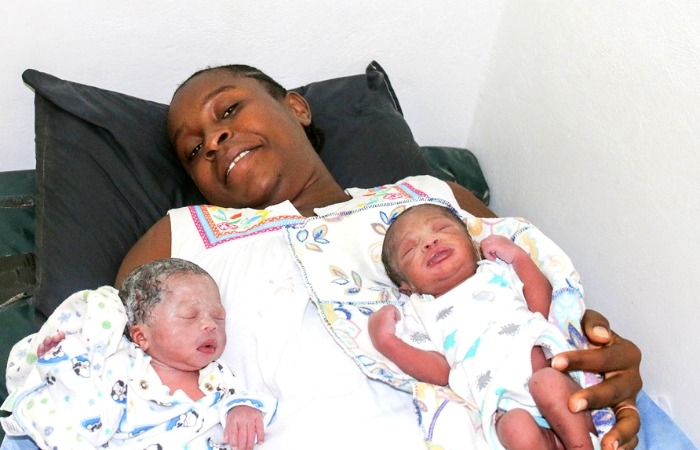 As you can see, she had a "lot of help" delivering them thanks to our wonderful staff!
So many of the children at our Love A Child Children's Home came here because they lost their mothers during childbirth or from complications afterward due to infections. This is our precious Kenzy, who was brought to us by a Haitian Pastor when his mother died right after his birth and his father could not care for him. With this beautiful Birthing Center, we can now prevent the orphaning of more children like Kenzy.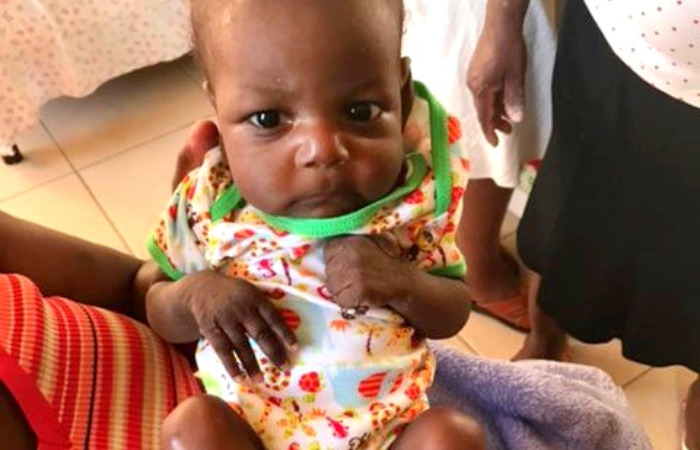 Birthing Center Dedication, "A Dream Come True!"

On Friday, May 17, 2019, hundreds of pregnant mothers came to our Dedication Ceremony for the Birthing Center and received a beautiful rose and a delicious meal. We were blessed with the BEST surprise… one of the mothers gave birth to a beautiful baby girl right in our Birthing Center!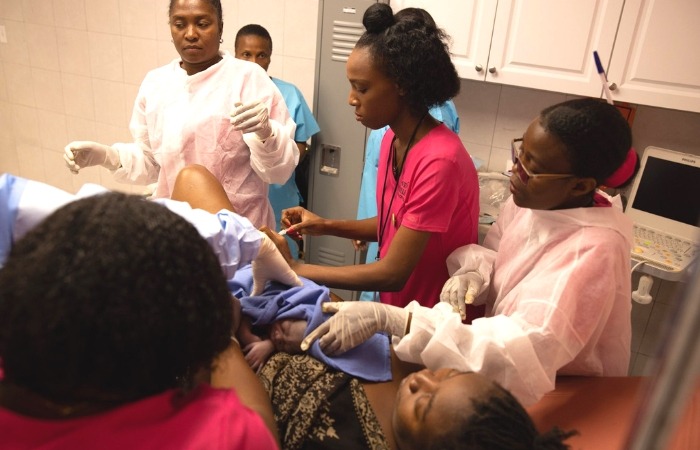 Meet the first newborn of Love A Child Birthing Center–Baby Lovely Alceus!!! Isn't she precious?
Madamn Alceus came out to the porch with "baby Lovely" just before we dismissed, and everyone "went crazy!" What a day! All the mothers said, "her birth was a divine sign from God that He has blessed and ordained the Birthing Center."
Special Inauguration Ceremony with Haiti's First Lady
The Tuesday after our "Dedication," we had the "Inauguration Ceremony" for the Birthing Center with "Madamn President," Martine Moïse! There were pregnant mothers, schoolchildren, government officials, and many friends there.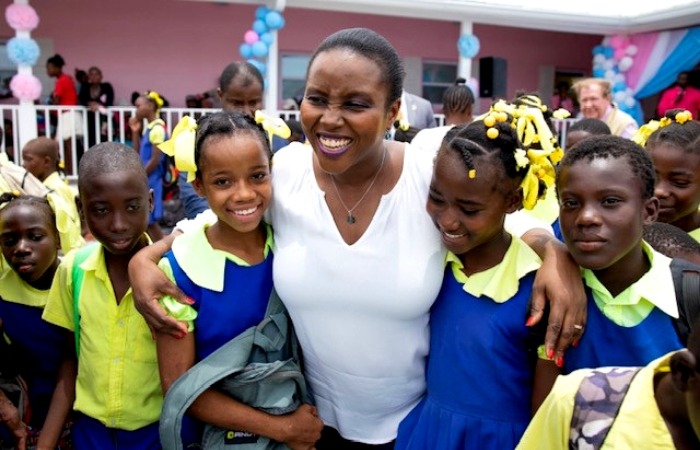 Children from our Love A Child School cheered, clapped, sang, and danced when the First Lady arrived!
The First Lady is a very sweet and gentle person, who adores children and loves our Birthing Center! She gave a wonderful speech to celebrate our new Birthing Center for mothers and babies, which will reduce the risk of maternal and child mortality in the region. What an honor to have her join us!
It was a great day!!! Madamn Moïse did a great thing for Love A Child… She said that she will make sure we can "issue birth certificates" for each baby that leaves our clinic. This is a "big thing" in Haiti because many mountain people don't have a birth certificate, and they don't know how old they are… and if they don't have a birth certificate, they can't go to school! So, we are so thrilled about this!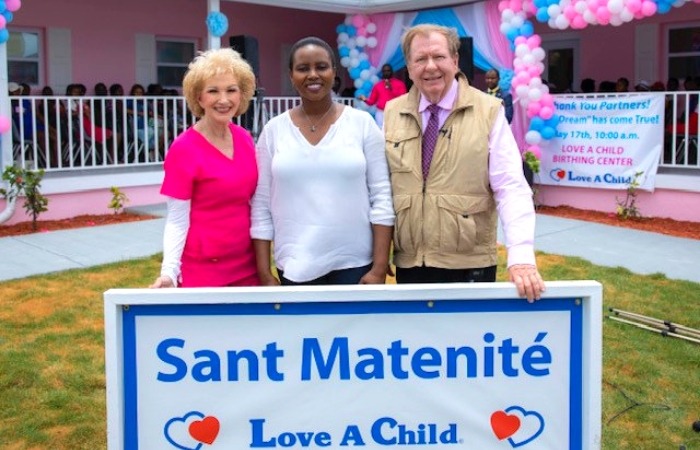 Serving Poor Mothers and Babies with Dignity, Care, & Love
We want to thank the Lord, who made this Love A Child Birthing Center possible. God bless all the wonderful folks who prayed and donated to our "matching grant," and an anonymous giver who sponsored the "matching grant." We are thankful to LAC partners who sponsored items on our "wish list," and who called and said, "I feel led to help… what do you need the most?" This all happened with a miracle!
Along with prenatal and postnatal care, the Birthing Center also is a "Women's Health and Teaching Center," providing education classes. Mainly, we want healthy mothers and babies. Poor mothers visiting us will leave with an understanding of:
Family planning. We teach that it is better to have fewer children who are healthy than a lot of children who have malnutrition.
Birth control. We do not supply condoms, which are mostly used as "balloons" by the children of the poor, but we provide safe and sustainable birth control. However, there are strict guidelines from the Government of Haiti that we must follow.
Prenatal vitamins, which they receive to help their baby get the nutrients needed for healthy development.
Proper nutrition for themselves and their baby. Also, what to feed their baby and children when there is little food available, to prevent malnutrition.
How to take care of themselves before, after, and during pregnancy.
Good hygiene.
For mothers who live far away and want to have their baby at home–how to have a safe delivery using one of our Birthing Kits.
How to care for their newborns as they develop.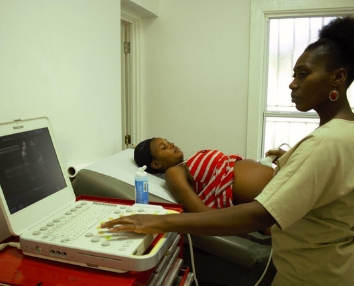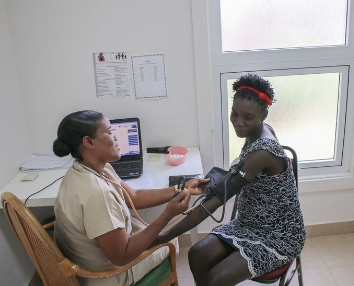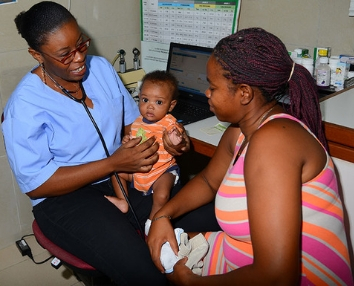 Our Birthing Center will make the poor and their families feel that they are just like anyone else… There is a home behind the Birthing Center to house relatives who come from the mountains. We also provide sleeping quarters and food for them.
These beautiful white rocking chairs are such a blessing! Moms can spend time rocking their babies on our porch, before "heading home," to the mountains, or a mud hut, or wherever they come from.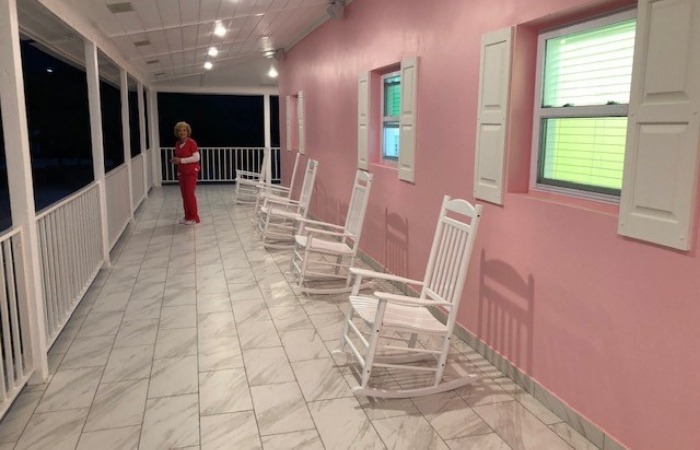 This Birthing Center has also given jobs to educated medical professionals to sustain their families. These lovely ladies are our midwives, also called "Fanm Saj" in Creole. They are the professionals who take care of pregnant mothers and delivering their babies at our Jesus Healing Center and Birthing Center. Trained at a college in Hinche (the best!), they were required to go through 2-3 years of professional training.
This is our wonderful OB/GYN Dr. Nadia, who is giving training on the ultrasound that was generously donated by Probo Medical.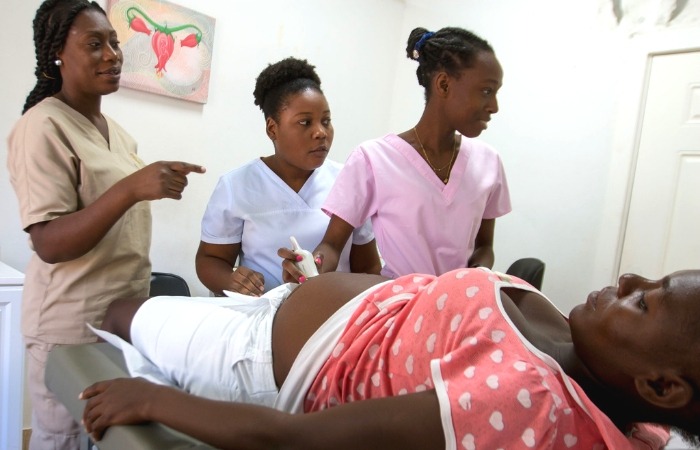 A Labor of Love From the Heart
These guys are heroes for the poor, especially future mothers and babies! Thank you to everyone who worked tirelessly to get the Birthing Center built and ready so quickly, including:
Mark and Jesse Ostrander, who oversaw this wonderful project, and our Haitian construction team for all your long hours and hard work, day and night.
The amazing construction volunteer teams who flew in from Washington State: Terry, Jon, Dwight, Graeme, and Pam, along with the Ostrander's, and The Mission Church: Pastor Dale, Bryon, Jay, and Nick.
We also wish to thank our great Haitian painters who did a great job!
Kids from our Love A Child Children's Home who helped!
I cannot tell you how many lives will be saved because of your labor of love for the poor. Special thanks to those who donated medical supplies, including:
Joyce Meyer Ministries – Hand of Hope who connected us with the right people for the ultrasound, donated by Probo Medical; thank you Casey Trogden and Probo Medical.
Andy Schamerloh, Director of Mission Resources at FAME, who contacted us to donate treatment and birthing tables.
MAP International, for a large supply of medicines for our Jesus Healing Center, new Birthing Center, and to share with several hospitals that we partner with! What a tremendous blessing!
How You Can Help
Thank you, partners, for allowing the Lord to use you! Many days we are asked, "is there anything you need that I can help with?"
Desperately Needed:
Incubator
Centrifuge (for Birthing Center Lab)
Chemical Analyzer (for Birthing Center Lab)
If you are interested in sponsoring one of these items, please let us know, thank you, Sherry.
We distribute about "200 Birthing Kits" each month! Keep them coming! You or your church group can help by making these Birthing Kits, which should include:
(Please send items inside a pillowcase.)
One newborn outfit (a "onesie" and stocking hat)
Feminine pads and two receiving blankets
Small plastic basin and a bar of soap
Single-edged razor blade
Two 10" long pieces 1/16" cotton cord
Disposable newborn diapers and one cloth diaper
Absorbent underpads
Also, if you know of anyone (a hospital, etc.) who would like to donate "hospital gowns" and single white sheets and pillowcases, please have them sent to our office at:
Love A Child
12411 Commerce Lakes Drive
Fort Myers, Florida 33913
(Please mark the boxes: "LAC Birthing Center.")
Please be in prayer and consider supporting our Birthing Center or Jesus Healing Center, with a gift of any amount or donation of any needed items. Thank you all for sacrificing so much to save mothers and babies in Haiti!
You may give securely online, or if you would like to speak directly to one of our staff members, please call 239-210-6107 or email us at info@lachaiti.org.
God bless you all,
Sherry