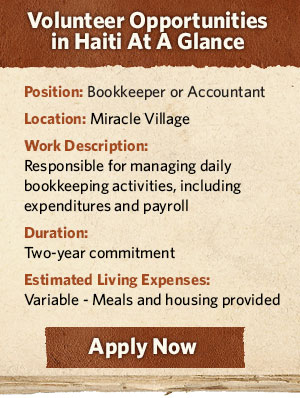 The Volunteer Resident Missionaries God has blessed us with do a great job, but our ministry and outreaches continue to grow and we need additional help. Those people interested must be emotionally and spiritually mature and must provide or raise their own monetary support in Haiti (we may be able to assist via online media). Meals and housing will be provided in the Missionary Training Center.

Volunteer Opportunities
Bookkeeper or Accountant Volunteer Missionary
An experienced volunteer bookkeeper or accountant is needed to live in Haiti and manage daily bookkeeping activities to include expenditures and payroll related to all projects in Haiti. Experience with foreign currencies helpful. Must be able to demonstrate flexi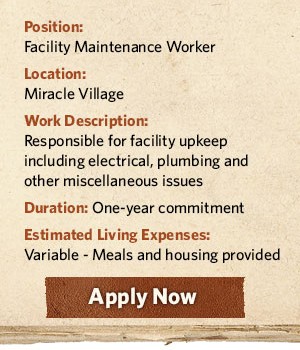 bility, strong relational skills and have extreme attention to detail. A minimum commitment of two-years is required.
Volunteer Facility Maintenance Worker with Diesel Generator Experience
This volunteer worker must be skilled and have experience in repair and upkeep of multiple facility components, including electrical, plumbing and other miscellaneous issues, and will have experience in troubleshooting and repairing diesel generators (including large, stationary generators and multiple-sized, portable generators). Prior missionary experience is preferred but is not necessary. A one-year commitment is required.Each interested person will be asked for a résumé-type list of his/her applicable employment, church, missions, and/or life skills and experiences that apply to these positions and a letter explaining why he/she feels qualified for a specific position.
A reference letter from his/her church leader is also required.