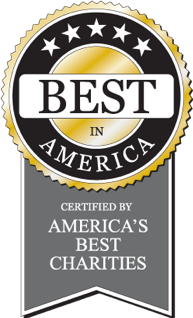 America's Best Charities Seal of Excellence is awarded to nonprofit charitable organizations that have been independently reviewed annually and certified to meet the highest standards of public accountability and program effectiveness. These standards include those required by the US government for inclusion in the Combined Federal Campaign.
Charities certified as "Best in America" must provide evidence of their program activities and demonstrate the scope, range, and benefit of their services. Promotional and fundraising materials must be honest, accurate, and non-deceptive, and charities are required to be fully IRS-compliant.
The most recent IRS tax return (Form 990) with all schedules, including compensation of senior executives and board members, is reviewed to verify a minimum of 50 percent of the board members are unpaid volunteers. Charities with revenue above $250,000 must also submit audited financial statements.
Of more than 1 million charities operating in the United States today, fewer than 2,500 have been awarded this Seal.