Sharing life-saving food with 90+ partners throughout Haiti to bless starving children and families every month. Storing medicine, clothing, and disaster relief supplies to distribute in times of devastation.
"He that hath a bountiful eye shall be blessed; for he giveth of his bread to the poor." – Proverbs 22:9
A warehouse the size of a football field, Kingdom Connection Food Distribution Center is at the heart of our many outreaches. All items donated to Love A Child we secure and distribute from here; primarily, the donated, malnutrition-fighting meals from our long-standing partners Feed My Starving Children (FMSC).
What does it take to get this nutrient-rich food to Haiti?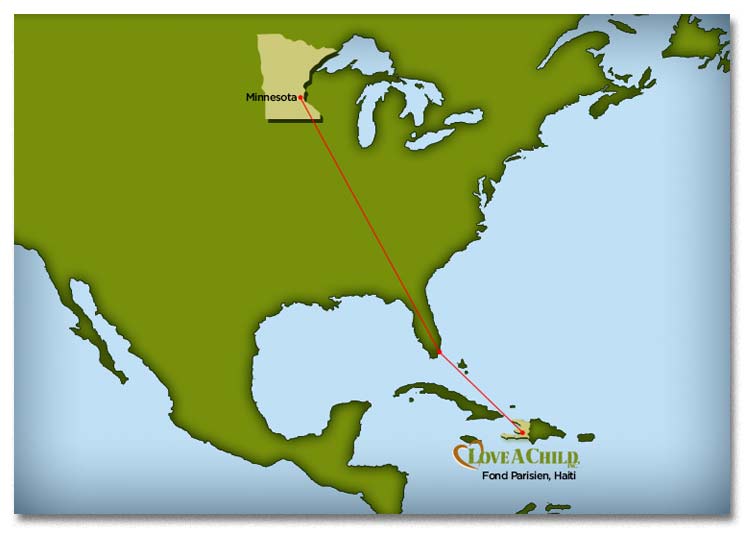 Loving partners, like you, sponsor the shipping costs of food boxes (each filled with enough meals to feed a poor family for an entire month) from FMSC headquarters in Coon Rapids, Minnesota all the way to our Food Distribution Center in Fond Parisien, Haiti. And here's how it works:
40-ft containers are driven from Minnesota to the Port of Miami
From there, we pay ocean freight charges to ship them to Haiti
Once here, Haitian Customs must release the shipment. Shipping such huge containers incurs many charges that include: docking fees, brokerage fees, and government fees
They are then trucked to our Food Distribution Center warehouse
Once the containers reach us, the pallets of food boxes are unloaded and stored here until time for distribution
For each container of food, Love A Child spends $10,000 in transportation fees… this is a lot of money, but it is a small price to pay for 270,000 meals which bring hunger-relief to starving children every month.
How do the meals reach the ones who need it most?  
From our Food Distribution Center, the food travels throughout Haiti by donkey, on foot, or by truck to fill the bellies of some of the hungriest and most vulnerable children and families in the country.
We deliver these meals directly to our 18 Love A Child schools and extremely poor villages, like the Truttier garbage dump, where we host Feeding Programs and monthly food distributions.
Also, once a month on Food Distribution Day, 90+ missionary groups travel to our warehouse to pick up a monthly supply of food boxes to feed the vulnerable people they take care of.
Thank you, Jentezen Franklin and your partners, for sponsoring the cost to build this amazing warehouse, and an entire container of food each month. Special thanks to FMSC for the meals we receive to feed the children! And thank you Joyce Meyer Ministries—Hand of Hope, and each of you, our partners who help us every month to pay for the shipping of all the containers of food down here from the States, by faith!
Staying stocked for disasters…
The Food Distribution Center became central to our disaster relief efforts when Hurricane Matthew tore through Haiti in 2016. We were able to reach out immediately to the hardest hit areas to help suffering families, distributing hundreds of disaster relief kits filled with towels, soaps, food, toiletries, and much more.
We need to make sure our warehouse is well-supplied with emergency resources for times of crisis. Our day-to-day operations and outreaches to the poor are made possible because of the many invaluable supplies you have helped secure in our Food Distribution Center.
How you can support the Food Distribution Center
A direct donation helps Love A Child cover the cost to transport life-saving FMSC meals that the poor and our many partners depend on every month. Or your donation can help purchase critical and essential supplies to support families when disasters strike.
Gifts in kind to replenish our huge warehouse are always greatly needed. Visit https://loveachild.com/needs-list/ to see what items you would like to ship to help care for the poor.
Below are images of the work that Love A Child, our partners, missionaries, volunteers,
and donors are doing to help the starving people of Haiti.