Distributing life-saving food with 90+ partners throughout Haiti to bless starving children and families every month. Storing medicine, clothing, and disaster relief supplies to distribute in times of devastation.
"He that hath a bountiful eye shall be blessed; for he giveth of his bread to the poor." – Proverbs 22:9
Kingdom Connection Food Distribution Center is at the heart of our many outreaches.
A warehouse the size of a football field, we secure and distribute all items donated to Love A Child from here, predominantly meals donated by our long-standing partners in fighting malnutrition: Feed My Starving Children (FMSC).
How do we get this nutrient-rich food to the malnourished people of Haiti?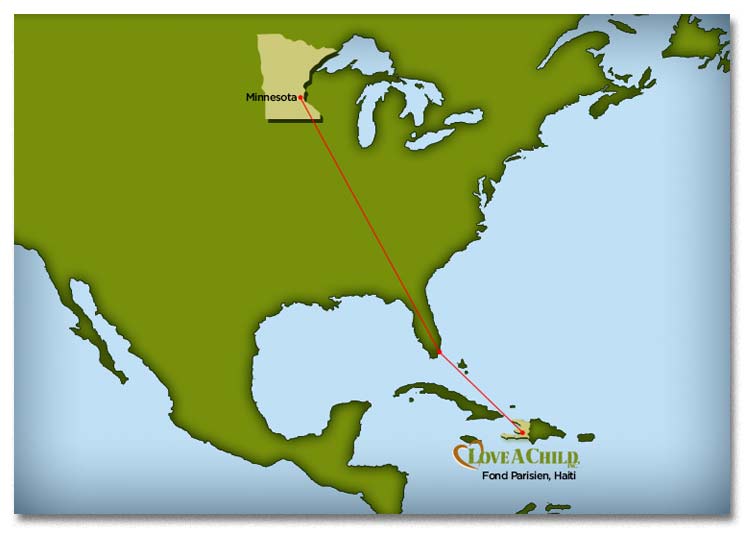 Loving partners like you give our ministry "legs" by sponsoring the shipping costs of food boxes that contain enough meals to feed a poor Haitian family for a month.
The journey to our Food Distribution Center in Fond Parisien, Haiti begins in Coon Rapids, Minnesota, where FMSC is headquartered.
Here's how it works:
40-ft containers are driven from Minnesota to the Port of Miami
From Miami, we pay ocean freight charges to ship our containers to Haiti
Once reaching the shores of Haiti, Haitian Customs must release the shipment.
Shipping such huge containers is expensive, incurring charges that include docking fees, brokerage fees, and government fees
Next, they're trucked to our Food Distribution Center Warehouse
Once the containers reach us in Fond Parisien, Haiti, we unload the pallets of food boxes and store them here until time for distribution
For each container of food, Love A Child spends $10,000 in transportation fees…
This is a lot of money, but it's a small price to pay for 270,000 meals that bring hunger-relief to starving children every month.
How do the meals reach the ones who need it most?  
From our Food Distribution Center, food is transported throughout Haiti by donkey, on foot, or by truck to feed the hungry, reach the most remote of communities, and ultimately answer the call of God.
We deliver these meals directly to our schools and extremely poor villages.
Thank you, Jentezen Franklin and your partners, for sponsoring the cost to build this amazing warehouse, and an entire container of food each month. Special thanks to FMSC for the meals we receive to feed the children! Thank you, also to Joyce Meyer Ministries—Hand of Hope.
And to each of you, our partners, who help finance the shipping costs of these containers.
YOU are making a difference every single day in the lives of countless children and families in Haiti.
Staying stocked for disasters…
The Food Distribution Center is vital in our disaster relief efforts, and it's essential our warehouse stays stocked and prepared in the event of a crisis. When Hurricane Matthew tore through Haiti in 2016, we were immediately able to reach out to those suffering and displaced with disaster relief kits filled with towels, soaps, food, toiletries, and much more!
Our outreach at Love A Child is made possible by your continued support and the invaluable supplies you help us secure for our Food Distribution Center
How you can support the Food Distribution Center
A direct donation helps cover the transportation costs of FMSC meals, on which our partners depend on every month and the poor depend on daily. Your donations can also help purchase critical and essential supplies when disasters strike.
Keeping our Food Distribution Center stocked and replenished is another way of supporting our ministry. Visit https://loveachild.com/needs-list/ for a listing of items you can ship… items that are always needed and greatly appreciated.
Below are images of the work that Love A Child, our partners, missionaries, volunteers,
and donors are doing to help the starving people of Haiti.