Continued from 2016 Year in Review Series Part 1
January 26, 2017
"Turn again, and tell Hezekiah the captain of my people, Thus saith the Lord, the God of David thy father, I have heard thy prayer, I have seen thy tears: behold, I will heal thee…"
—2 Kings 20:5
Medical Outreach Programs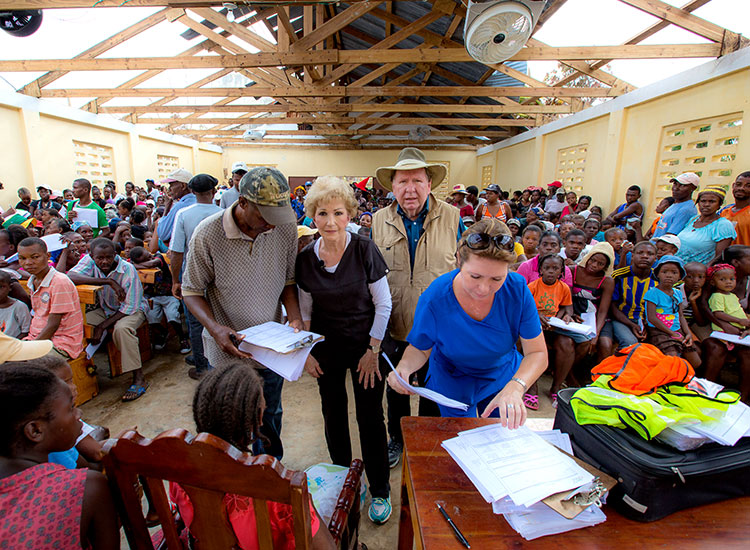 Specialized Medical Care in the States
This year we were fortunate enough to send three of our Love A Child orphans to the States to receive highly specialized medical care, which is always a challenge. We have been so blessed to find the right hospitals, doctors, and sponsors that are able to offer each of these children a chance at a better life and to improve their physical comfort. When each child originally came to our Love A Child Orphanage, they had suffered not only physical pain, but also emotional trauma because of their condition.
Dimelia

Our sweet Dimelia was badly burned around the age of four. She fell into a charcoal fire and was burned by the coals and boiling cornmeal. She has had several surgeries over the years, and now she is recovering from a recent surgery done at Shriners Hospitals for Children — Boston. They focused on her right chest area with her recent surgery. They will use laser treatment on her skin to make it look and feel smooth. We want to thank Derek and Heather Carr for sponsoring her trip to the States. We also thank her wonderful host mom, Lori Hodel, for all the care she has given her in the past and for taking care of her again for this surgery! She is still in the States receiving additional treatment, and we look forward to her return to Haiti.
Miliana

This is Miliana's second trip to the States. In 2013, the doctor had given us a diagnosis of Rothmund-Thomson Syndrome, a rare genetic disorder that causes pigmented skin with sores on her hands, feet, elbows and no eyebrows. Her future could possibly lead to bone cancer or leukemia. Miliana stays with a wonderful host, Beth Nolan, and her family. Her skin condition had deteriorated so badly, and she was "growing growths" from her body that looked like small tree limbs! We are so thankful to the Spencerville First Baptist Church in Spencerville, OH that helped sponsor Miliana's trip to the States. What a great gift this was! She is a precious little girl, as you all may know. Special thanks to Dr. Cairns for his wonderful care of Miliana! She is still in the States receiving treatment for her condition, and we look forward to her return to Haiti.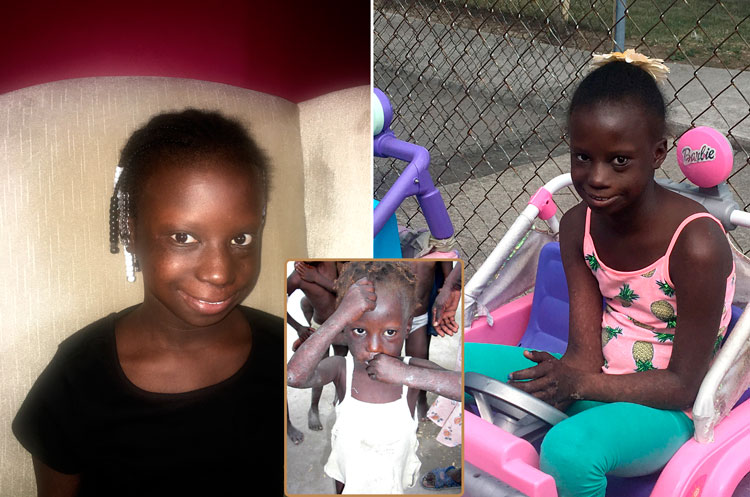 Dieubon

Dieubon has been in our Love A Child Orphanage for many years. We found him while conducting a Mobile Medical Clinic high in the mountains of Haiti. When we first met Dieubon, he could not walk because of bilateral clubfeet, and he was in very poor health. He initially had surgery in the States to correct his bilateral clubfeet many years ago. As he aged, Dieubon started suffering from severe back pain and loss of bladder control from spina bifida. We have always been so blessed to find the best doctors and hospitals, and we have received support from other organizations that specialize in bringing poor children from around the world to receive treatment. The Q Foundation for Kids awarded Love A Child a grant to cover the costs of transportation, meals, and housing for Dieubon so that he could receive the care he needed at Shriners Hospital for Children—Tampa. We want to thank both organizations for making it possible for Dieubon to travel to the States. We thank his wonderful host parents, Rad and Sandra Hazelip, who are the Executive Directors at Love A Child, for taking such great care of him.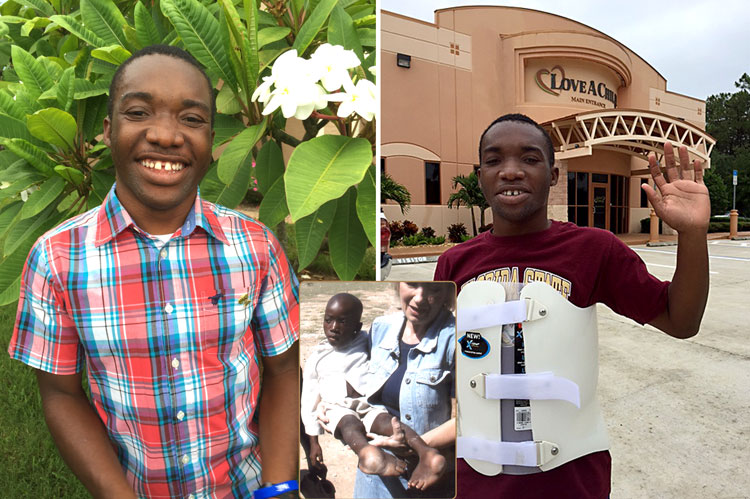 Jesus Healing Center

Love A Child is considered the most trusted source for Community Health Care in the Ouest region of Haiti. Barbara MacMannis is an RN and our Medical Administrator. She leads by faith, and the staff and patients of the Jesus Healing Center are so aware of the blessings of this center. It meets the needs of the patients, respects them as people of God, and hopefully shines a light for the love of the Lord in everything we do and say. This is only possible because of our wonderful partners, like Joyce Meyer Ministries–Hand of Hope, that are dedicated to helping those in desperate need. Haiti suffered through a three-month strike by health care workers at the government-run hospitals this year, causing a 200 percent increase in the amount of Haitians that come to our Community Health Care Outreach Programs and our Mobile Medical Clinics.

As word spread about the excellent care patients received at the Jesus Healing Center, we found ourselves bursting at the seams. Our four doctors, two residents, and eleven nurses were able to increase our patient load from 100 to 150 a day to keep up with the need, but our problem was where to put all the added patients? We needed to increase our space to keep up with the demands of emergency care. We were able to enlarge our emergency room from three beds to six beds by utilizing a porch entrance, and our inside waiting area from twelve to twenty-five people by decreasing our front registration office. We treated thousands of patients in Fond Parisien and surrounding areas. Just two years ago, our community clinic treated an average of 2,000 patients each month, now it is over 10,000 each month!
The Jesus Healing Center received a 15-passenger van from Joyce Meyer Ministries—Hand of Hope. This van is invaluable and provides transportation for patients, their families, and children from the orphanage to receive medical care from specialty doctors or other clinics. This van frees up our ambulance to be used only for emergencies. The Jesus Healing Center cares for patients with chronic and debilitating illnesses who must see a specialist monthly. This van allows us to coordinate appointments for several patients to see specialists in the Port-au-Prince area, which saves time and keeps in line with our budget. We are so grateful for this van, and it is helping us change lives throughout Haiti.

 Malnutrition Center

Our Malnutrition Center is a safe oasis in the middle of this land of poverty and starvation. It is the best way we have to break the cycle of malnutrition by educating the mothers and giving them nutritious food to bring back to their families each week. Some of the mothers will walk two hours one-way to receive a sack of food. They do this because it may be the only food they will have for the week. We educate pregnant mothers on the importance of having healthy babies. We offer classes on prenatal care, early child care, and encourage breast-feeding, which is the best solution for the immune system of a new baby.

So many lives were saved and so much will be going on in the center to save even more lives. We welcomed Mark Crea, president of Feed My Starving Children (FMSC), and his team of volunteers who came to visit our Malnutrition Center, spending time with some of the babies his organization is helping.

The Malnutrition Center sees between 300-400 babies and toddlers each week. Some have been in our program for many months. Each mother receives several types of food for her baby in the next week, and then, each baby comes back to be weighed weekly. This wonderful program has prevented many children from dying of malnutrition. A special thank you goes to one of our partners, Dor'e Aslandes, who sponsored the new Malnutrition Center. These are some of the volunteer team members: Kaity, Brittany, and Tina, who came with David George's World Ministries.

 Mobile Medical Clinics

We made several trips into the "regions beyond" to bring Mobile Medical Clinics to people who live in remote areas. We were so fortunate to have had many medical professionals who volunteered their time to come all the way to Haiti. They helped care for the very poor who travel many hours to receive medical care at one of our Mobile Medical Clinics. It may take up to three-to-five hours to reach some of the remote villages that are high up in the mountains of Haiti, and most have little or no road to get there.
This was our Mobile Medical Clinic team of volunteers who traveled to Savaan Pit, a five-hour drive into the mountains of Haiti to this very remote village.
The Mobile Medical Clinic at Savaan Pit was incredible! We saw more patients than ever before, and they received excellent doctor care, free medicine, wound care, glasses, ministry and more. On the first day of the clinic, we were a bit overwhelmed with the sheer number of people who came seeking medical help. We treated 914 patients, with individual attention, like this very sick young girl with her family.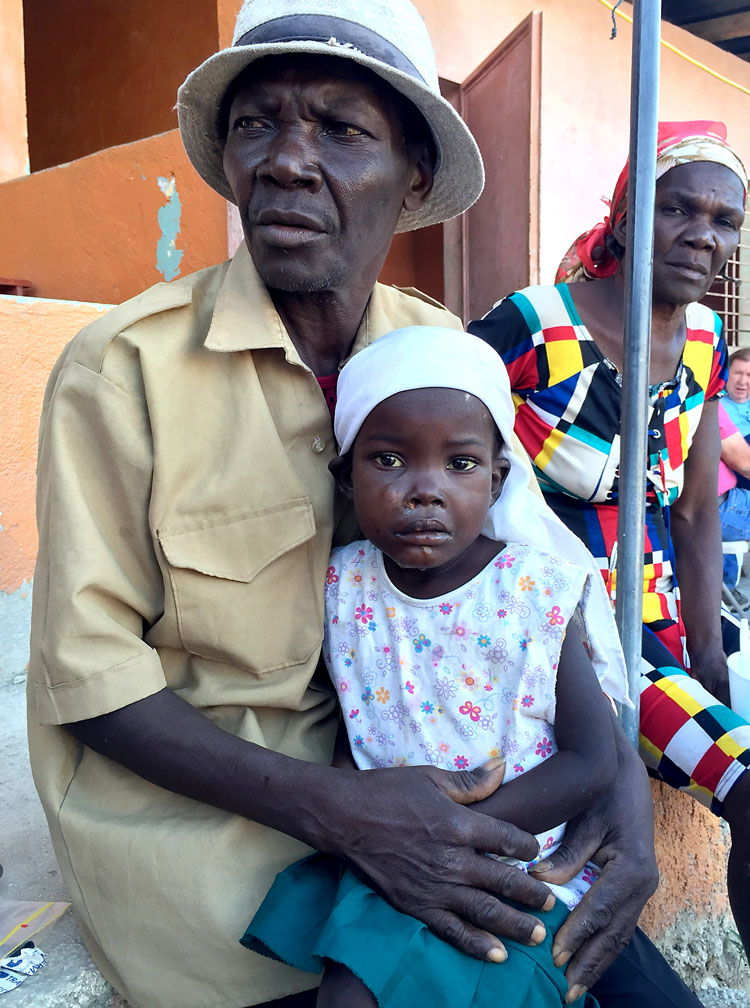 We also held Mobile Medical Clinics in La Roche, Lastik, and Letant.

This past year we visited the village of Sapaterre and took food to these poor people who make and sell Bon Bon Tè (mud cookies). We had promised that we would come back and hold a Mobile Medical Clinic. We had to postpone the trip because of Hurricane Matthew, but in November we were finally able to hold a Mobile Medical Clinic for these precious people.
Natural Disaster
Hurricane Matthew

On a quiet Sunday morning in October, while attending the church dedication for Pastor Claude's new church in La Trembley, we received bad news about the hurricane that was headed for Haiti. We needed to leave early from the church service to get ready for Hurricane Matthew that was now a Category 4 hurricane. We had a lot of work to do! It was all hands on deck, as everyone pitched in to load up sandbags to place around the Love A Child compound. Thank you, David George, our Love A Child children, and our Haitian workers for helping us to all stay safe on the property.

By 7:00 AM Monday, the hurricane had winds of 145 miles per hour and was 50 miles south of Haiti. There were predictions that over 100,000 people would lose their homes. We tried to obtain extra food to pass out along with other urgent items that people would need. The Haitian government was begging for our help! By 5:00 AM on Tuesday, Hurricane Matthew had made landfall in Haiti. So many people were in danger and though they tried to evacuate people, they really had no place to go.

Hurricane Matthew was powerful and destructive on the southwestern tip of Haiti. The storm pounded the island with drenching rains and a flooding storm surge for many hours. Many homes and huts were washed away as tons of mud rushed down the mountains.

Schools, churches, and homes were washed away all around the southwestern area of Haiti.

The World Food Program stated, "October 2016's Hurricane Matthew has left hundreds of thousands in Haiti in need of food assistance. Fishing activities have been paralyzed, crops and forests lost and incomes diminished. There were extensive floods and mudslides, damage to roads and buildings, and widespread electricity and water shortages… Agriculture is gone, nature is gone. That will take a very long time to grow, and it will take a long time for these people to become self-sufficient again."
Disaster Relief Efforts

On Wednesday morning, we reached out to poor villages with food and disaster relief kits. Pastor Claude had 200 refugees in his new church in La Tremblay. It was such a blessing that so many people had a safe place to go during the hurricane, though people desperately needed food. We gave him pallets of Manna Pack food, macaroni from Children's Care Outreach, dehydrated fruit from Gleaners, a pallet of clothes, blankets, and much more.

We visited several areas in Haiti that needed immediate disaster relief. One of our missionaries Kaeli, and our daughter Julie put together empty buckets ready for our team to fill with supplies. Among the needy areas were Ti Maché, a poor village of mud huts, and Truttier, the garbage dump of Cité Soleil, where more than 300 families live in the muck and extremely unsanitary conditions.

Port Salut is located in one of the hardest hit areas on the Tiburon Peninsula, which includes most of Haiti's southern coast. Our first trip there was to bring in basic survival needs such as food, water, and clothing.

On our second trip, we filled our box truck full of supplies and headed out to our friends Ray and Joan Conn who run the Restavek Foundation in Port Salut. Plans were changed to consolidate our shipment with others so that private security could be hired to accompany the largest truck full of supplies to this disaster area. We prayed that everything reached the poor without any problems.

On our third trip to Port Salut, we brought our "Mobile Medical Clinic–Disaster Relief Team."
Hurricane Matthew continues to be a complicated humanitarian disaster. Not only have the Haitians lost their homes, but also the long-term effects will be felt for many years to come. All their crops were destroyed and most of their animals died in the hardest hit area that is also known as the "breadbasket of Haiti." This will immediately result in an agricultural catastrophe; the vast majority of the population will no longer have food, widespread famine will take hold of the country. There will be no money for families to send their children to school. If you would like to make a contribution to the victims of Hurricane Matthew in Haiti, please consider a donation of food, clothing and shelter material. It makes such a big difference in the lives of these poor people.
Please, hear the "cry of the poor," and "do something" today. And when you do, God will bless you for "considering the poor!" (Psalm 41:1-3) If you would like to speak directly to one of our staff members, please call 239-210-6107 or email us at [email protected].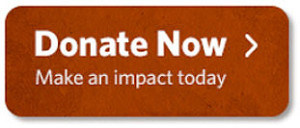 Thank you to our partners and sponsors who made all this happen in Haiti in 2016. Look for Part Three of this journal series coming soon.
God bless you,
Sherry