"Blessed is he that considereth the poor: the Lord will deliver him in time of trouble. The Lord will preserve him, and keep him alive; and he shall be blessed upon the earth: and thou wilt not deliver him unto the will of his enemies. The Lord will strengthen him upon the bed of languishing: thou wilt make all his bed in his sickness." – Psalms 41:1-3
Since we opened the Jesus Healing Center 10 years ago in Fond Parisien, Haiti, lines to see our doctors and nurses have become longer and longer. Hurting and sick families in poverty travel to the clinic from all over Haiti, and we have a constant overflow of patients. It hurts our hearts to turn away more than 150 people at the end of each day!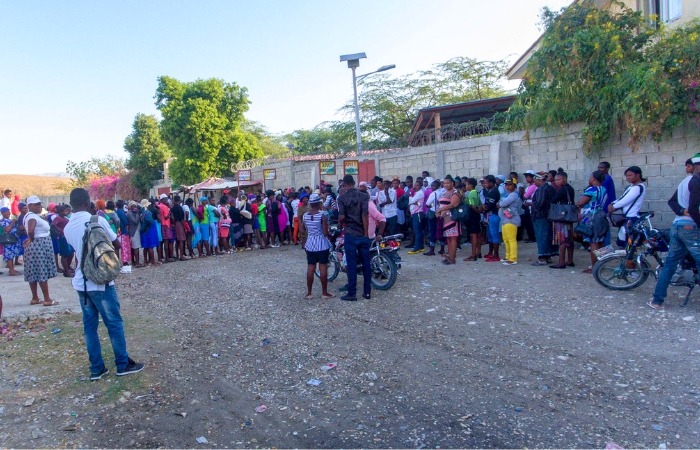 Making Quality Medical Care Available to the Poor
Serving more than 50,000 patients each year, from newborns to the elderly, we have "outgrown the facility"… As someone said, "We're gonna need a bigger boat!"
Word of mouth reaches far and wide in Haiti, and this is how we have come to treat and vaccinate as many patients as we do every year at Jesus Healing Center. These suffering and poor families would otherwise go without health care and medicines because they must use what little they have to buy food.
When families from the mountains make the 7-hour long trip (on foot!) to visit us and receive excellent care with love, and medicines, they tell others about us. People share information about our clinic on local "tap-taps" as they ride to and from marketplaces, and our Christian radio station spreads the word about our free services and health education.
A Choice Between Medicine and Food
The cost of a visit at a medical facility in Haiti, on average, can range from US$6.87 to US$25.06! But, two out of three Haitians live on less than US$2 per day. This is why families choose food over a doctor's visit.
All we do, we do at no cost for these poor families. Jeudeline, age seven, was brought to our Jesus Healing Center (notice her curved back and the large infection and swollen area). Dr. Barthelemy, who heads our staff at the Jesus Healing Center, told us that she was brought to us a long time ago with a small tumor on her back. We had given her mother money to take her to a good hospital in southern Haiti, where there was a specialist.
When her mother brought her back to us a couple of months ago, she was asked, "What did the doctor and hospital do for your daughter?" The answer was… she never went. She kept the money for food. Now, Jeudeline has a very bad back and a horrible infection. It is always a choice between food and medicine… and now, it's worse than ever before here in Haiti.
"Bursting at the Seams"
Monday through Friday, families start lining up at our gate at 3:30 a.m., and earlier, to stand outside (sometimes in the rain) until 7:00 a.m. when the clinic opens. Our Security Guards form lines each morning when they open the gate.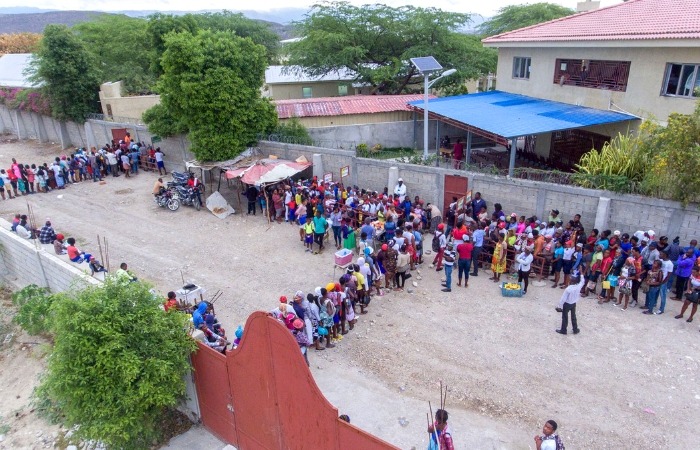 The Jesus Healing Center (with 8 doctors, several nurses, and nearly 47 others on staff) is crowded for space and the building cannot accommodate all the patients who come to the clinic.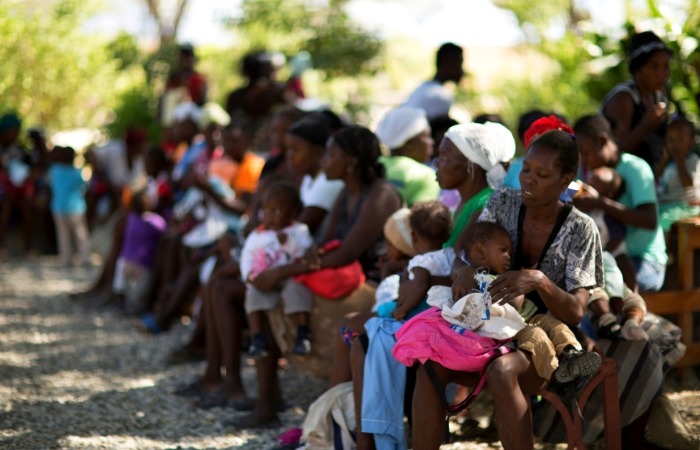 Caring for the Community, with Love
At the end of the day, we can either keep turning the poor Haitians away, or by faith, step out and build a bigger facility! We have decided to do this; it will save more lives and bring relief to more children in need, like some of our recent patients:
This little girl is from the village of Lastik. Her name is Manesca Pierre-Louis, and she is eight years old. She had a bad fever along with gastroenteritis, but she received wonderful care.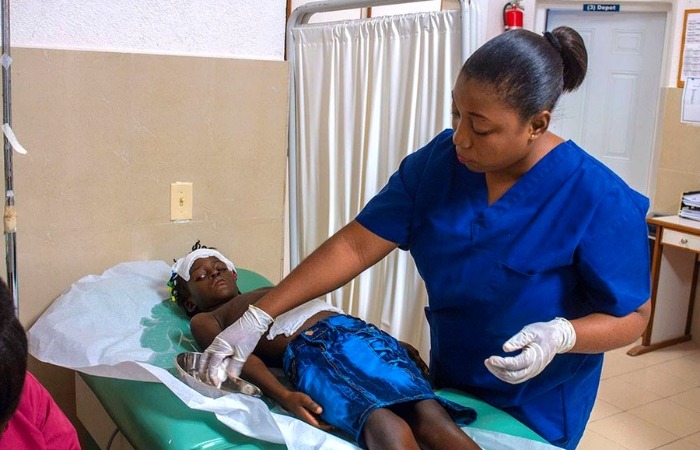 There was also a small boy with a bad head fungus, but he was not the only one in the ER that day, there were many more…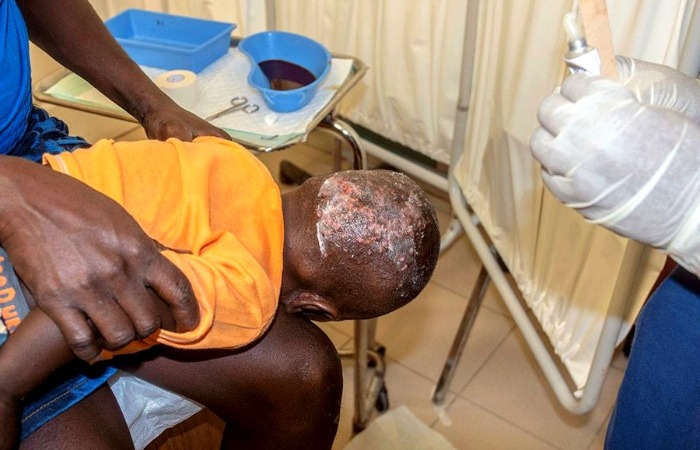 Some of the cases we see in our ER are so bad that we have to send them by ambulance to the nearest hospital. We are thankful to Pastors David and Nicole Crank and Faith Church for our life-saving ambulance! We use it every day!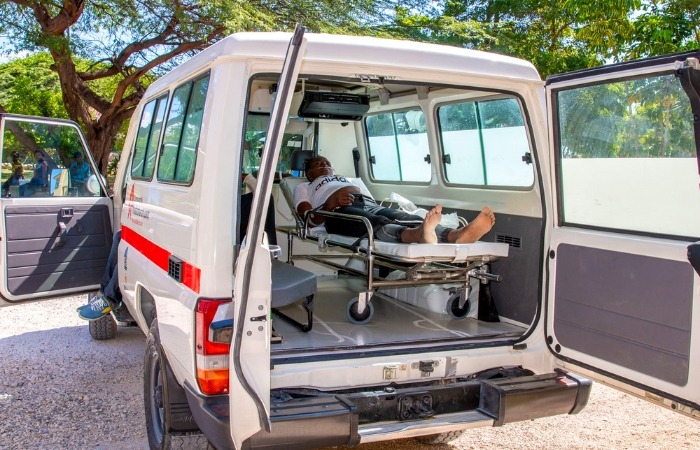 The biggest threat to Haiti's babies and children is starvation. This baby girl was so malnourished that her skin was hanging in folds. Our clinic was able to intervene.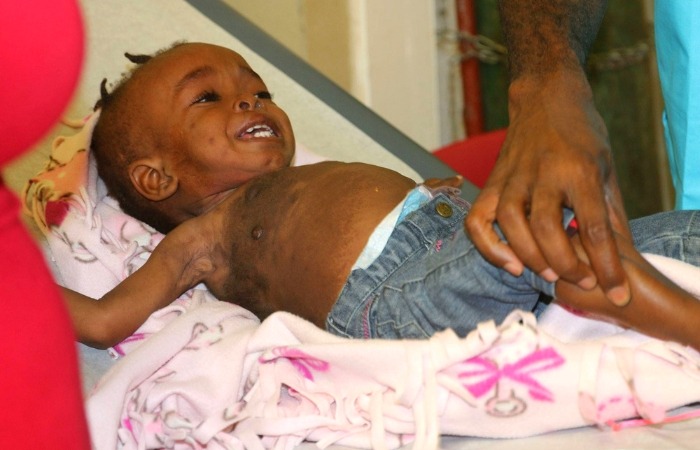 Only skin and bones, little Wadson Paul was found by our staff in the mountains and brought to the Jesus Healing Center Clinic. Today he is laughing, standing, and being cared for by a wonderful Haitian-Christian lady from one of our LAC churches.
Watch how the Jesus Healing Center helped to give Wadson a second chance in life:
We want to thank Joyce Meyer Ministries–Hand of Hope for sponsoring the operating expenses each month at the Jesus Healing Center for all these years. We also thank all our partners who "put their hearts together many years ago to help us build this beautiful clinic."
Building the "New Jesus Healing Center" Together
Today, every space is filled, and we have "outgrown ourselves," but God has given us a "plan"… We have started construction on a much bigger Jesus Healing Center, by faith, to meet the increasing need for compassionate health care for the poor. It will be almost three times the size of the current one and across the street from our new Birthing Center.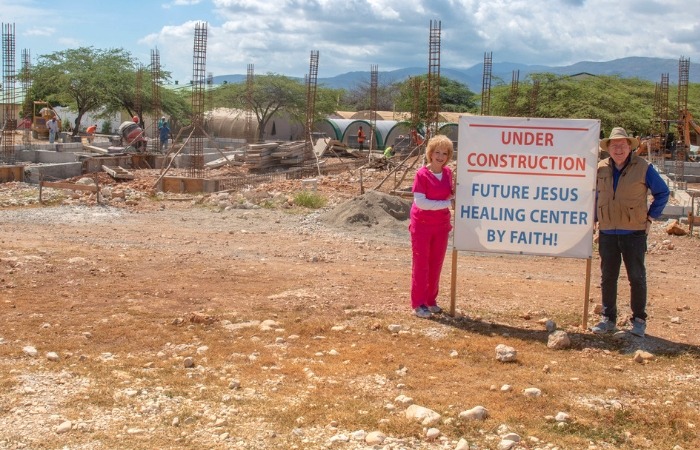 After we shared this news with partners, miracles began to happen for the new clinic! We have one matching grant of $500,000 and another matching grant of $250,000 from two anonymous donors. The total cost of the building is $1.5 million.
And the new Jesus Healing Center will house:
Exam rooms
X-rays
Wound care
Vaccinations
Complete medical lab
Pharmacy
Emergency room
Dental suite
Administrative offices
Waiting room
Dormitories for doctors and nurses to sleep in during the week
We have $500,000 left to raise! Any gift you give will be matched, so your money will double! If you would like to sponsor a room or give an offering of any amount, you may give securely online, call the office at 239-210-6107, or send a check in the mail to Love A Child, Inc. P.O. Box 60063, Fort Myers, Florida 33906-6063.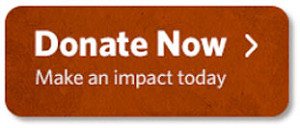 May God bless you and your family with good health! We love you!,
Sherry
P.S. Thank you for being "the Good Samaritan"! Please pray and help as you can by faith!