The new Birthing Center provides essential vitamins, prenatal care, and education to help pregnant women give birth to healthy babies.
"A Dream Come True!"
The Love A Child Birthing Center is our recently completed "dream come true" clinic located in Fond Parisien, Haiti and dedicated to saving the lives of moms-to-be and their precious babies.
Designed to help provide Haiti's poor with family planning, prenatal, and postnatal care access, the new Birthing Center will also operate as a "Women's Health and Teaching Center."
Join us in helping babies survive – and families thrive!
Why Build A Birthing Center in Haiti?
Imagine trying to give birth to your baby miles away from any hospital or healthcare facilities with nothing but a dirt floor beneath you, used rags, and a rusty tin can lid to cut the umbilical cord. This may sound like a scene out of a scary movie to some, but for women who live in rural parts of Haiti this is often their only option. Mothers and babies often die in these unsanitary conditions.
During the last several years, we have seen so many mothers from the mountains coming to our Jesus Healing Center to see one of our doctors about a health issue, only to have their baby right in the yard or outside of the gate! With nowhere else to turn, these would-be mothers would have been left to bear their childbirth alone.
A labor of love from the heart…
Bobby and Sherry Burnette, for years, felt led by the Lord to build a Birthing Center that would provide the compassionate and quality care these poor mothers needed to deliver healthy babies. And, today, thanks to your prayers, love, and support, the Birthing Center is now a reality.
By God's grace, the Love A Child Women's Birthing Center will give poor mothers in Haiti a safe place to give birth. More than this, it will save countless lives.
How the Birthing Center Supports Families…
Along with prenatal and postnatal care, the Birthing Center also serves as a "Women's Health and Teaching Center," providing educational classes. Mainly, we want healthy mothers and babies. Poor mothers visiting us will leave with an understanding of:
Family planning. We teach that it is better to have fewer children who are healthy than a lot of children suffering from malnutrition.
Prenatal vitamins, which they receive to help their baby get the nutrients needed for healthy development.
Proper nutrition for themselves and their baby. Also, what to feed their baby and children when there is little food available, to prevent malnutrition.
How to take care of themselves before, after, and during pregnancy.
Good hygiene.
For mothers who live far away and want to have their baby at home–how to have a safe delivery using one of our Birthing Kits.
How to care for their newborns as they develop.
Our Birthing Center will make the poor and their families feel that they are just like anyone else… There is a home behind the Birthing Center to house relatives who come from the mountains. We also provide sleeping quarters and food for them.
Beautiful white rocking chairs line the wrap-around porch of the Birthing Center building. They are such a blessing, adding a touch of home comfort! Moms can spend time rocking their babies on our porch, before "heading home," to the mountains, or a mud hut, or wherever they come from.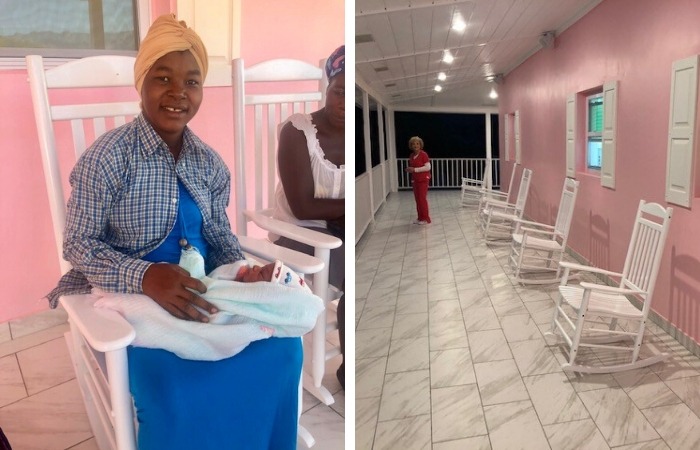 Meet the Birthing Center staff
Love A Child has a full-time OB/GYN generalist physician, Dr. Nadia, who performs prenatal and postnatal exams. Plus, along with the Haitian nursing staff, Dr. Nadia educates women about nutrition, pregnancy issues, breastfeeding, child development, family planning, and more.
The Birthing Center provides jobs to educated medical professionals who are also working to provide for their own families. Our midwives (also called "Fanm Saj" in Creole) are required to complete 2-3 years of professional training prior to caring for pregnant mothers and delivering babies.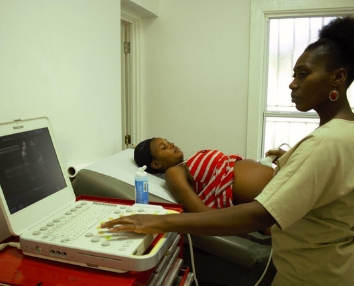 Join us in delivering happiness through the Love A Child Birthing Center. Give today!