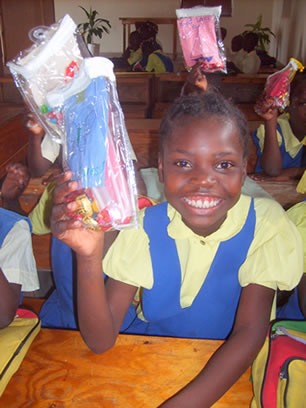 Do the children in Love A Child schools receive a Christian education?
Yes, every child in our sponsorship program receives a Christian education taught by Christian teachers.
How do I communicate with my child?
Sponsors can write to their sponsored children using one of our Translated Letter Forms that are provided in the initial Child Information Packet. If you would like more forms, please contact our office by phone or email and we will be happy to send you more.
How can I expect to hear from my child?
The children love your letters and it lets them know that someone else cares about their future; however, please keep in mind that sponsorship is not a pen pal program. You will be mailed updates periodically including, artwork, letters, and photo updates as your child's school completes them.
How will I know if my child has received the gift I sent?
Unfortunately, Haiti does not have a postal system. To make sure your child receives his or her special gift, all sponsors' packages are kept together with other Love A Child supplies and are shipped in a container via boat to Haiti. After the packages arrive at Love A Child, they are delivered by Bobby and Sherry the next time they visit your child's village. This process may take a few months. You can be assured that your child will receive their package; however, if there are any issues, we will contact you.
What if my child moves away?
We try our very best to stay in close contact with the children. If for any reason, your child leaves our school system, your gifts will continue to be combined with the funds from other sponsors to help care for other disadvantaged children in our program. We will then send information introducing you to your newly assigned child. There are always children waiting and hoping for a caring sponsor.
May I visit my child?
You can meet your child provided that you are participating in and traveling with one of our mission trips. The schedule is available on our website or email [email protected]. 
Please contact the LAC Sponsorship
Department at 239-210-6107 for further package 
guidelines
.
Your monthly support is combined with the gifts of other sponsors to provide for the needs of our sponsored children. Should your child leave our Love A Child Sponsorship program due to the effects of a natural disaster, or any other economic, social or cultural reason, your gift will continue to be combined with other Love A Child sponsor gifts to help care for other disadvantaged children within our program.