August 11, 2016
And to every beast of the earth and to every bird of the heavens and to everything that creeps on the earth, everything that has the breath of life, I have given every green plant for food." And it was so.  
—Genesis 1:30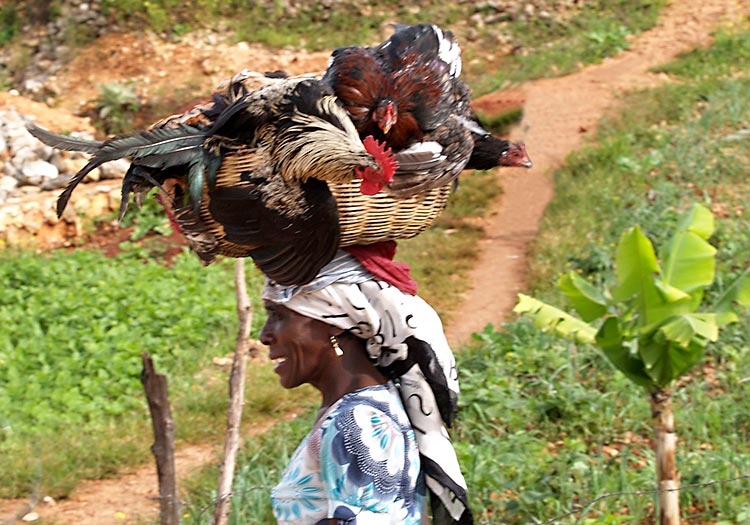 There are lots of native chickens in Haiti, in most every village, pecking around mud huts among the children, pigs, and goats. The problem seems to be that they don't get enough food. The indigenous chickens here in Haiti have built up immunity to their environment and will produce some eggs, but the meat is usually tough and scrawny because they must forage for food. It is very difficult for Haitians to feed their animals when their families are nearly starving.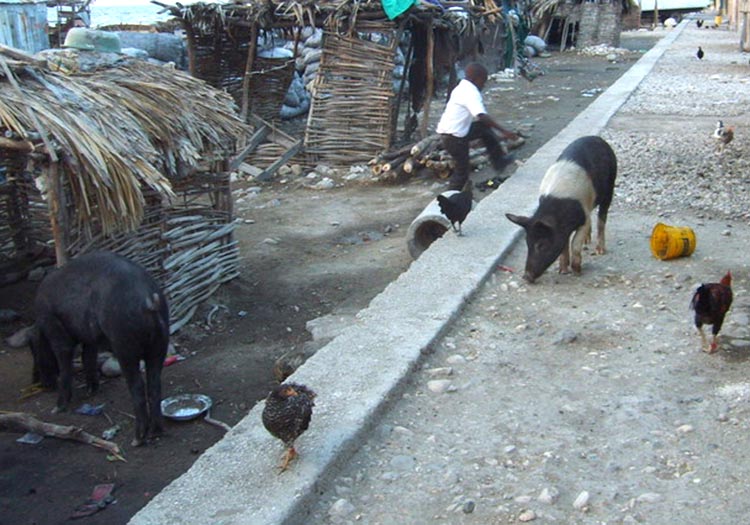 Here at Love A Child, we knew we could improve the state of chicken farming in Haiti. As an organization, we are deeply committed to sustainable development initiatives in order to promote self-sufficiency for the Haitian people. With the help of Mike Welch of Harrison Poultry and the World Poultry Foundation, as well as Larry Guest and friends, the Poul Mirak chicken farm cooperative is taking major steps toward reaching some of those goals.
Our chicken cooperative began with great initial success back in 2013, with just two local chicken farmers raising and selling 300 chickens in one chicken house at Love A Child Village. Recognizing that a large-scale chicken farm project led by the Haitian community could bring about greater self-sufficiency, the Love A Child team got to work on plans for long-term sustainable development. The result was an unexpected transformation. We started by building nine new chicken houses where our co-op members would raise broiler chickens. The Poul Mirak Co-operatif (Miracle Chicken Co-op) was created.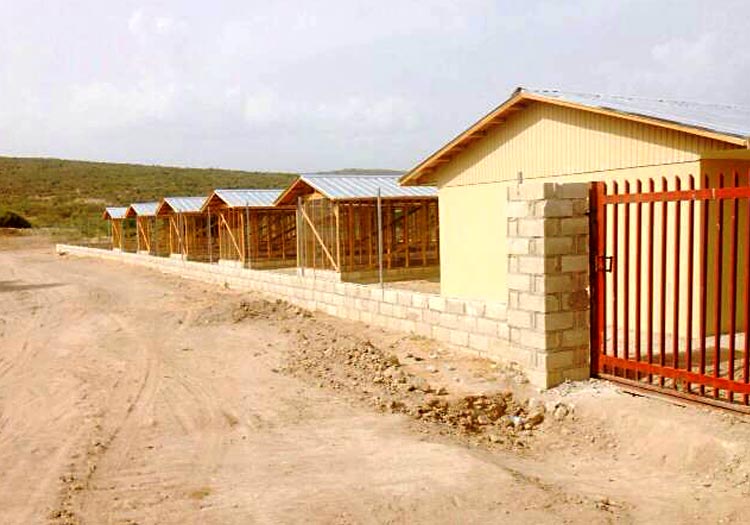 The Poul Mirak Co-operatif (Miracle Chicken Co-op) is a unique social enterprise model that was established as a project for developing self-sustainability and dignity through enterprise. It operates in conjunction with, and in support of, Gwo Maché Mirak. This one-of-a-kind model for long-term sustainability relies upon focused donor support, which provides the foundation of infrastructure and working capital to begin a broiler growing operation. The first batch of baby chicks was soon on its way from Georgia.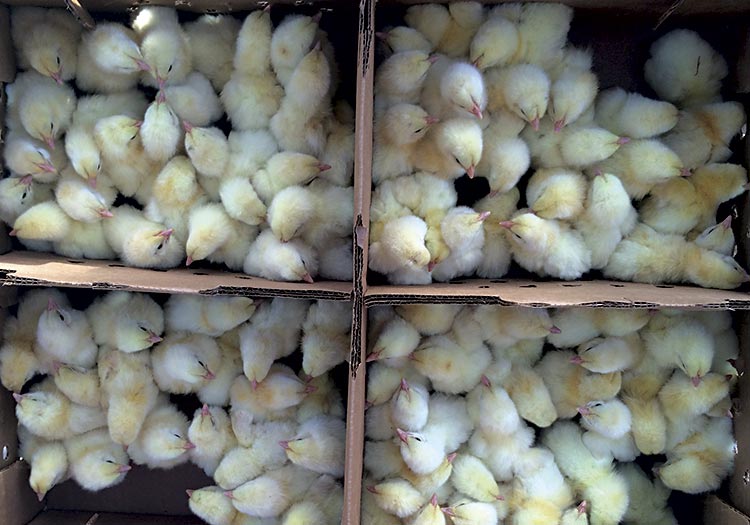 Rad Hazelip, our Love A Child Assistant Executive Director, oversaw the operation and picked five eager locals to join the co-op. We equipped, trained, and now mentor these five members to offer a hand in lifting their community out of poverty. Our model not only provides a way for five local families to become independent businessmen, but it also accomplishes its key objectives for breaking the cycle of poverty.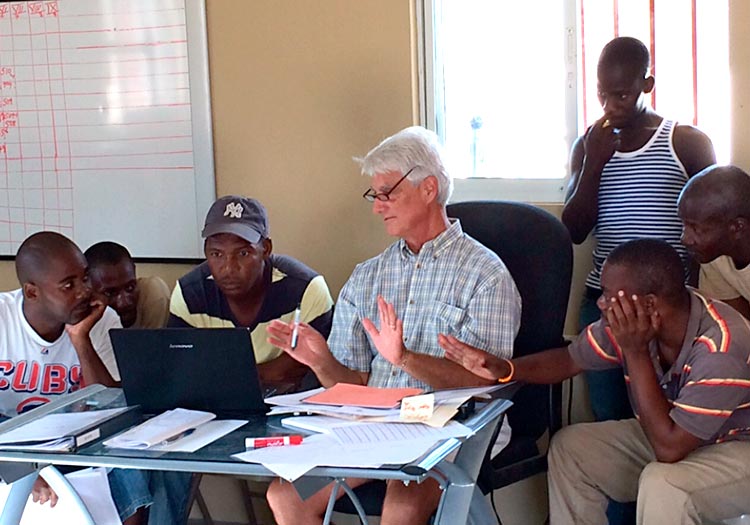 Thanks to the support of the World Poultry Foundation, Mike Welch of Harrison Poultry and others, this expanded Love A Child chicken cooperative, known as Poul Mirak ("Miracle Chicken"), launched in September 2014. We have a total of nine chicken houses that can house up to 500 chickens each. Each house rotates into production each week with six of the nine houses raising chickens simultaneously, one week apart in age.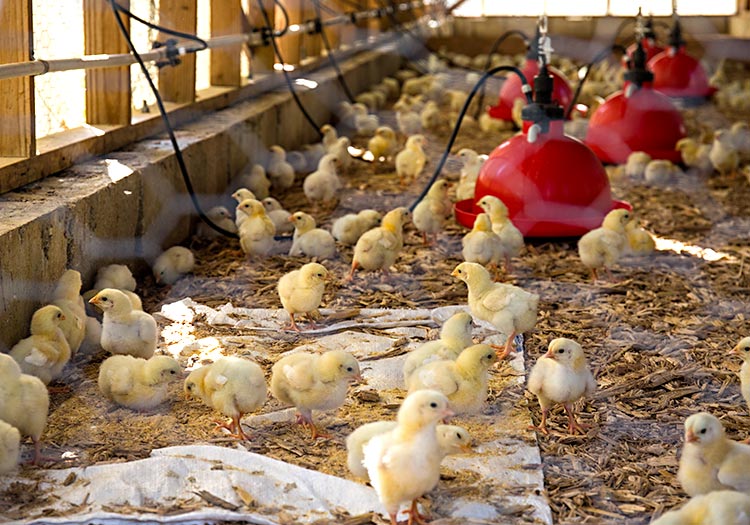 The co-op members work together to manage and maintain these nine chicken houses, as well as negotiate the retail and wholesale price of the chickens. By six weeks, the broilers are big enough to be sold retail in the marketplace or wholesale to restaurants and processors.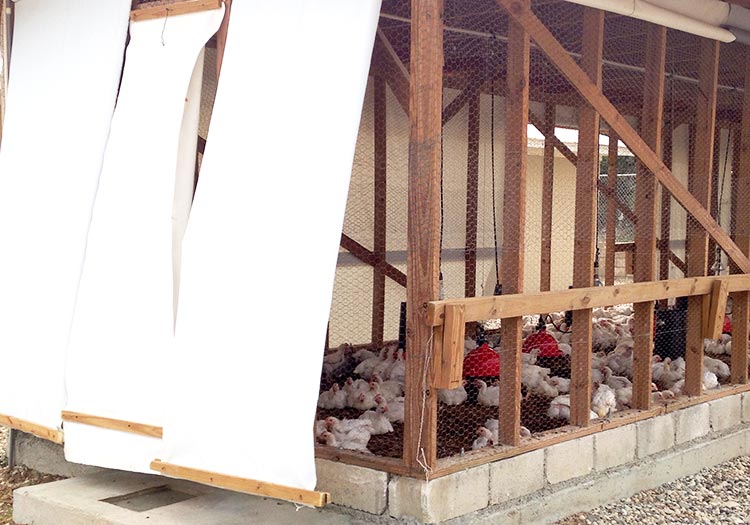 This program offers long-lasting solutions to many of the hardships Haitians have faced. Since its beginning, the co-op has faced many difficulties, from political to economic, to diseases, pests and much more. However, these men know what it really means to endure. They have shown patience and a commitment to learning and improving their community by supplying chickens as a much-needed source of protein on the market, and extra income for their families.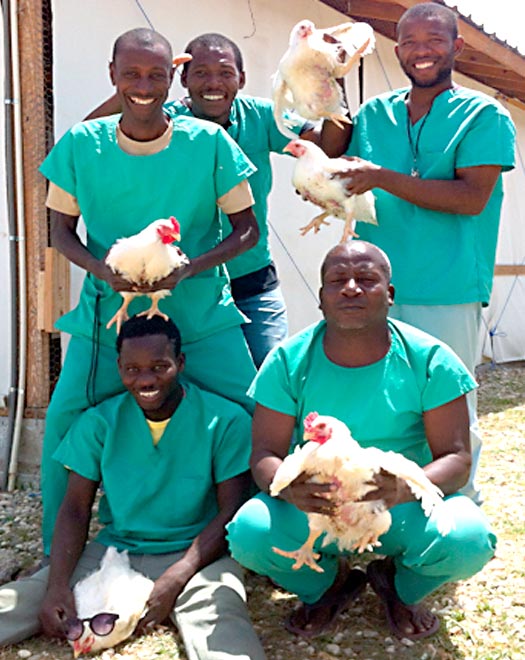 We are very proud of these men who have shown great faith, commitment, and determination.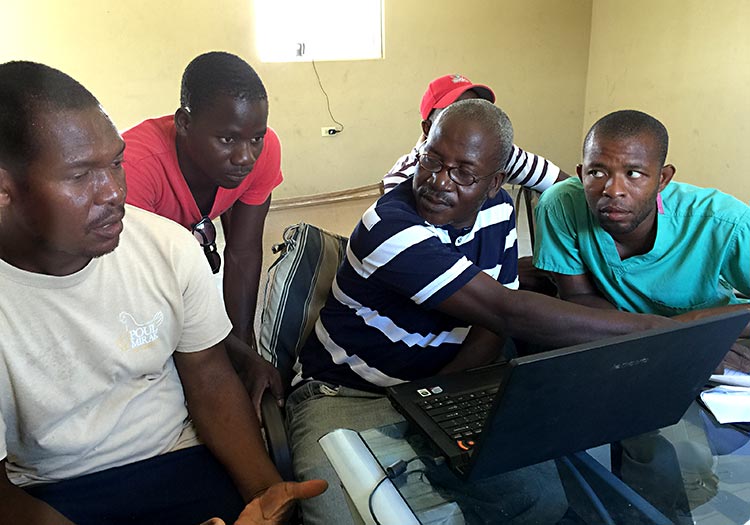 This past June, as we were coming to the scheduled close of the first phase of Poul Mirak training and mentoring, we were preparing to "graduate" the first co-op members. These men came to us with their own plan and request to fully undertake independent management and responsibility for the chicken farm. We agreed that they seemed ready, so the transition began for the members to adopt their ideas and assume total independent operation of the chicken project. This is the ultimate goal of any development project—to have a successful transfer of the project to the people.
The "new" co-op began their independent operation and responsibility for the project in mid-June. After four weeks of independent management, Rad went to visit them to see how their business was doing.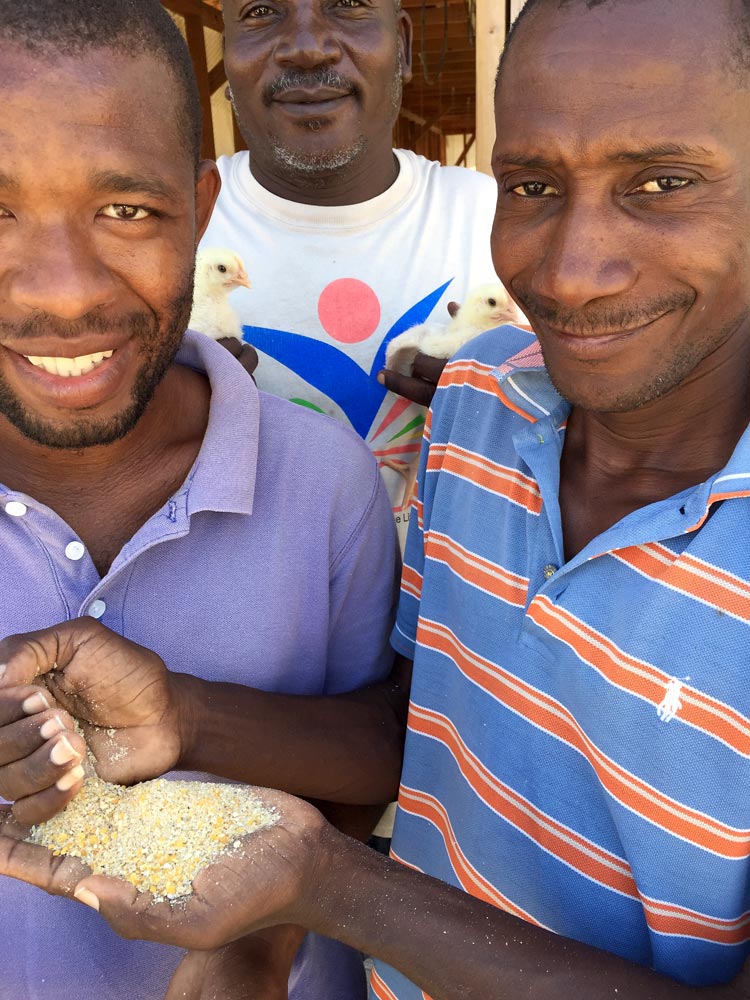 Rad reported:  "I am happy to report that everything looks very good! They are now making their own feed, instead of buying the expensive commercial feed, thereby reducing their feed costs by almost half. Their mortality rate has dropped to less than three percent versus the 20 percent they had experienced before. They have already presold their production to wholesalers so that they in effect are now "contract growers." Overall, their spirits and enthusiasm are great, the whole farm looks great and the men are showing pride of their "ownership." They are now self-reliant and no longer depend on Love A Child for anything other than continued mentoring and oversight.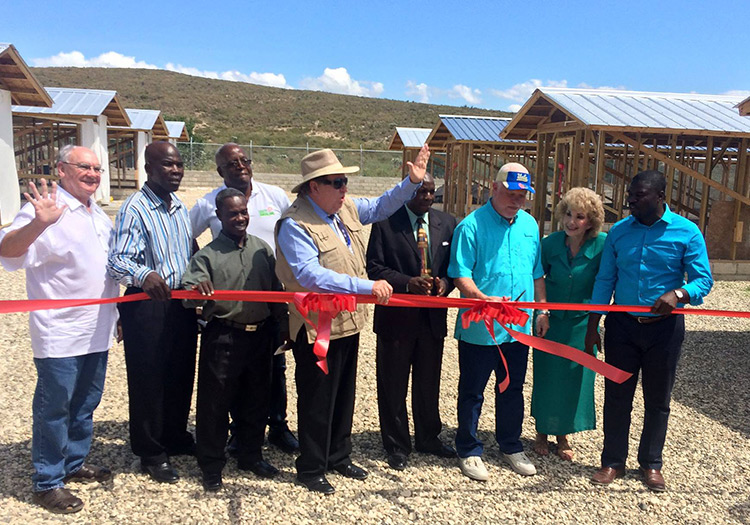 By all development standards, Poul Mirak is a great success. We thank Mike Welch and his friends at the World Poultry Foundation, whose mission is to assist establishing successful chicken projects in developing nations. Their unique model for Poul Mirak is the first of its kind anywhere and it has demonstrated that having the courage to try new ideas can really pay off. Love A Child and the community of Fond Parisien thanks them for their vision and willingness to prove what can be done with proper donor support."
Now that Poul Mirak was showing such success, we needed to expand the Sustainability Initiative projects by including a meat processing plant where the chickens and other animals could be processed in a clean environment and was located in the marketplace, Gwo Maché Mirak. Usually, the chickens were processed wherever the Haitians had an open spot under some shade.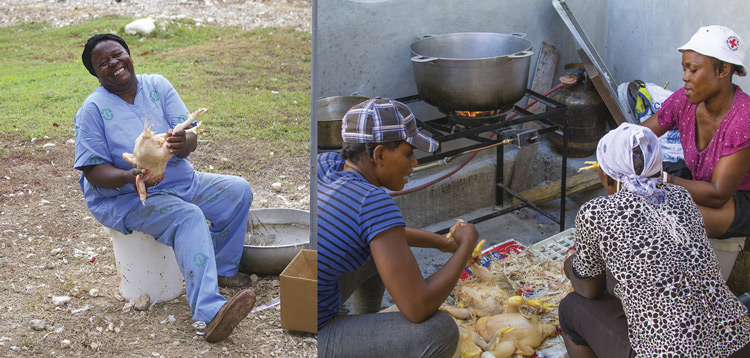 With the help of Mark and Jesse Ostrander and their Haitian team of builders, a butcher shop (Abatwa Mirak) was built at the marketplace that now offers clean and safe meat processing. It is conveniently located in the marketplace, where it not only supplies families in the area, but wholesale suppliers to the restaurants and other food vendors too.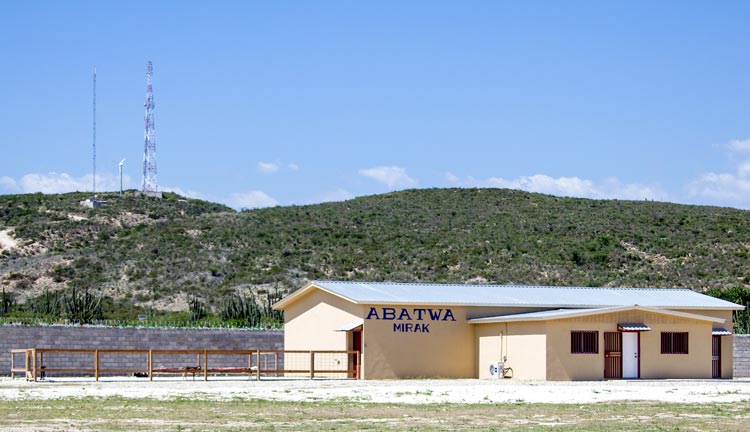 People now come to the new butcher shop, Abatwa Mirak, to purchase not only fresh chicken, but other meats as well, such as goat, pork, and beef.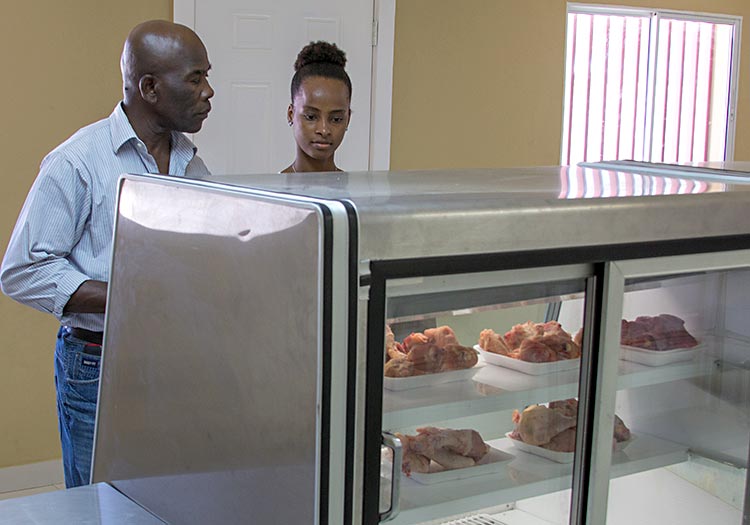 There is also the added benefit of Abatwa Mirak in that it now supplies jobs for Haitians in the area, bringing much-needed income to help them help themselves, with dignity. We are so thrilled with the success of these sustainability projects and look forward to the growth of these enterprises, and the marketplace. We could not have done this alone, and we want to thank so many of you whose support made it possible for Haitians to help themselves and reach beyond the boundaries of poverty. A special thank you to Mike Welch of Harrison Poultry and the World Poultry Foundation, as well as Larry Guest and friends for all their help in starting and supporting Poul Mirak Co-operatif.
If you would like to make a contribution to support our sustainability projects, please consider donating now, it makes such a difference in the lives of these poor people.
If you would like to speak directly to one of our staff members, please call: 239-210-6107 or email us at: info@lachaiti.org.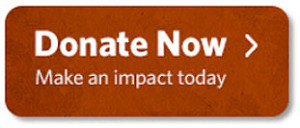 God bless you,
Sherry