May 25, 2017
"He that hath a bountiful eye shall be blessed; for he giveth of his bread to the poor."
—Proverbs 22:9
Food distribution in a third world country is a very complicated process where we take food to starving people in the remote areas of Haiti. Each month we distribute food to villages, missionaries, orphanages, schools, widows home, and even those living in the garbage dumps.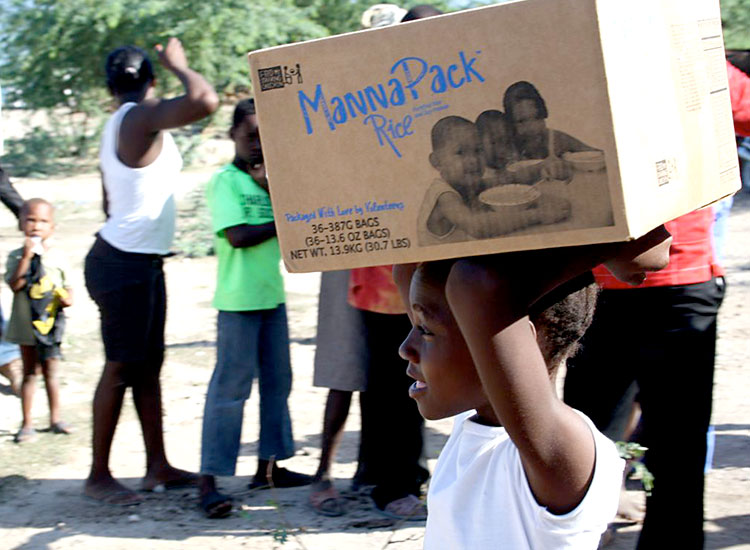 At Love A Child, we believe that sharing food is the perfect opportunity to share God's message.
When Bobby and I first came to Haiti many years ago, we were so sure we could bring many people to Jesus, as we preached to the poorest of the poor in the "regions beyond." Then one night, near the end of one of our crusades, a young Haitian woman held up her baby and said, "If God is so good, why is my baby so hungry?" These were the cries of a poor woman who had no way to feed her baby, as she was slowly watching her child starve to death. This changed our ministry in Haiti forever!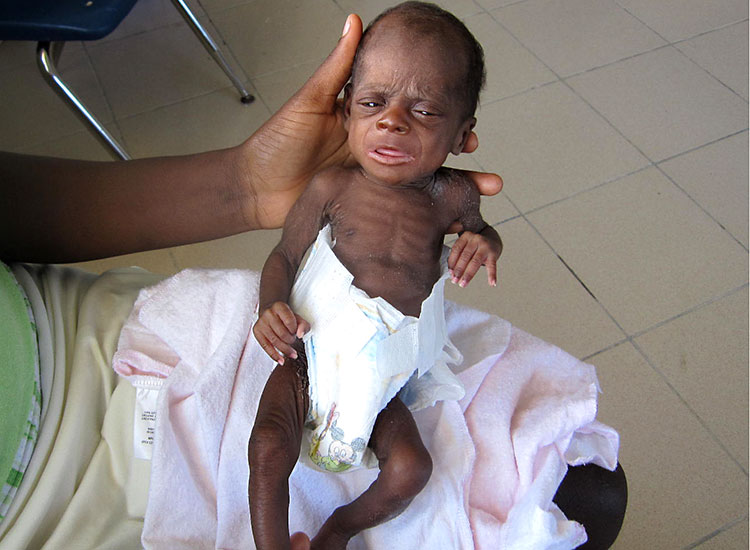 As missionaries, we found it easier to "win someone to the Lord" while demonstrating the love of God. Where were we going to find food for so many suffering from malnutrition and starvation? After reaching out over the first couple of years to try to secure food for the poor, we struggled until we met Mark Crea, a man of faith, who was the Executive Director/CEO of Feed My Starving Children (FMSC).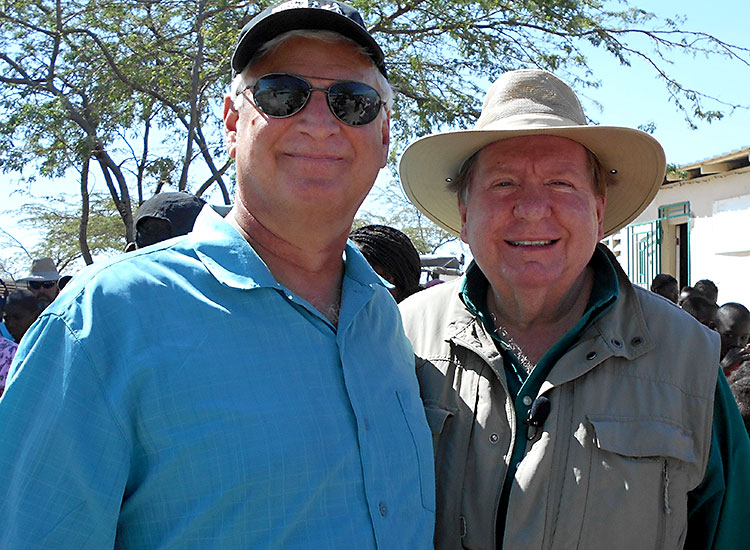 With the help of commercial food producers, FMSC developed a formula, which not only provides nourishing food to the poor around the world, but it could also reduce starvation in famine-hit areas as well. Feed My Starving Children found that, "Nutritious food equips kids to learn in school, build their communities and grow up strong in body and spirit. Food paves the way for education. Food creates a solid foundation for communities to become strong and self-reliant. Food makes it possible for children to gain physical and spiritual health. Food delivers hope in the name of Jesus." That is the power of food, the power to make a difference in the lives of so many precious children.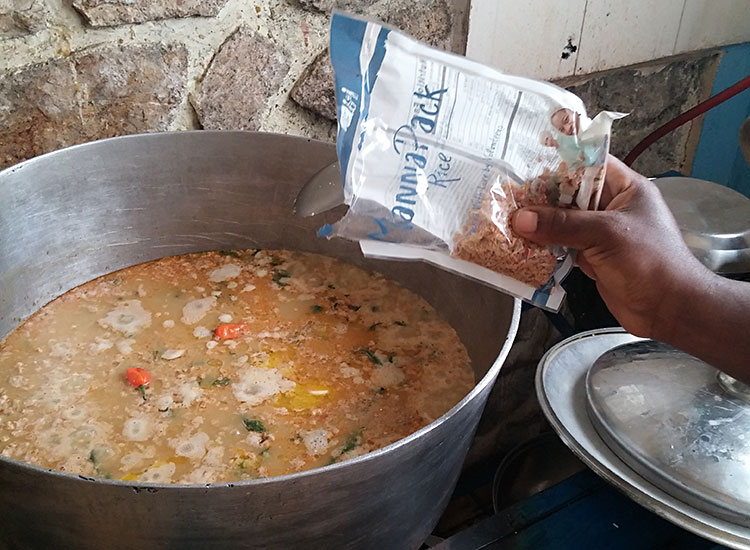 Feed My Starving Children created a formula, that is called MannaPack Rice, which teams of volunteers assemble at several of the company's packing locations around the States. Their website states, "As FMSC's first and original food formula, MannaPack Rice is an excellent source of protein, carbohydrates and key nutrients culturally acceptable worldwide for anyone over the age of one."
FMSC donates this food, and it is up to Love A Child to cover the costs of getting that food to Haiti. The food is packaged and shipped in 40-foot containers. Love A Child pays to transport the food from FMSC to the Port of Miami. From there, we pay ocean freight charges to transport the food to Haiti. Once in Haiti, we work with customs officials to have the containers released. Shipping such large containers incurs many charges including docking fees, brokerage fees, government fees, and more. For each container of food, Love A Child spends $10,000 in transportation fees. Once the fees are paid, the food is then shipped to our Kingdom Connection Food Distribution Warehouse, which was sponsored by Jentezen Franklin and his Kingdom Connection partners.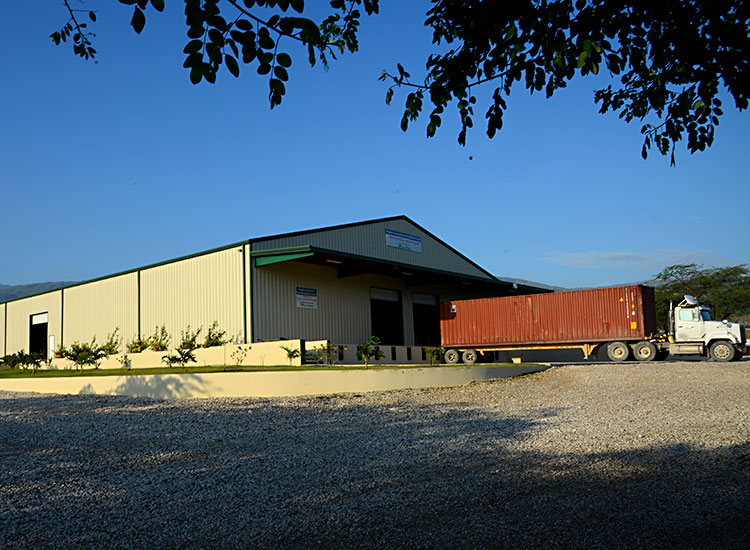 Once the food arrives at our warehouse, we have lots of work to do to get it ready to distribute to the poor throughout Haiti. Each month we have our Food Distribution Day where over 80 organizations come to the warehouse to pick up their boxes of food. This is a busy day for all of us at the warehouse, and everybody pitches in to get food packed into each organization's transportation.
Our missionaries, Love A Child orphans and staff all lend a hand. It takes many hands to feed the poor.
Now that many of our Love A Child orphans are getting older, they can help during Food Distribution Day. Whether they are unloading the pallets or driving the forklift, they all have a job to do.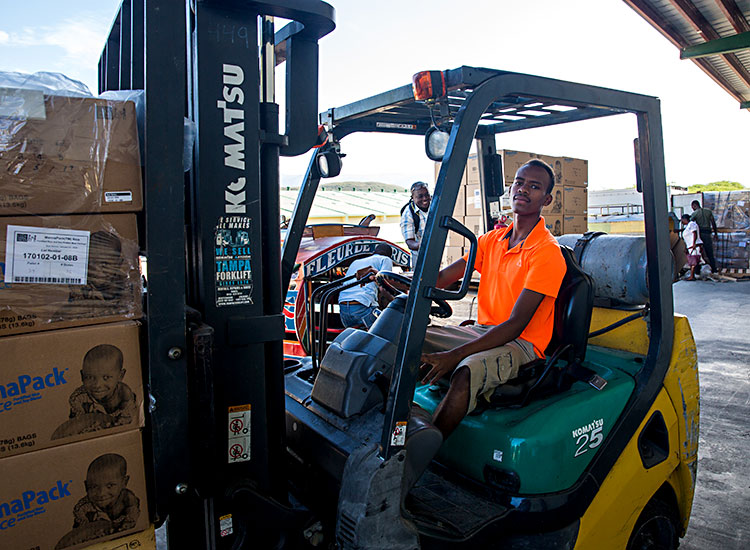 Each month we receive 7-8 containers of food from Feed My Starving Children. This food is wonderful, nourishing and changes the lives of children who are hungry and starving. We just finished a big "food distribution" to 83 other organizations, half of whom have orphanages, and many are schools or clinics. Missionaries run many of the orphanages, and this is their only source of food each month.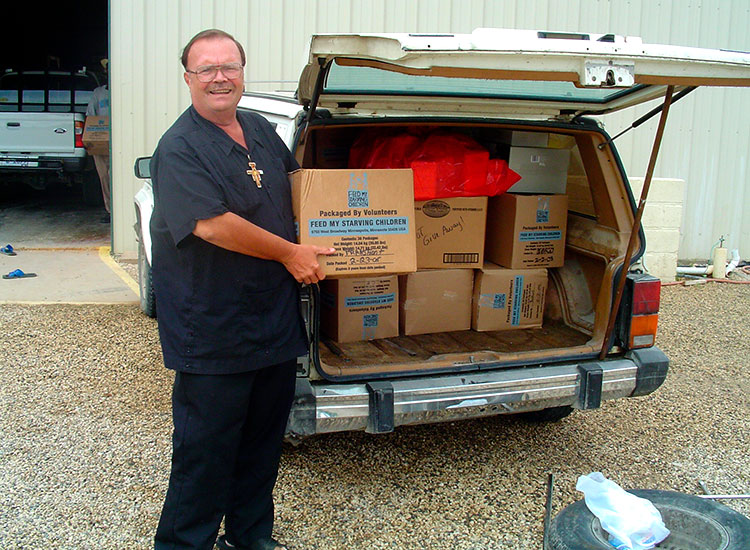 Love A Child distributes food to many remote villages, where we feed so many poor people who have no other food source. In each village we visit, there is always a long line of people waiting to pick up their monthly food.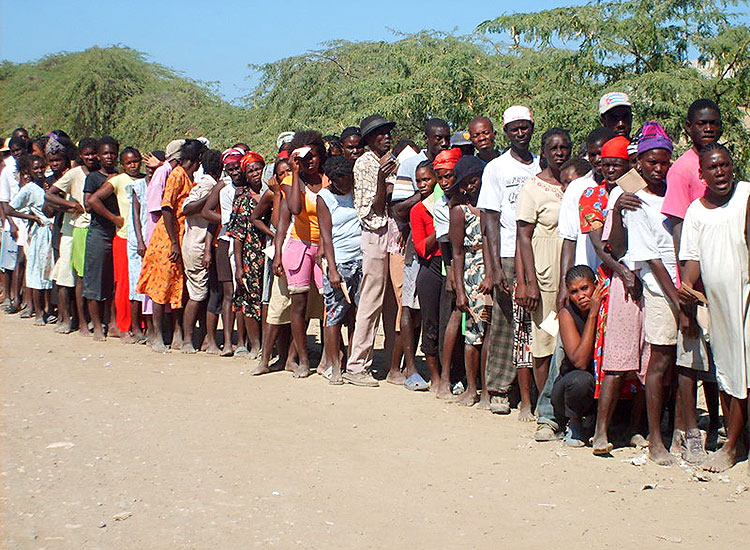 We recently had the honor of having Mark Crea, and his FMSC team of volunteers, join us for a food distribution in Despeezo. That day our Love A Child staff, along with the FMSC team, gave out over 1,680,000 meals! More than half of these went to orphan homes and other ministries that need help feeding the poor, especially the children.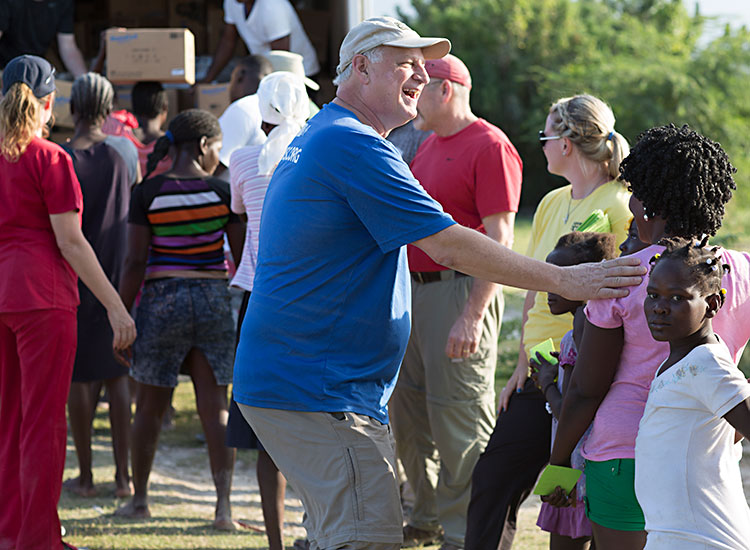 When we bring food to each village, many of the people have walked many hours to get to that village, and have to walk many hours to return to their homes.
In the village of Letant, many come by boat to pick up their food.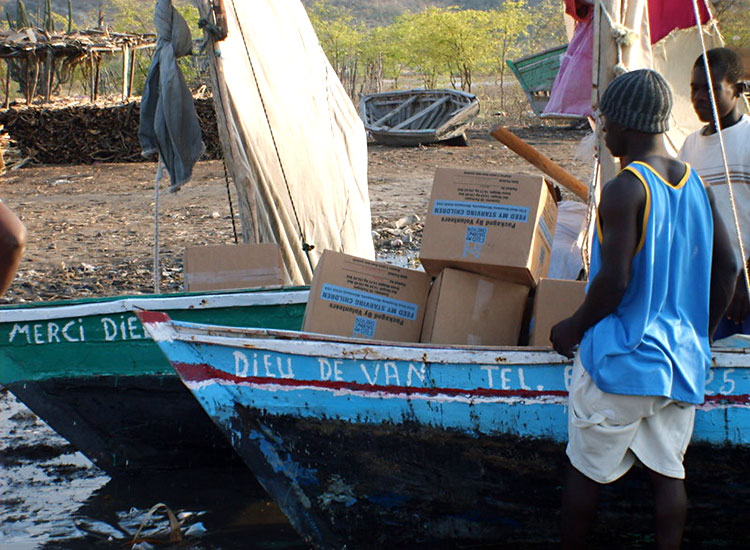 Many of the poor Haitians live in the "regions beyond" high up in the mountains of Haiti, where even 4-wheel-drive vehicles are unable to go. In the land of "stealth donkeys," villagers will often sneak down the mountain at night to pick up their food. Their only transportation is by donkey, and they must do this under the cloak of darkness to avoid the gangs of robbers who try to steal their food.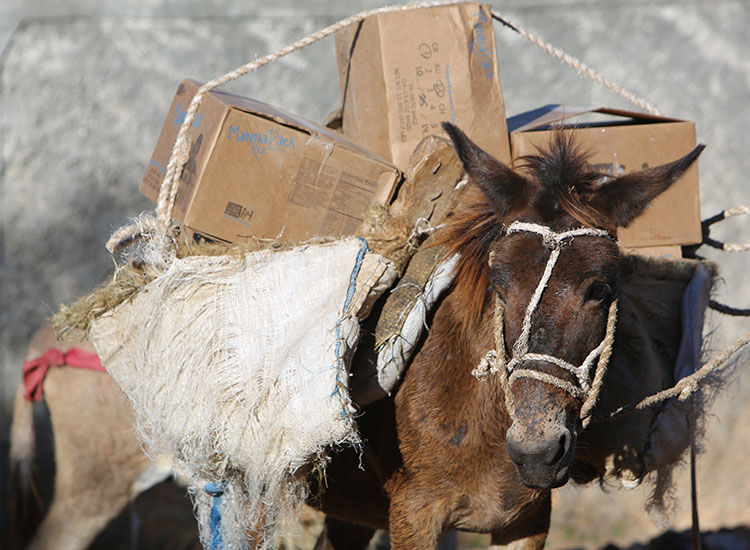 "Yon sak vid pa ka kannpe yo." Haitian Proverb
"An empty sack cannot stand up."
There is nothing in the world as precious as the "smile of a child." Love A Child feeds and educates over 8,000 poor Haitian children daily throughout our 18 Christian Schools in Haiti. For many children, this will be their only meal of the day.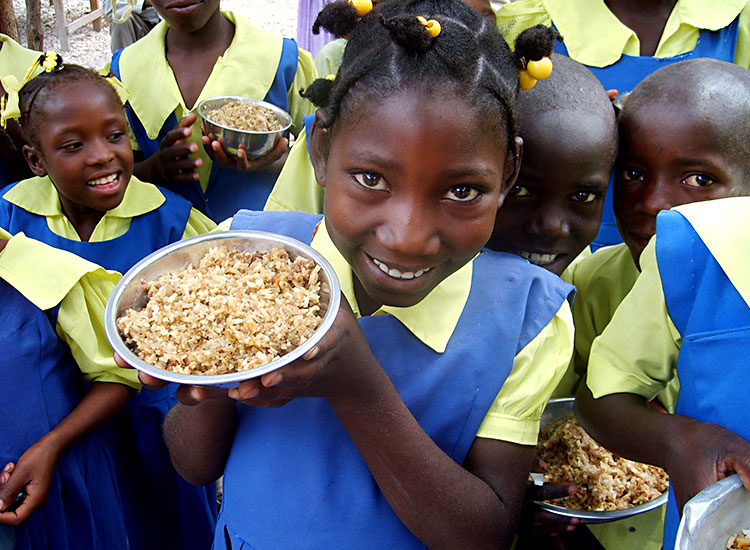 One of the organizations we share our food with is the Restavek Foundation that rescues children who have been sold into slavery, usually by their families.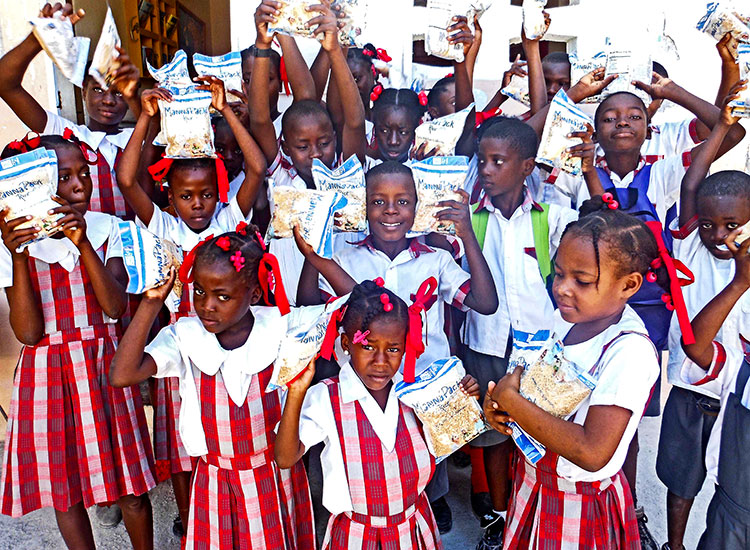 We also share our food with an organization that helps old "widow" women too! They are poor and have no one to help them. Each month, we give food to the widows in this area, one box of food each, that is two pallets of food each month. They are requesting more food for more widows. Jesus commanded us to take care of the "widows and orphans."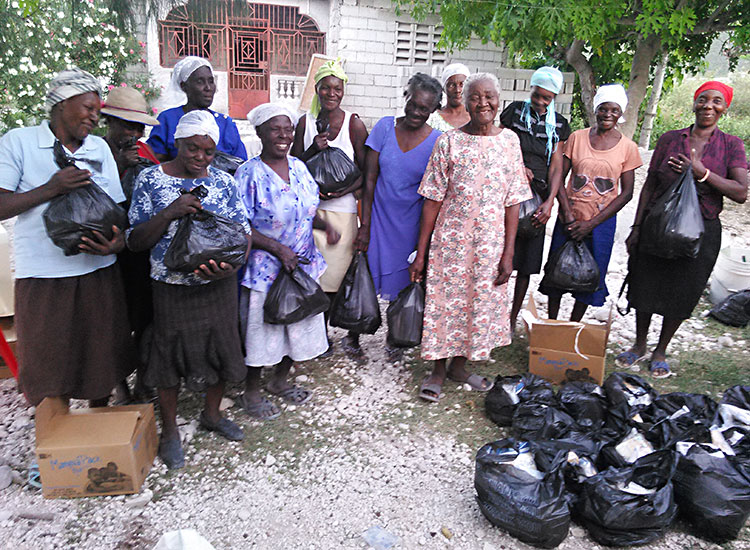 This past year we have expanded our feeding program to places like the Truttier Waste Disposal Dump, which means carrying supplies across mountains of stinking garbage and human waste to reach some of the poor families.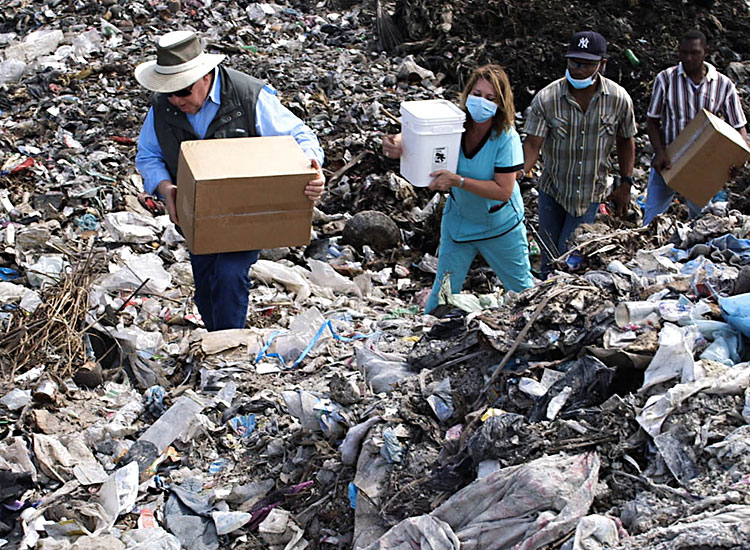 We have been taking food to the 330 families living in the garbage dumps in the Cité Soleil area, which can be very dangerous requiring several levels of security, including the local police. Please pray for our safety, as "political things" have gotten very bad in this area of Haiti. We must have armed guards go with us to take food to the poor.
Without the support of all our partners, sponsors, and donors, we would not be able to do any of this. We are so grateful for all your support and donations, and your love of the poor people of Haiti. They are eternally grateful for your kind generosity and all that you do in the name of Jesus. Through the generous support of our partners, Love A Child has been able to bring life-saving food to the poorest of the poor of Haiti.
Thank you Feed My Starving Children for partnering with us for 17 years. Last year, with their help and your help, we distributed over 20,000,000 meals! This year, we believe the Lord to distribute over 22,000,000 meals! Thank you, Jentezen Franklin, for our Kingdom Connection Food Distribution Center that holds all this food each month. Thank you, everyone, who helps sponsor this food to come from the States to Haiti for the poor children living in the "regions beyond." You are helping to feed thousands of hungry, poor families and children each month!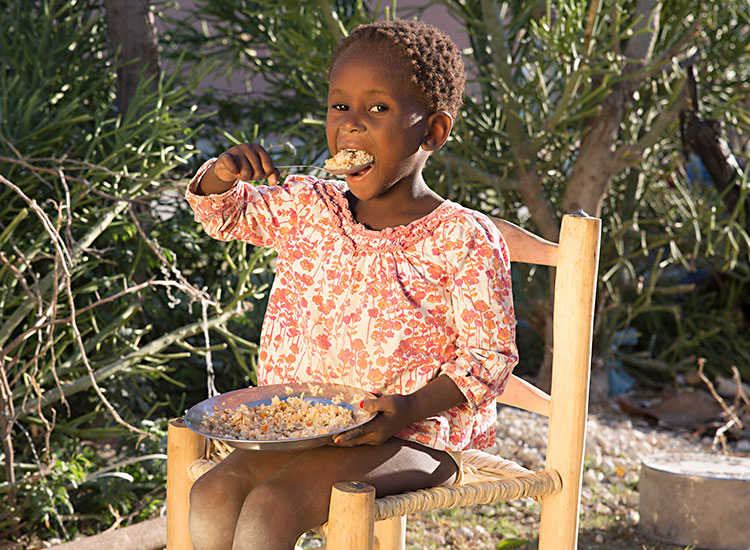 God bless you,
Sherry