Our Jesus Healing Center has been such a huge blessing to the community here in Fond Parisien, Haiti.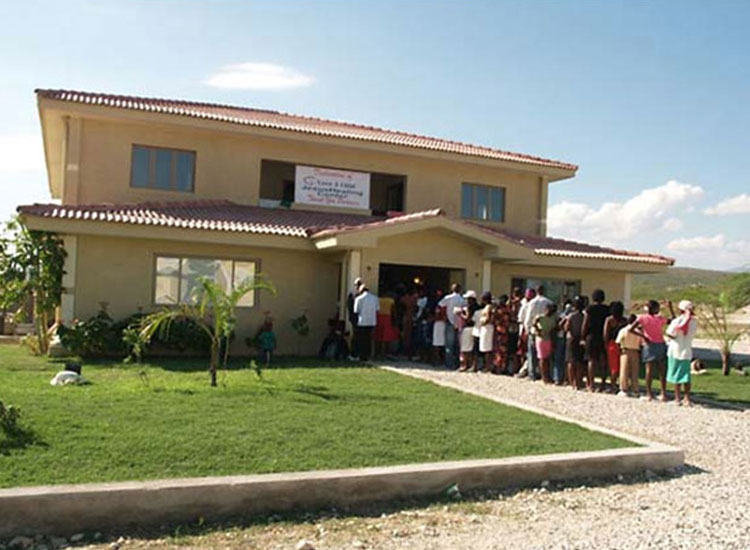 Mothers Wellness Outreach
We have had many babies "born outside the gate of our Jesus Healing Center," by accident. Many mothers come from far away to see the doctors, and the babies "come early." We now have about 200 "pregnancy visits" every week. We even have ultra-sound equipment, and it is very helpful when examining the pregnant women.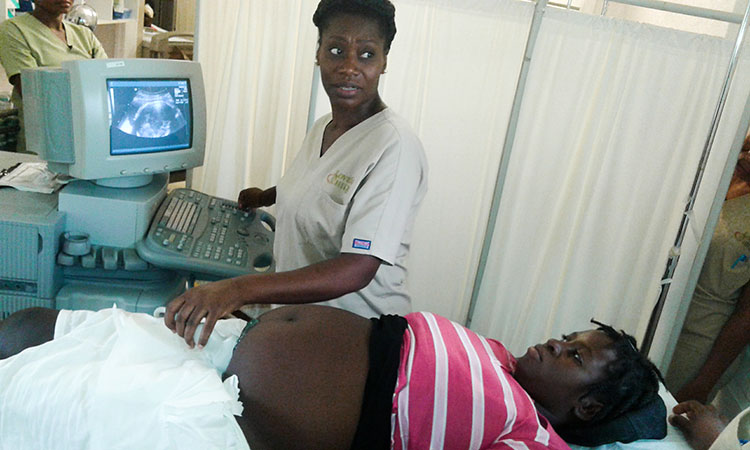 We are hosting seminars for Haitian midwives and "mothers-to-be."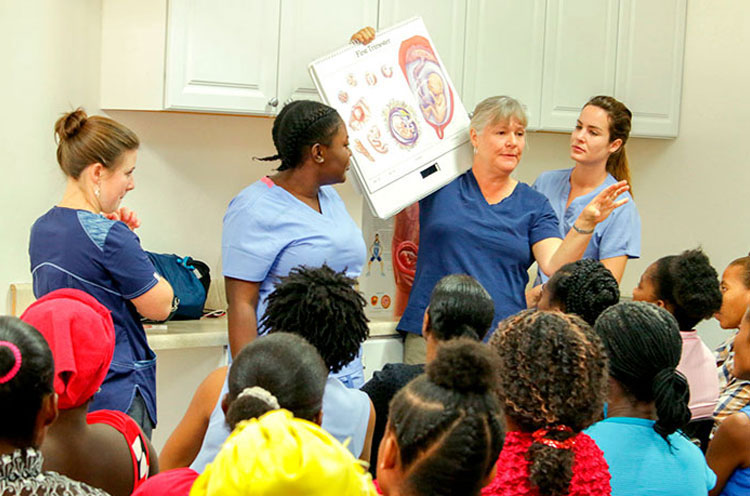 We are so thankful to Jeanie Haas who came to teach in our "Mothers Wellness Seminar," and will soon be sponsoring another, on May 16th, of this year.
We are also hosting classes for "mothers-to-be," so they can take care of themselves and take care of their babies. We are not set up to "deliver babies," but do care for the mothers who live in the mountains and send them home in their eighth month with "Birthing Kits." However, some of these babies don't know about the "Birthing Kit," and they decide to come early… in our yard, in front of our gate, or on the way to our clinic!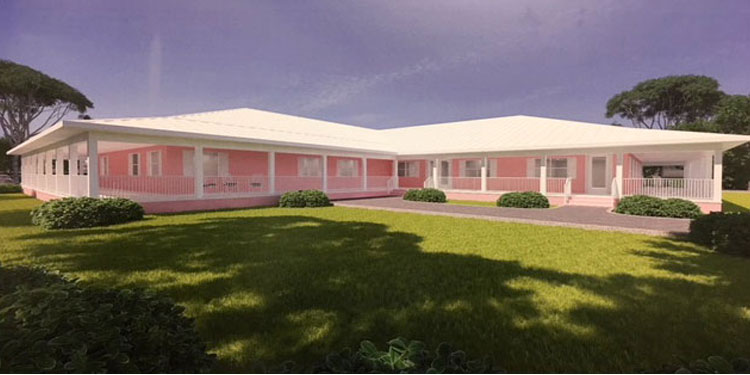 We are building a brand new, "New Women's Birthing and Learning Center " for poor mothers. This will be a "Mothers Wellness Center," as well, and we will have "Pre-natal and Post-natal" Care and a Conference Room for teaching." The total cost is $500,000. We have a "Matching Grant" of $250,000, so every dollar you give will be "doubled" to help us reach this goal! We plan to have this project finished by December, Lord willing!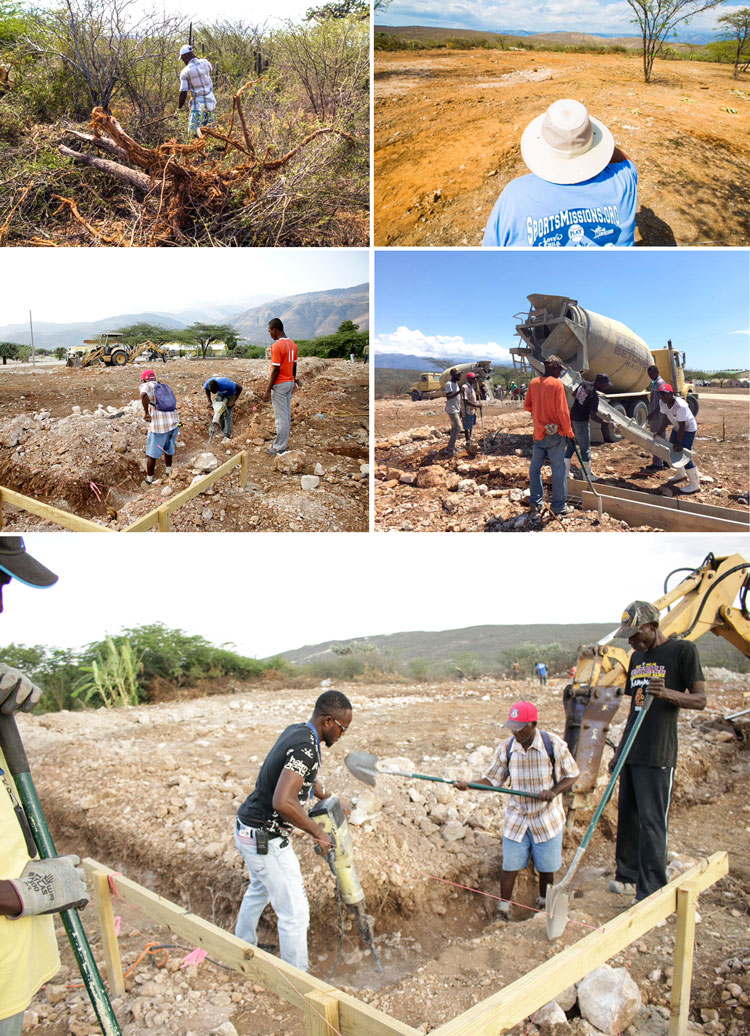 We Are Thankful For Our Van
Our Jesus Healing Center van, donated by Joyce Meyer Ministries — Hand of Hope is in full-time use. We use this van to transport children and adults to have x-rays or to a hospital. We also use the van when we purchase expensive medicines downtown Port-au-Prince because it is a safer vehicle to transport these supplies.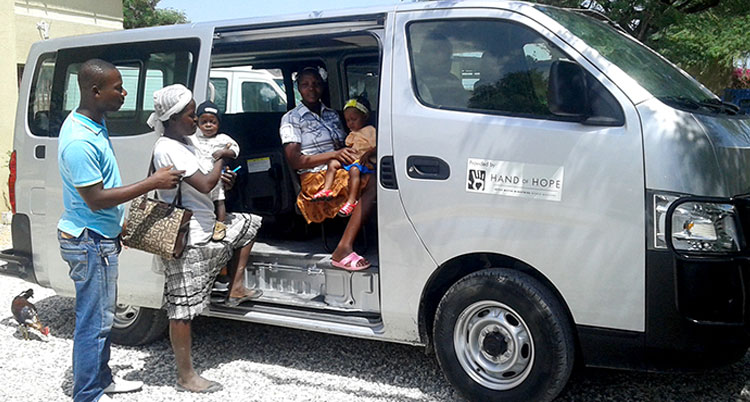 Emergency Cases
Every week, we have emergencies that must be treated quickly. Mostly, this is because the amount of Haitians using motorcycles for transportation has greatly increased. They travel fast and rarely use a helmet.
A few weeks ago, we had a horrible accident involving a huge truck that was filled inside and on top with poor Haitian vendors. The truck was barreling down the road at a high rate of speed and had a blow-out.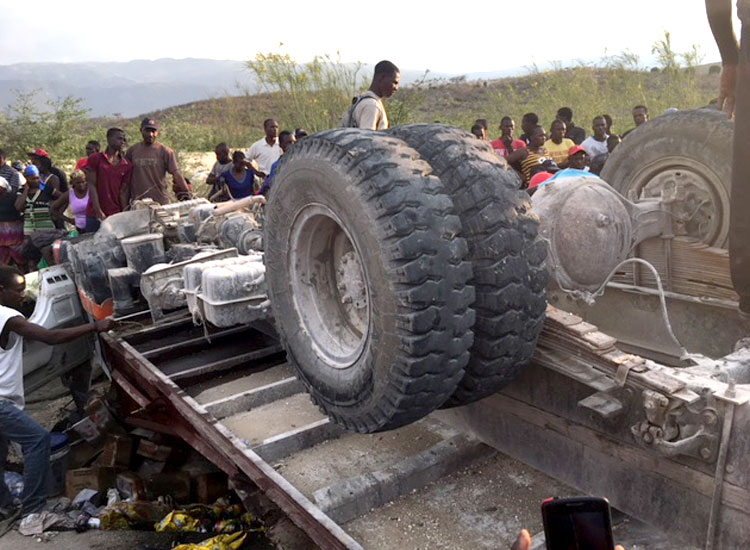 The truck landed on top of many passengers, and many were thrown onto the street. Seven people died.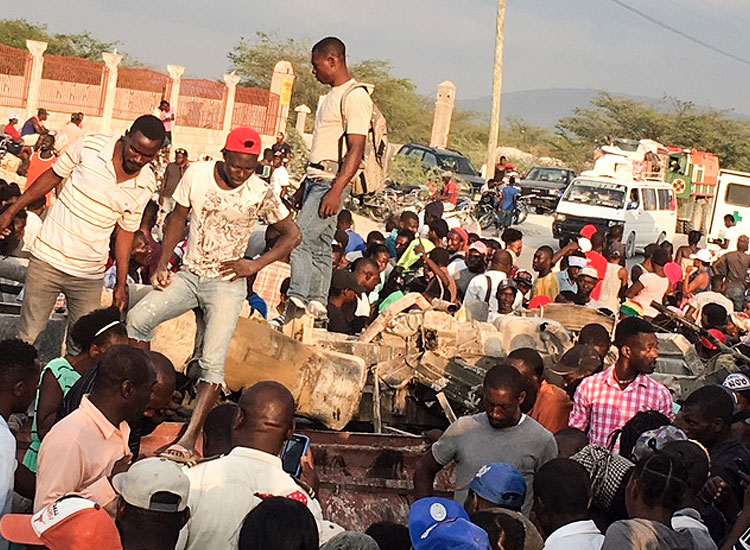 Many others were taken to our Jesus Healing Center for first-class emergency care, and then the more severe cases were taken to several different hospitals. We have a great staff of trained doctors and nurses, who are always ready for these types of emergencies.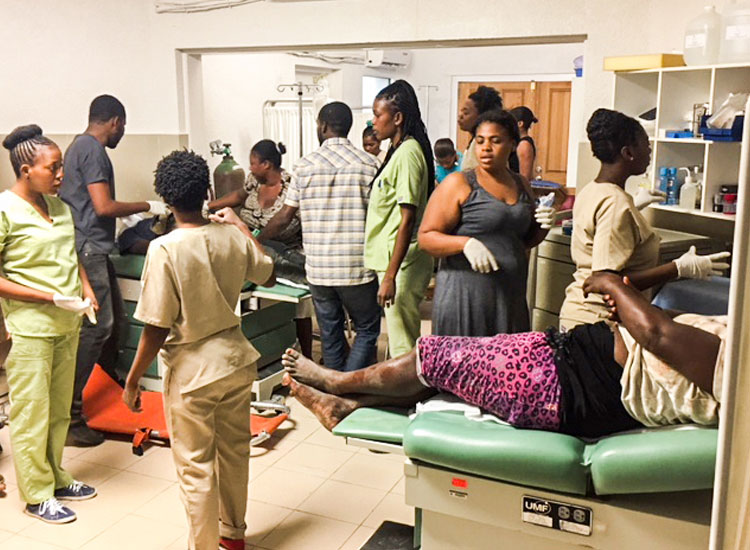 Of course, we are still very, very crowded in the mornings when people are coming by foot, by motorcycle, by car, by tap-tap, by donkey or anyway they can get to our life-saving Jesus Healing Center.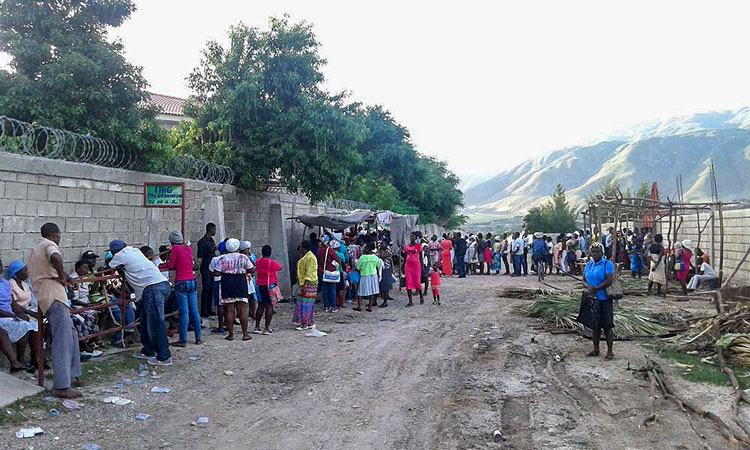 We have long lines for the pregnant ladies, another long line for the elderly and another long line for triage. Everyone receives the best of care by our excellent staff. We have outgrown the waiting area that is under the porch and overflows into the yard. We have had to move some of the Jesus Healing Center care to the Malnutrition Center because we are so cramped with space. But, "growing pains" are great! It brings all the Glory to God!
On a Daily Basis…
Here are just some of the things that happen in our clinic, on a daily basis:
This poor woman is Verlus Promene. She is 43-years-old and is raising nine children all alone. She has two boys and seven girls. Her older children help with daily chores and the younger children, but this family struggles. This poor woman was in bad shape when she reached the Jesus Healing Center. She had high blood pressure and was lying on the dirt outside the gate when we first saw her at about 6:00 AM. The medical staff brought a wheelchair, and we helped get her inside for a medical exam. She is a Christian and lives in Croix des Bouquet. She was sent home with medicine and a plan to help improve her condition.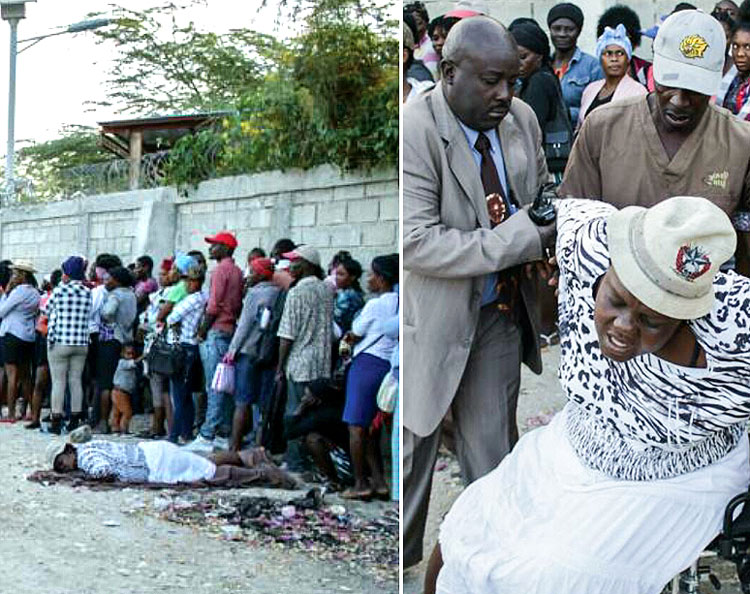 This little one is Leonel John Kelly Joseph. He is three-months-old and was brought to the clinic because he was having difficulty breathing. Our medical staff quickly treated him and stabilized his condition so he could be transferred to Hôpital Saint-Damien (Nos Petits Frères et Soeurs) for a higher level of medical care.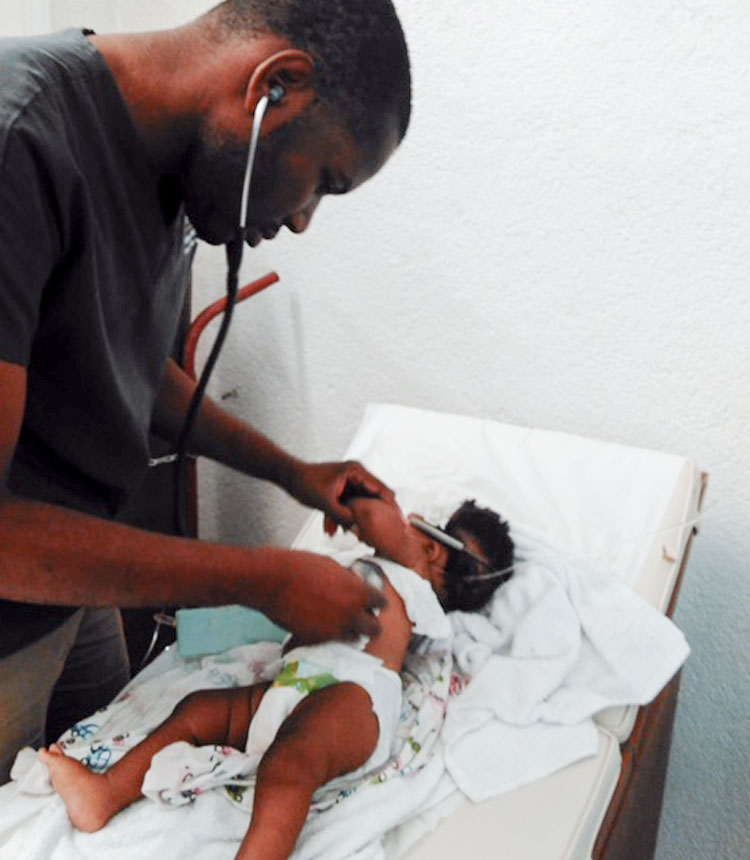 This little two-year-old boy fell into a pot of boiling water while his mother was cooking. We see these types of accidents often. Mothers are busy cooking on open fires, and little toddlers easily fall or pull over pots of hot water.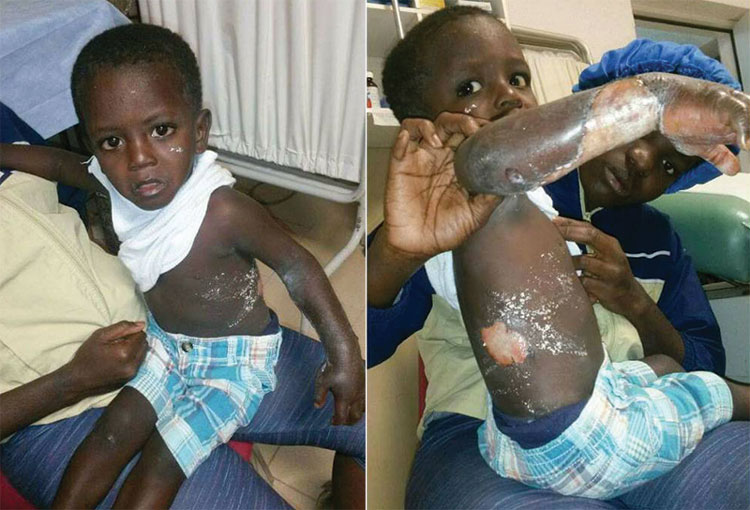 This woman is Gislene Petit, and she is 48-years-old. She has either dermatitis or pyoderma (a bacterial skin disease) in her left chest area. She is married with nine children. She is not a Christian, but after hearing the gospel while waiting to see the doctor, and experiencing the professional medical treatment, she told a nurse that she wanted to learn more about Jesus. We reach the people with our good works.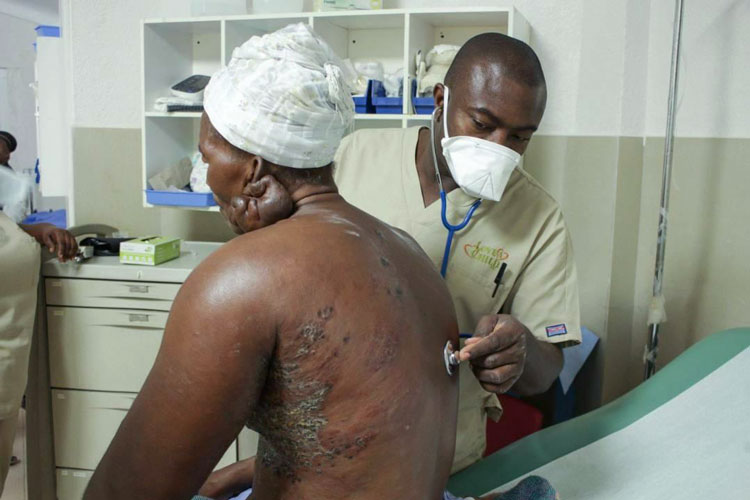 Those in critical care are taken to a hospital where they will receive good medical treatment.. We send the children to L'hôpital Saint-Damien (Nos Petits Frères et Soeurs), and adults are sent to L'hôpital Bernard Mevs.
Ten-Year-Old Mackenson…a Stroke!
It is rare, but our little ten-year-old Love A Child boy, Mackenson, recently had a stroke while he was at school. He was paralyzed and could not talk for over a month. He was taken to the Jesus Healing Center and soon sent to another hospital for a month, and then home to us. He goes to physical therapy twice a week.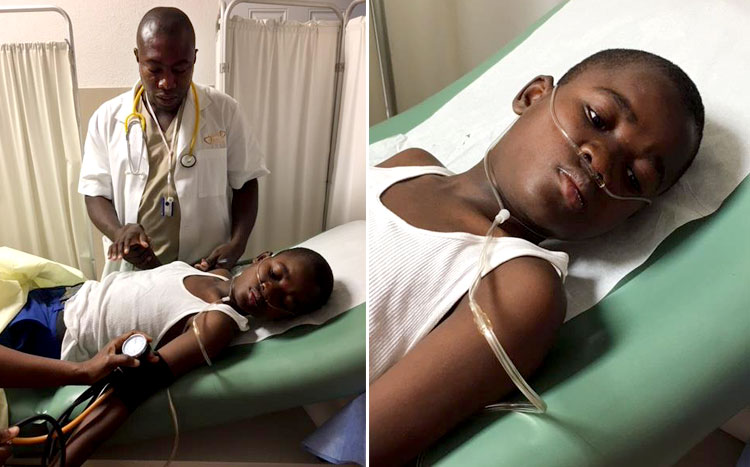 Malnutrition Center
Each Thursday and Friday, mothers bring their malnourished babies to our "Malnutrition Center." These children are referred by one of our own doctors at the Jesus Healing Center. Each week, the babies or toddlers are measured, and weighed.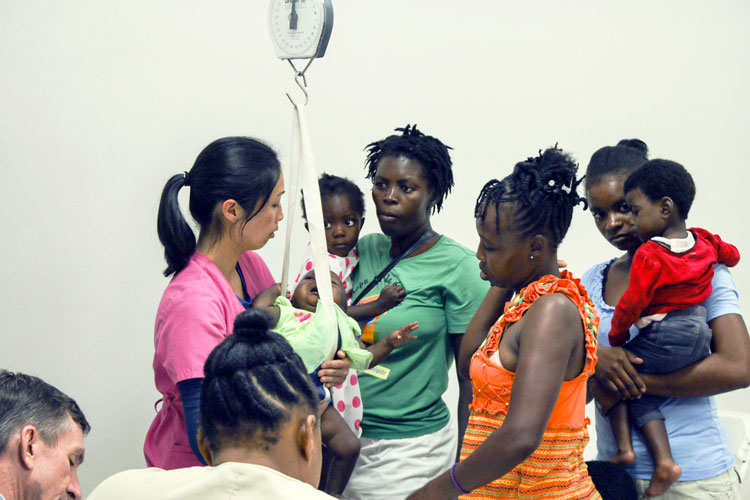 The mothers also attend classes that teach them what to feed and how to care for their little ones. Then, nourishing food is sent home with them. They return each week until they reach their desired weight.
New Women's Birthing and Learning Center
A new Women's Birthing and Learning Center is our next "step of faith" for Love A Child. We are in the process of building a "Birthing Center" to care for these poor mothers, who cannot afford to go to a hospital to have their babies. This Birthing Center is being built right next to our Malnutrition Center. Many mothers in Haiti die "during" or "immediately after" childbirth because of fever and infection. Our doctors see many poor and pregnant mothers at the Jesus Healing Center and the Malnutrition Center each week.
So many mothers needlessly die during or after childbirth, due to unsanitary conditions. This will save mothers and we will have fewer orphans to take care of in Haiti. We need "healthy mothers" to take care of their families.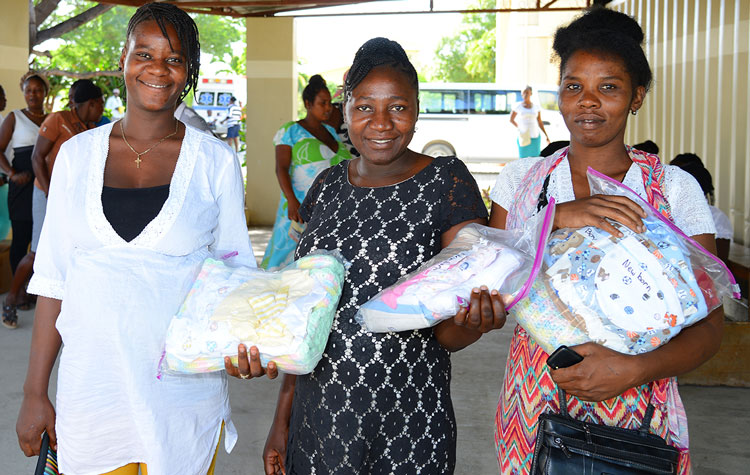 Here is a Special Report of the number of patients seen this quarter and what they were treated for:
JHC Quarterly Report
| | |
| --- | --- |
| Anemia | 114 |
| Asthma | 14 |
| Conjunctivitis | 80 |
| Conjunctivitis Neonatal | 11 |
| Diarrhea | 15 |
| Diabetes | 144 |
| Abdominal Pains | 36 |
| Hypertension | 301 |
| Upper Respiratory Infection | 481 |
| Kwashiorkor/Marasmus Malnutrition | 0 |
| Malaria | 0 |
| Parasites | 311 |
| Vaginitis | 314 |
| Pneumonia | 7 |
| Bronchopneumonia | 0 |
| HIV | 17 |
| Syphilis | 71 |
| TB | 6 |
| Typhoid | 7 |
| Pregnancies | 2,823 |
| Other Maladies | 6,105 |
| School Children | 37 |
| Family Planning | 195 |
| Vaccinations | 827 |
| Nutrition | 826 |
| TOTAL | 13,248 |
Thank you, Joyce Meyer Ministries — Hand of Hope for sponsoring the operating cost of the Jesus Healing Center and our Malnutrition Clinic!
Attention! Special Needs: Birthing Kits for mothers who will give birth in their mountain huts and other far away places. Here is what is needed inside these "Birthing Kits:
Birthing Kits:
(Please send items inside a pillowcase.)
One newborn outfit (a "onesie" and stocking hat)
Feminine pads and two receiving blankets
Small plastic basin and a bar of soap
Single-edged razor blade
Two 10" long pieces 1/16" cotton cord
Disposable newborn diapers and one cloth diaper
Absorbent underpads
WE NEED AT LEAST 200 BIRTHING KITS A MONTH! Please send them to our Love A Child Missions Office at:
12411 Commerce Lakes Drive
Fort Myers, Florida 33913-8664
Thank you and may God bless you!
Bobby and Sherry Burnette