"For every house is built by some man; but he that built all things is God."
— Hebrews 3:4
Love A Child has numerous construction projects in the works. We are doing everything from building and expanding schools, to building a badly needed birthing center and new homes in Miracle Village. These are just a few of our projects. We could not do these projects without the generous giving from our partners and sponsors. We are your hands and feet on the mission field, and our partners make all these projects possible. Our friend and partner, Mark Ostrander, is the "genius" behind all these projects. He oversees our Haitian construction crew and teaches the construction guys how to do the very best work possible. They recently completed an addition at our Love A Child's Miracle Village School. Mark also completed the new orphanage for Madamn Adeline and her 25 orphaned children. He has been the brains behind our Love A Child projects for over 20 years. He has trained his Haitian construction crew over the years to become first-class builders. They have an excellent work ethic, and Mark is very proud of their progress.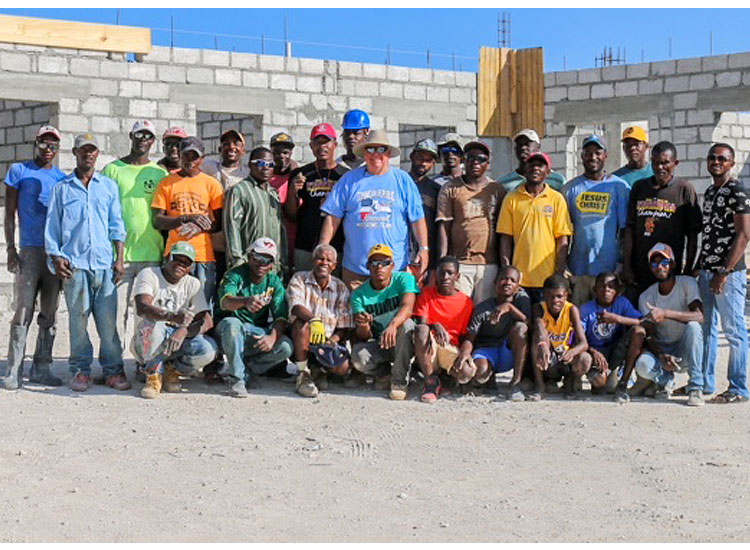 New Birthing Center
In March of this year, we got some great news! We received the funds to start one of our most significant projects, and one very close to my heart, and that was the Women's Birthing and Learning Center. This new building will be a wonderful place for expectant mothers to deliver their babies and save lives at no cost to them. We are debating, whether we should charge around a dollar to give the mothers a sense of pride and dignity? Of course, if they can't afford a dollar, we would sponsor the mother. Praise the Lord! This Birthing Center is an answer to our prayers and will save many lives.
We first started by clearing and preparing the land for our new Birthing Center! Mark Ostrander and our Haitian construction crew have been working hard over the past several months! Thank you, Joker, our friend and worker from the Dominican Republic, for a great job on the front-end loader.
Our Jesus Healing Center has been such a huge blessing to the community here in Fond Parisien, Haiti. The Jesus Healing Center and Malnutrition Center are sponsored monthly by Joyce Meyer Ministries — Hand of Hope. They cover the operating cost so that we can give excellent care to the poorest of the poor…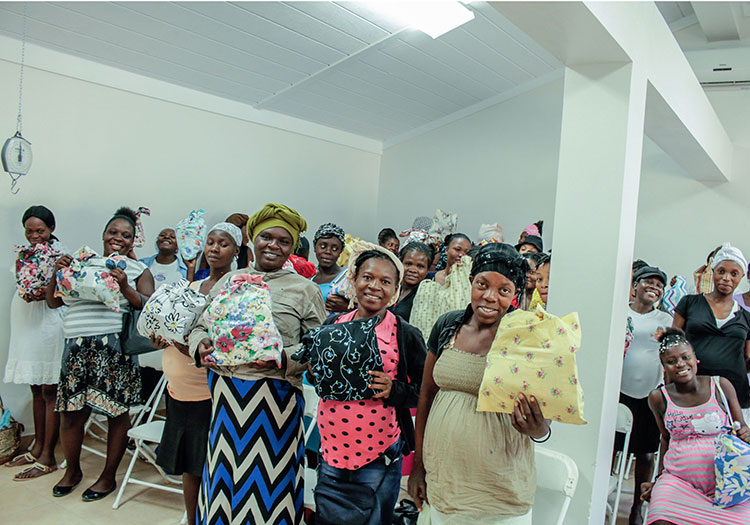 Our center is growing and expanding with the addition of our Malnutrition Center and now the Birthing Center, which is under construction right next to the Jesus Healing Center. We now offer so many more services for soon-to-be mothers to ensure a higher survival rate of babies and mothers. So many women die in childbirth, and as a result, orphaned babies are left behind.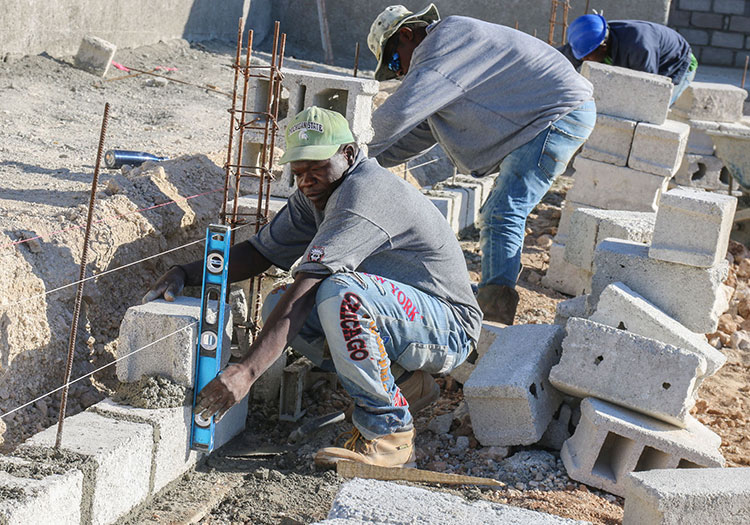 This building will be our new Women's Birthing and Learning Center. Our Haitian construction crew is working very hard to finish our Birthing Center for poor, pregnant Haitian mothers. Pastor Mark Ostrander and his son, Jesse, and our Haitian construction crew, with Jean Eddy, plan to have this center finished by December, Lord willing…
We still need funds to help complete this center, but we are on track and we know "God shall supply." Please pray about giving any amount and the Lord will double it to help us meet our goal! Donate Now!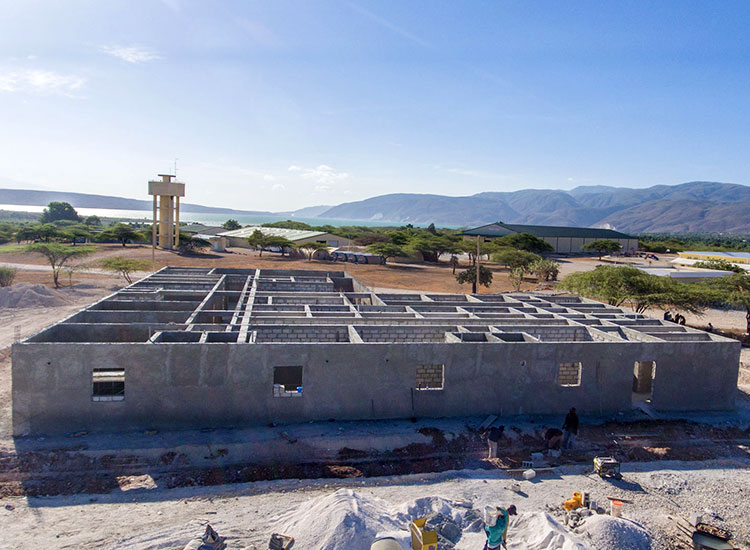 This center will also be a Women's Learning Center to teach Haitian women how to care for their babies, as well as prenatal, delivery, postnatal care and specialized seminars on women's health!
We wish to thank Mark Ostrander and his son, Jesse. They work very hard overseeing many construction projects, such as Madamn Adeline's orphanage, this Birthing Center, housing for the poor, and many other projects. A Haitian Creole Proverb says, "Anpil men, chay pa lou." "With a lot of hands, the load is not heavy…" We want to thank the Lord for Mark, Jesse, our construction crew and our wonderful partners, like you! May God richly bless you.
Love A Child School in Lastik
The Love A Child School in Lastik was in need of an expansion to accommodate more students. This village is in a very remote area of the mountains, and very difficult to reach in any vehicle.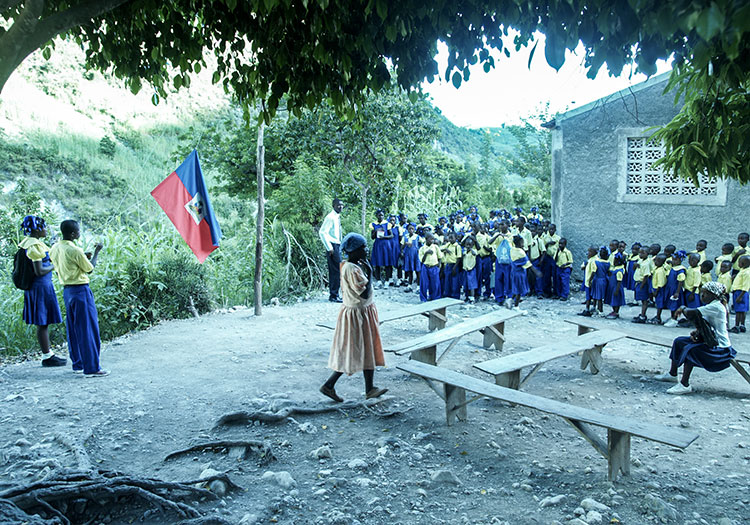 Getting building supplies to this school was very difficult. Two of our Haitian workers, Papoosh and Florentin, took our four-wheel drive truck, loaded with wood and supplies, up the rocky river bed to Lastik. We are adding more classrooms to this large school allowing more children to be able to attend. Our truck could not make it and got stuck, so we had to call Joker, our mechanic, to come with our six-wheeler to help! The materials finally arrived on-site.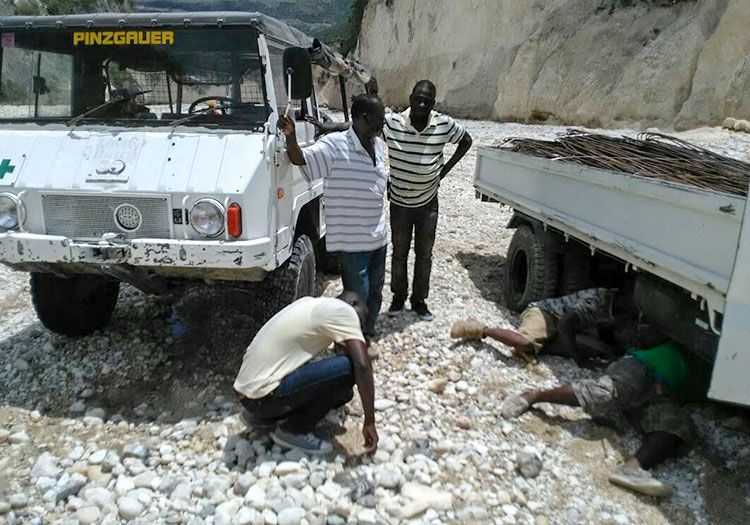 This beautiful school building is just one of two new buildings with additional classrooms in the mountains of Lastik. The children in this area are very poor, and they love our Love A Child Christian School. However, we have so many children that the classrooms have been severely overcrowded and couldn't take any more students, which was sad for so many poor children. We want to thank our friends, Larry Guest and his brother, Jay, for sponsoring these two large buildings that contain lots of classrooms! What a tremendous blessing this is! We wish to thank Pastor Claude Mondesir, who is doing the construction and give honor to the Founder, Pastor Bernise, who passed away several years ago. This school and church are a great witness for Christ in this mountainous area.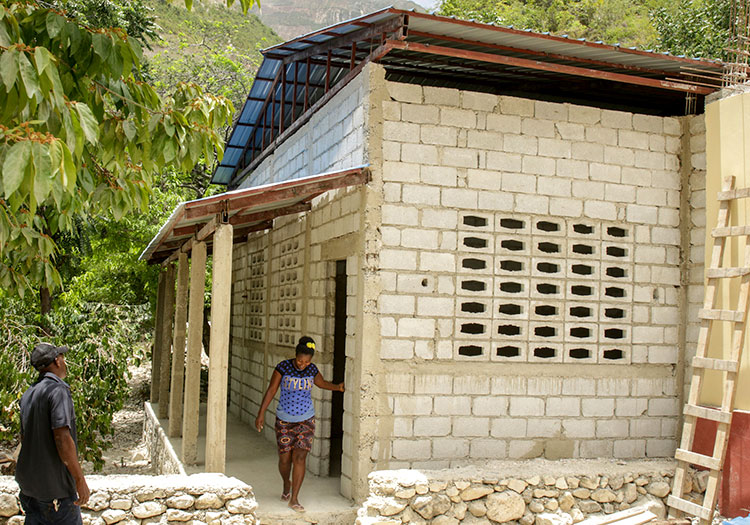 Love A Child School in Savaan Pit
We built a school in the village of Savaan Pit many years ago. Since the school is on top of a mountain, storms and hurricanes tore the roof off and destroyed much of the school over time. It had also sustained some damage in the 2010 earthquake, but when Hurricane Matthew came along in 2016, it destroyed the school entirely.
This new school is being built "like Fort Knox!" Just imagine having to haul materials over these mountains for hours to get here. Then, working in the heat of the sun!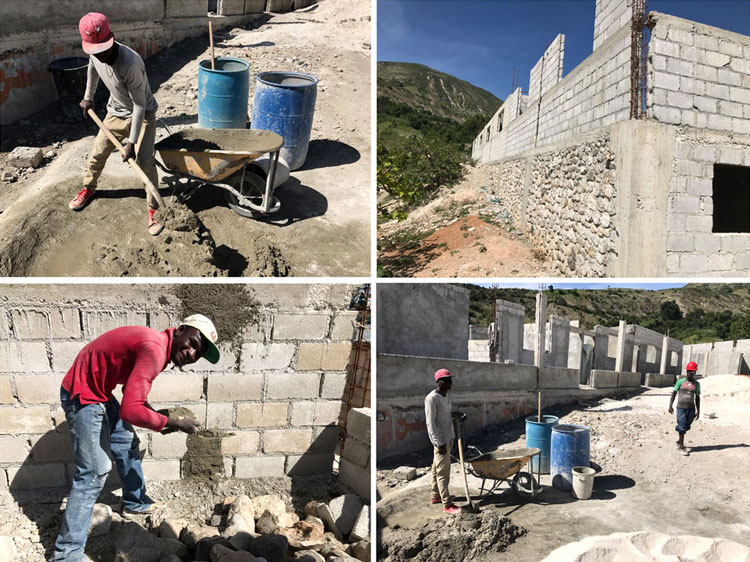 The U-shaped building is the new school going up. It can accommodate 600 children! This is the only school in the area, and it is a "Christian School!"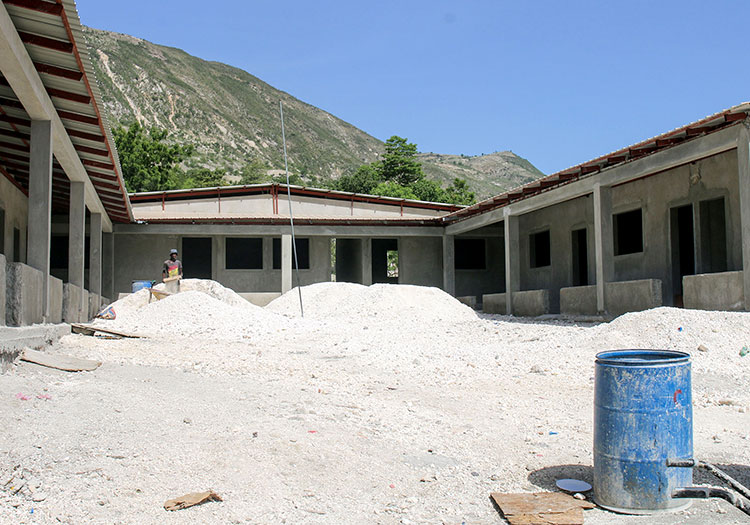 These children walk for MILES across high mountains and very steep terrain, just to come to school. They can "run straight down a mountain at full speed and never fall or slip!" (Unlike us foreigners!!! Ha!) These children are so, so sweet! We want to thank everyone who has donated to help build this school, and thanks to all of our Child Sponsorship Partners for sponsoring these precious children to go to school, to have a Christian education, a hot meal each day, and plenty of love!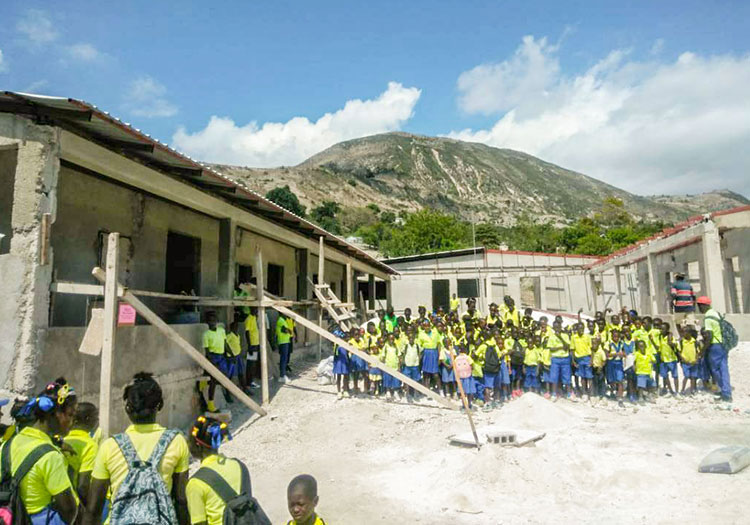 We began building this new school months ago. This building will be a solid and a well-built school for the children of this area. This area is extremely remote! The sad thing is that rain has not fallen here in a long time, and you can see how the trees have died. The ground is barren. The animals are dying, and the people and children are starving. We have received an emergency request for a large amount of food for this village!
Our Haitian sons Dieuferly and James, along with our driver Philemon, and friend John checked in on our construction project at our Savaan Pit School recently. This school is four hours from Fond Parisien, deep in the interior mountains of Haiti in the middle of "nowhere." The school is almost finished! We still have some work to do. It's been a long, hard, expensive job. The Haitian workers have been doing a great job. All the children will have a new school when it opens in September! We want to thank everyone who has given, from the "widow's mite" to larger gifts! Every gift counts and every dime is important! Thank you!
Love A Child School in Covant

Covant is our most difficult area to get to in Haiti. To get there, you would travel by four-wheel drive until you "run out of road," which is about two mountains away from Covant! We had built a small school here years ago, but there are so many more children now, and there are no other schools in this area. There was no room left. So, we started building more classrooms! This is extremely difficult to do because all the building materials have to be carried miles on the heads of the parents over rough terrain! What a feat! But, God is good! Faith doesn't know we don't have the money to finish it, but that's what faith in God is all about!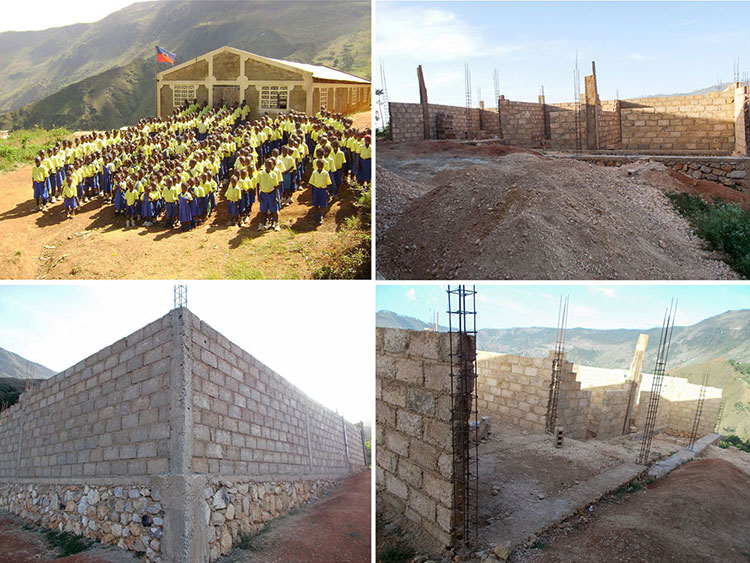 New Church in Fond Michelle
Our first project here in Fond Michelle was to build a beautiful new orphanage for Madamn Adeline and her 25 orphans that she had taken into her home. Pastor Mark, Jesse, and our Haitian construction crew, as well as volunteers from the States, helped with this beautiful project. Now, by faith, a new church is being built! It is under construction and is being sponsored by David George and partners! It won't be long until it is finished!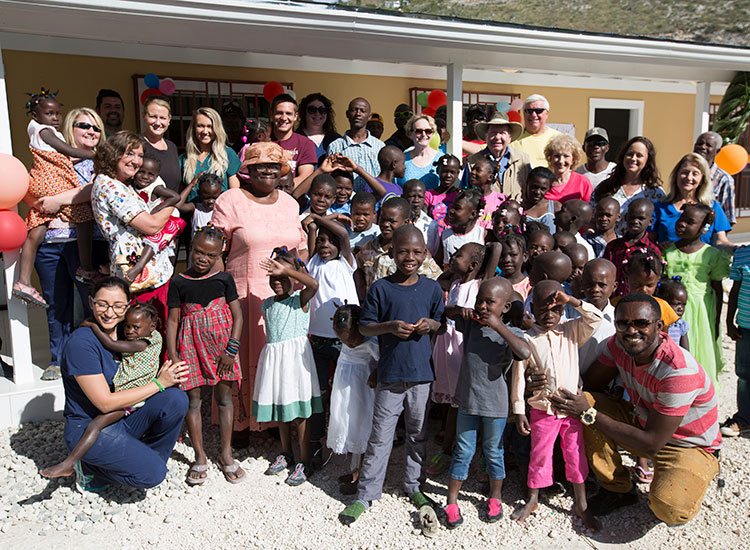 In January, we completed Madamn Adeline's Orphanage, and now she and her orphans have a safe, clean place to sleep. But they wanted a church. Madamn Adeline climbed the mountain every morning praying for a new church. This lean-to is where they have been worshiping for some time.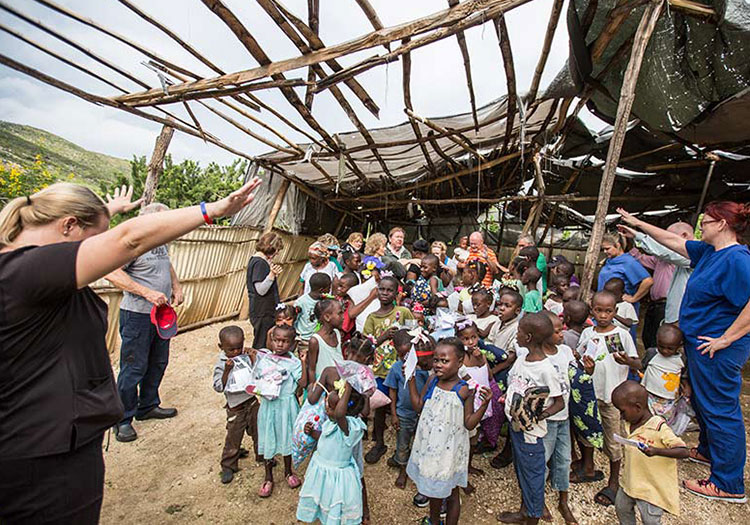 Now, we are building a church for Madamn Adeline up in the mountain village of Fond Michelle. Thank you, David George, and your partners, for the funds to build a new church for the orphans and the community! Our visiting team from the Lighthouse Church of Panama City Beach, Florida got down and crawled on the new foundation of the future church praying for God's blessing! The children are always in our hearts! You are heroes of the faith.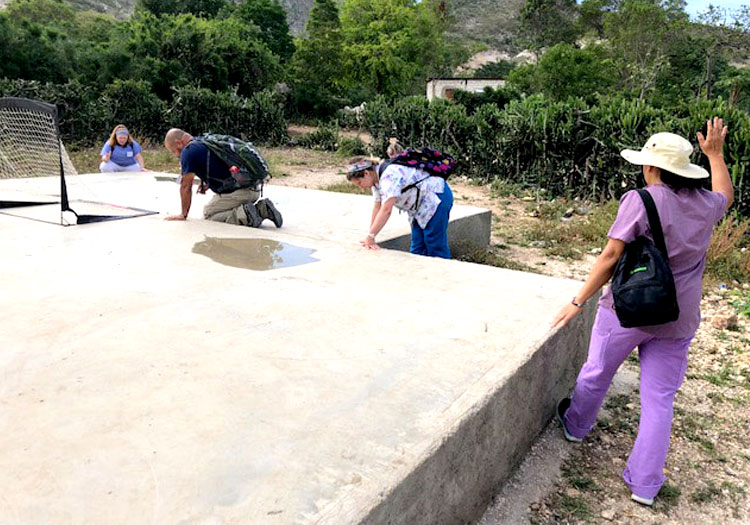 New Church in Oriani
To get to the village of Oriani, we must travel on a very rough, bumpy road headed to the mountains of Oriani, which is about four hours away. We recently built a new church there! Just look at this beautiful church built in the mountains of Oriani, Haiti! Pastor Claude Mondesir did the construction work on the church and he said, "The people in that area were so excited that everyone is coming, Protestants, Catholics… everyone!"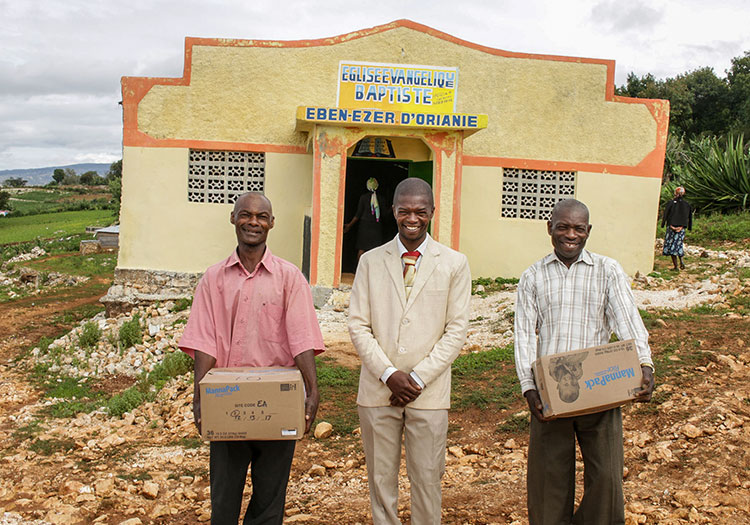 The people and children are so happy with their new church! It's not finished yet… more cement work and painting to do. This project was sponsored by a wonderful couple in New Jersey who love Haiti's people, thank you for the funding to make this all happen! This church is in the middle of nowhere!!! The Christians have been praying! God bless you, Pastor Claude. It was raining the day these pictures were taken, so the crowds were small because mountain people cannot come too far when it rains.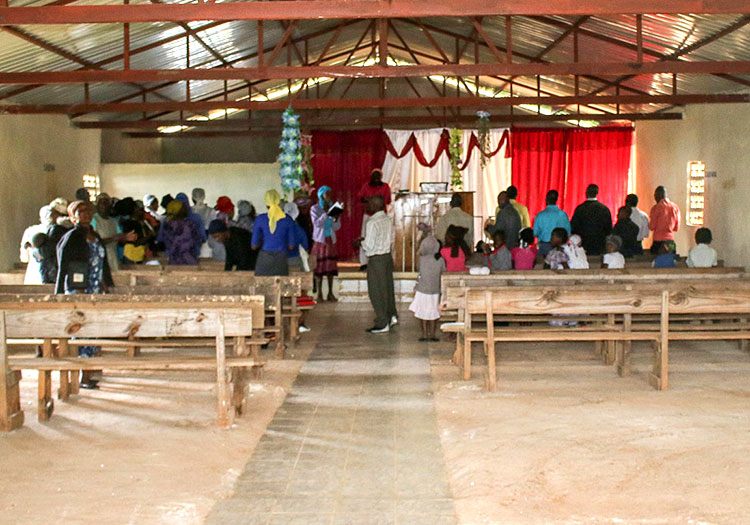 New Houses in Miracle Village
We have been blessed with the funds and several groups of volunteer carpenters who have come to Haiti to help build new homes for some of the families that are living in the garbage dumps in the slums of Cité Soleil.
We moved this family from the garbage dump to a new home this past spring. The Vela family moved from the garbage dump to a new home with new furniture and they were all thrilled! They brought tears to our eyes. Thank you to the group from Washington State, who volunteered and worked in the hot sun to change a family's life. Thank you to our Haitian construction crew for working day and night. Thank you to Mark Ostrander, who designed and oversaw the building of the houses.  They all worked very hard so we could move this family into a new home in Miracle Village.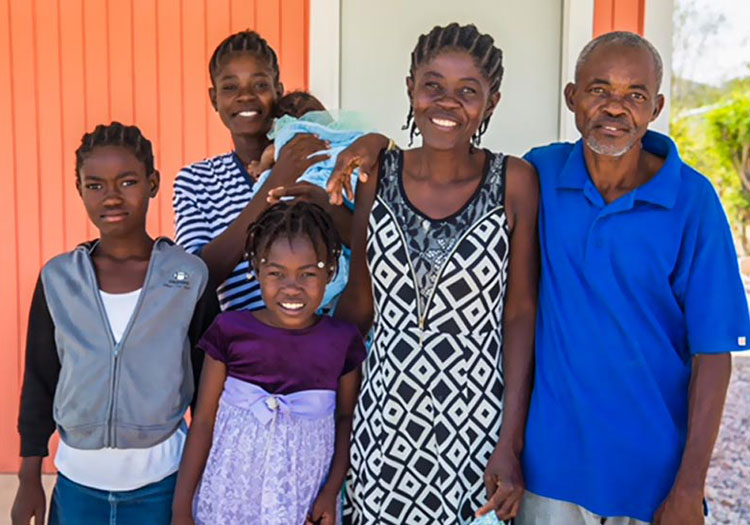 We have moved "three large families" from the garbage dumps and put them in new houses that were sponsored by our partners. We have also been able to give jobs to some of the family members. Now, we are working to build seven new houses for seven poor families who live in the garbage dumps.
As you can see, Love A Child is building again. If you would like to partner with us and help with any of these projects, please call and speak directly to one of our staff members, you may contact our Love A Child Office at 239-210-6107, or you can email us at info@lachaiti.org. If you are interested in sending a group of volunteers to help with our building projects, contact Sharleen Breshears at sharleen@lachaiti.org.  There is something for everyone to do!
Please pray about becoming a partner, as the need is far greater today than ever before.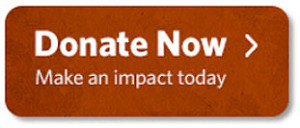 God bless you all,
Sherry