The chicken farm co-op project, is located next to the new Marketplace.
The Poul Mirak Co-operatif (Miracle Chicken Co-op) is a unique social enterprise model that is established as a project for gaining self-sustainability and dignity through enterprise. It operates in conjunction with and in support of Gwo Maché Mirak. This one-of-a kind model for long-term sustainability relies upon focused donor support to provide the foundations of infrastructure and working capital to begin a broiler growing operation. Five eager locals were picked to join the co-op. We equipped, trained, and now mentor these five members to offer a hand up in lifting their community out of poverty.
Our model not only provides a way for five local families to become independent businessmen, but it also accomplishes its three key objectives for breaking the cycle of poverty:

How the chicken project works…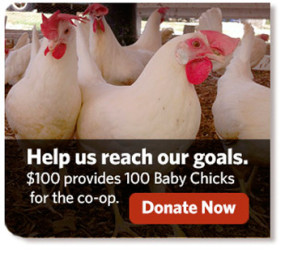 To learn about all of our programs, please visit our Sustainability Initiatives web pages.