"For I will restore health unto thee, and I will heal thee of thy wounds, saith the Lord; because they called thee an Outcast, saying, This is Zion, whom no man seeketh after."
— Jeremiah 30:17
In the barren mountains of Haiti, many tiny villages barely survive on what they can grow in the way of food, and what they can sell to buy food. Their mere remoteness from any large town or city only makes their situation worse. In the areas around many of these smaller villages, there are hundreds of people who live in isolated areas that are even more remote than the villages we serve. So whenever we do our Mobile Medical Clinics in the "regions beyond," many people will travel one or two days to reach a clinic in one of these villages.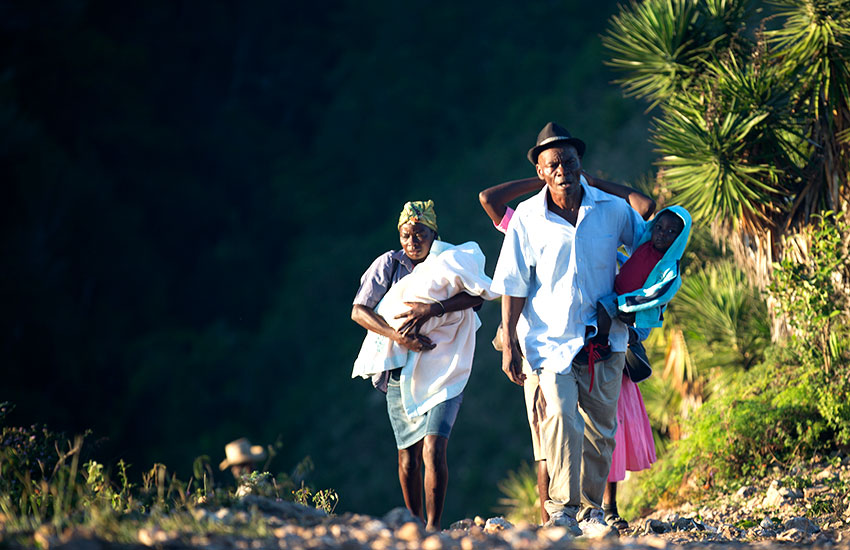 We were scheduled to do a Mobile Medical Clinic in L'Artibonite. We had all the details worked out, but there were manifestations happening. People were rioting in the streets for two days. We had to change our plans, because traveling to that location put us in danger of running into rioters. We checked how the roads were in Peyi Pouri. We decided to go to Peyi Pouri for our Mobile Medical Clinic, as the roads were a little better. We are "Love A Child!" "We are tough!!"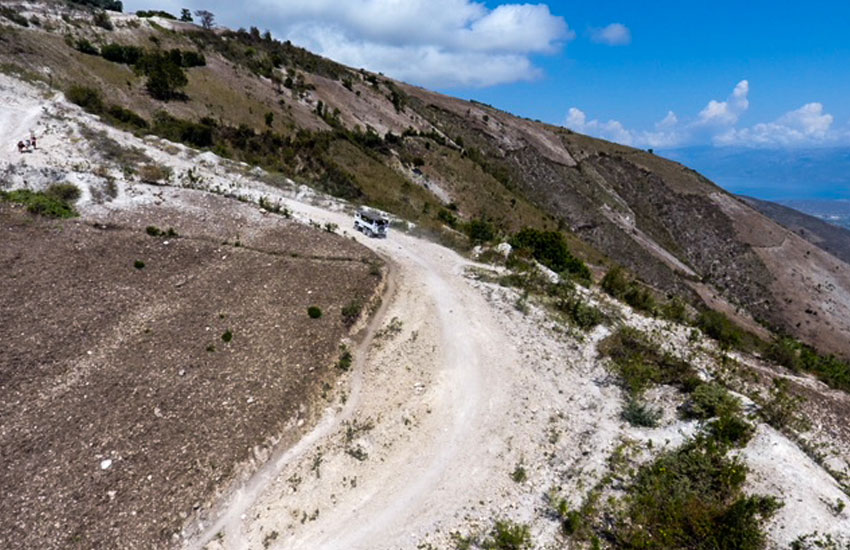 A journey to the village of Peyi Pouri, which sits on top of a very high mountain in Haiti, is always a challenge. We have been doing many of our Outreach Programs here, and helping the people to help themselves through our Sustainability Projects, Feeding Programs, and Mobile Medical Clinics. When we first came to Peyi Pouri, it was a sad sight. They worshipped in a dilapidated stick and tarp structure, there was no church or school, and the people were starving. Since that time with your help, we have seen incredible changes as the people have improved their lives ten-fold. We recently built a new church in Peyi Pouri. Thank you, David George, for your help on that project.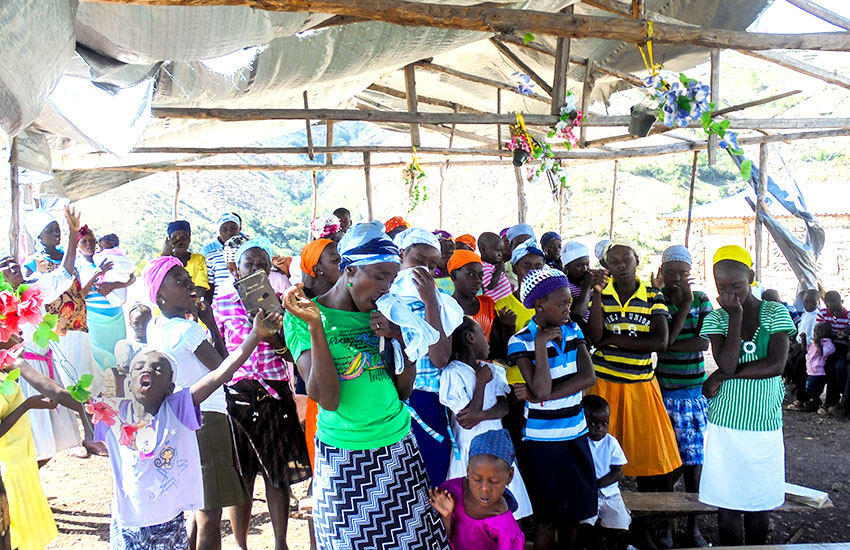 Our volunteer medical team came to Haiti to travel into the "regions beyond," to Peyi Pouri. They worked packing medicines and training on how to operate in a Mobile Medical Clinic. We packed, labeled, and prepared a LOT of medications for this trip. We have had to change the location five times, due to the rain and other problems… Then, by faith, we headed to Peyi Pouri, some of the highest mountains in Haiti.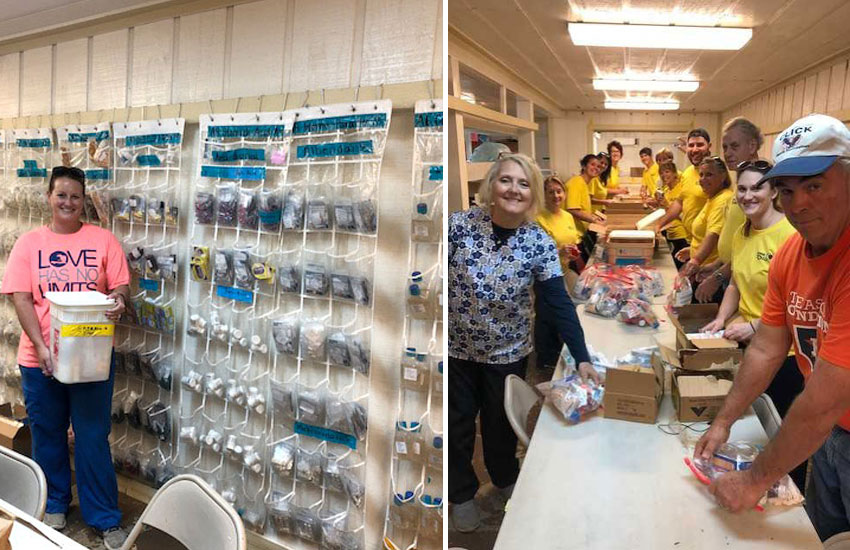 Several days before the start of the Mobile Medical Clinic, we sent three truckloads of supplies up there. There was one day we couldn't send any trucks out, due to the riots and manifestations but it didn't rain, so we were able to send three more truckloads the next day. Our crew put up doctors' tents, a pharmacy tent, a wound care tent, an eye care tent, and a ministry tent, in addition to sleeping tents, and food. We also sent two of our Love A Child Children's Home girls ahead to help with dossiers and do vitals.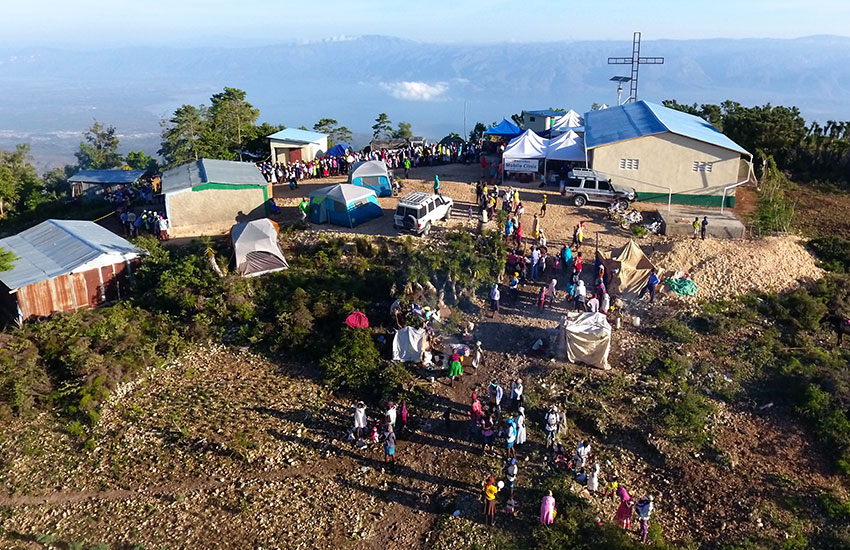 This medical team went into the "regions beyond" to make a difference in the lives of the poorest of the poor. Hundreds of poor Haitians were in Peyi Pouri seeking medical help. Many of them live in Peyi Pouri, but some have to walk hours to visit the clinic. The team treated hundreds of patients and gave out medication to help with the ailments of these poor people. This clinic is LOVE in action!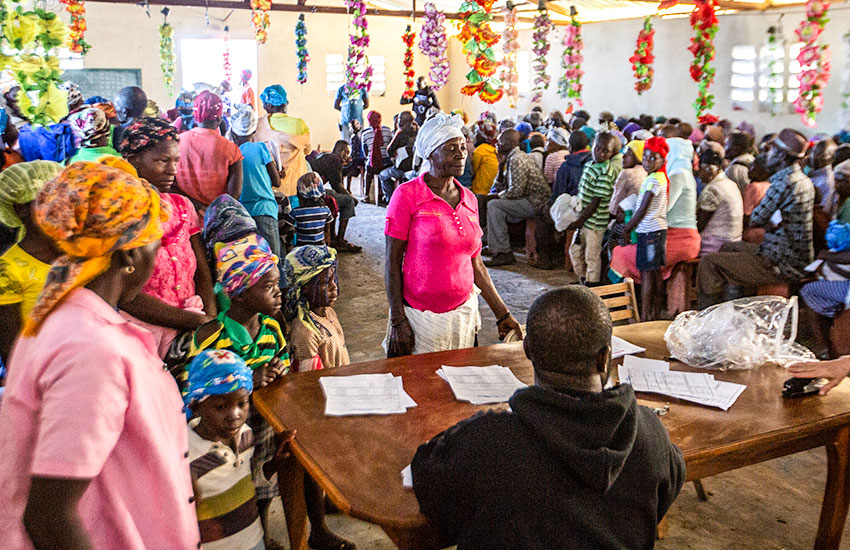 Hello from the top of the mountain of Peyi Pouri, where we held a three-day Mobile Medical Clinic. It rained very hard the first night! We stayed in camping tents, and the rain almost crushed our tents. When we got up the next morning, hundreds of people were already here! God bless our volunteer team and our great Haitian staff.
Hundreds of people were seen, and many people came to Christ. God bless the volunteers who came from America and our Haitian staff, including Jovanie. Jovanie grew up in our Love A Child Children's Home, and she graduated from nursing school last month, and we could not be more proud of her! She has been working in our Mobile Medical Clinics with us, as well as our Jesus Healing Center!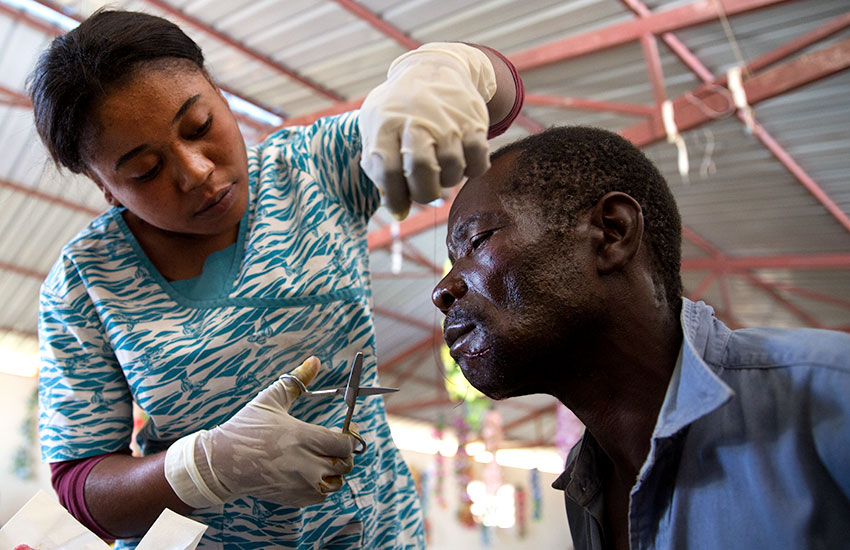 It was the largest Mobile Medical Clinic we have ever done! In just three days, we saw over 3,000 people! What a great team! After each person had a consultation with our medical staff, he or she received medicines, wound care treatment, eyeglasses and prayer! Many of them received Bibles, and accepted Jesus! One Voodoo lady gave her heart to the Lord!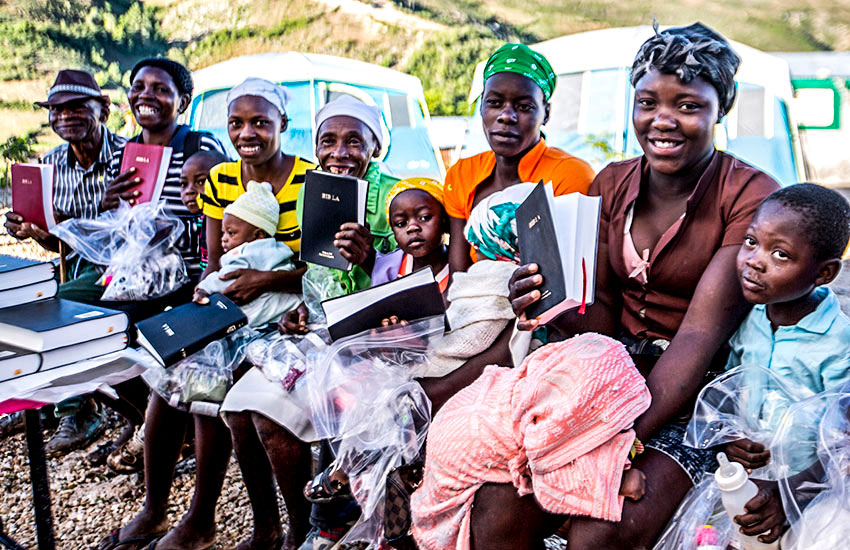 Children were treated in wound care and given toys when they left! We fed everyone who came! We transported three people in our ambulance, which was donated by David and Nicole Crank of Faith Church!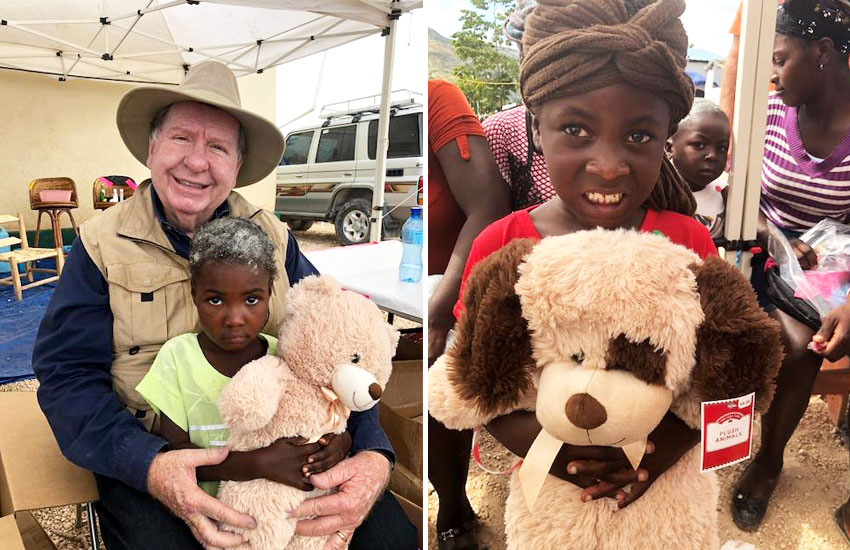 God bless our partners who helped sponsor this clinic! In just three days we saw over 3,000 patients, we gave out over 14,500 medications and over 90 people received salvation.
Darius' Story
There were many people coming down from various mountain villages above Peyi Pouri to this clinic. One man came down to let us know that his nephew Darius, who was 22, was very sick and could not walk. We sent an ambulance up the mountain to bring the boy back to the clinic. We cared for him during the Mobile Medical Clinic. He was from a village "much higher in the mountains" than Peyi Pouri, a village called Badji.
We cared for him and sent him to our Jesus Healing Center in our ambulance. From there, they referred him to a hospital in Port-au-Prince, but they did not accept him; the driver took him to another hospital, but they would not accept him either. Finally, we sent him to Pastor Claude's hospital called Hôpital Eben-Ezer. He was there for several days. We gave his mother money for food and bandages, etc. He needed lots of blood, and some of our friends donated blood. He had transfusions for three days and was getting better, but the doctors wanted to send him to a better hospital in Mirebalais.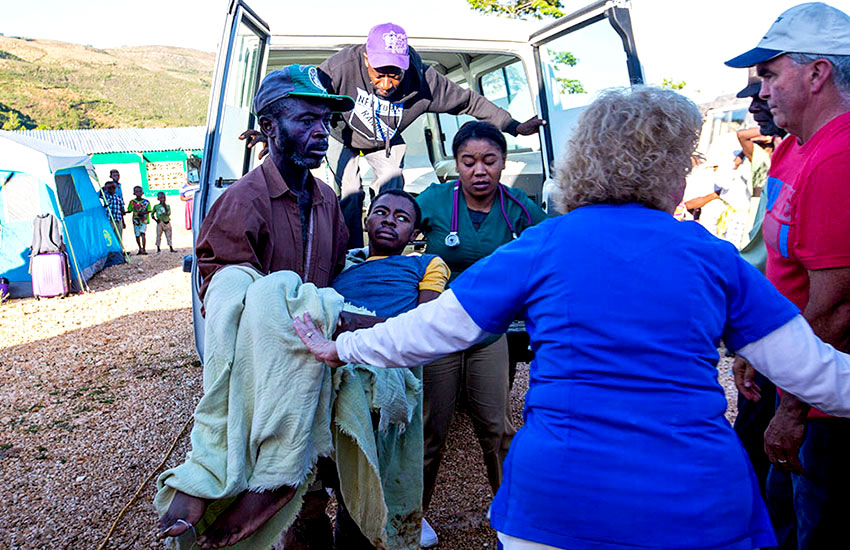 He was there for one day, and he died the next night at 9:00 PM. We felt so badly about his passing.
The next morning we sent our ambulance to Hôpital Universitaire de Mirebalais. Unfortunately, there was a mix up with his paperwork and it took another day to get his body released. We finally took him back to his village of Badji, which was an eight-hour trip from the hospital, and located higher in the mountains above Peyi Pouri. We really tried everything we could do, but he was too frail. However, his mother said that he was a Christian.
This trip was a great Mobile Medical Clinic in the mountains of Peyi Pouri, Haiti. We all worked so hard. This medical team included doctors and nurses, and a great pharmacy set up. People were given eyeglasses, and those who received Jesus also got Bibles! Children were treated in wound care and given toys when they left! We fed everyone who came! We transported three people in our ambulance, which was donated by David and Nicole Crank of Life Church! We want to thank this great team that included: Billie Harrell, Britni Durham, Cassie Mccane, Chance Perry, Don and Debbie Click, Hank Kapteyn, Janice Pyle, Laura Brown, Lulubelle Johnson, Rachel Perry, and Shawna Bartelsen. God bless our partners who helped sponsor this clinic!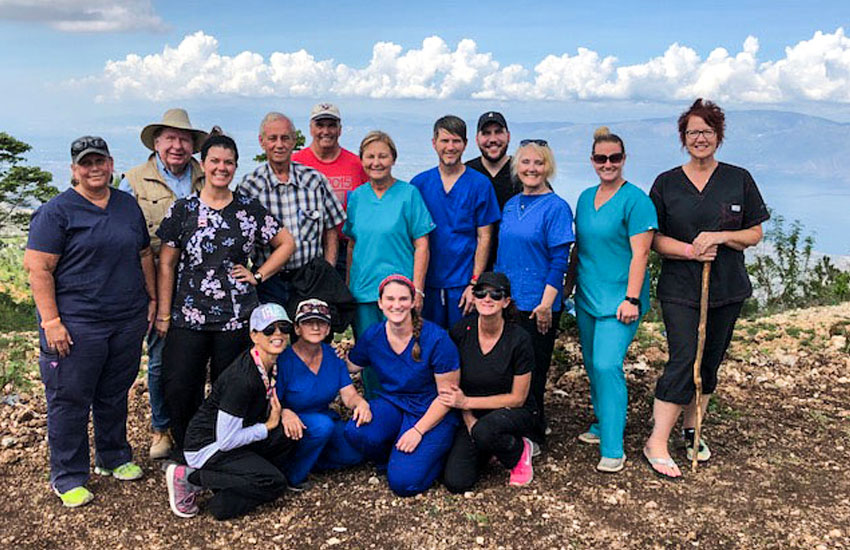 Please consider contributing to our Special Needs List that saves lives in Haiti.
You can sponsor a family pack of medicine, giving basic over-the-counter medication and supplies for only $20.
For only $52 you can deworm 300 children that desperately need it.
Your gift of $1,000 will sponsor a Mobile Medical Clinic for a remote village. This includes medicine, vitamins, and other supplies.
A gift of any amount will help us provide emergency care, like sending someone to the hospital. Please consider how you can improve the life of someone in Haiti.
Please pray about becoming a partner, as the need is far greater today than ever before.
You may give securely online, or if you would like to speak directly to one of our staff members,
please call 239-210-6107 or email us at info@lachaiti.org.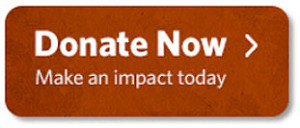 Let your heart be touched with the "cry of the poor." Please consider donating any amount you can to help save thousands of children this year.
God bless you,
Sherry