"If there be among you a poor man of one of thy brethren within any of thy gates in thy land which the Lord thy God giveth thee, thou shalt not harden thine heart, nor shut thine hand from thy poor brother: But thou shalt open thine hand wide unto him, and shalt surely lend him sufficient for his need, in that which he wanteth. Thou shalt surely give him, and thine heart shall not be grieved when thou givest unto him: because that for this thing the Lord thy God shall bless thee in all thy works, and in all that thou puttest thine hand unto. For the poor shall never cease out of the land: therefore I command thee, saying, Thou shalt open thine hand wide unto thy brother, to thy poor, and to thy needy, in thy land."
— Deuteronomy 15:7-8, 10-11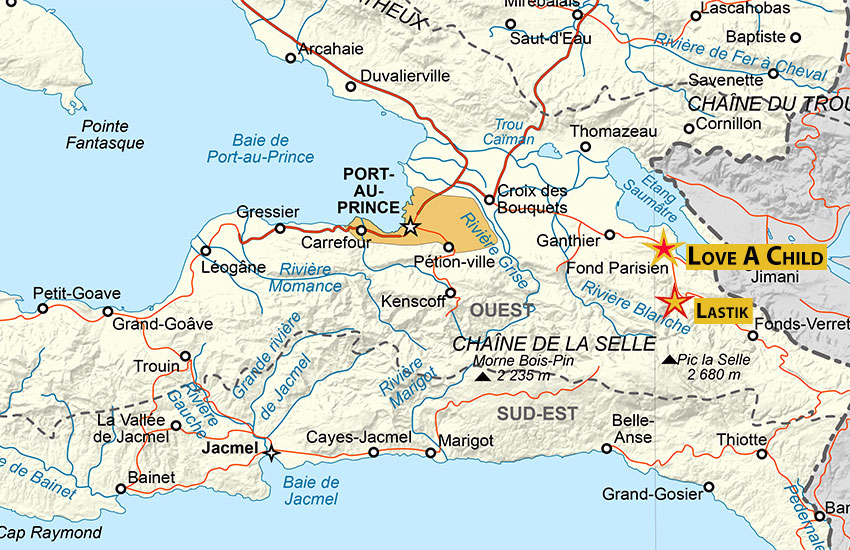 When you hear us talk about our travels into the "Regions Beyond," it includes many of the small villages we visit throughout the years. Most of them are difficult to reach, but it is where the poorest of the poor live. I want to tell you about the village of Lastik. We have been serving the poor people here for over a decade. The village sits along the banks of a large dried up riverbed. Though in times of a lot of rain, it can be a roaring river.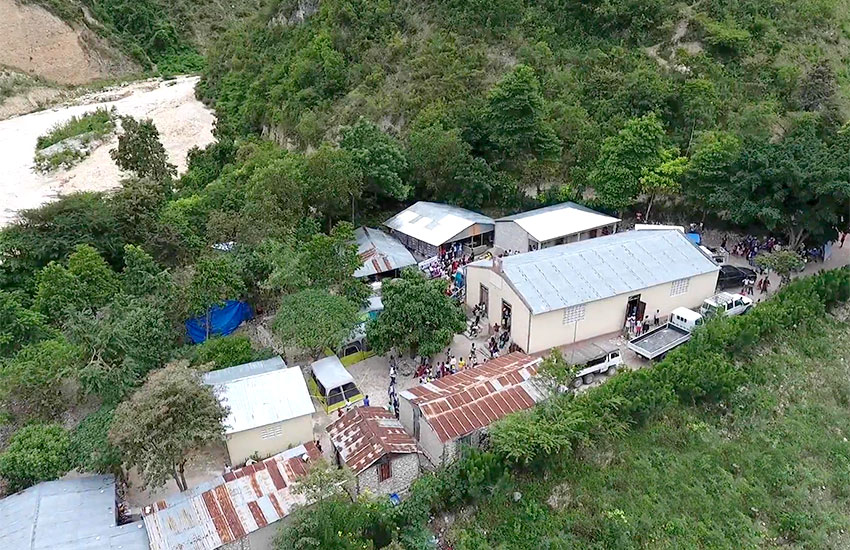 Feeding Program
Our Feeding Program is our best tool to reach out to the "poorest of the poor" living in the "Regions Beyond" of Haiti. When we first came to this village, many years ago, the poor children were hungry and weak… We heard about the great need for food here as the children were starving, and their mothers could not find food to give to their children. Love A Child started a Food Distribution program here, coming each month with food for the families.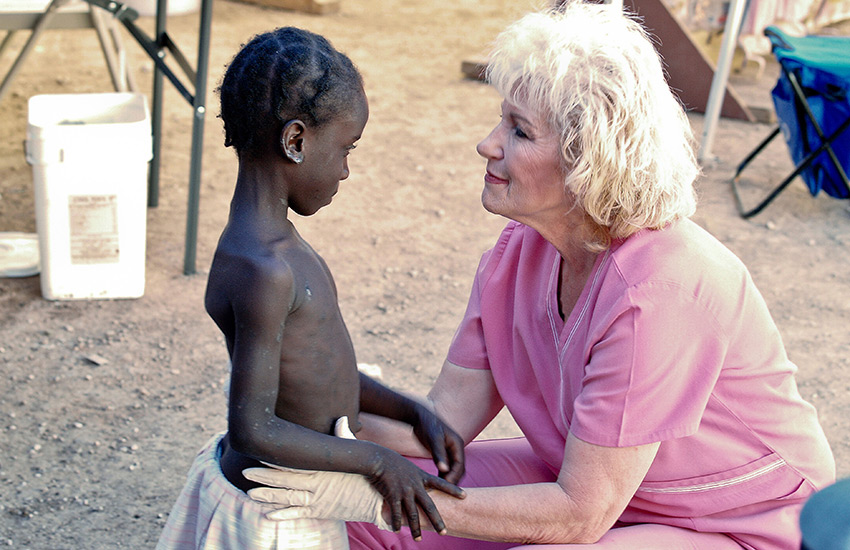 We started with a box of food… and then we were feeding hundreds of poor families and all the little children.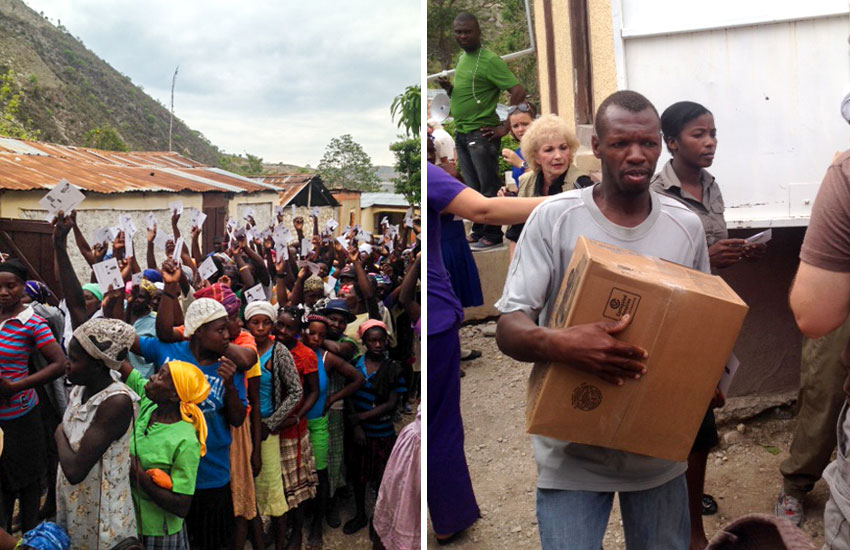 The feeding program continued, and we added other outreach programs to bring hope to the village of Lastik.
Mobile Medical Clinic
Several years ago we took a three-day trip into the interior of Haiti to Lastik with our volunteer Mobile Medical Clinic team. It's quite a feat to travel with all our medical supplies over the dangerous roads. We had to travel for many hours to reach this village.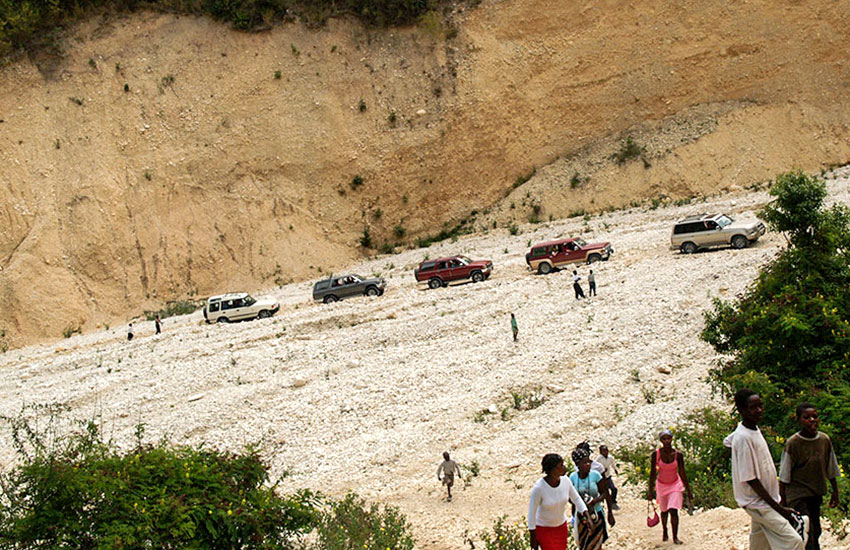 Many families walked for two days to get to the clinic! There is no medical help out in the regions beyond, so we are the only hope for these Haitians to receive medical care.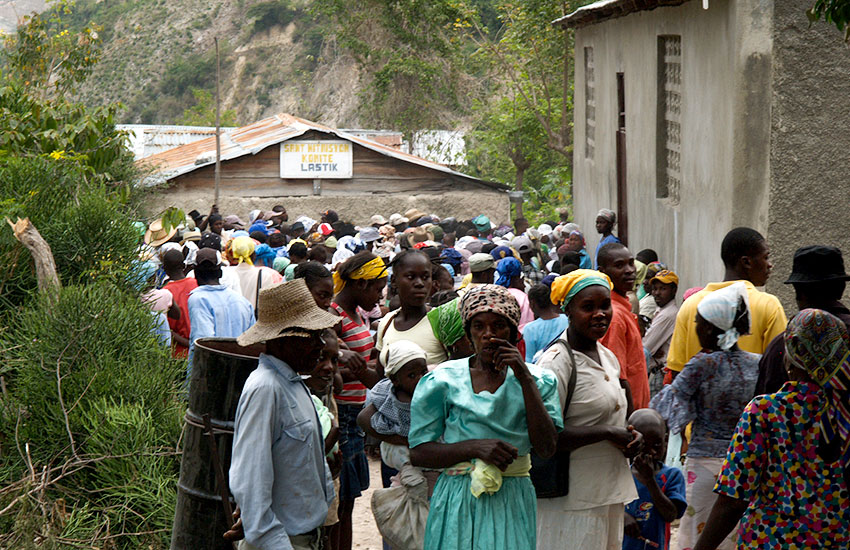 The village of Lastik is in the middle of nowhere. So hundreds of people came early to our Love A Child Mobile Medical Clinic, and many were desperate to see a doctor. These poor people were in such great need. Thank you all for being part of this Medical Outreach.
All of our Mobile Medical Team slept in tents. We were roughing it in the mountains of Lastik. Jesus said, "Go ye into all the world, and preach the gospel to every creature." Mark 16:15 – Is the Lord calling you today?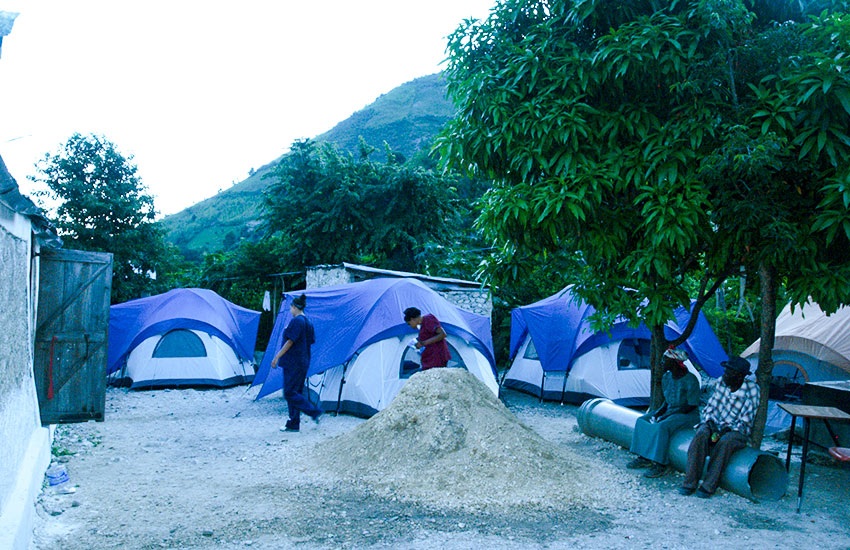 We had a great group of people who joined the Mobile Medical Team for this journey, and like all Mobile Medical Clinic trips that we take into the "Regions Beyond," we started with our pharmacy preparations so that we can bring mostly over-the-counter and other medications to the very poor, who can't even afford an aspirin.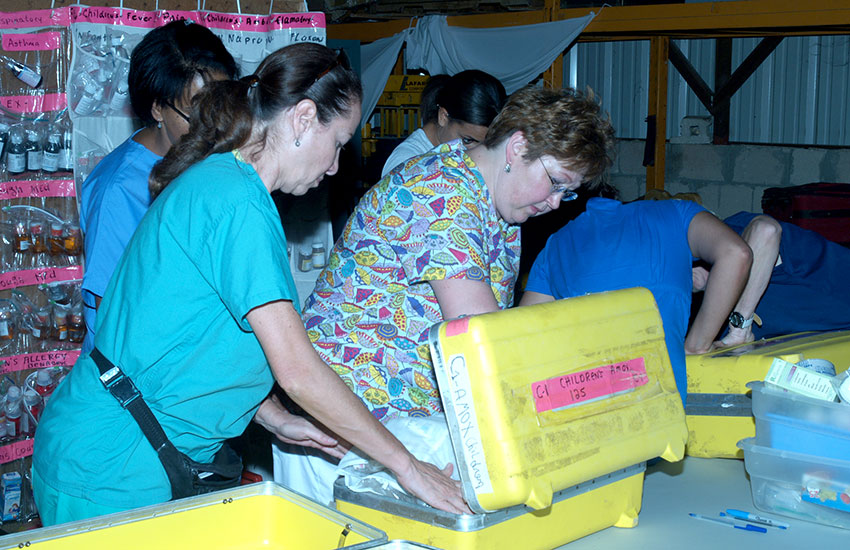 This was an outstanding clinic in the mountains of Lastik. We treated over a thousand patients, distributed thousands of medications and gave out eyeglasses to those in desperate need of just basic health care.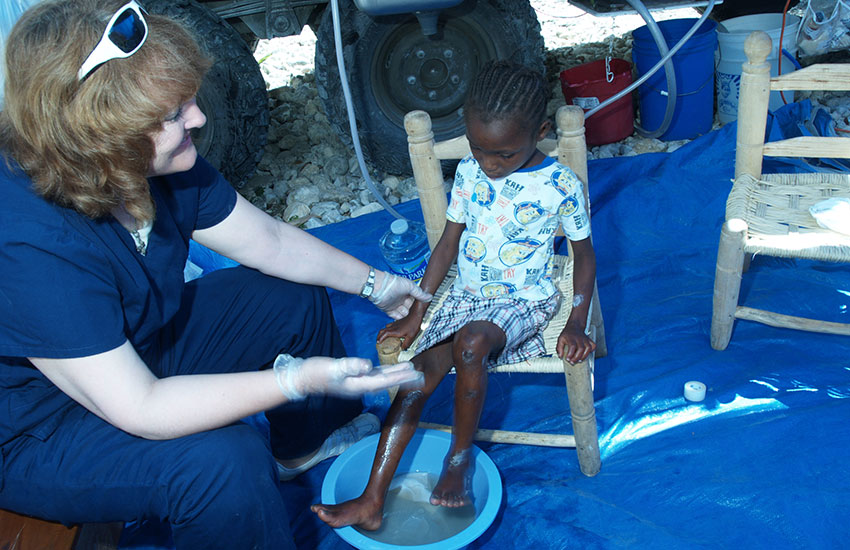 We saw several severe cases of malnutrition. This baby was so small and underdeveloped. After Dr. Pat examined the child, we got her on our feeding program right away.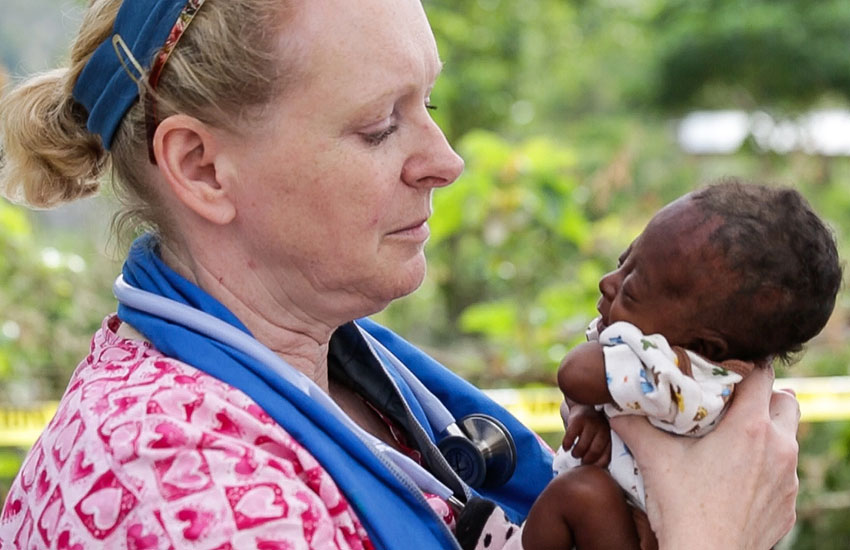 On another trip to Lastik, we had a great Mobile Medical Clinic with the team from Joyce Meyer Ministries – Hand of Hope and they saw over 900 patients, and the dentist pulled over 200 teeth! Souls were saved, and this team made a great impact! We are so proud of them, especially Wade, their leader! Some of our older Love A Child children interpreted for the team members. Dieuferly, Florence and George were a great help! We are proud of our Haitian children!!
We want to thank "Dr. Pat" for all her hard work and her labor of love. She has been a medical volunteer at several of our Mobile Medical Clinics and at Lastik where we had a lot of infants brought to the clinic. Dr. Pat was so touched with all these babies that she made lots of "baby bonnets." "Thank you so much, Dr. Pat!" God bless you.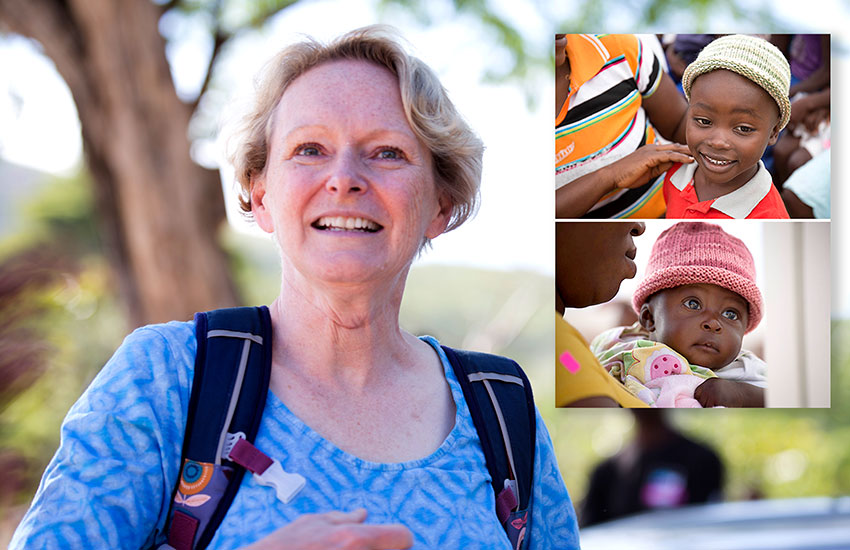 Education
About ten years ago, we built a Love A Child (LAC) School in Lastik. At LAC Schools, the focus is on giving each child a sound Christian education. Additionally, each child in a LAC School receives a hot, nutritious meal every day and basic health care.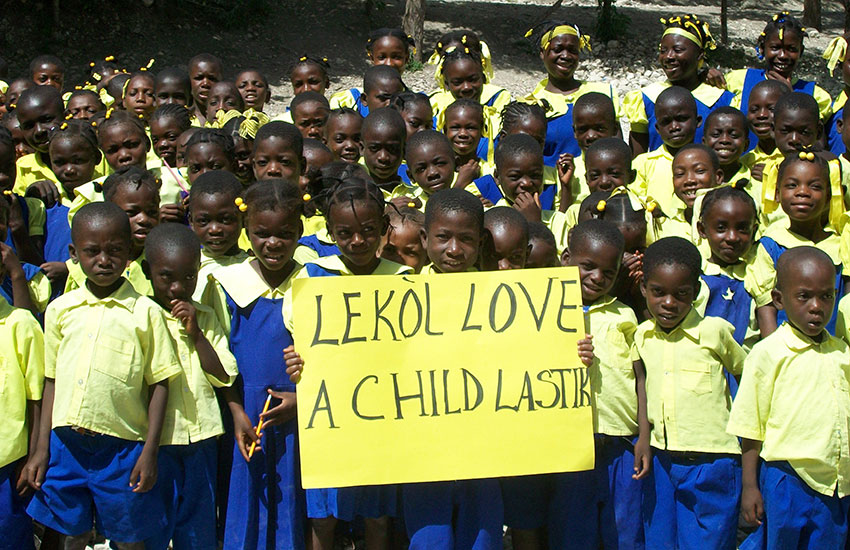 We had our friends visiting from Feed My Starving Children with us, and we passed out 345 hot meals to the schoolchildren here. They are the ones who donate this food to us each month. There were hundreds of children here that day. Thank you Feed My Starving Children, Love A Child Partners, and everyone who makes this program possible!
Recently, the classrooms were becoming too crowded. We needed to expand the school.
Two of our Haitian workers, Papoosh and Florentine, took our four-wheel drive truck, loaded with wood and supplies, up the rocky riverbed to Lastik. We were adding more schoolrooms to this large school to accommodate the children. Our truck could not make it and got stuck, so we had to call Joker, our mechanic, to come with our 6-wheeler to help! The materials finally arrived on-site. Special thanks to Larry Guest and his brother for sponsoring this project! God bless you and thank you!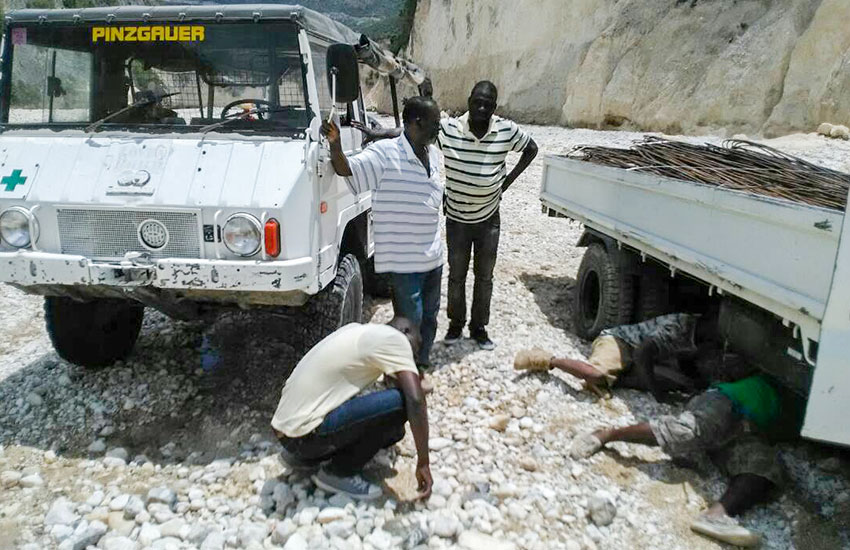 Just look at this beautiful school with additional classrooms just finished in the mountains of Lastik. The children in this area are very poor, and they love our Love A Child Christian School. However, we have so many children that we have been severely overcrowded and couldn't take any more students. We want to thank our friends, Larry Guest and his brother, Jay, for sponsoring these new buildings that contain more classrooms inside! What a tremendous blessing this is!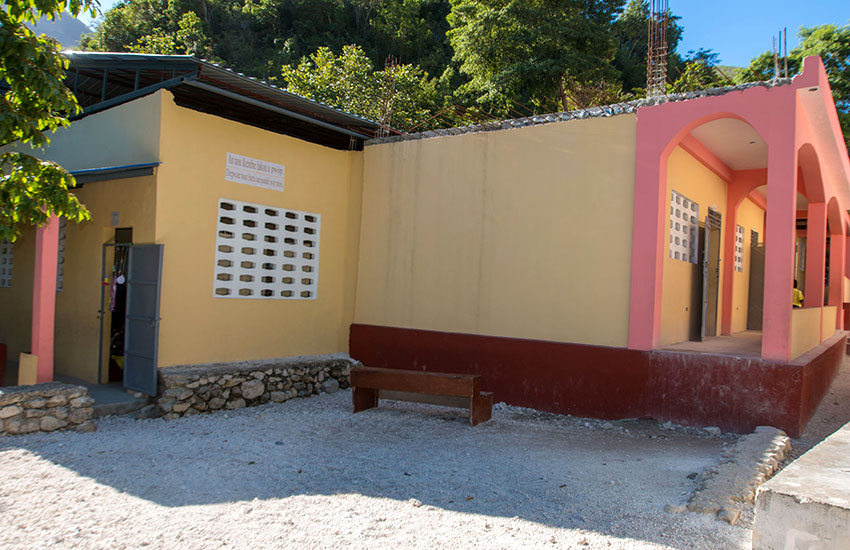 We wish to thank Pastor Claude Mondesir, who did the construction and gave honor to the Founder, Pastor Bernice, who passed away several years ago. Love A Child has been sponsoring a church and school for many years in the village of Lastik. We took responsibility for this work years ago when Pastor Bernice was ready to close the school due to a lack of funds. This loss would have meant that all these children in the mountains would never be able to go to school or have one decent meal each day. This school and church are a great witness for Christ in this mountainous area.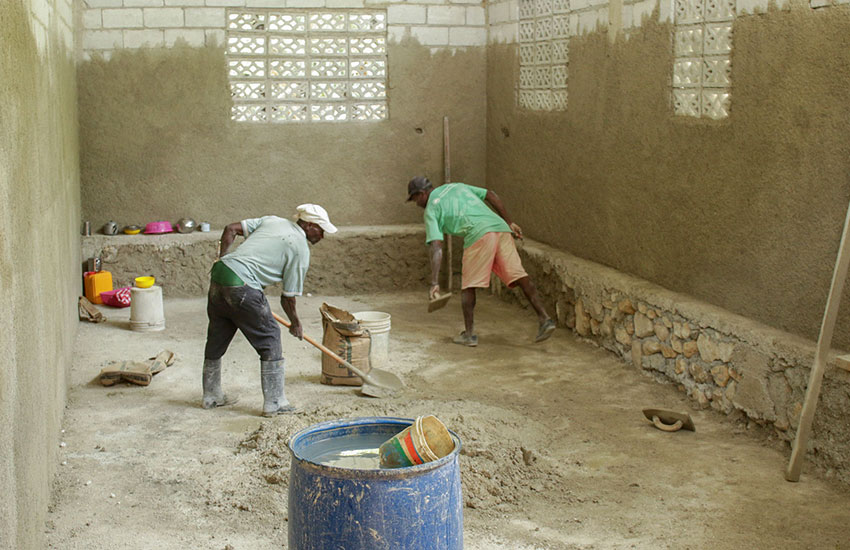 All of our Love A Child Schools are now in session here in Haiti, including this school in Lastik. Because of the remote location of this school, the children walk many hours to come to school; We had so many children on our wait-list that we had to build a whole new school wing. Please pray about sponsoring a child today and saving a life!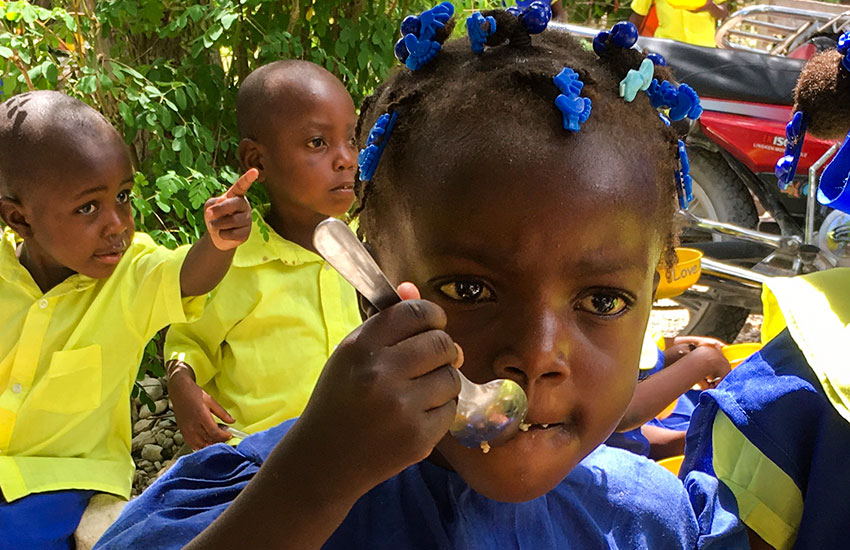 From our Love A Child Children's Home
You may remember this sweet girl Roselyne, who was born in this remote village. We found her when we brought our Mobile Medical Clinic high in the mountains to this village many years ago. This lovely child suffered from congenitally twisted legs, and she wasn't able to walk. She was suffering from poor health and malnutrition. We brought her to our Love A Child Children's Home many years ago, where we gave her nutritious food, medical attention, and a family who loves her. She became much stronger, and now she can walk very well. She dreams of one day going to college and becoming a doctor. Recently, Roselyne turned 19-years-old! She is such a leader here in our children's home, waking up every morning at 4:00 AM and prays until 5:00 AM! She is first in her class and is finishing her senior year in high school! During the summer and on the days that she does not have school, she spends all her time at our Jesus Healing Center working with the doctors! She is a major spiritual leader for our younger kids and is always thriving in everything she does! Roselyne is without a doubt very special and is going to go far in life! She is incredible, and we are so proud of her! She helps out at many of our outreach programs, and she also loves singing with her sisters, drawing, and going to church.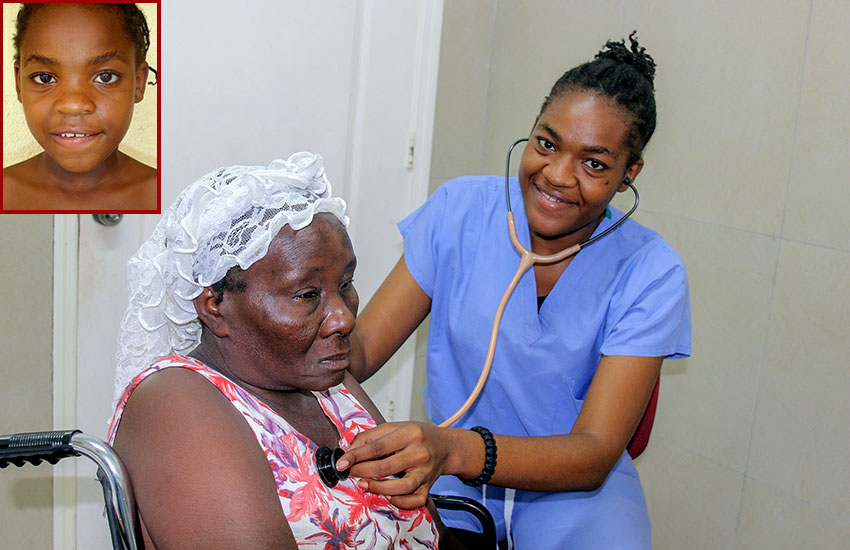 Please pray about becoming a sponsor of one of our Outreach Programs including our Feeding Program, Child Sponsorship, and our Mobile Medical Clinics. These programs give Haitians hope. Our highest goal is to help the Haitian people and especially the children with the opportunity to make a better life for themselves, and a future. This sponsorship is the kind of tremendous impact your gifts of support can have for the people of Lastik and all of Haiti. Thank you for caring and sharing to help improve so many lives.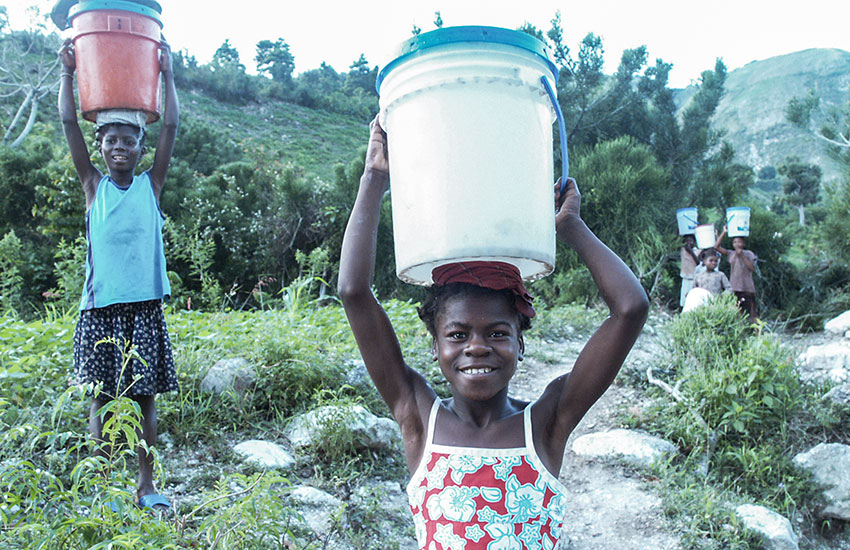 You may give securely online, or
if you would like to speak directly to one of our staff members,
you may contact our Love A Child Office at 239-210-6107,
or you can also email us at info@lachaiti.org and change a life, forever!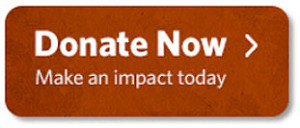 God bless you all for caring so much about the people of Haiti.
Sherry
Learn more about other communities we serve here in Haiti: